blog
Hammersmith & City Line's Greenstops
20 October 2021 | OVO Energy
The Hammersmith and City line was first opened in 1863, as the Metropolitan Railway - which was the first underground railway in the world. The line goes between Paddington and Farringdon - and was renamed to the Hammersmith and City line in 1990. 
Since the line's debut journey, London has changed quite a bit, but even with all that development and growth in the city, there are still plenty of pockets of green space to take a moment and unwind, in fact you'll only have to walk 4 minutes on average to reach any of these parks that we've picked out.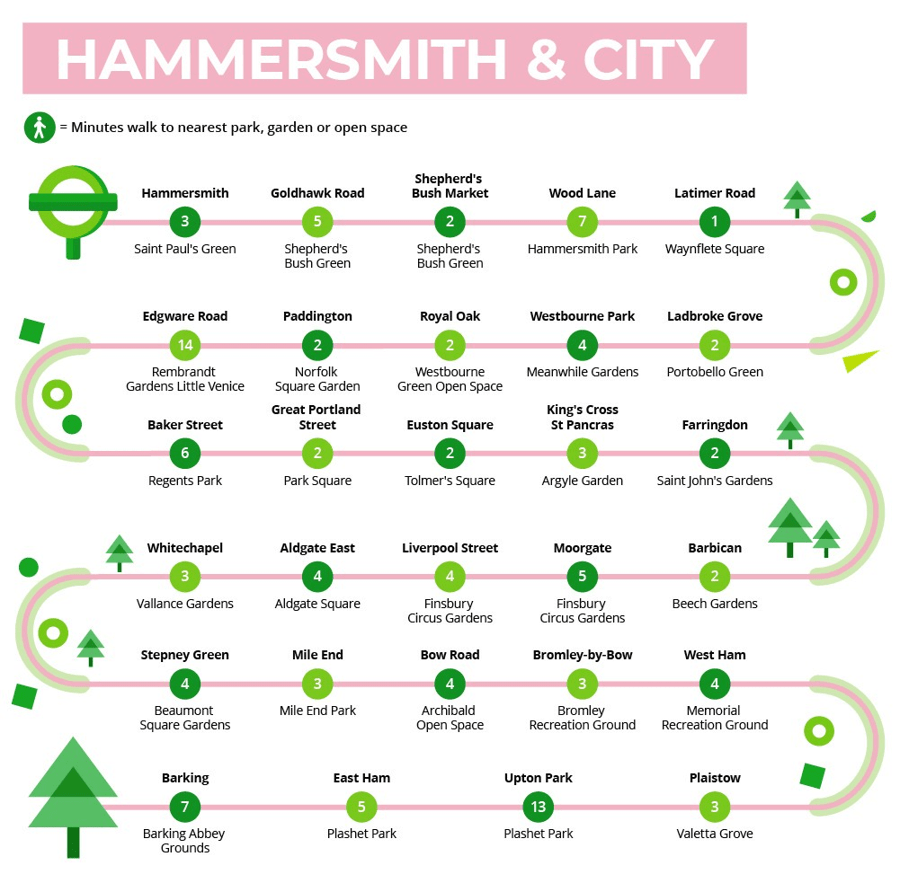 The most highly rated parks on the Hammersmith and City line
A short walk from Wood Lane station, Hammersmith Park features a Japanese Garden as well as various sports facilities and beautiful greenery. The park has a 4.5/5 star rating on Google, and visitors love the peaceful nature of the space. You can also reach one of the Royal Parks of London using the Hammersmith and City line: if you alight at Baker Street, it's only a six minute walk to the beautiful Regent's Park.
Filled with fountains, sculptures, flowers and even a zoo, this park has so much to offer, so it can fill a half an hour lunch break or half a day out. Either way, the Hammersmith and City line can get you where you need to go.
The closest parks to the Hammersmith and City line
For when you want to get close to nature without having to walk too far, there are plenty of options along the Hammersmith and City line. Waynflete Square is the closest, being a one minute walk from Latimer Road.
Eight further greenstops are only a two minute walk away from their respective stations, including Shepherd's Bush Green if you get off at Shepherd's Bush Market, Norfolk Square Garden if you get off at Paddington and Portobello Green if you get off at Ladbroke Grove. In summary, there's no shortage of green spaces along this line if you need a quick breath of fresh(er) air.
The furthest parks from the Hammersmith and City line
On days when the weather is glorious and you simply can't spend too much time outside, there are a few greenstops that are a slightly longer walk away from their closest station. The Rembrandt Gardens are a 14 minute walk away from Edgware Road - the longest walk to any greenstop on the Hammersmith and City line.
Plashet Park is 13 minutes away from Upton Park, giving a nice stroll through the city before you reach the serenity of nature. Hammersmith Park and Barking Abbey Grounds are both a seven minute walk away from their closest stations - Wood Lane and Barking, respectively.
We know how important these areas are to every single organism on earth, which is why our OVO Beyond Upgrade plants even more trees on behalf of our customers, and supports carbon offsetting projects. Because if we get our energy from green spaces, we should put energy back into keeping them alive. 
Read more about how OVO Energy is driving progress to net zero and helping transform the energy sector.
And, for more of London's Greenstops, check out our complete guide to parks along every tube line.
Header image: Regent's Park ©Flickr.com, jhlau
View more from these categories