blog
EV Stories: how test driving EVs helped me choose the right electric car for me and my family
17 June 2021 | Michelle Little and Celia Topping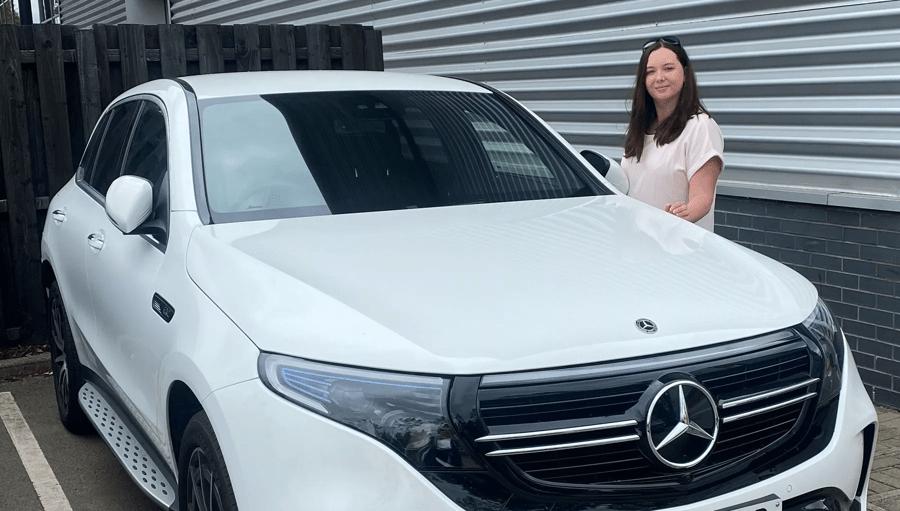 This is the fourth in our series of EV Stories, where we meet various members of the OVO team and hear their first-hand experience of electric vehicles. The series aims to offer you valuable insights into the reality of EVs, including real-life information on buying, driving, leasing, charging, insuring and beyond. We hope to be able to give you all the answers you need about this exciting technology, especially if you're thinking of making the switch.
For this EV Story, we spoke with Michelle Little, Head of Propositions & Partnerships at OVO, about how she came to decide which electric car to buy for her family by taking a few test drives:
"As far as smart homes go, we're doing pretty well – we've got a smart thermostat, radiator valves, solar panels, smart doorbell, sensors, cameras, lights, and an Alexa in every room. I guess, as Head of Propositions and Partnerships for OVO Smart Home, it goes with the territory! But, I'm sorry to say both my partner and I are still driving around in planet-destroying diesel monsters. 
It's been playing on my mind for some time, and I know we need to make the change – but it feels like such a big step. When the ban on new petrol and diesel cars was announced for 20301, I decided enough was enough, and started to do some research.
What kind of car are we looking for?
Once I started searching, it quickly became rather overwhelming – so many articles, blogs, websites, FB motoring groups, YouTube reviews and list upon list of "Best new EVs". Talk about information overload! 
It got so exhausting that my partner and I decided on a new strategy. It's one that OVO's resident EV expert, Chris Britton, advises in his useful blog on Things to consider when buying an EV. It's not rocket science, but making a list of our top criteria really helped us narrow down our search:
We have 2 children, both who are growing fast (one will soon be taller than us!), so we'll need a roomy car.
We have 2 miniature schnauzers – so we also need room for them.
We live in Yorkshire, where there are a fair few hills to climb – so the car needs to be powerful.
We live very active lifestyles, and are often out walking, cycling, camping etc – so we need a vehicle with a big boot, and possibly 4x4 capability.
My family lives in Scotland, and we visit them at least once every year, so the car needs to be comfy for long road trips.
I had an accident when I was a child and have back problems, so it's essential the driving seat has the kind of support I need.
Because of those long road trips, we need a

car with good range

(at least 200 miles) and rapid charge capability, so we don't have to charge for a long time on the way.
I travel a lot, so my diesel bills come to around £1,300 a year.

The average annual cost of charging an EV is around £310

. So even a more expensive EV could be a possibility, because of the savings made over time. 
To be honest, when looking at the higher price points of the battery electric vehicles (BEV) compared to the plug-in hybrids (PHEV), I was almost tempted to go for a hybrid – those long journeys would be easier with a petrol back-up. But, for the environment's sake, we're committed to being completely free of fossil fuels – so we decided that a pure EV was the right choice for us. 
Range anxiety
One of the biggest barriers for many people looking to buy an EV is range anxiety. And I have to admit, it was a major stumbling block for me, too. Even though the average EV range is around 202 miles, it can be as low as 160 miles in cold weather. We live in Yorkshire, and drive regularly to Scotland – neither of which are known for their tropical climate! 
Our journey from home in Crigglestone near Wakefield to my mum's in Falkirk is 250 miles. That's already a long way with 2 kids and 2 dogs in tow – so we really don't want to have to stop to charge for ages and add more time to the journey. But, we always stop at Alnwick services just off the A1 to stretch our legs. Luckily, there's a 50kw charger right there, so we'll be able to give the car a 30 minute boost while we go to the loo, buy a coffee and take the dogs for a walk. That'll give us an extra 74 miles of range for just £8.64. They also have 350kw chargers, which would cost more – but if we're in a hurry, it'll be good to have the option. 
It's worth noting that not all car batteries are created equal!  Understanding your car's battery size and charger compatibility is vital. Because of our need to be able to charge rapidly on a long journey, we had to choose a car with this capability.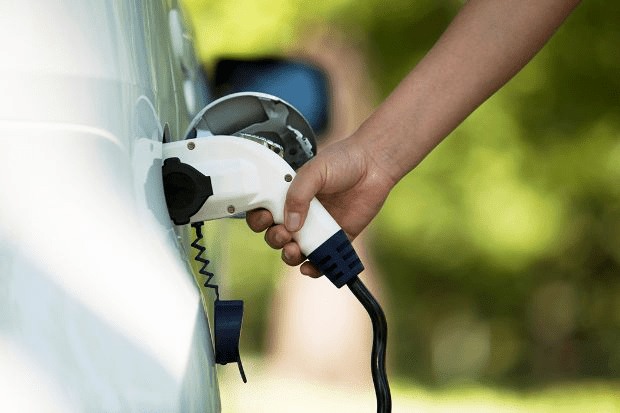 Narrowing it down
It wasn't easy, but with our list of criteria, we managed to narrow down our choice to a few SUVs. All these vehicles would give us the space and comfort we need, a good driving range, and the power to tackle Yorkshire and Scottish terrain. Our choices were:
VW ID4
Mercedes EQA
Mercedes EQC
Ford Mustang Mach E 
Jaguar ipace
We soon ruled out the Jaguar, based on cost. So we're left with a list of 4. We figured at this stage, the best thing to do was to test drive them all. Neither of us had driven an EV before, so it was even more important to make sure the car was right for us. 
Booking a test drive
This was the easy bit. I called around the local dealerships and told them we were looking to make the switch to an electric vehicle. Both our old cars are about 3 years old, so it made perfect sense. I booked us both in for a test drive and looked forward to it with nervous anticipation. I also did my due diligence on what to do/what not to do when test driving an EV, so we were fully prepared:
8 tips to help you get the most out of your EV test drive
Phone ahead – this is just to make sure the car you want to drive is actually available, and is fully charged on your arrival.
Ask to speak to an EV specialist – only an expert will be able to answer everything you need to know about the car, including any vehicle-specific features. 
Be prepared – you'll most likely be asked to pay a refundable deposit (I paid £500). Also, take along a utility bill and your driving licence.
Questions – have a list of questions ready for your salesperson, don't be shy! We were totally new to EVS, so had a list as long as my arm. But we came away feeling we knew everything we needed to know.
Maintenance – ask whether scheduled 

maintenance is included

in the package price, as this could increase the overall cost.
Familiarize yourself – before setting off, sit in the car and make sure you know what everything does. EVs can seem a bit futuristic with all electric dashboards and big visual displays, so I had to ask the salesperson a couple of questions before we left the forecourt. 
Plan your route – it's a good idea to have an idea of where you want to go before getting in the car. Include some regular routes and a motorway, if you can. I also tried some parking manoeuvres with reversing, to make sure I could handle the size of the car. 
Take the kids – because we have 2 opinionated children, we thought it best to take them along. I'd rather hear their objections before I buy an expensive car, rather than every time they're in it after the purchase has been made!
Driving an EV for the first time
I've got to admit that I was a bit nervous when we arrived on the day, as I'd never driven an EV before. We filled in the paperwork, paid the deposit and were introduced to our first car of choice, the Mercedes EQA. 
Because of current Covid restrictions, the salesperson wasn't permitted to come with us, so we had the car to ourselves. It was like setting off on any other family outing, but without the dogs! 
Test driving the Mercedes EQA
The car looked great. The kids couldn't wait to get started, and to be honest, neither could we! It looked so spacious. We had a few bags with us so decided to check out the size of the boot. The car was charging at the time, and I realised what a potential trip hazard the cables are, lying on the floor. We carefully stepped over them , but it's something to be aware of. 
The first thing I noticed was how quiet the car was. No more noisy ignition with the turn of a key. The EV had a start button to press, which made no noise whatsoever –  I wasn't even sure the car was on at first! Because EVs have a motor instead of an engine, they all have automatic gears – so if you're used to a manual transmission, this may take a little getting used to. It felt so smooth and silent as we glided out of the dealership. And with no background engine growl, the sound of the indicators suddenly seemed really loud! 
As I accelerated on the bypass, the car made a sort of futuristic swooshing noise, making our 10 year old daughter squeal with delight, "It's just like being in a spaceship!" she cried. 
Although the EQA is an awesome car, we decided it wasn't the one for us. Mainly because the battery underneath the car raises the floor slightly in the back, making it a little uncomfortable for our long-legged 14 year old. She's still growing, so we felt this could become an issue on long journeys. Also, due to the manual cranks and dials, I found it more difficult to adjust the driver's seat than in my last car, so it was tricky to get comfy. But for a couple or a young family, this would be a great car. 
Test driving the Mercedes EQC
Next up was the EQC. It has a huge boot, and plenty of legroom in both the front and back. It's a more expensive car, and it felt much more premium, including electric, adjustable seats with heating system and an elevated interior. It was also quite futuristic inside, with a large screen displaying remaining miles on your charge, sat nav, options to direct you to the nearest charge point, and a range of other fascinating features. It immediately felt like the right car for us. 
The drive itself was a lot of fun. It was also interesting to note, by using the various modes and settings, how different driving styles affect the range. If you drive smoothly and calmly like me, you'll get close to the stated mileage. On the other hand, if you drive like my partner who immediately switched the car to sports mode and treated it like a day at Brands Hatch, you'll get nowhere near the stated mileage… but have a lot of fun along the way! 
Test driving the VW ID 4
Straight after the Mercedes garage, we visited Volkswagen, to try out the VW ID4. This is a good family car. It looks lovely and has a claimed mileage of up to 370 miles (city driving, mild weather) which is very appealing. Maybe it's a bit unfair, but after the Mercedes, the VW just didn't feel as comfortable, and the arm rests in the front seemed a little out of place. But the car is very smooth, and handles really well in the city. 
Test driving the Ford Mustang Mach E
I had tried to set up a test drive in a Ford Mustang Mach E – Ford's first pure EV that launched this year. Unlike the Mercedes models, which are adapted to be EVs from existing Mercedes models, the Mach E is built from scratch. Because of this, there are only a few vehicles available to test drive in the UK at the moment, and very long waiting lists. I've booked a test drive for later this month, and I'm looking forward to driving a car with a frunk (front trunk!). 
The decision
Drumroll please!
In the end, it wasn't a tough choice to make. I think we knew as soon as we got in the Mercedes EQC that it was the car for us. Typically though, it's the most expensive! But we're going to continue doing test drives (it's kind of addictive!) and will make a final decision whether to keep 2 cars, or downsize to 1, once we've got the EQC, and lived with it for a while.
But here's the rub – the lead time! Most EVs have a long lead time, with lengthy waiting lists. Because of this, we won't get our car until August, sob! On the upside, that gives me plenty of time to find out about insurance, and research the best charger and tariff. 
Final thoughts
I'm super-excited about getting my EV – and I can't wait for the car to arrive. August seems so far away! I totally recommend to anyone currently considering an EV, to just take the plunge and book a test drive or 2... or 3! The only way to really understand the benefits of EVs over the old ICE (internal combustion engine) cars is to drive one. You won't regret it, and you won't look back. 
Don't think of it as purchasing an EV, think about getting a mode of transport to suit your lifestyle. Think about what's important to you, your needs, along with your individual budget/purchasing options. I'll keep you posted on what we decide to do next. Whether we drop to 1 car, and what we decide to do about chargers and tariffs, insurance and maintenance. 
Happy driving!"
To read more of our EV Stories series, head over to:
Things to consider when buying an EV
If you're thinking of buying an EV, this guide will help you ask the right questions and tell you what to watch out for. Written by our in-house EV expert, Chris Britton,  it's the only advice you'll need. Don't buy an EV without reading this first! 
A beginner's guide to electric cars: my first time behind the wheel 
This blog is all about our staff writer Jayne's experience as an EV newbie. Read about how she tackles her first trip and how car-sharing clubs could be the way forward for you. 
Get the lowdown on OVO's new fleet of carbon-busting EV vans
Meet Luke Fawthrop, an OVO field engineer, as he takes out his brand new OVO van on the rounds in Hull, the challenges he faces and whether he'd go back to diesel. 
Sources and references: 
1 https://www.gov.uk/government/news/government-takes-historic-step-towards-net-zero-with-end-of-sale-of-new-petrol-and-diesel-cars-by-2030
View more from these categories