blog
How I saved over £500 per year by using up leftovers
03 December 2013 | Penny Golightly
In this series by guest contributor Penny Golightly, we discover how she made real day-to-day savings at home and how you can follow her footsteps and save too! This week, she we're making the most out of leftovers...you know, like they used to in the good 'ol days!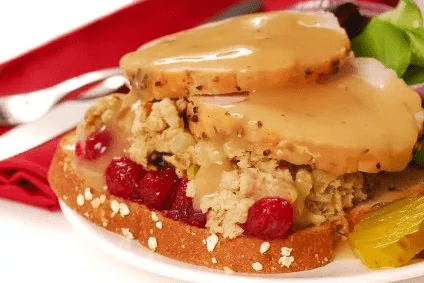 Leftovers are wonderful things. They can save you extra preparation and [cooking time]https://www.ovoenergy.com/blog/lifestyle/save-200-per-year-food-bills-slow-cooking, you benefit from savings if you're buying in bulk, and some meals simply taste better the next day. I regularly plan for leftovers on purpose, but I'm always happy to use up any accidental ones too.
Before reliable freezers and refrigerators became widespread, there was a grand tradition of using up any and all uneaten cooked food. For example, you'd have a roast chicken, potatoes and greens for your Sunday dinner. On Monday you might have cold cuts of chicken, served with bubble and squeak made from the greens and potatoes. Then on the Tuesday, there would be chicken and vegetable soup made by cooking down the carcass. Nothing was wasted.
Nowadays we tend to shop more frequently and like more variety in our eating patterns, but leftovers can still fit our modern lifestyles. For example, freeze that extra portion of lasagne today and you'll have an easy homemade microwave meal next Friday, when you come home tired after work.
You don't have to stick to reheating the same dish. Add a different flavour kick by using garden herbs, spice blends and pastes, chilli, or mustard. Change the texture by pureeing or chopping, or add a crunchy topping, some sauce or some melted cheese. Turn other leftovers into fillings for sandwiches, pita breads or pasties.
Food safety
Cool cooked leftovers as quickly as possible, then put in the fridge or freezer.
Make sure containers are tightly sealed.
If keeping leftovers in the fridge, keep the temperature below 5C and use within two days.
Defrost frozen leftovers safely by leaving them overnight in the fridge.
Only reheat cooked leftovers once. This is the golden safety rule.
Make sure food is piping hot and cooked through before serving if you're reheating it.
More ideas for leftovers
Stale bread can be turned into croutons, bread pudding or breadcrumbs. Breadcrumbs freeze well and can be used for crunchy toppings or coatings, or as a thickener for sauces or stuffing.
Leftover cooked vegetables are great in omelettes, pies, quiches, veggie burgers, soups, stews, pizza toppings and more.
Leftover rice can be used in salads, vegetable rissoles or egg fried rice dishes. You can also push it down into a pie dish and bake for a few minutes, brushed with a little oil or egg white, to make a gluten-free crust that's a bit like a pastry base.
Many leftovers, especially cold cuts of meat, work really well in a tortilla wrap or flatbread with some salad and relish or hot sauce.
Leftover chilli, stew, bean bake, or casserole makes an easy, hearty baked potato filling.
In the unlikely event of having leftover wine, you can freeze it into ice cube trays to add to stews and sauces.
If you're looking for more leftovers inspiration, the BBC Good Food website has some good recipe ideas.
View more from these categories