blog
Metropolitan Line's Greenstops
20 October 2021 | OVO Energy
The Metropolitan line goes to three different counties along its route: London (of course), Hertfordshire and Buckinghamshire. It's also the third longest tube line, so it's no surprise that there are a wealth of green spaces along the line that are extremely easy to get to if you want to take some time out of your day to recharge.
We've picked out a park or green space from Aldgate to Amersham, and you'll only have to walk on average just over 5 minutes to reach the closest one to each station on this route.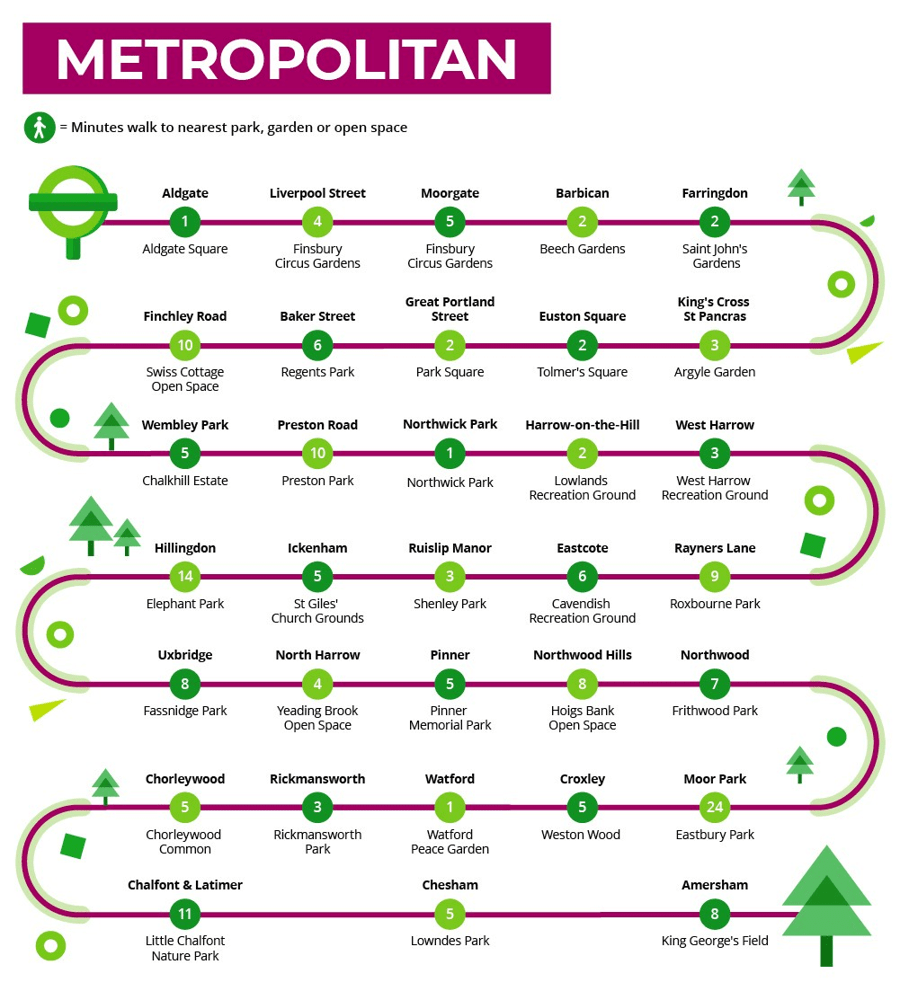 The most highly rated parks on the Metropolitan line
If you want to venture outside of London while still staying connected to the Underground system, Little Chalfont Nature Park is definitely worth a visit. Located in Buckinghamshire, in the Chilterns Area of Outstanding Natural Beauty, there's plenty to do here for nature lovers.
If you want to find somewhere a little more central, Elephant Park is an exciting new greenstop that is only getting bigger. At the moment, there's some lovely greenery, fun activities for younger children and a cafe. Keep an eye out for future developments, though, the plans for this space are huge! 
The closest parks to the Metropolitan line
Little Chalfont Nature Park, London - ©geograph.org.uk, David Hillas
When using the Metropolitan line to find some easy to access greenstops, there are three options that will take you around a minute to walk to from their given stops. To get to Aldgate Square park, get off the tube at Aldgate.
If Northwick Park is the destination you have in mind, alight at the Northwick Park stop. Finally, if you want to experience the tranquility of Watford Peace Garden, get off at Watford and it's just a quick stroll before you reach the greenery.
The furthest parks from the Metropolitan line
If you can't get enough of the fresh air, there are greenstops which require a slightly longer walk to reach. If you get off the tube at Chalfont & Latimer, you can reach the Little Chalfont Nature Park in 11 minutes, making it a great trip for when you have more time to spare.
Elephant Park can be reached in 14 minutes from the Hillingdon stop. If you want to really extend your search for nature, you can get off the tube at Moor Park, from which it's a 24 minute walk to Eastbury Park. That's a Sunday afternoon sorted.
And, for more of London's Greenstops, check out our complete guide to parks along every tube line.
View more from these categories