blog
How Cool Earth works
07 May 2015 | Cool Earth
Local people know more about the rainforest than we ever will. That's why Cool Earth's simple idea is – and always has been – to help villages take control of the rainforest that they have depended upon for generations.
These people are the heroes of our story because they are the only thing that will actually keep the rainforest safe.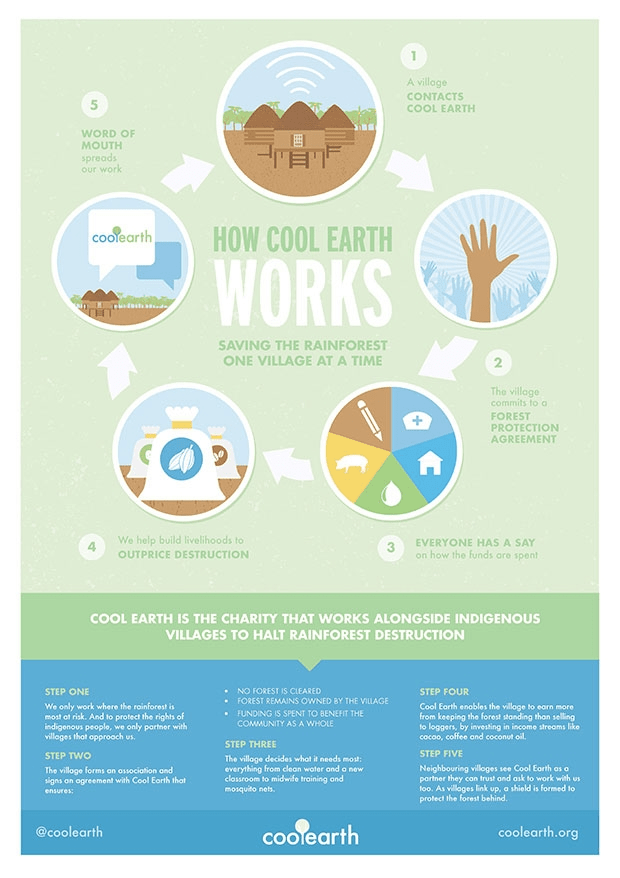 Our simple approach has five steps, starting when a village in need contacts Cool Earth:
1. We only work where the rainforest is most at risk
And to protect the rights of indigenous people, we only partner with villages that approach us.
2. Each village forms an association and commits to a forest protection agreement with Cool Earth that ensures:
No forest is cleared
Forest remains owned by the village
Funding is spent to benefit the community as a whole
3. Everyone has a say on how Cool Earth funds are spent 
The village decides what it needs most: everything from clean water and a new classroom to midwife training and mosquito nets.
4. We build livelihoods to outprice destruction
Cool Earth enables the village to earn more from keeping the forest standing than selling to loggers, by investing in income streams like cacao, coffee and coconut oil.
5. Word of mouth spreads our work
Neighbouring villages see Cool Earth as a partner they can trust and ask to work with us too. As villages link up, a shield is formed to protect the forest behind.
With OVO's support, we've been able to expand this simple approach to 16 villages in the Ashaninka project. We've put more rainforest under the 24/7 protection of indigenous people more than any other NGO. And because we put our funds directly into rainforest communities, our model is both light touch and cost efficient – with more than 90% of every donation going directly to our projects.
View more from these categories