blog
482 volunteering hours, 132 cups of tea, 100,000K and 3 amazing weekends...
12 September 2016 | OVO Energy
OVO Gives Back Month has been a blast.
Summer seems very much over, and while you might have been jetting off to a far-flung beach, or pitching your tent (and crossing your fingers) for a festival adventure or a sunny British break, the OVO team have been getting hands on helping local charities as part of OVO Give Back month.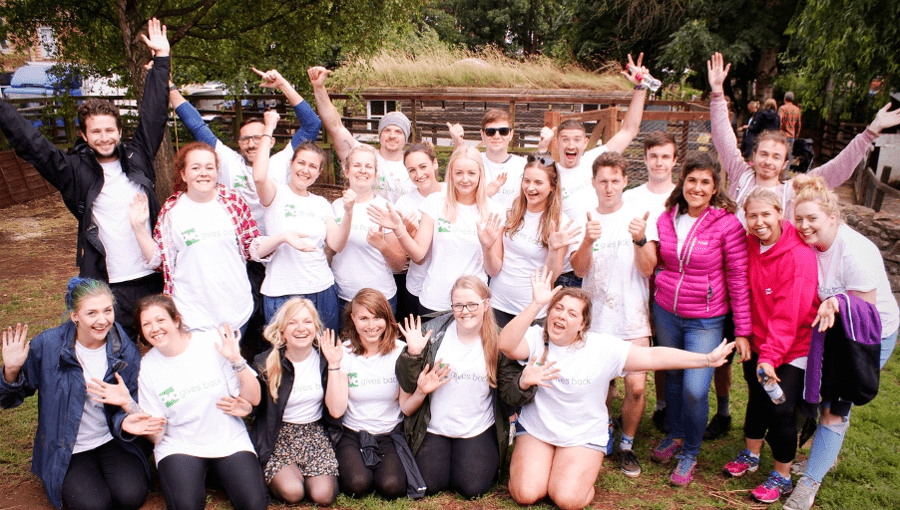 The OVO team at St Werburghs City Farm - Image by Josh Penrose
What is OVO Gives Back? 
Every year, with OVO Gives Back the OVO Foundation supports 4 local charities with £100,000 in funding and a whole load of hands-on help. And that's what this August has been all about – giving our new charities an instant boost to start a year of support. From polishing our carpentry skills to walking on the wild side, urban gardening to feeding piglets, we've had a brilliant time. 
4 weeks – and many cups of tea – later, here's what we've achieved so far:
3 upcycled planters with 1625 Independent People  
1625 Independent People helps young people at risk of homelessness. As well as safe places to live and supportive people to rely on, it helps long-term, providing skills and opportunities to get back on track and shine.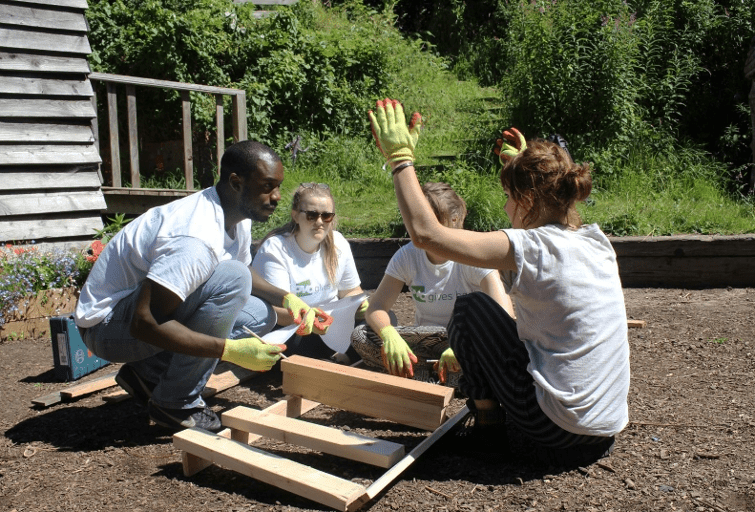 Building planters for the outdoor space at 1625ip's supported accommodations - Image by Kat Gulyas
15 OVO people were up bright and early to build 3 planters for the gardens of 1625ip's properties. Our volunteers started the day with copious amounts of coffee, before getting started breaking apart some less-than cooperative wooden pallets. Over to Kat Gulyas, who volunteered on the day:
"The hardest bit was removing the nails ready to upcycle the pallets. It took pliers, three hammers, a crowbar and some heavy rocks! Once we'd beaten out the nails, we could get the building project started in three groups – well, we do love a bit of competition here at OVO!
After much deliberation over the plans and their execution, we ended up spending the afternoon drilling and measuring, becoming good friends with the spirit level turning pallets into planters for a very good cause."
Over the course of the day, the team had 42 cups of tea, destroyed 12 pallets, took 127 pictures, ate 79 biscuits and had one very big laugh.
300 trees (and one pond) cared for with the Forest of Avon Trust
The Forest of Avon Trust is brilliant Bristol-based charity that works to safeguard, enhance and maximise the benefits of local trees and woodlands. Our volunteers had signed up to spend the day clearing out a pond, creating a fantastic habitat for wild creatures, and their human admirers!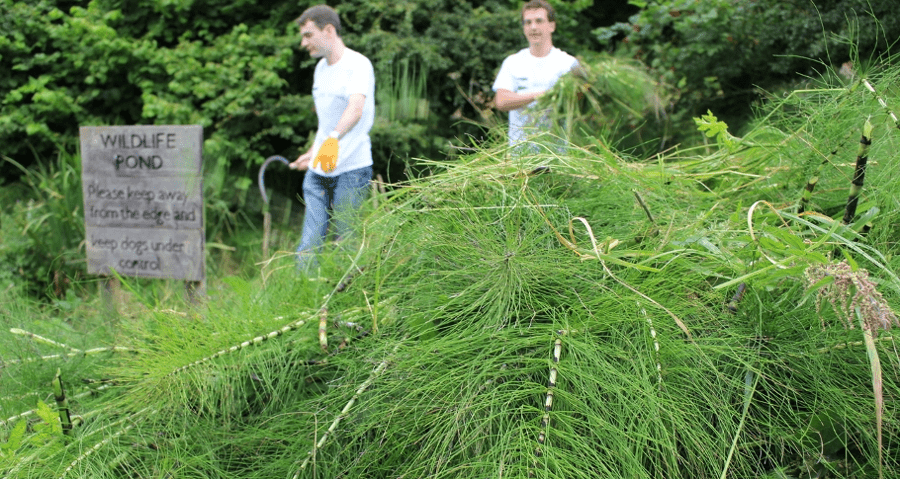 Clearing a wildlife pond for Forest of Avon Trust lead educational groups - Image by Kat Gulyas
Our volunteers jumped on a minibus to head for the wilderness: some beautiful woodland near Bitton, half way between Bristol and Bath. The sun decided to support our volunteering efforts as we set to work removing scrub and brambles, and removing tree guards. Now the young trees are established and thriving, the protective guards needed to go to help the woodland breathe and flourish.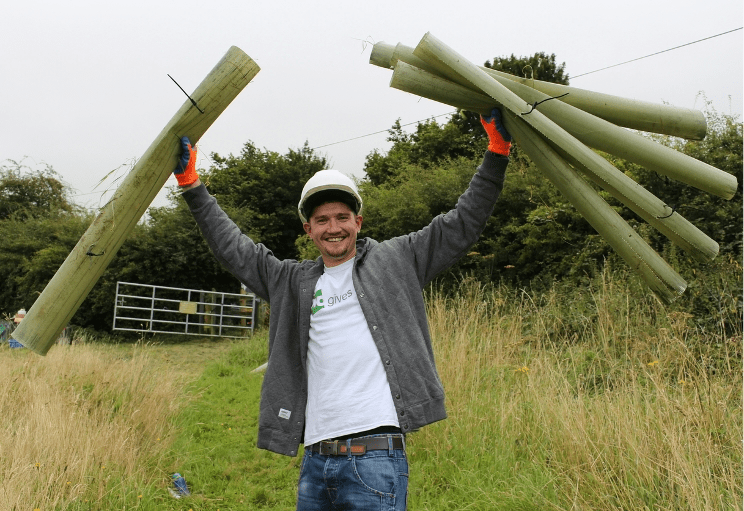 Some of the tree gurds we've removed to help a young forest thrive - Image by Kat Gulyas
We also got stuck in chopping and burning – which may not sound much like woodland management. However, it's actually a vital tool in the fight against ash dieback, also known as Chalara. This nasty fungus was first noted in the UK in 2012 – it attacks ash trees, and is fatal. As there's no cure, cutting down infected trees and burning them is the best way to protect the whole forest. 
A fantastic day was had by all, and we even got to practice a little bushcraft, making a bonfire to get the kettle on! Over the course of the day, we removed 300 tree guards, walked 158,400 steps, and made 37 cups of tea on an open fire.
5 dig deep at Depaul UK's Westbourne hostel
International charity Depaul helps people who are homeless, vulnerable and disadvantaged. Their goal is to empower people who face homelessness, improving their quality of life and helping them stay off the streets for good. We support their work in London.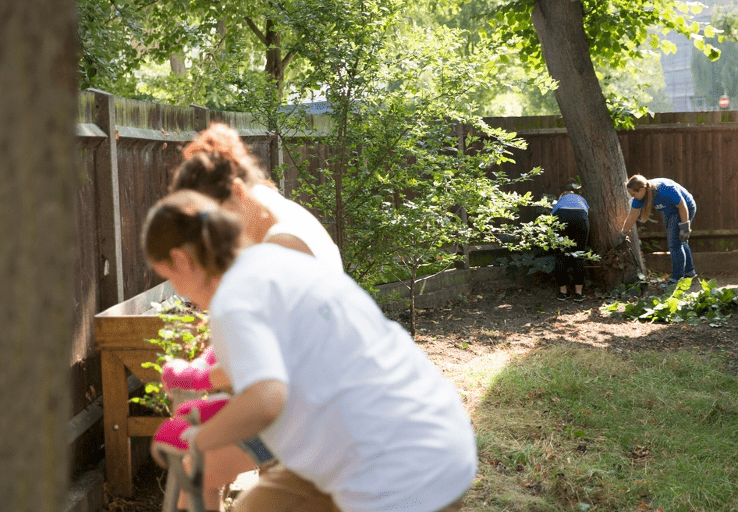 Reimagining an outdoors space in Westbourbe for DePaul's service users - Image by Zoe Frost
On Wednesday 17th, 5 OVO volunteers got stuck in helping to clear the garden at a Depaul residence in Westbourne. The plan was to give an overgrown space a big makeover, clearing, weeding, tidying and digging over old planting beds to create a welcoming outdoor space for Depaul's residents. The young people who call the hostel home now have a much more useable outdoor space, and there are plans to add some cheerful planting to create an urban oasis for everyone to enjoy. After a day of serious gardening, we were even treated to a tasty BBQ.
Depaul UK has been established for 27 years. It provided 13,000 beds for the night for young, homeless people last year. On the day, 10 helping hands were hard at work, with 2 shovels and lots of elbow grease.
25 urban farmers tested at St Werburghs City Farm
St Werburghs City Farm is a firm favourite with Bristol families keen to get a taste of the countryside. But did you know that it also acts as a educator and a community builder for vulnerable adults, disadvantaged young people and children growing up in the city?
25 OVO volunteers got some first hand experience of just how much this brilliant charity does for the Bristol community on Saturday 20th, spending the day down on the farm.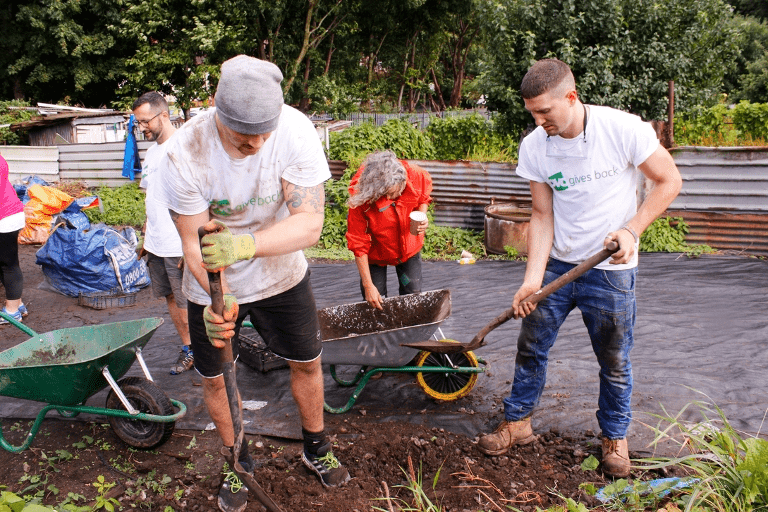 Preparing soil for the raiser planters - Image by Josh Penrose
Enabling accessible gardening was one team's project. They built two raised planters for gardeners with limited mobility. One is built to accommodate people with mobility issues. A special wide side for comfy sit-down gardening, complete with plenty of poles to hold onto. The second is horse shoe shaped, so wheelchair users can access all sides, and get stuck into planting, weeding and growing. Our second team of volunteers built fences and new enclosures, and fixed gates to keep the feathered and furry farm residents safe and under control.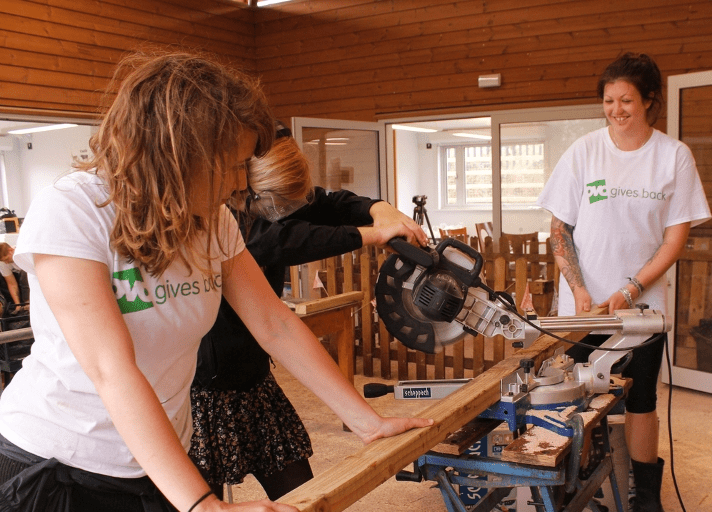 Preparing to fix the fencing around the farm - Image by Josh Penrose
Tired – but happy with a good day's work – all our volunteers celebrated by feeding the goats, pigs and sheep before heading over to the Farm pub for a well-deserved drink or two.
Ready to help out too?
Get involved by donating to OVO Foundation. If you pay by Direct Debit and choose to add a small donation to your monthly energy bill, OVO Energy will match it. Find out more about our work on the OVO Foundation page. 
View more from these categories