blog
Sleeping out in solidarity
11 November 2015 | The OVO Foundation
It's the #Brizzz #SleepOut tomorrow
Did you know that over 83,000 young people face homelessness across the UK every year?
That's a statistic we won't stand by and ignore. So, this Thursday, OVO joins forces with 1625 Independent People (1625ip) to raise vital funds to fight homelessness.
Out in the cold
Every year, Bristol-based 1625ip provides a lifeline for over 1,800 young people. And we're committed to help them help others, by powering the Bristol sponsored Sleep Out for the second year running.
Last year, OVO helped raise an impressive £25,000 when 70 people bedded down in the Temple Meads car park for the night. This year, we're taking it one step further and sleeping out under the stars outside our Rivergate office.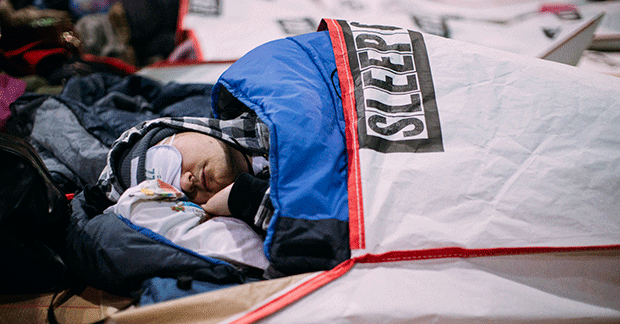 Raising more than money
Our Bristol HQ is a big local employer;our team now numbers almost 1,000. One in three of us are between 18-25 which is why Sleep Out is so close to our hearts. Homelessness can happen so easily, and when we hear the stories of the people 1625ip have supported, it's hard not to feel deeply affected. Meet some young people who've needed a helping hand in 2014/15:
Sarah
Sarah left care and was referred to 1625ip when she moved out of supported housing into a private rented flat. As well as helping her manage living alone, she's now undertaking an Access to Health and Social Care course, with extra home tutoring to get her Maths and English up to the level required for the course.
Jason
Jason was 19 when he became homeless – he didn't get on with his younger brother, and his mum eventually asked him to move out. He sofa surfed and started to get into trouble with the police. A year on, thanks to his hard work and support from 1625ip, Jason has turned his life around, learned to manage his own home, rebuilt his family relationships – and successfully passed a college course. Now he plans further study, and is encouraging his younger brother to stick to the straight and narrow.
What causes youth homelessness?
We feel that it's really important to raise awareness around youth homelessness, and better understand why it happens. The OVO Foundation – our charitable arm – commissioned the Institute for Social Policy at Heriot Watt University to research youth homelessness in the UK.
They've looked at what's in place to help young people, both policy and practice, and identified where there are gaps and areas where improvements might make a difference. We hope that by combining practical support like fundraising, and more strategic activity like research, we can make a real difference for vulnerable young people across the UK. Gaby Sethi, The OVO Foundation Manager explains:
"Despite government investment into preventing homelessness, the number of young people in touch with homelessness services each year is not declining. As well as powering this year's Bristol Sleep Out and helping raise thousands of pounds for 1625ip, The OVO Foundation is committed to finding innovative ways to support young people in our local community, and the research we commissioned will drive our future work in this area."
The full report and key findings will be available on our website on Sleep Out day – 12th November.
Will we be alright on the night?
Now the November chill's really set in, we're all a bit nervous –and have been stockpiling the woolies, ear plugs and hand warmers ready. Intrepid veteran Sleep Outers Lanie Sibley and Katie Bunting have some top tips for those sleeping out for the first time:
Layers are your friend – you best bet to stay toasty is trapping air between light layers
Be a star-jumper –before you bed down for the night, do some exercise. 50 star jumps will raise your body temperature. Then give your sleeping bag a shake to get plenty of air in before bedding down. The result? A toasty nest, that should stay that way thanks to the extra air insulating you.
Bring some hand warmers – Lanie swears by sneaking them in your socks!
Onsies are a no-sie – just think about it.
Invest in a reflective blanket – and pop it underneath you. These marathon-runner must-haves reflect your body heat back up, and the chill of the ground back.
Remember that too many people have to sleep this way every night – however cold you are, you'll sleep in a bed tomorrow.
Keep your chin up – and think of how much money we're raising.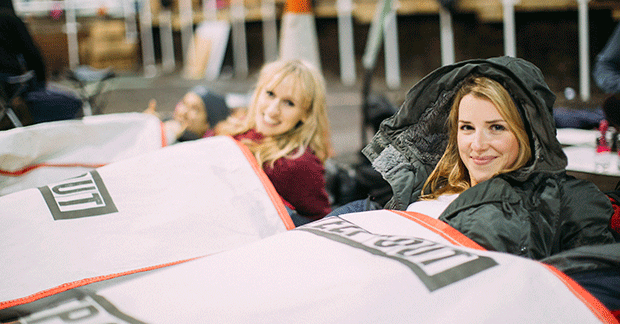 Do your bit
Every penny raised will help young people get back on their feet, supporting 1625ip's amazing work. That's providing emergency food supplies, covering volunteers' expenses, running confidence-building activities, and providing essential independent living skills programmes, plus lots of advice and information services.
So why not skip that after-work treat, and donate a few £s today?
TEXT ZZZZ59 £5 to 70070 or donate now at justgiving.com
Want to see what happens on the night? Follow @OVOEnergy – and the hashtags #Brizzz #SleepOut
View more from these categories