blog
Youth homelessness in the UK
12 November 2015 | Dr Beth Watts for The OVO Foundation
The OVO Foundation is OVO's charitable arm. Many OVO Energy customers donate 25p a month to support its work – and OVO matches every £ raised.  Together we will make a difference in three important areas: environment, education and youth poverty.  But with so many good causes to support and ways to help, knowing where to best focus is challenging.
That's why we commissioned Dr Beth Watts, Research Fellow at Heriot Watt University to take a closer look. She's undertaken a comprehensive review of developments in youth homelessness policy and practice across the UK. Over to Beth, for a summary of what the research has revealed.
Moving in the right direction?
The last review of youth homelessness policy and practice in the UK, published in 2008, reached strikingly positive conclusions. It identified "significant improvements to policies, services and monitoring" over the prior decade and described policies tackling youth homelessness as "moving in the right direction". The main components of this "sea change" were the extension of the 'main homelessness duty' (i.e. an entitlement to rehousing) to a wider group of young people and a stronger emphasis in England and Wales on homelessness prevention.
A new review of youth homelessness in the UK published today (the full report is available here) highlights a number of further positive developments over the last seven years, not least:
improving responses to homeless 16/17 year olds;

the extension of the rehousing duty to virtually all homeless people (rather than only 'priority' groups) and a stronger emphasis on homelessness prevention in Scotland;

the introduction of a legal duty to take reasonable steps to prevent homelessness in Wales;

the extension of local authority duties to support young people in care; and

investment in the development of accommodation options for young homeless people in England.
There has been considerable divergence in approaches to homelessness between the four UK nations over this period, a development that will offer substantial insights in the future regarding the most effective policies in preventing and tackling youth homelessness.
These developments have taken place and are being implemented in an extremely challenging wider context. Young people continue to face the lingering impact of the post-2007 recession. Youth unemployment is three times the overall rate and young people in work are often on low pay and insecure contracts. Young people face severe challenges accessing affordable rented accommodation (in the private or social sector), let alone home ownership. The UK-wide programme of welfare reform initiated in 2010 – in particular restrictions in entitlement to housing benefit and intensification of the sanctions regime – have significantly compromised the welfare safety net available to young people. Dramatic cuts to local authority budgets have had a significant negative impact on youth provision.
Despite some positive policy trends then, the broader trajectory has been in a direction clearly damaging to the prospects of many young people, as most recently recognised by the Equality and Human Rights Commission and former Conservative minister David Willets.  
The scale of youth homelessness
In each of the four UK nations, there have been falls in levels of statutory or 'official' youth homelessness since 2008/09. These falls have been dramatic in England, Wales and Scotland, linked to the impact of the 'housing options' preventative approach. Other measures of youth homelessness show different trends, however. Levels of rough sleeping among 18-25 in London have increased by 40% since 2011/12. The most recent estimate of the overall scale of youth homelessness across the UK (statutory and non-statutory homelessness combined) estimated that in 2013/14, 83,000 young people were in touch with homelessness services. In light of previous (though not directly comparable) estimates, this suggests that declines in statutory youth homelessness have been at least offset by increases in other forms of youth homelessness.
In the context of the substantial cuts to services and programme of welfare reform implemented since 2010 it is likely to reflect, at least in part, enhanced emphasis on proactive prevention during this period that levels of youth homelessness have not risen substantially. These pressures, and the capacity of young people to access adequate accommodation and avoid homelessness, look set worsen in coming years.
Profile and support needs
There is a strong consensus across the UK that a higher proportion of young people accessing homelessness services have complex needs than in the past. These trends are likely in part to reflect: greater awareness and better identification of young homeless people's support needs; improvements in homelessness prevention among 'lower need' young people; and/or better targeting of services to those in greatest need. More concerning, a possible contributing factor is the significant cuts to local authority budgets that have resulted in reduced youth service provision and support budgets. Whatever the case, the shift presents a challenge to youth homelessness providers seeking to improve responses to young people with complex needs, including the development of psychologically informed approaches, at a time of substantial financial pressure.
Class A substance misuse is less of a concern for youth homelessness providers than in the past, but use of 'legal highs' is reportedly now a very significant problem for some youth homelessness providers. Ease of access to these 'legal highs', their low cost, and negative (as well as unpredictable) psychological and behavioural impacts are said to play a role in both causing and delaying the resolution of homelessness. Legal high use is also creating substantial difficulties in the management of supported accommodation projects.
Gaps in services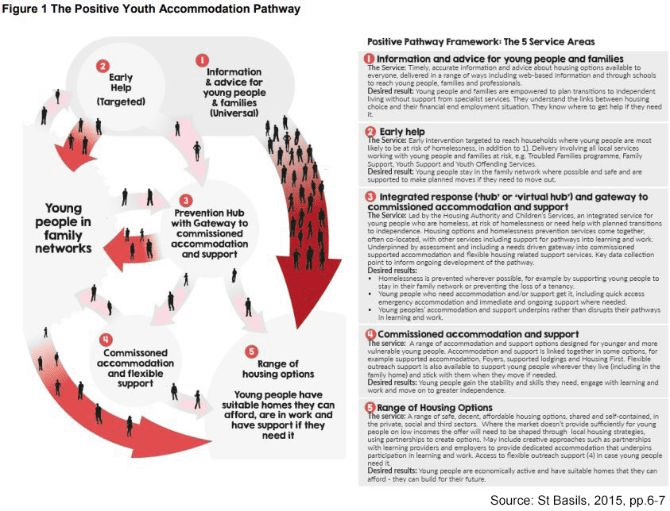 Drawing on consultation with 26 youth homelessness experts across the UK, the review identifies a number of areas in which service provision can be strengthened and developed:
Prevention: _Despite the mainstreaming of preventative 'housing options' approaches across Great Britain, the availability, uptake and effectiveness of _mediation services could be improved, with a particular gap identified in the provision whole-f__amily interventions and support and access to respite or time-out emergency accommodation options while such family support and mediation is put in place.

Accommodation options**: **Youth homelessness organisations face a major challenge in providing good quality accommodation that is genuinely affordable to young people both in work (often on low wages) and out of work (often with limited entitlements to welfare support). There is a particular gap in accommodation provision for young homeless people with complex needs who require high levels of support, with high quality, small-scale supported accommodation projects; Supported Lodgings; and the 'Housing First' model seen to offer promising solutions for this group. Psychologically informed environments –designed to take into account the psychological and emotional needs of service users – are now seen as crucial in the youth homelessness sector given that a higher proportion of young people using services have complex needs. For young people with low support needs, the development of long-term accommodation options that are affordable for individuals on a low income are required. Such provision might include: 'light touch' supported accommodation; Peer Landlord and other shared accommodation models; design and build options that minimise costs and rent-levels; repurposing of former student accommodation; and refurbishment of empty properties.

Employment**:** There are calls for the better alignment of youth homelessness and youth employment services, to improve the employability and prospects of young people experiencing homelessness. Means of improving the employment offer for this group include: improving (formerly) homeless young people's employability and work readiness through training and skills programmes and work experience; engaging and supporting employers to enable them to offer employment opportunities to young people who have experienced homelessness; and encouraging employment and earnings progression for homeless/formerly homeless young people through in-work support.

Social networks**: **Supporting young people who have experienced homelessness to develop positive social networks is seen as an important means to support resettlement, improve young people's wellbeing, and reduce the risk of repeat homelessness. Developing 'social networks approaches' to youth homelessness provision that help young people develop informal connections in the local community both during and after homelessness, including through mentoring schemes, were seen as important areas for development. 
A lack of evidence
Cutting across the need for service development in these areas is an additional challenge of a lack of robust evidence attesting to the effectiveness of existing approaches. Such evidence would be particularly valuable in relation to:
the effectiveness of different approaches to family mediation, lighter-touch conciliation work and whole-family/parenting support in preventing youth homelessness;

the effectiveness of different supported accommodation models. There are enduring concerns regarding the potentially negative consequences of some hostel-type congregate accommodation models (particularly negative peer pressure, 'institutionalisation', the loss of independent living skills; and work disincentive effects), research exploring the kinds of supported accommodation that minimise or avoid these effects, and the pros and cons of congregate versus 'community hosting' accommodation options would be particularly useful;

the impacts of interventions on formerly homeless young peoples' long-term wellbeing, in light of existing evidence on the poor outcomes many formerly homeless young people experience.
Despite a strong focus on homelessness prevention across much of the UK, and a number of other positive policy developments, the overall number of young people experiencing homelessness has remained stable, with major challenges ahead in light of further planned welfare reforms. An easing of the pressures associated with welfare reform, proactive service development in the areas described above, and better evidence on 'what works' in preventing and sustainably resolving youth homelessness would, in combination, give cause for much needed optimism that youth homelessness policy and practice is once again moving in the right direction across the UK. 
What can you do to help?
The OVO Foundation is powering the second [#Brizzz #SleepOut]https://www.ovoenergy.com/blog/ovo-foundation/sleeping-out-in-solidarity on 12/11/15 to raise funds and awareness to fight back against youth homelessness. Every penny raised will go to local youth homelessness charity 1625 Independent People (1625ip), who use the funds to provide emergency food supplies, cover volunteers expenses,  run confidence-building activities, independent living skills programmes and offer advice and information services. 
Do your bit
Donate direct to the 1625ip Sleep Out fund at justgiving.com

Beth Watts is a Research Fellow at the Institute for Social Policy, Housing, the Environment a and Real Estate (I-SPHERE), Heriot-Watt University. Her research focuses on homelessness, social housing, welfare reform and welfare conditionality. She completed her PhD in 2013 at the University of York and has previously worked as a researcher at The Young Foundation, the Joseph Rowntree Foundation and Shelter.
View more from these categories