blog
Sign our petition and call for more trees!
30 November 2020 | OVO Energy
We love trees here at OVO. That's why we recently pledged to plant one tree for every member, every year they're with us. So far, we've planted over 1 million and by the end of 2021 we're aiming for that figure to be 2 million! 
Planting trees has so many benefits. They're nature's best carbon-removers. And if the UK Government is to reach its target of net-zero carbon by 2050, it needs to plant a lot more. 
That's why we've launched a petition calling for a legally-binding tree-planting target. And we'd love you to sign it.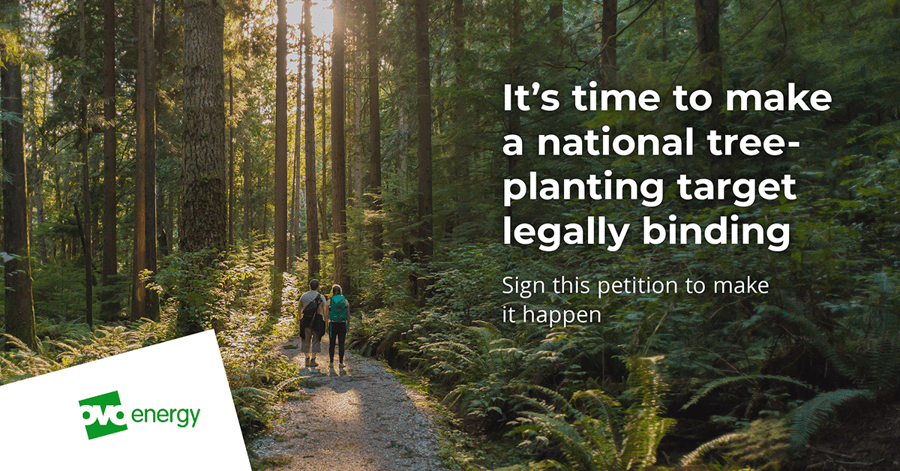 Why we need more trees
We know that tree planting alone won't solve the climate crisis. There are lots of big changes that need to happen to help us reach net zero as a nation. Things like: electrifying transport and heating, helping everyone enjoy lower-carbon diets, and powering the whole country with renewable energy! 
But tree-planting is a crucial piece of the puzzle. Each one will absorb about 60kg (or 0.06 metric tonnes) of carbon dioxide over a 10-year period as it grows. So multiply that by the 900,000 we're planning to plant over the next year and we'll be removing 54,000 tonnes of carbon from the atmosphere! So, we need to embrace these woodland wonders – and put planting more of them right to the top of the agenda.
We need to double the amount of trees we plant each year
Right now, only around 13,000 hectares (52 square miles) of trees are planted each year in the UK. That needs to more than double to at least 30,000 hectares (116 square miles). That's between 90-120 million trees planted, each year between now and 2050. According to  the Climate Change Committee this is the minimum the UK needs to do to reach its net-zero 2050 target. 
This will increase tree coverage in the UK from 13% to 17%. Europe's average tree coverage is 38% – so we have some catching up to do! 
What the Government is doing 
Well, the good news is the Prime Minister has recently committed to planting 30,000 hectares each year in his 10 point green plan to tackle climate change. But without a legally-binding target in place, the government's efforts may keep falling short, as they have done over the past year. Sadly, we fell 71% short of targets in planting trees in the year to March 2019.
We need your help!
We'd love you to sign our petition. 
We know many of our members want to play their part in the fight against the climate crisis and it's the small actions we take that make a big difference. By signing this petition, you can show the Government just how much public support there is for tree planting.
And with the UK hosting the United Nations Climate Change Conference (COP26) next year, now's the perfect time for your voice to be heard.
We really want to get to 100,000 signatures. It's the number that'll trigger our petition being considered for debate in parliament and get this onto the radar of MPs who can help us drive real change. 
Sharing the petition 
We've created some simple posts for you to share on social media – feel free to use these to get the message heard loud and clear. But above all, please sign the petition today and let's get this tree-planting target made into a law!
Link to free digital toolkit 
https://drive.google.com/drive/folders/1BRAzhsMUfm5_b6eVLfopd2KBKqBuZSd1
View more from these categories