blog
What's the future of sustainable leadership?
23 July 2015 | Justin Dekoszmovszky
At the beginning of this month I was invited to share OVO's perspective on business leadership for sustainability. As if being billed as a "future contender" wasn't humbling enough considering the global players on the list (eg: Unilever, Patagonia, IKEA, Interface), I was on the panel with Sue Garrard, Unilever's SVP for sustainability and Craig Bennett, the brand new CEO of Friends of the Earth. We may have been punching above our weight class, but it soon became clear that OVO's ambition and unique position as a mainstream green energy provider (in an industry of old & expensive, cheap & shoddy or deep-green & expensive) is earning us a place on this stage, if not yet global leadership.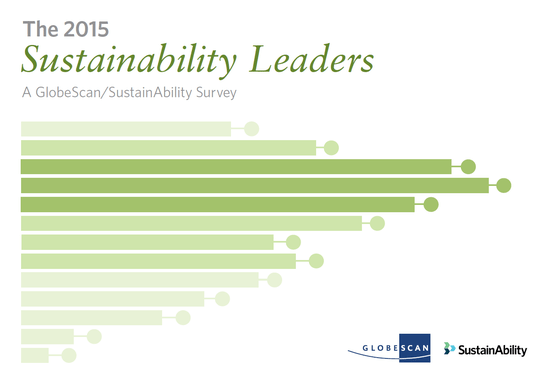 The event was a panel discussion of the newly launched 2015 Leaders' Survey, the latest in a long line of research from the GlobeScan & SustainAbility on this topic. The results of the survey are interesting but it is important to interpret them with the sample and methodology in mind: this is only the opinion of 800+ sustainability experts. We sustainability types like to think of ourselves as a data-driven, fact-based bunch but, truth be told, we are not immune to a little hero-worship (we love you Paul Poleman!).
The evening began with insights into the latest rankings and, for the first time this year, new perspectives on what leadership looks like for NGOs as well as companies. Unilever extended its leadership run at #1 to 5 years, and in my opinion, justifiably so.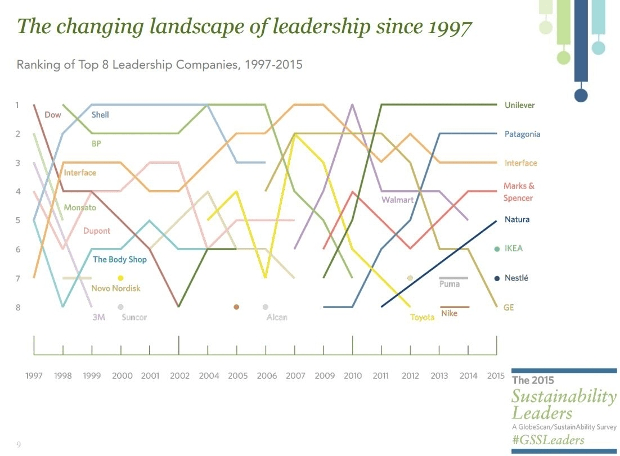 While the ranking is interesting, OVO can learn the most by looking at the results over time to inform how we invest now to build lasting value over the long term. As this chart shows, the only brand that has been on this ranking since it began is Interface. Interface's story can't be done justice in this post, but what can OVO learn from it? Strong leadership by individuals and the company are critical: Interface defiantly took on the role of sustainability innovator for the carpet industry and championed the agenda globally. Granted, Interface was an established global business when it made this shift. OVO's challenge is how to blaze a new "mainstream green" energy path, while scaling-up and establishing ourselves as a significant player in the UK retail energy sector.
The source of leadership was another interesting insight that OVO has already started operationalizing. As the chart shows, 26% and 22% of sustainability experts say leadership comes from integration into company values and the core business model, respectively. What is not clear is to what degree are components like "ambitious targets/policies" assumed prerequisites. Sustainability is baked into our values and the challenge is to live and operate by those every day. More precisely, OVO is prioritizing material action on our most critical issue: the carbon intensity of our fuel mix and the results will speak for themselves very soon.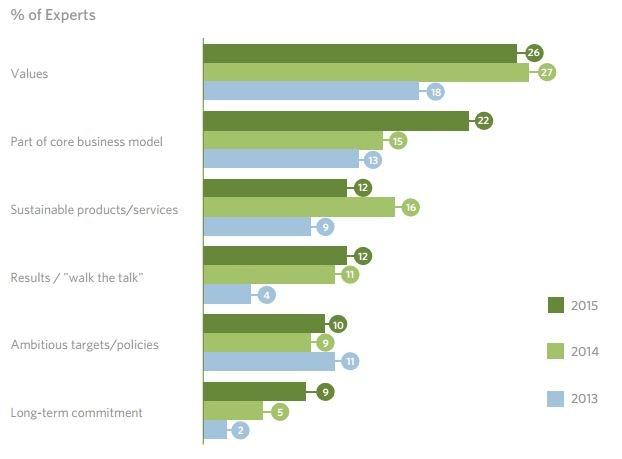 There was a very rich discussion about the future of business leadership, especially going into the Paris COP talks in December. The main message there: "give us a global price for carbon!" The Pope's recent encyclical on the moral obligation to tackle our carbon emissions and combat climate change was mentioned with praise. I wonder if next year the Roman Catholic Church might show up on the NGO rankings! 
The audience was perhaps most engaged when the topic turned to how the private and public sectors can accelerate the pace with which we are moving towards sustainability. I put forward that the innovation required was most likely to come from new entrants like OVO, innovators like Uber and Air BnB who reinvent entire industries, and a few rare incumbents who can incubate innovation to destroy the current models while profiting from them at the same time. 
One audience member asked what the government could do to help. Given the recent CMA report into the UK energy industry and everything we have learned during OVO's journey so far, my immediate and unreserved response was "stop supporting, protecting and propping-up the incumbents." 
It wouldn't hurt if everyone would switch to OVO's Greener tariff, either!
View more from these categories