blog
How OVO is teaming up with Ørsted to back wind energy in the UK
08 April 2021 | Aimee Tweedale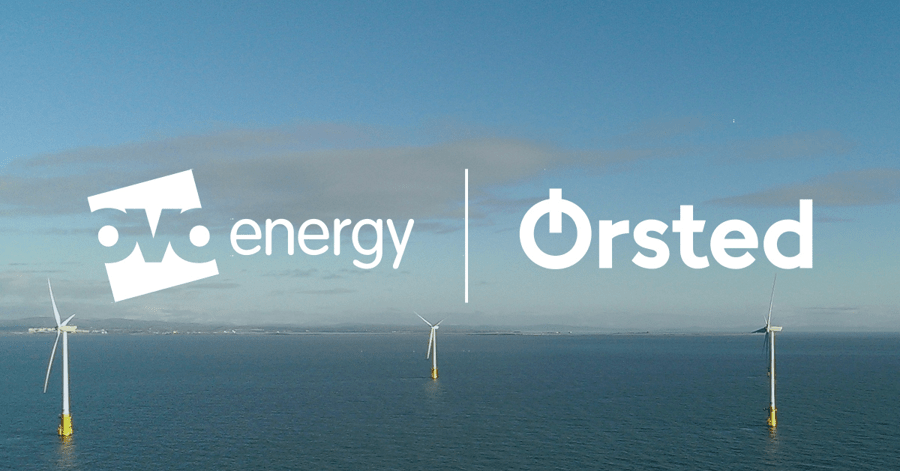 In our journey to power our members' homes with green energy, we at OVO have just taken another exciting step. We're teaming up with Ørsted, world leaders in renewable energy, to harness the mighty power of Barrow Offshore Wind Farm, and bring it to our members' homes.
This is all part of our mission to create a net zero carbon future. It means that not only do we supply 100% renewable electricity, but we're also directly supporting the future of renewables in the UK.
Keep reading to find out more about Barrow Offshore Wind Farm, and how this new agreement will affect the electricity powering your home. 
Investing in the UK's renewable future
When OVO launched in 2009, we were on a mission to supply cheaper, cleaner energy. Since then, we've come on leaps and bounds. In 2015, we became the first mainstream energy company to ditch coal from our fuel mix, and launched our tree-planting programme (we've now planted more than 1.5 million of them!). 
In 2018, we launched Kaluza, an intelligent energy platform to help make the most out of smart home tech, and green up the grid. 
Most importantly, in 2020, we started offering 100% renewable electricity to all OVO Energy members as standard.
This renewable electricity is backed by Renewable Energy Guarantee of Origin certificates (or REGOs). We buy these certificates to show that every unit of electricity we sell is matched by one unit of renewable electricity generated in the UK. 
But we want to go further, by directly supporting renewable electricity generation in the UK. That's why we committed to broadening our support for the important work of renewable energy generators.
That brings us to now. We're thrilled to have signed a Power Purchase Agreement (or PPA) with Ørsted, the company that owns Barrow Offshore Wind Farm. This agreement means that OVO will buy 100% of the power that Barrow generates from February 2021.
Find out more about wind energy, its benefits and uses, by reading our guide.
Barrow Offshore Wind Farm: everything you need to know
Barrow Offshore Wind Farm is one of the UK's longest-standing wind farms. It appeared on the horizon in 2006, as only the second-ever offshore wind farm in Britain. (The first was North Hoyle Offshore Wind Farm, off the coast of north east Wales).
Here's 6 quick facts about Barrow:
Where is it? Barrow Offshore Wind Farm is in the East Irish Sea. It takes its name from the neighbouring Cumbrian town of Barrow-in-Furness, near the Lake District. Barrow-in-Furness has been referred to as the "English Chicago" – and even as the longest cul-de-sac in the country, because of its location, way out on the very tip of the Furness Peninsula!
When was it built? The Barrow Offshore Wind Farm project kicked off in 2001, and the turbines began spinning in 2006. This year marks its 15th anniversary as one of the UK's longest-standing offshore wind farms. 
Who owns it? The farm was founded by Ørsted, a Danish renewable energy company that currently runs 12 UK offshore wind farms. It's named after Hans Christian Ørsted, the physicist who discovered electromagnetism – which forms the foundation of how we generate electricity today!
How big is it? 10km². That's about the same size as 1-and-a-half London Gatwick airports. 
How many turbines does it have? There are 30

wind turbines

spinning away at Barrow. Each one is 120m high. To put that in perspective, the O2 Arena is only 52m high, while the Blackpool Tower is 158m.
How much energy does it generate? Each year, the farm generates about 90MW (megawatts). That's enough to power around 80,000 homes.
What makes wind power so great?
Here in the UK, our blustery shores are one of the biggest advantages we have in the journey to decarbonising energy. On Boxing Day 2020, during Storm Bella, we even saw wind produce more than half of the UK's electricity for the first time. According to Renewable UK, the UK's offshore wind farms could give us as much as a third of our electricity by 2030.
Wind is a source of energy we can be proud of. The turbines can keep spinning for 25 years, it doesn't produce carbon emissions, and it's truly renewable. Let's face it – in this country, we'll never run out of wind!
Find out more about wind turbines and how they work, by reading our handy guide.
What else is OVO doing to reach net zero carbon?
We're accelerating the growth of electric cars. Our

EV Everywhere

tariff gives EV owners free access to chargers all over the UK. Meanwhile,

OVO Drive Anytime

is the UK's only energy plan that gives you separate rates for your home and your electric car.
We're making the grid more flexible. We're optimising our members' homes with smart tech, including vehicle-to-grid EV chargers, that will make the electricity system more flexible. A more flexible grid, that can adapt to electricity demand and supply, will be essential as we get more and more of our electricity from renewables in the future.
We offer a green upgrade. All OVO members get 100% renewable electricity as standard, and a tree planted every year. And for those who want to go further, there's our green upgrade:

OVO Beyond

. This gives you 100% carbon-neutral energy, and 5 trees planted per year. Plus, you'll be supporting carbon offsetting projects like saving rainforests in Guatemala, and planting trees in Uganda.
We're supporting members to cut carbon. Our members also get Zero In Energy Insights, a service giving personalised energy-saving tips, based on smart meter data Our

Carbon Tracker

tool also helps everyone in the OVO family keep track of their own

carbon footprint

.
We're cutting the emissions of our operations. By working hard to

replace all our fleet with electric vehicles and improve the energy-efficiency of our offices

, we're walking the walk as well as talking the talk.
We're planting trees. In fact,

we've planted over a million of them so far

, all over the UK, since we began in 2015. We're also asking the government to commit to planting more trees (

sign our petition here

). Trees aren't just impressive to look at; they're also excellent carbon sinks, which means they absorb carbon dioxide from our atmosphere, to help slow down climate change. 
We're giving back. Projects funded by the

OVO Foundation

are empowering young people to act on climate, and supporting green energy projects in the UK and abroad. 
We're advocating for change. We work with government, regulators, businesses and organisations to create a fair new energy system for everyone.
Read more about OVO's commitment to reaching net zero carbon by 2030.
Switch to OVO Energy and power your home the green way
What are you waiting for? Sign up today, and join a green energy revolution. 
OVO members get to make the most of:
100% renewable electricity as standard
A tree planted in your name for every year you're with us
3-5% Interest Rewards when your account is in credit 
And a £50 gift card every time you introduce a friend to us
Get a quote via the button below, in less time than it takes to boil the kettle!
Sources and references:
1 https://kids.kiddle.co/Barrow-in-Furness
2 https://orsted.com/en/about-us/about-orsted/about-our-name
3 https://www.ibtravel.co.uk/airport-transfers/gatwick-airport-lgw
4 https://en.wikipedia.org/wiki/The_O2
5 https://en.wikipedia.org/wiki/Blackpool_Tower
6 https://orstedcdn.azureedge.net/-/media/www/docs/corp/uk/updated-project-summaries-06-19/190513_ps-barrow-a5-web_aw.ashx?la=en&rev=ec3fcde9c9ad4729a67cb104eb06dc60&hash=86935DC78DEAE285EAD70A70998B0956
7 https://www.renewableuk.com/news/523451/Wind-sets-new-60-of-power-record.htm
8 The renewable electricity we sell is backed by renewable certificates (Renewable Energy Guarantee of Origin certificates (REGOs)). See here for details on REGO certificates and how these work. 
9 OVO Energy's Green Gas is made up of 15% green gas, with the remaining 85% offset to make your gas carbon-neutral. As of 31st July 2020, the proportion of biogas offered vs. the amount offset was higher than all other providers who share details of their green gas offering, except Green Energy UK - and that's something we're pretty proud of. The green gas we sell is backed by renewable certificates (Renewable Gas Guarantees of Origin (RGGOs)).  See here for details on Renewable Gas Guarantees of Origin and how these work. We offset the remaining emissions by supporting UN REDD+ carbon reduction projects that are certified to the Verified Carbon Standard.
View more from these categories