blog
Victoria Line's Greenstops
20 October 2021 | OVO Energy
While it may be one of the shortest lines in the Underground system, the Victoria line is also the most frequent train service in the UK, operating 36 trains per hour at the busiest times. 
Frequent trains means that you won't be waiting long for the next one to roll along, and you'll soon be able to get away from the busy Underground and into a variety of different parks and green spaces along this route. In fact you can be sat in some relaxing open space after just a 3 and a half minute walk on average.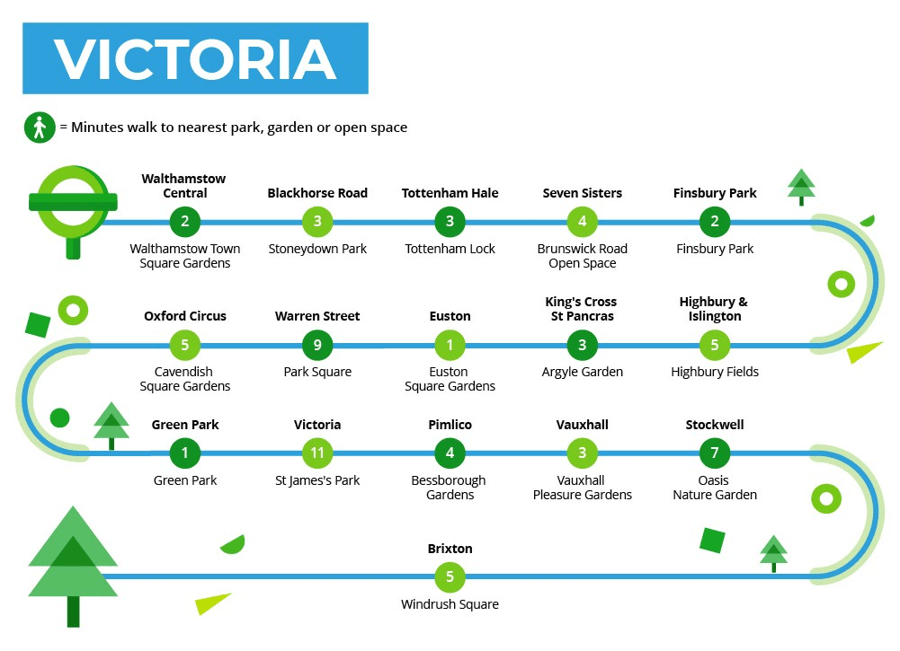 The most highly rated parks on the Victoria line
As well as being a great way to get to one of London's Royal Parks, Green Park, the greenstops along the Victoria Line are definitely worth a visit - and will definitely have fewer people wandering their grounds. 
Bessborough Gardens is a short four minute walk from Pimlico, and is a small green residential garden that's open to the public during the day. It's a hidden gem among beautiful terraced houses: a perfect spot to eat your lunch among the trees. 
Vauxhall Pleasure Gardens can be reached with a three minute walk from Vauxhall, and this greenspot has plenty of entertainment for all ages. The park also hosts outdoor movies every so often, so even if you can't find time to visit during the day, evenings there are just as special.
Thee closest parks to the Victoria line
From the Victoria line, there are a couple of parks you can get to within one minute of leaving the tube station. Euston Square Gardens is a very short stroll from Euston station, and the iconic Green Park is a one minute walk from the Green Park stop.
So, if you only have a limited amount of time on your lunch break but crave the outdoors in all its glory, you can be in these parks extremely quickly, leaving much more time to enjoy your nature respite. 
The furthest parks from the Victoria line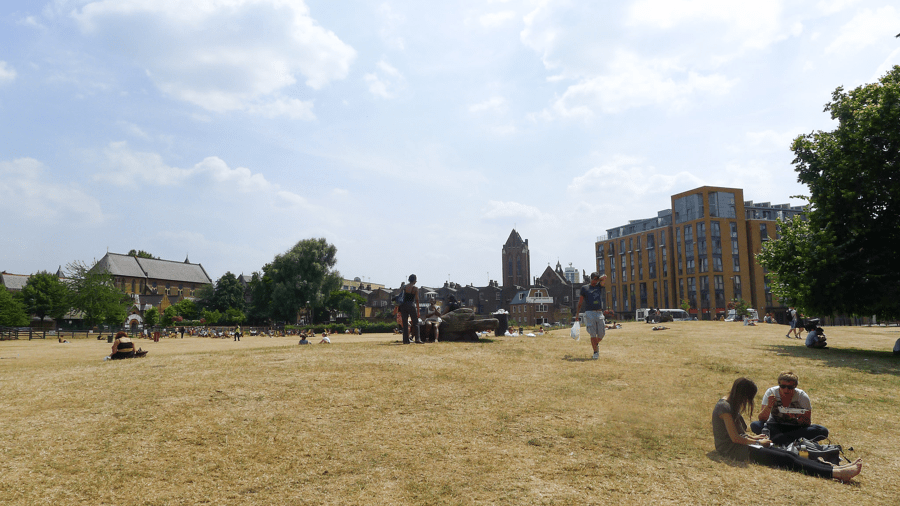 Vauxhall Pleasure Gardens, London - ©Flickr.com, leonghongrui
For days when there is less of a time restriction, the Victoria line has some beautiful greenstops that have a slightly longer walk to get to. The longest you'll have to travel on foot to reach these is 7 minutes, to Buckingham Palace Garden from Victoria and Oasis Nature Garden from Stockwell.
There are three other parks that require a 'longer walk' (in comparison with the rest of the Victoria greenstops): Oxford Circus to Cavendish Square Gardens, Highbury & Islington to Highbury Fields and Brixton to Windrush Square. All of the walks to these parks take five minutes: enough time to stretch your legs before nature kicks in.
And, for more of London's Greenstops, check out our complete guide to parks along every tube line.
View more from these categories