guide
A guide to careers in the wind turbine industry
06 April 2017 | OVO Energy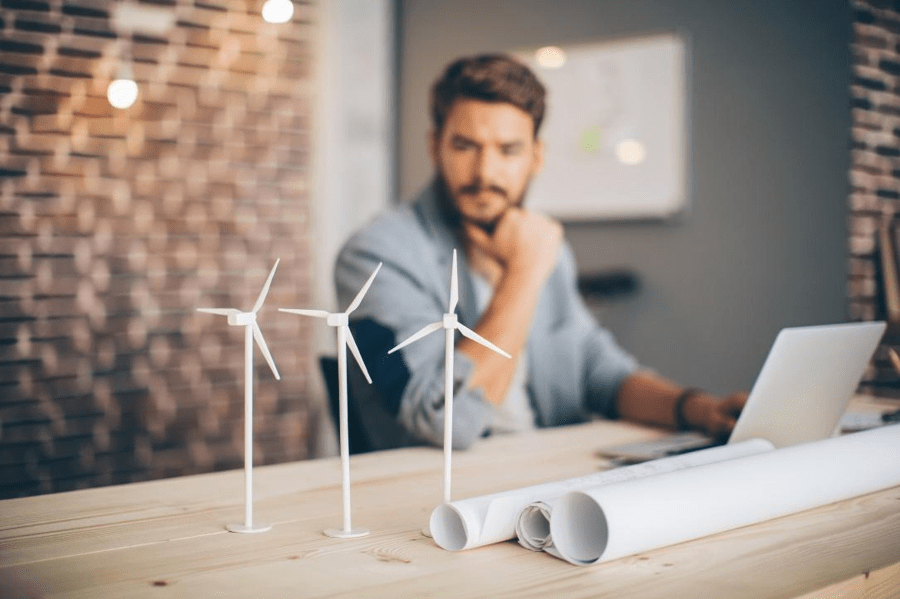 We're all aware that fossil fuels aren't going to last forever – coal and oil are finite resources that the world can't continue to rely on for energy.
Many countries have had renewable energies on their agenda for a while now and we're seeing more information about sustainable power in the media, on our televisions and endorsed on celebrity social media feeds (we're looking at you, Leonardo DiCaprio!)
Renewable energy is less damaging to the environment and it's sustainable – they'll continue to last much longer than the traditional fossil fuels (hence the name!). The most well-known of these is wind energy. So, let's take a closer look at some wind power facts and how it's a growing industry that's opening up jobs in the UK.
An introduction to the wind energy industry
Renewable energy sources produce 25% of the UK's electricity, with the majority coming from onshore and offshore wind energy. You're likely to have seen wind turbines scattered around our country and its coast. Yes, they're quite impressive to look at, but they're also doing an important job of helping to power our homes!
The electricity generated from offshore winds increased by 3.8% between 2015 Q3 and 2016 Q3, whilst onshore winds increased by 19.4%. This was due to increased capacity with new onshore wind farms, as well as higher wind speeds in comparison to last year. So, although we might see high winds as an inconvenience, they're actually helping us to stay eco-friendly!
The UK is a world leader in offshore wind and we're home to a huge number of onshore and offshore wind farms with more under construction. This includes Hornsea Project Two, a potential wind farm off the Yorkshire coast that will consist of a staggering 300 turbines that could meet the electricity needs of approximately 1.6 million UK homes per year!
Opportunities for entry-level jobs
Harnessing offshore wind energy is a relatively young industry and one that's continuing to grow each year, along with the improvement of the equipment used. This rapid development means that there's plenty of opportunities for jobs in the wind power industry, especially for those looking for entry-level roles.
There have been skills shortages across all engineering disciplines of late, with design and technical skills, including landscape experts and wind analysts in high demand. The renewable energy sector is a great opportunity for graduates with commercial skills to get their foot on the career ladder, or for anyone who fancies a career change.
So, what kinds of jobs are available in the growing wind turbine industry?
Working in the green energy industry
You'll be blown away by how many different types of jobs are available in the wind power industry. Wind energy jobs include:
Offshore wind farm designers
Wind farm construction
Wind turbine blade repair
Wind turbine cleaning
Wind turbine manufacturing
There's plenty of different types of wind energy and wind turbine jobs available, with RenewableUK estimating that there are over 15,000 jobs in the industry!
You could be working outdoors, in an office, or in a laboratory - not only can these jobs take you all around the country, but you may even be able to travel the world. After all, green energy is a priority all around the globe.
Plus, the potential longevity of the industry is an attractive prospect for those who want to get on the career ladder. Renewable energies are almost certain to outlast fossil fuels and the UK is increasingly relying on dependable renewable energy sources like wind power. So, if you're looking for a job with long-term security, finding a wind energy job could be for you.
How we use our wind energy
As you may already know, we're committed to being a green energy company and helping our customers be eco-friendly is one of our priorities!  That's why all our energy tariffs feature at least 33% of renewable energy as standard. You can even enjoy a 100% renewable energy tariff from us for just £5 extra a month on our greener tariff.
We believe that supporting renewable energy sources will help protect the future of our little green planet. The country is continuing to grow its renewable energy industry which is, in turn, opening up many wind farm jobs to help sustain the rapid development of this industry. If we all support green energy, like wind power, we can help this growth continue and live a greener life.
Image courtesy of iStock
View more from these categories