guide
How to ensure your children's safety in the home
31 August 2016 | Rachel England
Every parent knows how inquisitive children can be. You only have to turn around for a second and they'll have wreaked domestic havoc as they continue to explore their new world. Things like plug sockets, wires and appliances are an unending source of fascination for little ones, so it's important you take measures to protect adventurous children from shocks and burns around the house.
Are plug sockets dangerous for children?
The good news is that plug sockets actually represent very little risk to children – they're designed so that it's almost impossible to for your child to stick their fingers in, no matter how small they might be! That said, it's important to teach them from an early age that plug sockets are not to be fiddled with, and installing socket blanking plugs can be a good way to deter this.
Are socket covers reliable?
A study from the Electrical Safety Council (ESC) found that electrical safety is a huge concern for parents (and rightly so!), with 62% of new parents using socket covers in their home. However, socket covers won't prevent an electric shock if the installation isn't safe. An RCD (residual current device) in the fusebox will prevent fatal electric shocks and reduce the risk of electrical fires, although only 38% of new parents' homes have one! A plug-in RCD can cost as little as £10, but a fixed one will provide greater protection.
By the way, if you're a landlord, it's your job to get your properties checked to make sure they're safe. Check out our guide to electrical safety certificates and obligations for landlords.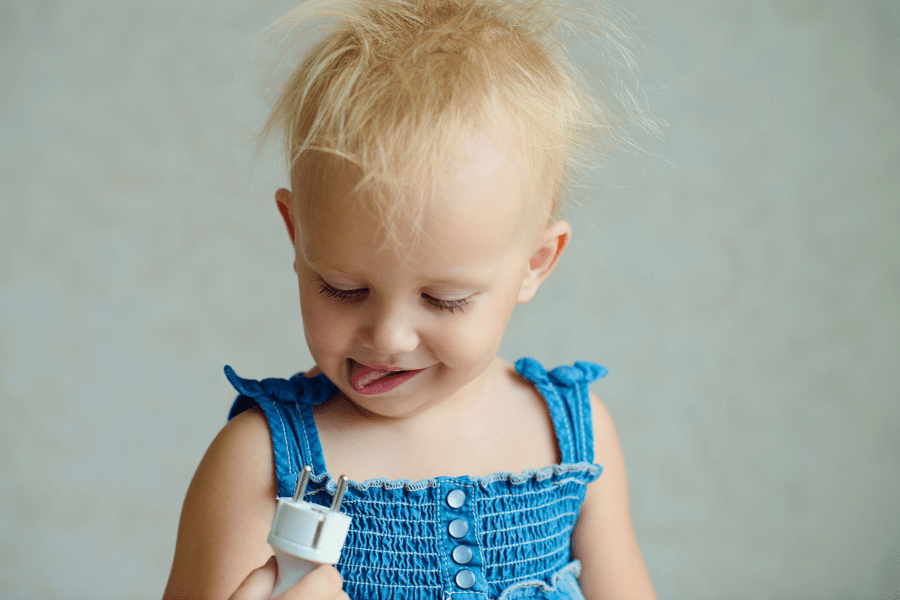 Making electrical cables child-safe
The easiest way to discourage children from 'investigating' wires and sockets is to position furniture in such a way that they can't get to them in the first place, although this isn't always feasible. Electrical outlet covers that sit on top of your existing outlet are easy for an adult to remove but will stop little hands from pulling plugs out of the wall. Make sure wires are tacked securely against skirting boards or door frames (which will prevent trip hazards as well as curious chewing), and use power bars instead of blocks if you need more outlets. Power bars put less strain on a socket than a block, which are more likely to cause electrical fires.
How do I make appliances child-safe?
Switch off appliances when they're not in use and keep cords out of reach. It's easy to leave some appliance cords plugged in and unconnected, such as mobile phone chargers and laptop battery cables, but younger children might be tempted to put the end of the cord in their mouths. Remember, as children get older they become fascinated with the things that mum and dad do every day, such as straightening their hair or making a cup of tea, so keep heated appliances out of sight as well.

The risks of water
Water and electricity can be a deadly combination, so make sure your kids are dried off thoroughly after a bath, shower or splash in the paddling pool before they go anywhere near electrical devices such as games consoles or DVD players. Keep drinks away from appliances, too – an accidental juice spill could easily result in a frazzled TV, or worse, a serious injury.
Electrical safety in the garden
Electrical safety is important outside, too, even though there aren't any plug sockets around. Lawnmowers and hedge cutters can cut through their own electrical cables, causing a risk of electric shock, so be vigilant when you're gardening. If you're in close proximity to power lines or electric poles teach your children to stay away from them, and that if their toy plane or kite gets tangled in a power line they should never, ever try to retrieve it themselves. 

Teaching children about electrical safety
Babies and very young children aren't particularly receptive to messages about danger, but as your child gets older they can start to learn about electrical safety. Teach them about the dangers of electricity and risk hotspots around the home, and as they get older, supervise them while they practice using appliances themselves – ask them to make toast or a cup of tea, for example. And keep on reinforcing good electrical safety habits!
View more from these categories