Brits Have Been Stuck In The Dark For Too Long
20 October 2015
40% of Britain's pay-as-you-go energy customers have been left without electricity overnight, thanks to top-up shops being closed
Almost a quarter have been left feeling powerless, when they've been caught in the dark on the loo or in the shower
The brand new Smart PAYG+ app from OVO Energy ends the need for key card top-up in shops
Almost half (40%) of PAYG energy users have been stuck home in darkness at least once, because the local shop has been shut and they've been unable to top-up on power. Over 40% have had a home cooked meal ruined, with the same number only realising they're without power when they wake from a night's sleep to find their freezer defrosted, no hot water, and no power to get ready. Over a third (36%) have missed an important sporting moment, or the ending of a film, after the meter unexpectedly ran out mid-way through.
Research released today has revealed the most common frustrating situations pay-as-you-go (PAYG) energy customers can find themselves in, when it comes to an unexpected lack of energy in the home.17% have experienced being stuck in a very sticky situation, when they've been in the shower or bath when the lights have gone out. A very unlucky 5% have even been left in the dark whilst on the toilet.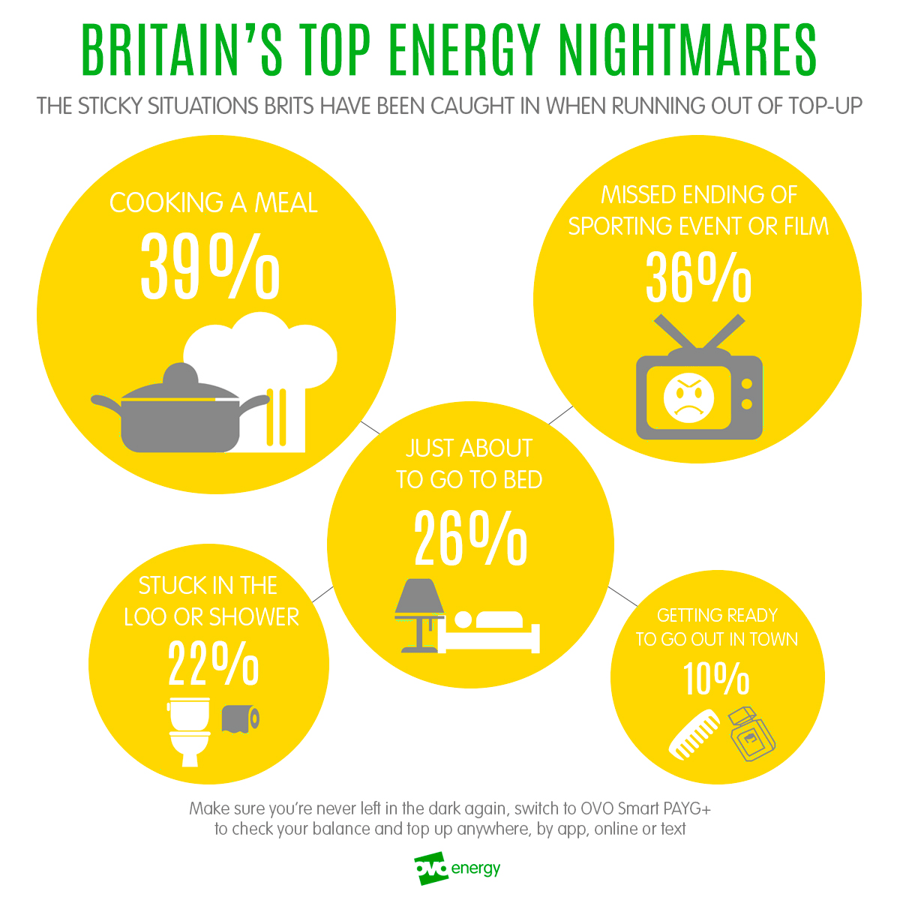 The five most irritating situations customers have been left in, when caught without energy:
Making a meal (39%)
Missed ending of a significant sporting moment or film (36%)
Just about to go to bed (26%)
Stuck on the loo or in the shower (22%)
Getting ready to go out on the town (10%)
The stress doesn't stop when they get to the shop in all states of disarray, with 35% of users saying that waiting around and queuing is a huge frustration and waste of time.
The research was commissioned by OVO Energy to coincide with the launch of Smart PAYG+, the first energy pay-as-you-go top-up service that enables energy top-ups with the tap of an app on a mobile phone. Users can also check their balance and see their energy usage at a glance.
Justin Cockerill, Managing Director of OVO Smart PAYG+ said: "From being forced to make top-up trips at the most inconvenient times, to household emergencies due to energy suddenly running out, pre-payment energy customers have endured a rough ride from the industry. With PAYG+ these frustrating and time wasting situations are no more! We're putting the power into the customers' hands and giving them unprecedented control and convenience over the cheapest possible energy supply."
The research also unveiled that the average pay-as-you-go user tops up on energy 3.54 times a month, with each trip to the shops taking 16 minutes. The time spent on these repeated trips adds up to 10.8 hours per year or 28 days in an average lifetime. This time could instead be spent on:
Attending 480 football matches
Watching every episode of Friends 8.5 times
Visiting all of the UK's major cities
Learning a European language to an intermediate level
Running 130 marathons
The research has also unveiled that the time wasted on topping-up in shops could instead be spent on earning up to £150 a year, or an impressive £7,350 in an average working lifetime. This additional money could be spent on the following:
A round-the-world trip
Playing the National Lottery 3,675 times
Saving enough money to buy two years of food shopping for a family of four
Buying 15,000 pints of milk
A lifetime's supply of toilet roll
Professor Adele H Marshall, Statistician and Director of Research at Queen's University Belfast, who analysed the findings, commented: "It's proven that creating free time during the year to do things we enjoy makes people happier in life, so OVO Smart PAYG+ is very welcome for some 11million pre-pay energy users in the UK, helping them save a staggering month of their life. Not only will it help put an end to all kinds of stressful and inconvenient situations but having more spare time gives people a higher quality of life overall."
For support or independent advice on energy suppliers visit www.which.co.uk/energy/. For further information on OVO Energy PAYG+ visit www.ovoenergy.com/pay-as-you-go