Future Builders makes an impact in Bristol and launches in Sheffield
28 November 2017
At OVO Foundation, we developed Future Builders as a pioneering new approach to tackle youth poverty and help address the growing issue of youth homelessness in the UK.
As the charitable arm of OVO Energy, we share the same values and believe that sometimes, there has to be a better way of doing things. We're able to develop and test different ways of solving some of the biggest social problems we face, whilst also demonstrating the ever-evolving role business can play in society.
The scale of youth homelessness in the UK
Youth homelessness is a huge issue in the UK, with only a fraction of young people getting the help they need due to strict guidelines around who counts as "statutorily homeless".
13k young people
are recorded as statutorily homeless in 2016, but an estimated
215k young people sofa surf
and
39k young people sleep rough
With growing numbers of young homeless people going under the radar, understanding what drives youth homelessness is essential to reversing this trend. 1625ip, Bristol's youth homelessness charity, supported 2,498 young people last year. Over the last three years, the charity has seen a 46% increase in the number of young people it supports, highlighting the need for a sustainable solution. This is only part of the picture and doesn't include the many hidden homeless young people living in the city.
Creating a sustainable solution
Our 2015 research into youth homelessness in the UK found that a gap in services and funding means that those who are ready to leave hostels or supported housing and want to access employment often can't. The main factors behind this are lack of access to appropriate employment, high private sector rents, and low levels of social security benefits.
In 2016, we developed Future Builders, a scheme which creates smart, sustainable solutions to these problems by up-skilling young people, giving them access to jobs and the opportunity to refurbish properties which become their homes.
Future Builders: The model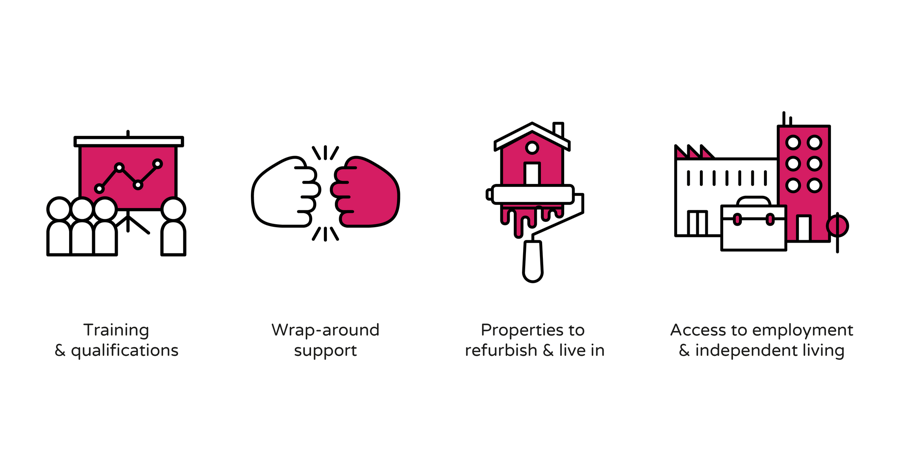 Results
A total of 12 people benefitted from the Future Builders Bristol pilot in 2016/17, including the six young people who completed the pre-apprenticeship programme and renovated two properties.
On top of practical construction skills and experience, the young people who completed the training developed a range of essential life skills. This included increased aspirations, confidence with job applications and interviews and improved resilience in dealing with stressful situations.
In total, nine young people have benefitted from living in the affordable housing refurbished by Future Builders - three of those on the Future Builders scheme and six additional young homeless people. The young people felt that their general well being increased from having affordable, stable accommodation, as well as improved money management skills which allowed them to save for move-on accommodation.
We're really proud of the achievements of the all the young people involved in the scheme and of the hard work they've committed to build themselves a brighter future.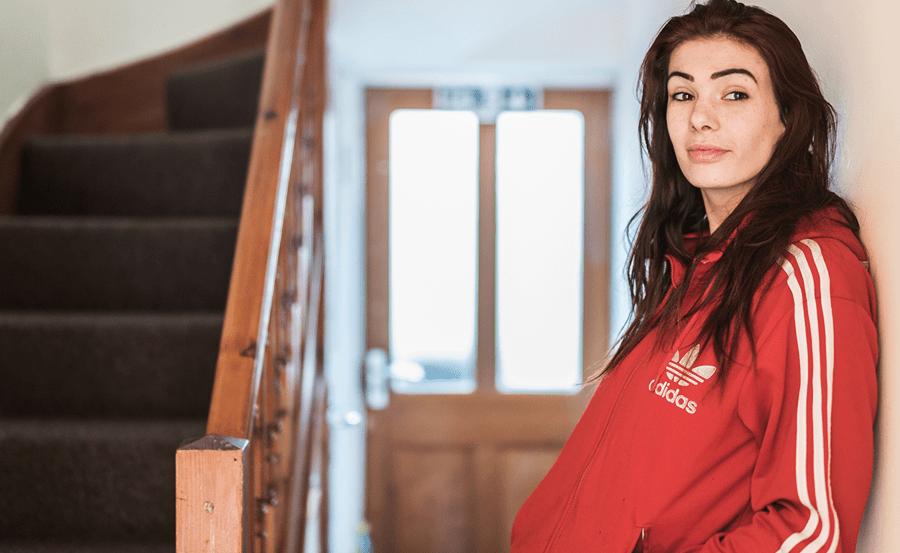 Sophie's story
In October 2016, Sophie began on the Future Builder's pilot in Bristol, where she successfully completed a pre-apprenticeship course at SGS College and helped to renovate two council properties in the city.
This year, she moved into one of the properties she renovated with two other young people also on the scheme and she feels a lot happier living in stable accommodation with people she knows. At the same time, Sophie started a full-time apprenticeship, working as a maintenance operative at Southmead Hospital, providing general maintenance support including plumbing, painting and carpentry.
As a part of her apprenticeship, Sophie is enrolled in a course which means that once the apprenticeship is finished, she will qualify with a City and Guilds Level 2 Diploma in Maintenance Operations and will be able to progress to an individual trade qualification in an occupation of her choice.
Over the course of Future Builders, Sophie's self-confidence and grown and she's much more optimistic about her future.
Future plans
We're excited to be launching Future Builders in Sheffield, in partnership with Roundabout, CTS Training and Sheffield City Council. Instead of a pre-apprenticeship programme, young people will complete government funded traineeships, gaining Functional Skills Maths and English qualifications, work readiness training and employer encounters.
Next year, we'll publish the results of a social return on investment study for the Future Builders' pilot in Bristol. We will be hosting a roundtable event to discuss the results of the study and bringing together key stakeholders to help . By the end of 2018, we aim to have the scheme running in five locations.
If you're interested in partnering with us to scale up Future Builders in the UK, we want to hear from you. We're looking for organisations who are:
Working with young people aged 16 - 24 who have experienced or are at risk of homelessness
Willing to develop partnerships with relevant local education/training provider and local council to deliver the project

Gaby Sethi, Head of OVO Foundation and CSR
OVO Foundation contact details:
Gaby Sethi, Head of OVO Foundation & CSR: [email protected]
Emma Amadi, Programme Innovation Executive: [email protected]