Meter readings
How to submit your gas and electricity meter readings
Submitting your gas or electricity meter readings is easy with OVO. You can choose to do it online, through the app, via webchat, or just give us a call.
So, you've made a note of your gas or electricity meter reading. The next step is to send it to us. 
Keep scrolling to find out how – and, if you're having problems with the reading, get help fast with our useful guide to reading your meter. 
Why submit meter readings?
Sending regular meter readings means we don't have to estimate how much energy you're using, so you'll get accurate bills. 
Plus, if you pay by Direct Debit, you can check if your payment plan covers your use – and avoid any unexpectedly high bills.
How to submit meter readings
There are several ways you can submit a meter reading. The easiest and fastest ways are online or through the OVO Energy app – but you can choose the way that's most convenient for you.
Submitting a meter reading via your online OVO account
This is the easiest and fastest way to submit your reading. Simply log into your account, then:
Click on Meter readings on the home page
Choose whether you want to submit your Electricity or Gas reading
You'll be able to see any previous readings you've given us
There's a box at the bottom for you to enter your new reading
Click Submit
You'll see a message telling you your reading has been accepted
You can then click Meter readings again to go back and enter a reading from your other fuel meter
That's it! 
You can also watch our video on how to submit your reading. 
If you haven't already logged into your online account, find out how to do it here.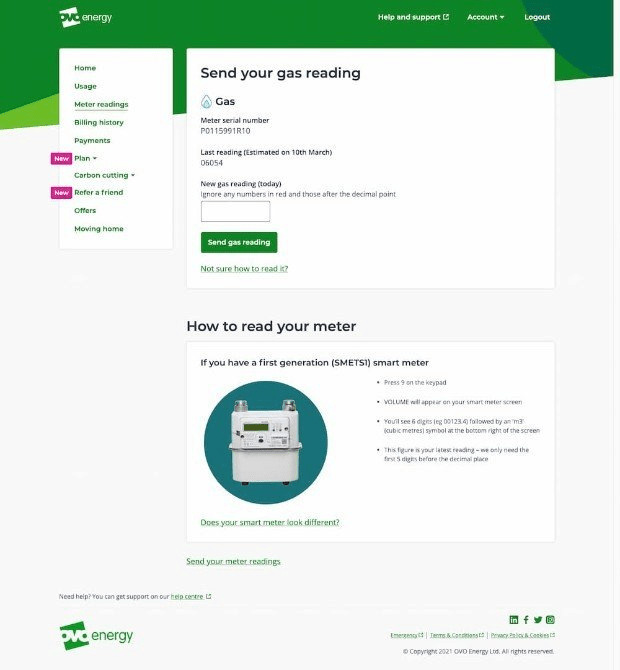 Submitting a meter reading via the OVO Energy app
You should get a reminder through your app whenever it's time to send us your meter reading. If you don't get one, just click on Account and then:
Click on My meter readings 
Choose whether you want to submit your Electricity or Gas reading
There's a handy Help option if you need support taking your reading
Enter your reading into the box using your phone keypad
Click Submit
You can then repeat steps 1-5 if you'd like to submit your other fuel meter reading too
See how to submit your reading by watching from 1:19 in this video. 
If you don't already have the OVO Energy app, you can find out how to download it here. 
Handy hint: if your meter's in a dark spot, check out the handy torch function on the OVO Energy app. Just hit the torch symbol in the top right to turn on your phone's torch. 
Scan and send your meter reading with the OVO Energy app
To make it even quicker for you to submit your readings, we've introduced our"scan and send". This means you can simply take a phone photo of your meter reading, and send it to us straight away through the app. 
All you have to do open the app and click on Account, and then:
Click on My meter readings 
Choose whether you want to submit your Electricity or Gas reading
Click on Scan with your camera
Select whether your meter has Dials or Numbers
Take a photo of your meter
Confirm your meter reading and send it (if it's not correct, you may have to enter it manually)
You'll get a confirmation email to say your reading has been received
Submit a meter reading via our webchat
If you've not used it yet, our online chat is a great way to get in touch with us. Our friendly advisers are ready and waiting to receive your meter reading, and answer any questions you might have. 
Call us
If you'd prefer, you can give us a call on 0330 303 5063 (Monday to Friday 8am to 6pm) and we'll guide you through the process. 
What happens after you've submitted a meter reading? 
If you submit your meter reading on your bill date, we can calculate your bill accurately. If you submit your reading on another date, we use an estimated reading. For example, if you give us a reading on the 23rd, from the 24th to the end of your bill period will be estimated. 
If we send you an estimated bill, then we later get a meter reading from you, we can send you a revised bill on your next bill date. 
Smart meters mean you never have to submit a meter reading again
Yes, that's right. We know taking meter readings can be irksome. So why not book a smart meter installation, and you'll never have to send us a meter reading again! 
And there's more to smart meters than that. Not only do they send us regular readings automatically, but also:
A smart meter means you'll always have accurate bills
You can track what you're spending in pounds and pence, so you can tweak your energy use and reduce your bills
Cutting your energy use also means

cutting your carbon footprint
So say goodbye to monthly meter readings, and get a smart meter installed by our award-winning smart meter team. 
What should I do if I submit an incorrect meter reading? 
Oops! If you realise you've submitted an incorrect reading, don't worry. It's an easy mistake to make. If you've sent a wrong reading, here's what to do:  
It's best if you can send us the new reading on the same day, before midnight. That way, we can simply update your energy account with the new reading. 
If it's been longer than a day since you sent us the wrong reading, please get in touch via the

Help Centre

. 
Do you know about the OVO Forum?
The OVO Forum is where our lively green community comes together to share their first hand experiences of green living and help each other out. There are tonnes of helpful discussions about every aspect of OVO – from the nitty gritty of meter readings and air source heat pumps, to the future of green energy and exciting smart tech for our homes. Why not get involved and join the conversation?