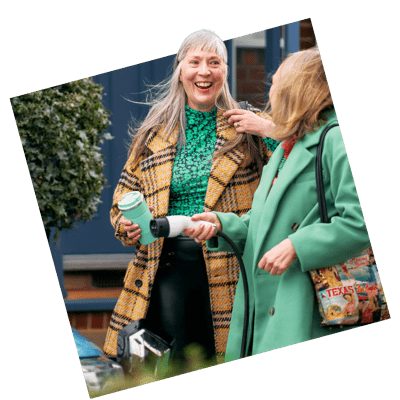 Get a home EV charger with OVO.
85% cheaper than public charging
Plug in, relax – we'll do the rest. With a home smart charger, your car will be ready to go when you are, for much cheaper than charging in public1. Choose from our range of the UK's leading smart chargers and our experts will install it – from £9492.
Plus, find out about our free add-on: Charge Anytime. It lets you drive for less than 3p a mile whenever you smart charge3.
What you'll get

Expert installation
Our trusted OVO engineers are specially trained in EV charger installation

Next generation charging
Choose one of the UK's leading smart EV chargers, fully installed2, from £949

Drive for less than 3p a mile
Get this rate with our add-on, Charge Anytime4, if you have a compatible charger or EV
Choose the right EV charger for you
Say hello to your new intelligent charging companion. Our chargers not only look good, but they're 4 of the smartest electric vehicle chargers around.
Each one comes complete with a manufacturer's warranty ranging from 3 to 5 years.
Charge Anytime: our super-low smart charging rate
And now for the best bit...
All our Indra and Ohme chargers are already compatible with Charge Anytime. The Hypervolt Home 3 Pro will be compatible by Spring 2024 – and if you have a compatible EV you can get Charge Anytime with this charger now. Simply add it to any OVO plan for free and start smart charging from less than £200 a year6.
Unlike other suppliers, we let you smart charge your electric car at our super-low rate of 7p per kWh, any time you like. All through our easy-to-use app.
How it works
Once you've chosen your new EV charger, you can get it installed7 and start saving, in just 4 simple steps.
1. Complete survey
Our tech team is on hand if you need any support filling it in
2. Review quote
We include both charger and installation costs in our quote
3. Book installation
We'll send you an installation date that suits you
4. Start charging!
We'll install, then show you how to use your new charger
EV charger questions and answers
Our support doesn't stop once your charger's installed. When you're up and running, our dedicated electric vehicle team is on hand to help with any questions or issues you might have.
We've also got a whole page dedicated to answering your questions about EV charger installations. Here are the top 5 to get you started:
Here's why it's worth installing an EV charger at home:
Forget the hassle of waiting around for a public charger. It's much more convenient to get home, plug in, and relax. You can just schedule your charge, and know your car will be ready when you need it. 
With specific EV rates like Charge Anytime, you could smart charge for under 3p a mile.7
But, not all homes can have an EV charger fitted at the moment. To have one installed, you need to:
Own the property
Have your own off-street parking
Have a WiFi connection at home 
Our survey is designed to check if your home is suitable. You can find this by clicking through the Choose Ohme or Choose Indra buttons on the main page.
This really depends on your personal preference. There are 4 main points to consider:
Convenience - Tethered chargers have an attached cable, so it's easy to get home and plug in. Having an untethered charger means you have to get your charger from your boot (or wherever you store it), attach it, then plug in.
Cost - Tethered chargers are more expensive upfront because they come with a cable included. Our untethered charger from Ohme costs £949 (with standard installation) whereas the tethered Indra chargers cost from £1074 (including standard installation). But you have to factor in the cost of a cable when buying an untethered charger. For example, Ohme cables cost from £96 (inc VAT).
Cable length - A tethered charger cable can be 4.8m (Type 1) or 7.5m (Type 2) long. An untethered charger cable can be up to 10m long.
How it looks - Some drivers prefer an untethered charger, because it looks smaller and neater on the wall of their home.
Our standard installation includes:
The fitting of the EV charger to a brick/rendered wall. 
Up to 15 metres of 6mm power cable. This will be neatly clipped to the wall between the distribution board/electricity supply meter, and the charger.
Routing the cable through a drilled hole in a wall up to 500mm thick (if needed).
The fitting and testing of electrical connections and protections needed for the EV charger.
Up to 5 metres of white plastic covering for the interior wiring.
Installation by one of our expert engineers.
Installation compliance with the current British Standard Wiring Regulations (BS7671) and any associated documents/codes of practice, as well as the charger manufacturers' instructions.
Commissioning and pairing with your smartphone – with full support from our engineer. You must be present with your smartphone at the time of commissioning.
A full demonstration of how your new charger works. Our engineer will be happy to answer any questions you have. 
For a standard installation to go ahead:
The existing electrical connections and protections within the property must be in an acceptable condition.
There must be no need for groundworks/civil works, electrical remedial works, or any other work. 
If any extra work is needed, our engineer will let you know. In this case, you'd need to arrange any extra work at your own cost. 
But, if you're an OVO Energy customer, our engineer could do the following for an additional cost:
Put in a main isolation switch on installation day
Carry out earth bonding upgrades (we can do this for non-OVO customers too)
We don't recommend you try installing an EV charger yourself unless you're a professional engineer or electrician. We only sell our chargers complete with installation by our specially trained engineers.
If you have an issue with your charger, you can contact the charger manufacturers directly. They'll be happy to help:
If you have an Indra charger, call 01684 770 631, or email [email protected]
If you have an Ohme charger, call 020 3375 1586, or email [email protected]
Ohme and Indra both have their own social media communities that are a great source of information too.
Important to know
For full details about buying and installing an EV charger with us, please read through our full terms and conditions.
The 85% cheaper claim is based on a customer smart charging their EV using Charge Anytime – in comparison to rapid charging at a public charge point (actual percentage 87%). This is based

on UK average public charging costs

of 53p per kWh as of October 2023. Calculations are based on fully charging a 50kWh battery. To get the low Charge Anytime rate, you need to switch to OVO if you're not already a customer. Then add Charge Anytime when your supply starts.
Prices given include a standard installation. Your survey might show that you need more work than a standard installation. In this case, your quote would include this additional cost. For full details about what's included in a standard installation, please see our Q&As.
The 3p a mile claim is based on an EV customer driving the UK average of 7,000 miles at an average of 3 miles per kWh. The Charge Anytime add-on rate on 01/11/2023 is 7p per kWh. Actual sum per mile is 2.3p. Individual costs will vary based on your vehicle efficiency and driving style.
If you're not already a customer, you can still get a charger installed by us, but you'd need to switch to OVO to add on Charge Anytime (it's free to add to any OVO energy plan).
Please note, if you get Charge Anytime with the Indra Smart PRO, you'll lose the lock functionality. We're working with Indra to make this function compatible by early next year.
The less than £200 claim is based on an average Charge Anytime customer using 2700kWh a year to charge their EV using the Charge Anytime add-on. The rate on 01/11/2023 is 7p per kWh for Charge Anytime. Actual amount for driving for a year is £189. Individual savings will vary based on your vehicle efficiency, driving style and EV charging usage.
90% of installations are completed by OVO engineers. If we can't install in your area, our trusted partners

ChargedEV

will fit your charger for the same price.