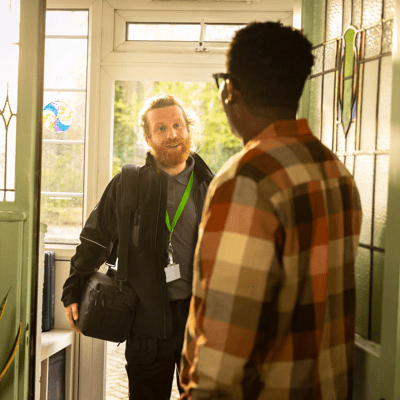 Home Recover.
Broken boiler, electrics or plumbing issue? No problem.
Home Recover can help you manage unexpected bills when something breaks at home. We'll fix the initial fault for free if you're an OVO energy customer (or for £79 if you're not) when you take out our Complete cover¹.
Get our best offer yet
For a limited time, you can book your repair, get covered and save up to £1282.
How does Home Recover work?
1. Something broken, and no cover?
If you've got a fault with your hot water, heating or electrics, you may be facing a hefty bill. But Home Recover could help you keep costs down.
2. Get the fault repaired
Our trained engineers will come and fix the fault. It's free if you're an OVO Energy customer, or £79 if you're not.
3. Protection and peace of mind
Right now, you can save up to £128 on our Complete cover. It gives you 24/7 support and a nationwide network of engineers1 to rely on.
What's included?
Home Recover includes an on-demand repair and all the protection of our Complete cover. And for a limited time, you can take advantage of our best ever offer and save up to £128 when you sign up.
On-Demand Repair
Free for OVO customers (or £79 if you don't get your energy from us), when you take out our Complete cover.
What you'll get:
An engineer will come and repair your issue (exclusions apply).
We cover faulty boilers and heating, electrics, internal drains and plumbing.
If you book a repair online before 1pm, we'll aim to contact you that day.
Complete cover¹
Our ultimate home emergency plan is now on offer. Pay nothing for the first 4 months, then from £24 a month for the last 8 months.
What you'll get:
Boiler and central heating cover
Annual boiler service
Plumbing and electrics cover
Boiler replacement cover3
Gas and water supply pipe cover
Internal and external drains cover
Taps and toilets cover
A special priority helpline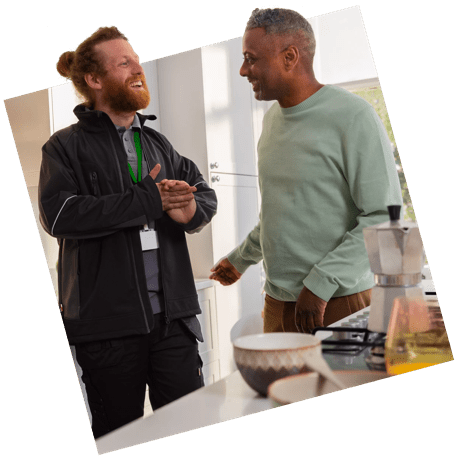 Repair and cover.
Book a repair in minutes with our Complete plan1, you'll also get:
An annual home boiler service
Access to a network of Gas Safe engineers
24/7 emergency helpline
Apply for cover
What people say about OVO Energy
Rated 4.2 stars by more than 117242 customers
See all reviews
How many times...
I asked you previously, on more than one occasion,to stop sending me requests to install a smart meter. I'm still getting letters through the door. Why? This is was the reason I called your company. The lady was very helpful and didn't read off the script.
Mathew Aston
October 01, 2023
Great customer service
Your college was very helpful, polite and patient with me also with explaining everything clearly for me. She is an asset to your company.
Eileen Hamilton customer
October 01, 2023
OVO Representative Response was very sophisticated
OVO energy representative well responded, as I was contacting OVO energy for the first time. it was a good conversation.
Muhammad Nasir Khan
October 01, 2023
Need something else?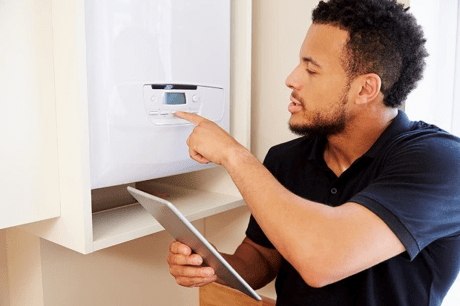 Taking care of your boiler
From resetting to repressurising your boiler, we can help.
Go to boiler help hub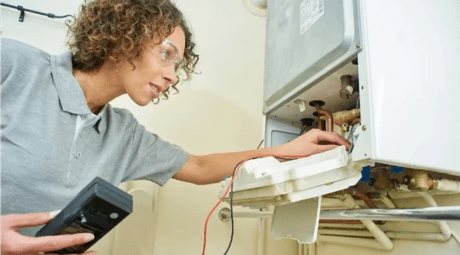 Common boiler problems
Boiler on the blink? Try one of our quick fixes before calling an engineer.
Go to boiler guide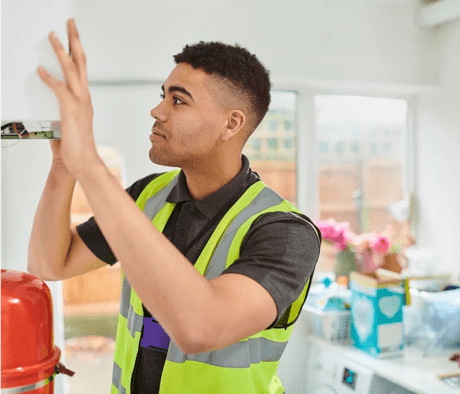 1 No claims can be made within the first 30 days. Terms, conditions, eligibility criteria, and exclusions and cancellation charges apply.
2 Terms and conditions, eligibility criteria and exclusions apply. New customers only. Offer ends 12 December 2023.
3 If your boiler is less than 7 years old at the initial policy start date and less than 10 years old at renewal, we'll pay up to £2,500 for the boiler replacement. If your boiler is 7 years old or more, but less than 10 years old at the initial policy start date and less than 10 years old at renewal, we'll pay a contribution of £400 towards the boiler replacement. Check out our full terms and conditions for more info.
Our boiler cover privacy policy
OVO Energy Ltd is an appointed representative of CORGI HomePlan (for general insurance distribution) which is authorised and regulated by the Financial Conduct Authority under firm reference number 824122.
CORGI HomePlan Ltd and OVO Energy Ltd are part of the OVO Group Ltd.