guide
Energy bills explained: understanding your gas and electricity bill
10 November 2021 | Matt Mostyn
We do our best to make your gas and electricity bills as easy to understand as possible. It's part of our mission to make energy simpler, fairer, and more transparent. But to comply with the law, we have to include lots of other info. This means your bill runs to several pages, making it hard to find the particular facts and figures you want.
So to help, this guide will help you understand your energy bills. Ready to make decoding your energy bill a thing of the past? Let's go...
Energy bill breakdown: the basics
Here's a breakdown of some of the key points your gas and/or electricity bill will cover
Tariff name: 

Most tariffs or energy plans have a name. It's handy to know which plan you're on, in case you ever want to remind yourself of its features. Or compare it with another tariff (whether from OVO or any other supplier). You can check out all the details of each plan on our home energy tariffs page.

Estimated energy use in the last 12 months: 

This shows your estimated use for the past year – but it may not be the actual amount, unless we have regular meter readings. Remember to submit regular meter readings, to make sure you're being charged for the exact amount of energy you're using. Of course, if you have a smart meter, you won't usually need to do this.

Total kWh used/this cost:

This shows your monthly electricity use. Bear in mind that it'll be less accurate if you've not given regular meter readings (unless you have a smart meter).

Total units (100s of cubic feet)/this cost: 

This shows your monthly gas use (if you use gas). Again, it'll be less accurate if you've not given regular meter readings. 

Electricity supply number: 

Your supply number is also called a Meter Point Administration Number or MPAN. It's a useful number to know if you're looking at switching suppliers. It's unique to your home, and is usually 21 digits long.

Gas supply number: 

Your gas supply number is also called a Meter Point Reference Number. It's the unique 6 to 11-digit number that identifies the gas account for your property. It's also sometimes referred to as the "M Number".  Your MPRN will most likely come in handy if you change supplier, or move home. That's because this number is linked specifically to your property.

Cheaper Tariff messaging:

This tells you if you could be on another cheaper tariff with your supplier. It shows you the one that's most similar – and the cheapest overall.

Standing charge:

A standing charge is a daily fixed charge that goes towards the cost of supplying energy to your address. It includes the cost of the pipes and power lines, and maintenance of your meters. You pay your standing charge no matter how much energy you use.

Unit rates:

A unit rate is what's charged for each unit of energy (kWh). Each plan has different unit rates. To find out yours: 

Check the welcome letter you were sent just after sign-up.
Or (for OVO members):

Log into your

online account

Click 'Check my details' under 'My Profile'
Under 'My plan', look for the number that comes before 'p/kWh'

You can also check out our unit rate table. This also includes our standing charges. But if you fixed your prices a while ago, these rates may not be the same as the ones you're paying. That's why it's better to check your welcome letter, or your online account.
What's included on your bill?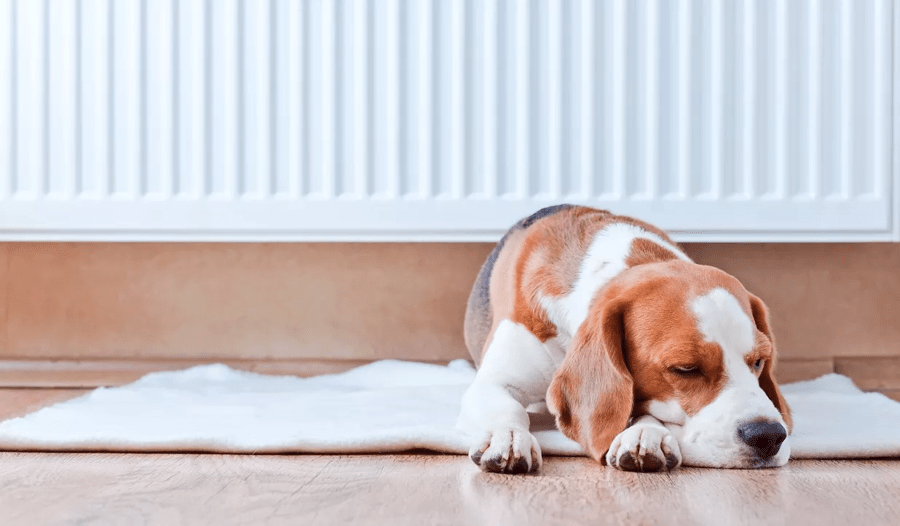 Now we've covered some of the general points, here's a quick guide to some of the specific info you'll spot on your bill:
The name of the current tariff
This tells you the tariff you're on. For instance, our tariffs have names like "Better Energy" and "2-Year Fixed". 
The cost of energy in the last 12 months
Your bill will show the cost of your energy during the last 12 months. And if you haven't been with your supplier for this long, it'll cover the length of your membership to now.
An estimate of the next 12 months' cost
This projects the cost of your energy for the next year, based on the energy you've used till now. 
For estimated readings, our system works out how much energy you used each day between the first estimated reading and any readings you've submitted yourself. 
Then it calculates what reading you'd have reached on the day your statement is issued, if you'd continued using gas or electricity at exactly the same rate each day.
So, for instance:
We issue a gas statement for the period ending 1 October at a reading of 8,000.

On 25 October you give us a reading of 8,025 – so you've used an average of 1 unit a day over those 25 days.

Your next statement covers the period up to 31 October – so for those extra 6 days, we add on another 6 units.
If you've got a smart meter, and you chose for it to send us meter readings "once a month" or "once a day", we'll only base your statement on estimated readings if we've lost communication with your smart meter. If you think your smart meter might have lost connection, check out our smart meter troubleshooting guide, to find out how to get everything working again.    
And if you don't yet have a smart meter, find out why it's good for both you and the planet – and how to get one for free, in our useful guide to smart meters. 
Conditions of contract, including exit fees and end dates
This outlines the terms of your contract, including any exit fees, and the date your current tariff ends.
Information about discounts
Here you'll find details of any discounts or offers that could be available on your plan – for instance, if you pay by Direct Debit.
Switching information
All suppliers – including OVO – must remind you that you can switch, along with advice on how to do it. Learn more about how to compare energy suppliers in our blog.
What's not included on your energy bill?
Next, here's an explanation of some of the info your bill doesn't usually include:
What a "kWh" means
A kWh, otherwise known as a kilowatt hour, is a measure of how much energy you're using. It's not about the number of kilowatts you're using per hour. Instead, it's a unit of measurement that equals the amount of energy you'd use if you kept a 1,000 watt appliance running for an hour.
So if you switched on a 100 watt light bulb, it would take 10 hours to rack up 1 kWh of energy. And a 2,000 watt appliance would use 1 kWh in just half an hour.
Confusing terms, such as "debit" and "credit"
Rather confusingly, the way these terms are used in the energy industry is different to how you might use them elsewhere. Here, "credit" means when you've paid extra on your energy bill. And "debit" means deficit – ie. you owe the supplier. At OVO, we talk about whether your energy account has a positive or negative balance. It's simpler that way.
What's an Independent Gas Transporter?
Sometimes, Independent Gas Transporters are used to fit pipes instead of the National Grid, (as they're cheaper). If the Meter Point Reference Number (MPRN), (which is used to identify the specific gas supply for your home) on your bill is 10 digits long and starts with 74 or 75, this means you're supplied by an independent gas transporter.
How do energy bills work?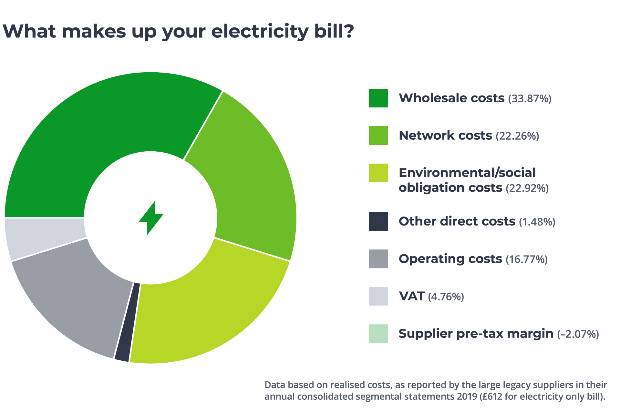 Here, we'll run through some of the key facts relating to how energy bills work, and the costs and other factors that affect them.
Why do gas and electricity bills change?
The Price Cap
The energy price cap is a cap on the price of gas and electricity in the UK. Sometimes, it gets called the "Ofgem price cap". The price cap has gone up recently, but it can go down too. It all depends on how much energy is costing wholesale. 
The cap applies to all standard variable tariffs in the UK – these are the tariffs where your prices can go up and down. But it doesn't apply to fixed rate tariffs – these are the tariffs where your prices are fixed until the end of your contract.
The price cap is reviewed twice a year by Ofgem. Changes to the price cap are usually announced in February, coming into effect in April. Then this happens again in August, with changes coming into effect in October.
The price cap sets the rate you can be charged for your energy per kWh, if you're on a variable plan. That's known as the unit rate. It also sets the standing charge – this is the amount you pay per day to stay connected to the grid (covering the costs for things like power lines and pipes). 
It's important to remember that if you use more energy then this will cause your bills to go up, too – for example, when the heating is turned up high over winter. That's the other main factor affecting your costs. Using more energy will cause your bills to rise whatever type of tariff you're on, whether it's variable or fixed-rate. 
Wholesale costs
Changes in wholesale energy costs can cause suppliers to raise or cut prices accordingly. Wholesale costs are how much your supplier has to pay to get the gas and electricity to sell on to you. When availability is high and demand is low, prices are generally lower. But when demand rises and there's less availability, wholesale prices rise.
Network and balancing costs
Suppliers are charged for the costs of maintaining and using the network of wires and pipes that carry energy to your home. These charges are passed on to customers through your bills. But because network charges may vary from year to year, this is another factor that affects the size of your gas and electricity bills.
Costs of government obligations
Other costs come from government programmes to save energy, reduce carbon emissions, and encourage everyone to use green energy. These programmes can also indirectly affect your bills.
VAT 
VAT is the value-added tax paid on household energy bills – and of course, this can also go up or down quite regularly.
Most popular customer questions
Not yet with OVO? Want to cut your energy bills and your carbon footprint?
Pick one of our 100% renewable electricity plans and start saving
Get a quote
Start your switch today
Starting your switch to OVO is easy and you could soon be enjoying all this: 
Competitively-priced 100% renewable electricity as standard1
Great service, with over 30,000 5-Star reviews on

TrustPilot

A tree planted for every year you're with us2
Sources and references:
1.  The renewable electricity we sell is backed by renewable certificates (Renewable Energy Guarantee of Origin certificates (REGOs)). See here for details on REGO certificates and how these work.
2.  Each year, OVO plants 1 tree for every member in partnership with the Woodland Trust. Trees absorb carbon dioxide from the atmosphere, so tree-planting helps to slow down climate change.
View more from these categories