guide
Smart Export Guarantee explained: how much could you save?
09 April 2021 | Aimee Tweedale
Got solar panels on your roof? Or perhaps a mini wind turbine in the garden?
Good news! The Smart Export Guarantee, or SEG for short, is a way of rewarding you for being an eco-warrior, and exporting the electricity that you generate at home.
Read on to find out everything you need to know about SEG payments, and OVO's own SEG tariff.
What is the Smart Export Guarantee?
Basically, SEG is a smart idea where people with solar panels, wind turbines (or similar) get paid for sending some of their home-generated energy to the national grid. 
This awesome environmental initiative replaces the government's Feed-in Tariff (or FIT), which ended in March 2019. 
What do I need to qualify for the SEG?
To get SEG payments, you must have a way of generating electricity at home. SEG pays you for the power you export from your renewable energy source.
These are the different types of electricity generator you could have at home.
Solar photovoltaic systems
Definitely the most popular mode of generating electricity at home, solar panels use photovoltaic technology to turn sunlight into energy. They should be installed on a south-facing roof.
Onshore wind
We've all seen the giant wind turbines that line the windswept UK coastline. But it's also possible to have your own micro wind farm, capturing the breeze in your back garden. 
Hydro Power
Hydroelectric power, which harnesses the energy of streams and rivers, is less common in homes. However, it's a cost-effective choice for off-grid homes out in the countryside.
Anaerobic digestion
Anaerobic digestion is the use of bacteria to break down organic waste. The process produces green gas, an eco-friendly alternative to natural gas, which is a fossil fuel.
Want to know more about fossil fuels and how they impact the environment? Read our complete guide.
Micro-combined heat and power 
Combined heat and power units, aka CHP units, do exactly what they say on the tin: they generate electricity and heat at the same time. Replacing traditional boilers, these nifty units often use fuel cell technology. 
You can get SEG payments for your CHP unit if it has a capacity of 50kW or less.
How much can I earn selling energy back to the grid with the Smart Export Guarantee?
Different suppliers set their own Smart Export Guarantee rates. So each one will pay you a different amount for the electricity you export per kWh. It's worth shopping around to get the best deal. 
How much you can make from exporting your energy will depend on a few things:
How much energy you generate
What percentage of that energy you don't use, and export to the grid
Which energy company's SEG tariff you sign up to, and what rate they offer per

kWh

What time of day or night you export the energy
You might also be able to save on your energy bills by installing a home energy storage system. This would mean you could hold onto your excess energy, rather than exporting it. 
In some cases, storing your energy rather than exporting it could be more cost-effective. The only catch? Installing home storage is very pricey upfront.
Find out more about home energy storage systems in our complete guide.
Can I get a Smart Export Guarantee tariff?
Yes, depending on a few things. For example, no matter what type of renewable generation you have, your installation has to be located and fully installed in Great Britain. Also:
Your installation must be signed up to the Microgeneration Certification Scheme (MCS), or an equivalent scheme that shows your installation is certified.
You'll need a

smart meter

or an export meter that can measure the electricity you export, and take half-hourly readings.
Your export meter must have an export

Meter Point Administration Number (MPAN)

. If you don't have this, we can register one for you.
You can't be receiving FIT export payments when signing up for SEG.
You can't be getting any public grants that can make you ineligible for SEG.
The size of your system can't be bigger than 5MW.
Go here to read the full terms about FIT export payments.
Which energy companies have Smart Export Guarantee tariffs?
Every UK energy company with more than 150,000 customers offers an SEG tariff. So there's plenty of choice.
Want to mix and match? You don't have to get your SEG payments from the same company that supplies your energy.
Can I get SEG payments with OVO?
Definitely. We're proud to say that we're an SEG licensee, so if you're eligible you could get:
| | | | | |
| --- | --- | --- | --- | --- |
| | Price per kWh | Type of technology | System size | Initial contract |
| OVO SEG Tariff (AET20) | 4p | All eligible technologies | Solar, anaerobic digestion, hydro, wind up to 5MW capacity, up to 50kW for micro-combined heat and power (Micro-CHP) | 12 months |
You don't need to be an OVO member to get our SEG tariff. Your energy supply and your SEG payments are separate.
What are you waiting for? See how much you could save with our home energy plans. 
Types of Smart Export Guarantee tariffs
There are a few different types of export tariff on the market. 
Fixed rate SEG tariffs
This is the most common type of SEG tariff right now, and it's pretty straightforward. You get a fixed amount per kWh of electricity that you export. (With OVO, that's a competitive 4p per kWh.)
Flexible rate SEG tariffs
These flexible tariffs pay more or less for electricity, depending on the time of day you export it. Electricity could be worth more when demand is high, and vice versa. 
Multi-rate SEG tariffs
Like a combination of a fixed tariff and a flexible tariff, a multi-rate tariff offers multiple fixed rates for your electricity. 
For example, you might get a tariff that pays you a certain amount on weekdays, and a different set amount on weekends.
Battery-specific SEG tariffs
These are tariffs that require you to buy and install a specific type of home battery. At the moment, you can only get this kind of tariff with Tesla, or smart storage company Social Energy.
Read more about different types of energy tariff and their advantages and disadvantages.
What's the difference between the Smart Export Guarantee and Feed-in Tariff?
The Feed-in Tariff (FIT) was a scheme the government launched in 2010, to reward people for producing their own electricity at home. 
Those who receive FIT get 2 payments: one for the electricity they generate, and another for the electricity they export to the grid. The export payment is either based on meter readings, or "deemed"/estimated to be around half of the total electricity generated. 
FIT closed to new applicants in 2019. The SEG was launched on New Year's Day in 2020, to replace it. There are 3 key differences:
The SEG is just 1 payment, rather than 2
SEG payments are based on the actual amount of energy exported, while the FIT export payment is sometimes based on an estimate
FIT payments were set by the government, but SEG tariff rates are determined by energy suppliers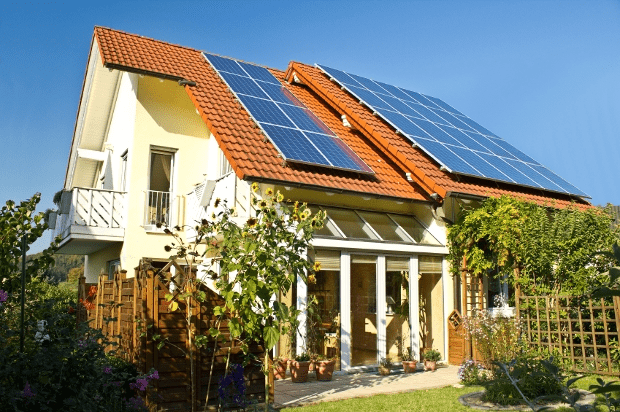 How do I apply for SEG?
We're a mandatory SEG licensee at OVO – so we can help you apply for a SEG contract. Just fill out our application form here. Then, email us your:
Proof of ID showing your full name – like a valid passport, driver's licence, or birth certificate.
Proof of ownership for your installation – this can be a paid-in-full invoice, or a letter from your installer, building contractor or solicitor that shows you're the owner. If the system was already installed when you moved into your home, you'll need a Land Registry document, and a Fixtures and Fittings form – all clearly showing your name and your address.
Proof of address – such as a utility bill, or a bank, building society or credit union statement from the last 3 months. You can also send us a council tax bill, an electoral register entry, or an HMRC tax statement for the current year.
An MCS certificate or equivalent – you should get this from your installer. You'll see the certificate number at the top of the document (it'll look like this: MCS-01234567-A). Or, you might get a Flexi Orb certificate (the number for this will be in the middle of the doc, and it'll look like this: Flexi-01234567890).
Distribution Network Operator (DNO) notification – you can find more information in

our complete guide to DNOs

. 
Smart Export Guarantee FAQs
All your questions about SEG answered
View more from these categories