Smart technology
Meter reading problems: what to do to solve them
Learn how to solve problems with your meter readings – with advice on everything from incorrect meter readings to reading disputes.
Learn how to solve problems with your meter readings – with advice on everything from incorrect meter readings to reading disputes.
What should I do if I submitted the wrong meter readings?
If you gave us the wrong reading, here's what to do:
To send a new reading on the same day: just send us a new reading in the same way as you did earlier, before midnight on the same day. Then we'll update your energy account with the new reading. 
To send a new reading later down the line: If you need to update the reading and it's been longer than a day since you sent us the wrong one, please get in touch via the Help centre. 
How to send a reading
Enter the 5-digit meter number for electricity or the 4 or 5-digit meter number for gas into the boxes in your account. Read the numbers from left to right, and include any zeros. Leave out numbers after a decimal point, or any numbers in red. If your reading's too short to fill all the boxes, put a zero in the first box.
And remember, the best time to send your readings is on the date we bill you each month.
Watch this short video to learn how to send a meter reading via your online account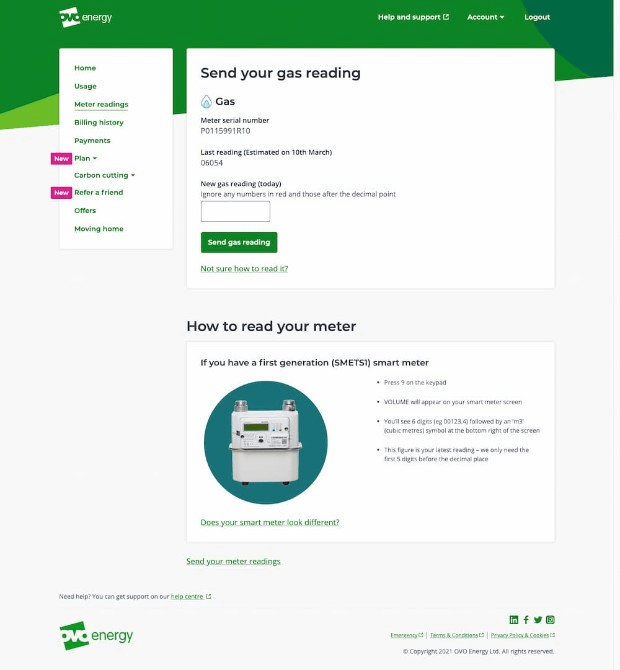 What if I've mixed up my day and night readings on an Economy 7 meter?
You're not alone – it's really common. If you've got a traditional meter, and the 2 rows of figures aren't labelled, you can do a simple "load test".  
How to do a load test
Just read both readings on your electricity meter twice on the same day – first in the morning (after 9am) and then in the afternoon or evening (before 9pm). Then email us at [email protected] with the following info:
Meter Serial Number: ***********
Date you took the meter readings: **/**/**
Morning meter readings and the time you took them: 
Time: **am
The day register ID and reading: R* - *****
The night register ID and reading: R* - *****
Afternoon or evening meter readings and the time you took them: 
Time: **am.
The day register ID and reading: R* - *****
The night register ID and reading: R* - *****
Do you have an electric heating system (e.g. storage heaters)? Yes/No
Register IDs are the little numbers or letters on the left-hand side of the reading (e.g. R1/R2/L/N etc).
We'll then get back in touch with you to clarify matters! 
Or if you have a SMETS1 smart meter – 
Press 6.
Press it 3 more times until IMP R01 appears on the display panel. This gives you your nighttime (off-peak) reading in kWh. 
Press 6 again to see IMP R02, which shows your daytime reading.
Or if you have a SMETS2 smart meter – 
Press button A 3 times for rate 11
Press button A 4 times for rate 2
If the display shows that the reading you've sent us is definitely wrong, take a correct reading right away and get in touch to tell us.
Not sure whether your smart meter is SMETS1 or SMETS2? Check out our handy guide to help you spot the difference.
Find out more about Economy 7.
What happens if I miss a meter reading? 
Not to worry! We'll simply estimate your bill for that month, based on your meter reading history.
Once we get your next meter reading, we'll automatically check this against your last estimated bill. That means if you paid too much or too little when we estimated your energy use, we'll spot this. So your next bill (the one that comes after the meter reading) will either be lower or higher, to reflect what you actually used. 
Remember to send us a reading once a month on your billing date, to make sure your bills are always up-to-date and 100% accurate.
Learn how to send a meter reading via your online account
What if I think my opening meter reading is wrong?
If you think your opening meter reading isn't correct, just get in touch with us and we'll take a look. If something seems wrong, we'll open a "reading dispute" with your old supplier. 
What is a meter reading dispute?
When you join OVO, we'll ask you to send us your opening meter readings. Sometimes, these might be higher – or lower – than expected. In these cases we'll need to do a little bit of detective work, to find out what's happened – and this is called a 'meter-reading dispute'. 
How a meter reading dispute works
We'll check with your previous energy supplier to work out what the reading(s) should be, based on the amount of energy you've used in the past.
How long can a dispute take?
We'll get it sorted for you as quickly as we can – but it can take up to 14 weeks for electricity, and 8 weeks for gas (and longer in some cases). But rest assured, your energy supply won't be affected while we do this, and we'll bill you as usual.
How to avoid a meter reading dispute
The best way to avoid any dispute is to send us your opening meter readings as soon as you join OVO. You can send them from 5 days before your on-supply date, to 5 days after. Please check the emails we've sent you, for the exact date. This makes it easier for us and your old supplier to agree on an accurate reading.
It's also a good idea to send us your readings regularly – ideally on the date we bill you each month. This also keeps your bills spot on, so you pay the right amount for the energy you're using. To submit your meter readings online, simply log in to your online account.
An even better way to avoid any dispute is to get a smart meter! Once you've got one your readings will be sent to us automatically – which makes your bills more accurate, and your energy account more up-to-date. Plus, with a smart meter, you'll be able to get even more out of our free tool, OVO Greenlight. It gives you personalised tips that help you save energy at home. OVO Greenlight is just one of the benefits you get when you're with OVO. 
Book a smart meter appointment today
Why have you opened my energy account with estimated readings?
This happens when, for whatever reason, we couldn't set up your energy account with your opening meter readings. There are a couple of reasons why this may be the case:
When we set up your energy account on our system, there's a specific 10-day time period where we need your opening meter readings. If we don't get them between 5 days before or 5 days after your start date, we have to use estimates. 
If your meter readings are submitted on time but are disputed, we may need to open your energy account with estimates until we can resolve the dispute. 
To help you out, you'll also get a monthly meter readings reminder via your online account. That's one less thing to think about!
My smart meter stopped sending readings. What do I need to do?
First things first, it's good to be aware that it can take up to 6 weeks after installation to update the meter details on your energy account. Until your new meter is all synced up to your energy account, your online account/billing won't be aware that we're getting readings. We sync things up our side – you don't need to do anything to get it sorted. 
If that's not the issue, we have a dedicated Help page for this issue. Check it out, and follow the steps to solve the problem.
Go greener with OVO Beyond
Our even greener add-on, OVO Beyond, offers 100% carbon-neutral energy!  Here's all the good stuff you get:
100% carbon-neutral gas, including 15%

green gas

2 (that's one of the best fuel mixes around!)
100% renewable electricity 
5 extra carbon-busting trees planted in the UK on your behalf3!
Plus, you'll be supporting our carbon-offsetting projects that:
Save rainforests in Guatemala
Plant trees in Uganda
And you'll bring a breath of fresh air to children living in urban areas, by supporting our charity partner, Earthwatch Europe, as they plant 8 Tiny Forests across our nation. That's like covering an area the size of 8 tennis courts with 600 trees! 
Go Beyond with us, and you could cut your carbon footprint by a further 28%4! All this for just £6 a month. You can cancel it anytime. 
If you're not an OVO member yet, get a quote in seconds and see how you save money and cut your carbon footprint at the same time. 
Got more questions? Find help fast in the OVO Forum
As well as being able to get in touch with us straight through the Help Centre, there's also help available through the OVO Forum.
We have a huge OVO community, with thousands of topics being answered by members helping each other out. It's a safe space for sharing information and discussing all kinds of talking points. Why not get involved? 
If the answer you want isn't there – feel free to ask a question, and one of our friendly forum members will be more than happy to help. 
Sources and references:
1.   Please note that each meter has the rates and amount of button presses programmed at the point of manufacturer, or the supplier who installed it may have set it up to map to how they operate. So these button presses can vary.
2.   OVO Energy's Green Gas is made up of 15% green gas, with the remaining 85% offset to make your gas carbon-neutral. As of 31st July 2020, the proportion of biogas offered vs. the amount offset was higher than all other providers who share details of their green gas offering, except Green Energy UK - and that's something we're pretty proud of. The green gas we sell is backed by renewable certificates (Renewable Gas Guarantees of Origin (RGGOs)).  See here for details on Renewable Gas Guarantees of Origin and how these work. We offset the remaining emissions by supporting UN REDD+ carbon reduction projects that are certified to the Verified Carbon Standard.
3.  OVO plants 5 trees for every OVO Beyond member through our  award-winning I Dig Trees programme with The Conservation Volunteers. Trees absorb carbon dioxide from the atmosphere, so tree-planting helps to slow down climate change. Since 2015 we have planted over 1 million trees.
4.  Based on analysis carried out by the Carbon Trust for OVO Group (2020), 28% of an average individual's carbon footprint in the UK comes from energy. In this analysis, the carbon footprint includes the following lifestyle categories: energy, transport, shopping, food and drink and holidays. See table below for each category. This carbon footprint data has been calculated using BEIS 2020 emission factors. This excludes emissions from things that the average person cannot directly control such as supporting the NHS, defence, government bodies, etc. Please note these figures are not reflective of potential changes to your habits during the coronavirus pandemic.