blog
Going Green: OVO team member Chris goes vegan for a week
20 July 2021 | Aimee Tweedale
Going Green is a new blog series documenting OVO employees as they make an eco-friendly lifestyle change for one week. Whether it's turning down the heating, ditching plastic, or changing our eating habits, here at OVO we're challenging ourselves to greener living. This week Chris, Managing Director of OVO Drive, tries out a plant-based diet. 
Did you know that there's a connection between your beef burger and climate change? 
The way we farm animals to produce our food has a big carbon footprint. According to the World Resources Institute, if we want to avoid the worst effects of climate change, beef-eating needs to fall by 90% in Western countries1.
And it's not just meat itself, but dairy products, too. Back in 2015, dairy accounted for 3.4% of the whole world's greenhouse gas emissions. Which gives it an impact similar to that of aviation and shipping combined2!
That's why choosing to eat plant-based alternatives can be one of the most powerful things you can do to live a more eco-friendly lifestyle. When it comes to helping the fight against climate change, "most of what you can do at an individual level is weak by comparison to what governments can do," says leading environmental writer George Monbiot in the Guardian. "But changing diet [is] not. That has a major impact."
With that in mind, for our Going Green series, this week an OVO team member challenged himself to an entirely plant-based diet. 
Chris Russell, who lives in the West Midlands with his wife and 2 sons, already juggles a few different food requirements at home – including lactose intolerance, a nut allergy, and a shellfish allergy. So he decided to go vegan as a solo challenge – and to do it during a week when he was travelling for work, to truly put restaurant and takeaway options to the test. Here's how it went!
So, how much meat and dairy do you usually eat?
"As a household, we've been reducing our meat intake over the last few years already. We rarely eat red meat; the thing that we'd struggle to cut out would be fish. We tend to have fish twice a week, and my kids have chicken. We keep ducks at home, who provide fresh eggs, so we'd miss our eggs! 
"I have to say I thought this was going to be a fairly easy challenge, because we already don't eat much meat, and I don't have much dairy. But I found going full vegan to be really tricky – particularly if you're busy and not that well-prepared, as I wasn't!"
At the start of the week, how did you find it doing a vegan food shop?
"I found that Marks & Spencer has a great vegan range, called Plant Kitchen. So I stocked up on that. I got vegan gyoza, vegan Thai curry, and a vegan lasagne – which I thought was going to be awful, and was actually really good! I said to my wife, if that was served in a restaurant, I'd assume it was just a normal lasagne. Given my dairy intolerance, I wouldn't usually eat lasagne anyway, so this was a great find.
"Other than that, we just stocked up on extra vegetables and some Vivera mince – which we've already grown to love for things like chilli and spaghetti bolognese. So the food shop was okay – though I did have to go and get some extra bits when I needed things to snack on. I do like a biscuit now and then, and clearly loads of biscuits have got dairy in. I couldn't have my chocolate Hobnobs, which was a struggle. But I found gingernuts, which were okay!"
What was the most challenging part of the week – did you face any temptation?
"I did have a cheat day, when I was in London to meet some former colleagues. They'd very kindly booked dinner at a restaurant, which was basically a meat restaurant. There was a vegan option, but it wasn't very appetising, so I gave in to a meat option. The next evening I went for some dinner with OVO colleagues. This time there were plenty of vegetarian options but nothing vegan! I couldn't live with another fail, so this time I had bread, carrots and chips for dinner! 
"I probably should have organised it better. That was an interesting lesson for me – if you're outside of home, where you can't control your diet well, it becomes quite tricky, and I felt like I was being difficult at times. I'm already the guy that has various allergies to cater for, so I was mindful of that additional set of requirements. There's definitely a social element – more than I thought there would be, given how popular veganism is now."
What vegan snacks did you enjoy while on the road for work?
"I ate more nuts than usual, which I enjoyed. With my son's nut allergy, we don't have nuts in the house, so this was only really an option when I was in the office. I also found an amazing tropical vegan yoghurt in the coffee shop across the road from the OVO office. That was delicious. Another favourite was vegetable samosas, which I initially didn't think were vegan. We eat a lot of Indian food, so we already had them in. Not always the healthiest choice, but a great option once in a while.  
"I was impressed at the vegan options in Pret: they've got a really good range now. I had their jackfruit wrap, which was tasty. And they also do a vegan meatless meatball wrap, that's great too. Though they're about £5 each, so not cheap."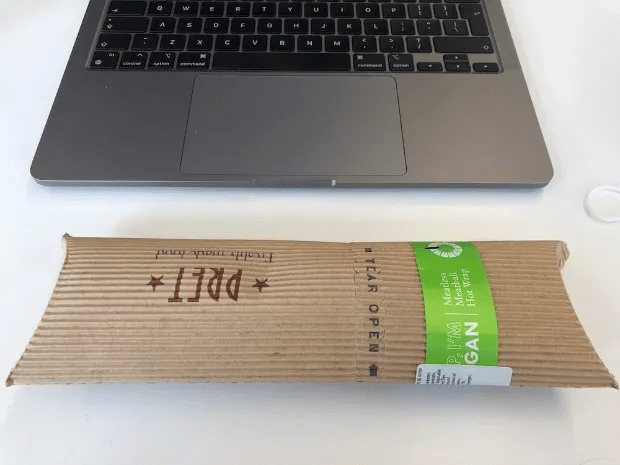 Was eating vegan pricier than your normal diet overall?
"I certainly found that eating vegan was a bit more expensive on the go. But if, as a family, we'd eaten vegan for the week and had bought everything via the weekly shop, I think it would've been about the same. I imagine it could be a lot cheaper as we expanded our recipe collection. If you're busy, and you need to get quick things on the go, it's not as easy. Had we been more organised, and I'd not been in London, we would have done much more cooking, and that would have saved money. 
"Another drawback is the fewer convenient options when you're out and about. You do have to spend a bit more time checking things and preparing, but I'd imagine that quickly becomes second nature."
Do you think you'll keep any of your new vegan habits?
"Yes, definitely. My family tends to have a lasagne night once a week, and I'll have a bit – but not very much, because of all the dairy. So I'll definitely keep eating that Plant Kitchen lasagne now. We got a vegan cookbook, too, so we're definitely going to try working our way through those recipes. We already have a number of vegetarian meals, and might have vegan meals as a family once or twice a week, as a way of introducing it to the boys.
"I also found a great bacon substitute called This Isn't Bacon. That was really good, so it's definitely staying. So good in fact that I'm going to try to convince the sports club where my boys play rugby that they should get some in, instead of their usual bacon sandwiches!
"The thing I'll struggle to give up is a little bit of milk in my coffee. I try to vary it a little bit, with oat milk and other substitutes. But I just think you can't beat milk in coffee. I'm so accustomed  to that taste!"
For more in our Going Green series, read all about Kaluza team member Penny's journey to going zero-waste.
Want to cut your home's carbon footprint?
As much as 28% of your personal carbon footprint comes from the energy you use to power your home3.
If you want to lower your impact on the planet, consider switching to OVO Energy. We power all our members' homes with 100% renewable electricity4, and we plant a tree for every member, every year5.
Want to go even further? OVO Beyond is our green upgrade. It comes with 100% carbon neutral energy6, and 5 extra trees planted for you each year. 
Get a quote in less than 2 minutes to find out how much you could save.
Sources and references:
1 https://www.independent.co.uk/climate-change/red-meat-beef-carbon-footprint-b1854133.html
2 https://www.bbc.com/future/article/20201208-climate-change-can-dairy-farming-become-sustainable
3 Based on analysis carried out by the Carbon Trust for OVO Group (2020), 28% of an average individual's carbon footprint in the UK comes from energy. In this analysis, the carbon footprint includes the following lifestyle categories: energy, transport, shopping, food and drink and holidays. See table below for each category. This carbon footprint data has been calculated using BEIS 2020 emission factors. This excludes emissions from things that the average person cannot directly control such as supporting the NHS, defence, government bodies, etc. Please note these figures are not reflective of potential changes to your habits during the coronavirus pandemic.
4 100% of the renewable electricity we sell is backed by renewable certificates (Renewable Energy Guarantee of Origin certificates (REGOs)). See here for details on Renewable Energy Guarantee of Origin certificates and how these work. A proportion of the electricity we sell is also purchased directly from renewable generators in the UK.
5 Each year, OVO plants 1 tree for every member in partnership with the Woodland Trust. Trees absorb carbon dioxide from the atmosphere, so tree-planting helps to slow down climate change.
6 Enjoy even greener energy with OVO Beyond in comparison with our standard OVO plans. In addition to 100% renewable electricity as available with our standard plans, OVO Beyond reduces your yearly carbon emissions from the energy used in your home that is supplied by OVO to net zero by providing 100% carbon-neutral gas (15% green gas and 85% offset) and offsetting all associated lifecycle carbon emissions involved in the production and consumption of your electricity & gas, you will also get 5 trees per year in UK schools and communities and other green benefits. The renewable electricity we sell is backed by renewable certificates (Renewable Energy Guarantee of Origin certificates (REGOs)). See here for details on Renewable Energy Guarantee of Origin certificates and how these work. The green gas we sell is backed via renewable certificates (Renewable Gas Guarantees of Origin (RGGOs)). See here for details on Renewable Gas Guarantees of Origin and how these work. We offset the remaining emissions by supporting UN REDD+ carbon reduction projects that are certified to the Verified Carbon Standard or the Gold Standard. See here for more information on how we restore nature and protect rainforests with our offsetting programmes.
View more from these categories