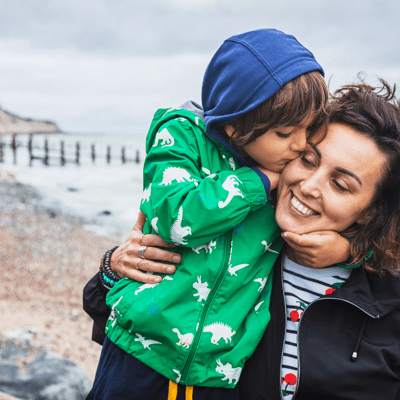 OVO's £50m Customer Support Package: everything you need to know
OVO's Customer Support Package has been designed to help those of our customers who need it most this winter. Whether you're with OVO Energy, SSE Energy Services or Boost – we're here for you. We started to roll out our support from 1 October 2022 and it runs until 31 March 2023. 
The support package includes free or discounted products and services, like smart thermostats, electric throws and boiler servicing. Some of the items we have are in limited supply and will be given to as many households as possible, prioritising those who need them most.
Chat to us for additional help
If you're an OVO Energy, Boost or SSE Energy Services customer and need additional financial support, you can chat to our specialist support team. We'll discuss your situation, listen to your needs and let you know what support we're able to offer you.
Dedicated specialist financial support team
Here's the support that will be available to customers:
Direct financial relief
Direct Debit relief, emergency top-up, and payment holidays for customers struggling to pay for their energy.
Hardship Scheme
Additional funds will be allocated to our Hardship Scheme, which will provide additional support for customers via a wide range of interventions, accessed through our dedicated support team.
Specialist support
Dedicated support for our customers in the most financial difficulty from a highly-trained team, including support for those in financial difficulty for the first time
Free and discounted products and services
A range of free and heavily discounted products and services like smart thermostats, boiler servicing and electric throws – prioritised for those who need extra support.
Additional support for those with an immediate need
Direct Debit customers
You will always have access to our online payment support tool which helps to assess the right payment plan for you. For customers particularly impacted by the high cost of living, we have an option to reduce direct debits by up to 15%, giving breathing room until the next direct debit check in.
Pay On Demand customers
You will be able to create bespoke payment plans lasting up to 36 months, increasing from the previous 24 months.
Prepayment customers
We're working to increase our emergency credit from £5 to £15. We're also making sure that if we switch our customers to prepayment plans, we regularly check in to make sure they're able to manage through this difficult period.
We'll be offering payment holidays for debt repayment for all prepayment meter customers so that every penny put on the meter will go towards heating, not paying back debt this winter.
Staying connected this winter
We will not disconnect our customers this winter where they fall behind, and encourage all customers who are unable to make their payments to contact us as soon as possible to discuss the tailored support we can offer.
Home energy efficiency support
We're here to support and encourage all our customers to improve the energy efficiency of their home. This can help customers to reduce energy waste and what they pay.
Our specialist team will be offering these products and services to those who need extra support and meet certain eligibility criteria.
These discounted energy saving products and services include:
Free boiler services
Free boiler services, worth more than £60, to ensure boilers are working efficiently this winter, helping reduce energy use and bills
Free energy saving products
Free energy saving products such as smart thermostats, which can help customers take control and reduce heating costs by up to 30%1
Free electric throws
We've now sent all of our 30,000 electric throws to households in need. As a result we'll be removing the option to apply for one through the Customer Support Package form from Friday 2 December.
Discounted A-Rated Boilers
Exclusive 20% discount for customers in need of a newly installed A-Rated boiler, helping reduce energy use & bills
Working with StepChange and the Trussell Trust
We're continuing to support StepChange, the debt charity, so they can provide their vital support to customers who need to closely assess their finances and may require help in challenging situations. 
We've launched a new partnership with the Trussell Trust to support food banks to meet increased need this winter and help people facing hardship access practical support to get through this crisis and to a place where they can afford the essentials.
Free smart thermostats
We're offering customers free smart thermostats to help reduce their energy costs this winter. Smart thermostats are thermostats that connect to the internet, giving you control of your heating from your smartphone or tablet. They offer features like automatically turning your heating off when you leave your home, and back on when you return, draught detection and detailed scheduling.
Free electric throws
Electric throws can help you save energy compared to heating an entire home – which is why we're providing these for free to customers who need them most. The throws are 180cm by 130cm - this can cover up to 3 people and comes with a detachable digital controller.
Free Boiler Servicing
We're offering free boiler servicing to eligible customers to help make sure their heating is working as efficiently as possible this winter. That's because an efficient boiler costs less to run - saving customers money and making sure their home is as warm as possible.
---
1An independent study on heat control systems has shown that installing and correctly using a tadoº smart thermostat can reduce your energy use from heating by up to 31%.
(The study found that the tadoº device can reduce heating energy requirements by 14-26% through controlling the heat source (say a boiler or heat pump) and by another 7% by turning down the heating based on the weather forecast, depending on the window sizes. If the window surfaces are relatively large, the energy saving will increase.) ↩