blog
Great green news - for us all
15 September 2020 | OVO Energy
We've got some exciting news to share. As of 1 October, we're offering 100% renewable electricity1 for all our members, and committing to plant a tree for every new and existing OVO member - for every year they're with us. And on top of that, we now plant 5 trees a year for every OVO Beyond customer2.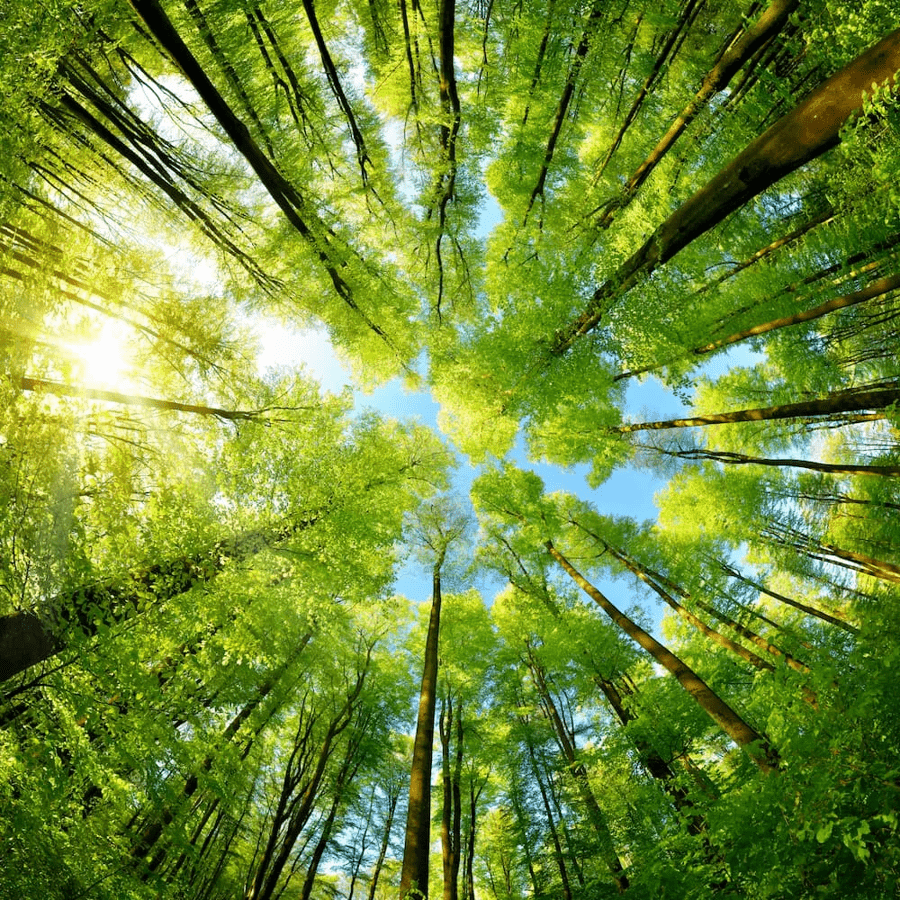 Tree-planting for all
Planting trees is one of the most effective ways of taking carbon out of the atmosphere. That's why we've already planted over 1 million of them. But over the coming year, together with partners the Woodland Trust and I Dig Trees, we're planning to plant around 900,000 more. 
Yes, you read that correctly- 900,000! Each of those trees will absorb around 60kg of carbon as they grow. So the trees we plant on behalf of our members will absorb at least 54,000 tonnes of carbon from the atmosphere3. Sounds good to us. 
And we're chuffed to announce the Woodland Trust as our new tree-planting partner. If there was such a thing as UK tree-planting royalty, they'd definitely be on the throne! Since the Woodland Trust started in 1972, they've planted more than 47 million trees, with 4.1 million of these being planted in 2019 alone. 
From hardy hazels and resplendent rowans to splendid silver birches and awesome oaks,  the Woodland Trust plants all sorts of trees for all sorts of brilliant reasons. And that's why we've committed to donate at least £750,000 to them planting trees on behalf of our members over the next year. It's safe to say we're counting down the days until planting season begins!
We'll also continue to plant trees through I Dig Trees, a project we started in 2015 with the wonderful people at The Conservation Volunteers (TCV). And you can see just how far and wide we've planted with the awesome map right here. 
The UK needs to plant around 30,000 ha of trees per year to hit zero carbon emissions by 2050. This means planting up to 1.5 billion trees over the next 30 years. No mean feat. But we're primed ready to play our role in this challenge with our brilliant partners - and planting trees on behalf of our members across Britain. And the more people who join OVO, the more trees we'll be planting. Happy days.
A tree-mendous competition to celebrate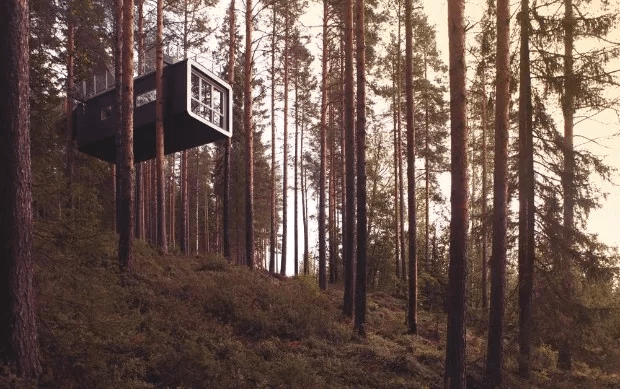 Image property of TreehotelAB
To celebrate our pledge to plant a tree for every member, we've decided to give our members the chance to win a 2-night stay for two at a luxury treehouse in the stunning depths of Sweden. 
The Treehotel is famous the world over and lets you fulfill your childhood dreams of sleeping in the trees in spectacular style. Whether you're looking for an adventure, a relaxing break from the stresses of everyday life or simply to unwind in nature, we're certain you'll love every minute of this once in a lifetime opportunity.
As well as laying on a selection of treats to enjoy whilst you're there, we'll provide you with a Flightgift card so you have the flexibility to fly whenever you like- and every ounce of carbon created on your journey will be offset by (you guessed it) planting more trees!
All you need to do to be in with a chance of winning is tell us your favourite type of tree to enter into the prize draw- and you'll find more information on the competition and T&Cs here. Easy-peasy. 
100% renewable electricity for all
As you can tell, we're excited about all the trees we'll be planting in the coming year. But we're also proud as punch to be providing all our customers with 100% renewable electricity. We've always been committed to renewables at OVO. We were the first mainstream energy company to remove coal and nuclear from our fuel mix. But going 100% renewable is the next step to bring us and our members closer to zero carbon living.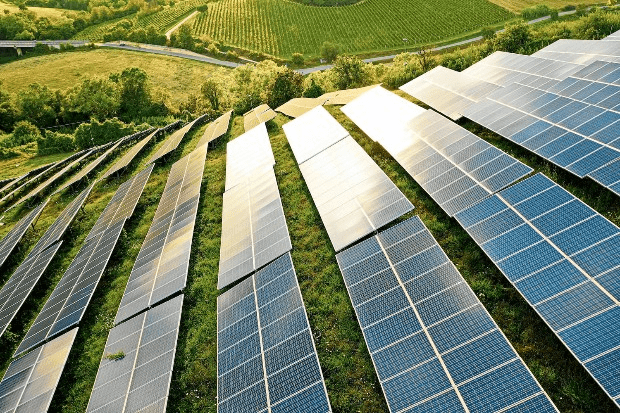 As part of Plan Zero, we committed to eliminate the household emissions of our customers by 2030. Now, by offering 100% renewable electricity, OVO Energy could save 466,706 tonnes of carbon emissions per year. That's a massive 24% reduction in our emissions from our members' home energy use4- and a big step towards achieving that goal. 
On top of this, our renewables come from right here in the UK. We supply renewable electricity by buying [REGO]https://www.ovoenergy.com/guides/energy-guides/regos-explained (short for Renewable Energy Guarantee of Origin) certificates. So that for every unit of renewable electricity we sell, a unit is always added to the grid. And we only buy REGOs from the UK. So by doing this, we're supporting UK renewable generators- something we can all be proud of.
We hope you're as excited as we are by all this news. But rest assured we won't stop here. We'll continue to lead the charge in working towards a zero carbon future with our members. We'd like to thank you for choosing OVO – and being as passionate about fighting the climate crisis as we are. We couldn't do any of this without you.
And if you're ready to [cut even more carbon]https://www.ovoenergy.com/blog/green/ways-to-reduce-your-carbon-footprint? Check out OVO Beyond: it's our green upgrade that cuts carbon and restores nature.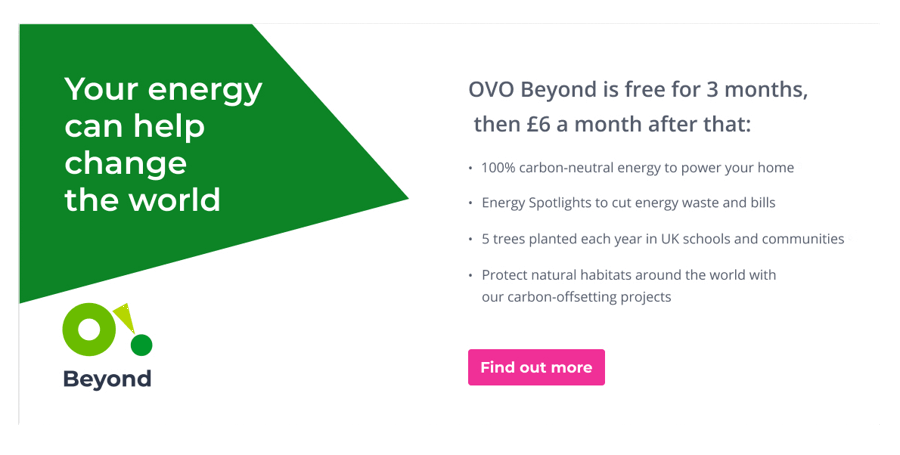 1 - 100% of our members' electricity comes from renewable sources such as wind, solar and hydro. The renewable electricity we sell is backed by renewable certificates (Renewable Energy Guarantee of Origin certificates (REGOs)). See here for details on[ REGO certificates and how these work]https://www.ovoenergy.com/blog/green/what-are-regos-who-needs-them-and-why. 
2 - OVO plants 5 trees for every OVO Beyond member through our award-winning I Dig Trees programme with The Conservation Volunteers. Trees absorb carbon dioxide from the atmosphere, so tree-planting helps to slow down climate change. Since 2015 we have planted over 1 million trees.
3 -By planting trees for all existing and new members we estimate planting 900,000 trees in 2021. Trees sequester 60kg of carbon as they grow according to the US EPA, so 0.06 x 900,000 = 54,000t 
4 - We calculated this by first calculating the total carbon emissions that would be caused from our forecasted supply of electricity and gas from 1st October, at 50% renewable electricity as standard. We then calculated how much carbon would be released by the same amount of energy where 100% of the electricity was renewable (renewable electricity is much less carbon intensive). The difference between these is the potential carbon saving. 
How OVO Beyond cuts your carbon footprint- By providing 100% carbon-neutral gas (15% green gas and 85% offset) and offsetting all associated lifecycle carbon emissions involved in the production and consumption of your electricity & gas, OVO Beyond reduces your yearly carbon emissions from the energy used in your home that's supplied by OVO to net zero. The renewable electricity we sell is backed by renewable certificates (Renewable Energy Guarantee of Origin certificates (REGOs)). See here for[ details on Renewable Energy Guarantee of Origin certificates and how these work]https://www.ovoenergy.com/blog/green/what-are-regos-who-needs-them-and-why. The green gas we sell is backed via renewable certificates (Renewable Gas Guarantees of Origin (RGGOs)). We offset the remaining emissions by supporting UN REDD+  carbon reduction projects that are certified to the Verified Carbon Standard or the Gold Standard. 
Ovo Energy Ltd will make a minimum donation of £750,000 to the WOODLAND TRUST, a company limited by guarantee (Company Number: 1982873) and a registered charity, Charity Number England and Wales: No. 294344, Scotland No. SC038885 whose registered office is at Kempton Way, Grantham, Lincolnshire NG31 6LL, to plant a tree for each customer supplied under the OVO brand.
View more from these categories