blog
A guide to forest bathing: how trees can make us feel better
17 November 2020 | OVO Energy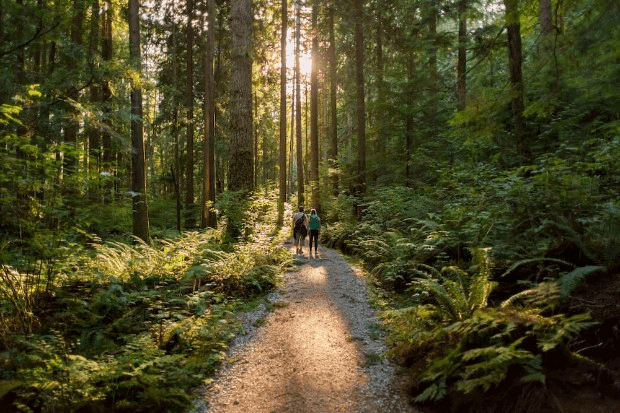 Trees really are marvellous. They're our oxygen-breathing, soil-protecting, sunlight-absorbing, carbon-removing friends in fighting the climate crisis. That's why we've committed to planting around 900,000 over the coming year with the Woodland Trust and I Dig Trees. 
And the reasons to love trees don't stop there. Recent research has shown that short jaunts to surround oneself with trees in woods and forests (also known as 'forest bathing') can do wonders for mental, emotional and physical health. And not just for adults. Our recent study found that planting more trees is also a win for the mental wellbeing of children too. 
Modern life is fast-paced and can feel draining, sometimes. Even to the most positive of people. More than ever, it's important that we give ourselves time to unwind with activities that can nourish and restore us. So we're absolutely chuffed to see evidence that forest visits can help you recover from stress, as well as improving your mood, focus, and energy-levels, alongside all kinds of physiological benefits. 
But we know it's not realistic to think everyone will always have time for a revitalising forest bathing session. Jobs, social lives, family commitments – important stuff – can take priority. So, along with the good people behind 'Sounds of the Forest', we decided to find a way to bring the calming benefits of the forest to you. 
We made our first virtual forest bathing video in October to mark this year's World Mental Health Day. But in a year where we've had to spend more time indoors, it's more important than ever to find ways to make the most of nature. So we decided to make more videos for you to enjoy.
So before we tell you all about forest bathing and how you can start doing it - plug in some headphones, hit play, and enjoy a moment to be mindful. Take some deep breaths and immerse yourself in our virtual forests...
A forest bathing meditation
The mental health benefits of forest bathing
The physical benefits of forest bathing
The emotional benefits of forest bathing
First things first: what is forest bathing and what are the benefits?
In Japan, it's widely believed that the practice of shinrin-yoku – which literally translates as 'forest bathing' – can benefit both body and soul. As well as boosting immune systems and aiding sleep, some people are confident it even has the power to counter not only depression, anxiety, and stress but also illnesses including cancers and strokes.
Here in the UK, many people already love nothing more than a relaxing stroll in nature. The practice of forest bathing is all about bringing mindfulness into it. Finding relaxation and a sense of security. Let's take some tips from Japan and get started...
How to start forest bathing: quick tips for beginners
Don't be fooled by the name – there's absolutely no need to bring a towel when you go forest bathing. Forestry England has great tips for beginners. It really is as simple as getting outdoors, calmly observing the nature around you  and following these steps:
Turn off your devices
Slow down and take deep breaths 
Open all your senses
Be present
And stay amongst the glorious trees for as long as you can – 2 hours is recommended for the ultimate forest bathing experience!
All it takes is giving yourself some time to be outside, with the trees, fresh air, and wonderful birdsong of a forest all around you. Then you'll hopefully be able to notice the benefits that the studies have shown.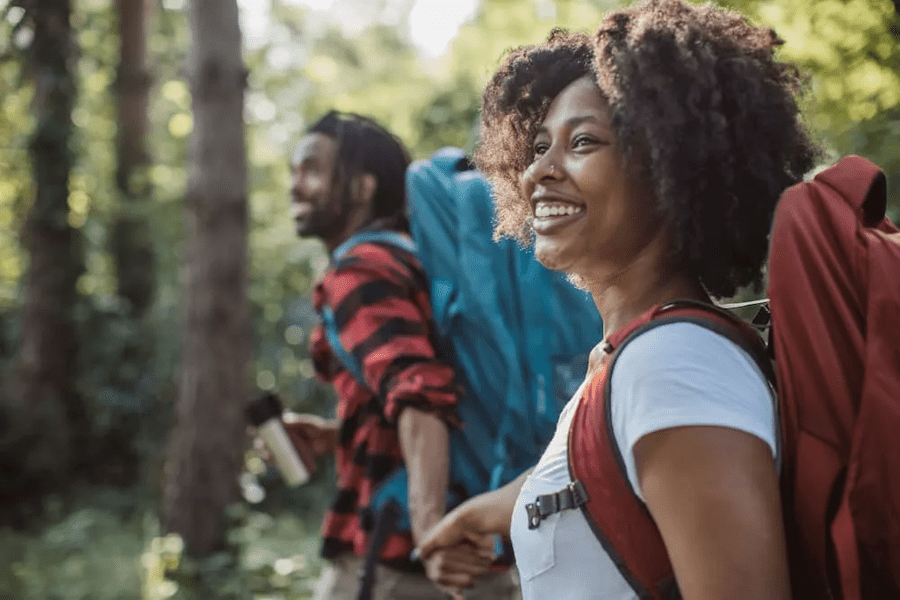 Keen to try forest bathing? Just find a nearby forest!
If you like the sound of forest bathing, you're spoilt for choice with the UK's incredible range of forests. Check out where to find your nearest forest with the help of our partners the Woodland Trust. You can also use this nifty forest-finding tool from Forestry England, who says more than half of the population lives within 6 miles of one of its sites! 
Once you've found a destination that works for you, it's recommended to visit outside of peak hours for ideal peace and relaxation. But forest bathing really is something that can be enjoyable and beneficial at any time, for any age group.
Andif you can't make it to a forest? Well, you could easily head out to your nearest park – or just take a little trip back to the virtual forest we created for you.
How we made our virtual forest
A few months back, we came across the wonderful 'Sounds of the Forest'. This global interactive audio project invited people around the world to record and share the sounds of their local woodland.
Behind the project was Wild Rumpus, a community-interest and arts events company who also produce Timber Festival, in partnership with The National Forest. Timber Festival is an annual celebration of trees, music, art, and ideas – all set in the heart of the forest. Sounds like our kind of festival!
When their 2020 festival had to be cancelled due to coronavirus, they set about finding a different way of helping people connect to and be inspired by nature. And the glorious outcome was particularly pertinent in these times: the first forest soundmap of the world, which uses the power of crowdsourced sound to bring people together.
Rowan Cannon and Sarah Bird, directors of Wild Rumpus, reflected on the process. "At a time when everything in society was being questioned and there was so much uncertainty, we felt that the natural world offered much reassurance and constancy.
There are so many studies out there which show the positive effect the natural world can have on our mental health and wellbeing, and we know that even just listening to the sounds of nature can have a similar restorative effect."  
"We wanted Sounds of the Forest to inspire people to get outside and really connect to nature, to tune into the bird song, wildlife, and sound of the wind in the canopy. But the map is a place where anyone, no matter where they are, can listen to those beautiful forest soundscapes be transported across the globe."
We absolutely love this project and all it stands for. And that's why we decided to collaborate with Timber Festival to create the virtual woodland experiences you've just watched. Because why shouldn't people be able to enjoy some forest bathing wherever they are?  
We took some beautiful footage of trees and overlaid them with an amazing Sounds of the Forest recordings. We hope they made you feel soothed and restored – and keen to visit a real-life forest in the near future!
Find out more on how to get involved in Sounds of the Forest and Timber Festival and check out their Twitter. If you like what you heard, why not settle in for a few more of their soothing forest soundscapes?
And if you want to be an even greater part of the movement, why not submit your own nature experiences to their soundmap? All you need to do is upload your recording to the site along with the location and a comment on how being in that particular place of nature makes you feel.
Join us and help give the world more trees
Our own effort at repopulation is one of the largest corporate tree-planting initiatives in the UK. Right now, we're planting one tree on behalf of each and every OVO member – and when you sign up to one of our home-energy plans, you'll also get 100% renewable electricity as standard. 
Plus if you sign up to OVO Beyond – our green upgrade – we'll plant an extra 5 trees for you each year in the UK, which will absorb 300kg of carbon as they grow! 
Find out more about how we're backing renewables to help save the planet, and switch to OVO today.
View more from these categories