blog
We've planted 1 million trees: a carbon-fighting win!
26 May 2020 | OVO Energy
Together, we've only gone and done it.
We began planting trees way back in 2015, with the big ambition of making it to a million. And now we're happy to announce we hit our target thanks to every single one of our members with carbon-cutting upgrades. We got lots of help from local schools, communities and volunteers from The Conservation Volunteers (TCV) – our inspiring partner behind the I Dig Trees programme.
1 million? That's a whole lot of carbon fighting right there – which wouldn't be done if it wasn't for everyone involved. We're so proud of the way people have made it happen. It's been tough work, with plenty of long days and a fair few blisters (ouch). But everybody got stuck in. Adrian, our CEO, dug the hole for our 1 millionth tree (and a few more, we wouldn't let him off that easily). In fact, we all clocked up 259,316 tree-planting hours so far.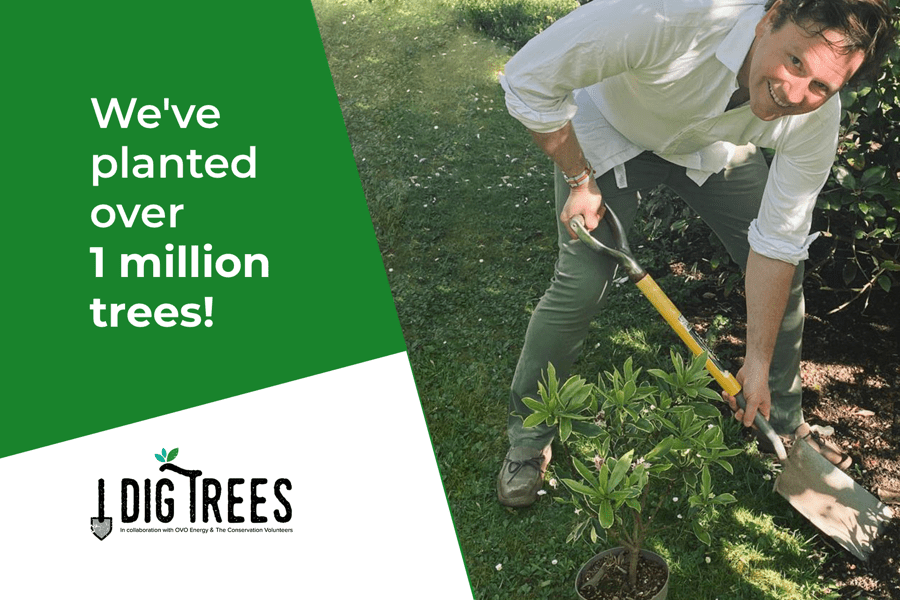 And we won't be stopping anytime soon. We'll keep on planting, with thousands more trees going in the ground over the months ahead. 370,000 in fact, from now until 2021. It's all part of our commitment to making the planet a healthier place to live – and to breathe.
It's simple: we're planting trees to help the planet   
Trees are like carbon-eating machines. When you think about it, they're a bit of a miracle. The more we have, the more we can reduce our carbon emissions. And cutting carbon is essential in the fight against climate change.
We're committed to doing so in lots of ways. It's all in Plan Zero – our bold and ambitious business strategy, our commitment to guiding members on the journey to zero carbon living.
After we heard that our members wanted to make a difference in their local communities, we decided to start planting trees all over the UK five years ago. It's all been possible thanks to thousands of wonderful volunteers.
We're here to make change last, too. That's why we try to choose trees based on how well they'll survive in UK soil – for example, we're planting UK native deciduous broadleaf trees.
The numbers behind all that digging
Here are just a few of the facts and figures to show what we've achieved, together: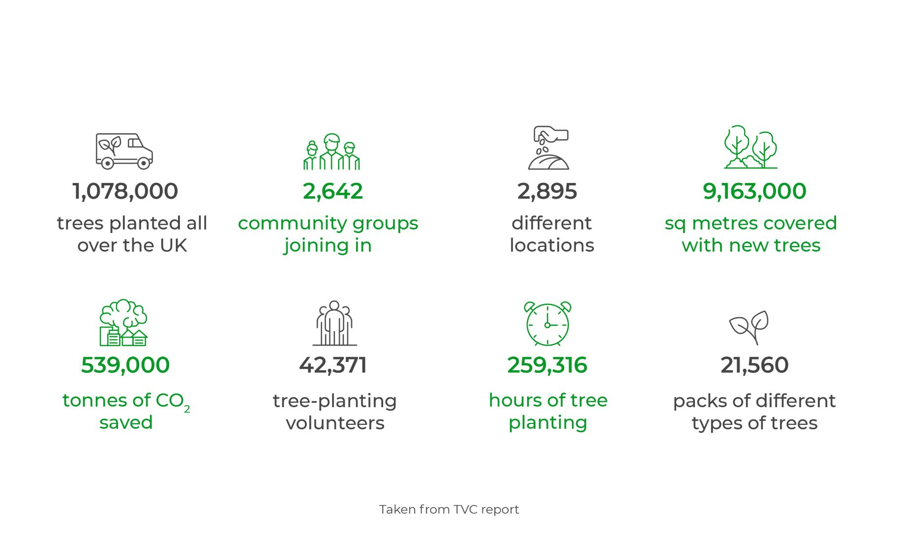 We can plant trees for you too!
Just add OVO Beyond to your plan, and every year we'll plant 3 trees on your name. And you'll also get the green energy and technology you need to supercharge your journey to zero carbon! Get the tools, make a difference. It really is that easy. Kicking carbon, every day – what we're all about. 
View more from these categories