guide
Air source heat pump radiators: a complete guide
16 December 2021 | OVO Energy
We all want to stay warm and toasty through the colder months. Many of us would also love to do so in a way that's as eco-friendly as possible. Air source heat pumps are a fantastic solution, because they use electricity instead of oil or natural gas, which are fossil fuels. But are they suitable for your home – and specifically, your radiators?
In this handy guide to air source heat pump radiators, we'll go through everything you need to know. That way, you can be sure that your home is ready to make the most out of your heat pump in every season.
Can you use existing radiators with a heat pump?
If you're going to be investing in a new, green heating system, you'll want to be sure that your current radiator set-up is suitable for air source heat pumps. Are any custom air source heat pump radiators needed? 
The simple answer to this is that radiators do work with heat pumps.  In some cases, your current radiators will already be suitable. 
That said, to get the most from your air source heat pump, you might want to install new, bigger radiators, or underfloor heating. This is because heat pumps generally work at lower temperatures compared to traditional boilers. So, radiators or underfloor heating systems with a larger surface area will distribute heat more evenly and efficiently. 
A qualified heating engineer will be able to help you. As well as guiding you on your air heat pump sizing and completing the installation, they can also assess your home and current radiator set-up. They'll then be able to tell you if you need to replace your radiators or not, and recommend which type of radiators (or even underfloor heating) will work best for you.
When paired with the right heating system, heat pumps can be a fantastic alternative to traditional boilers. If you've heard otherwise – perhaps you've been told they need a high outdoor temperature, or only work in very small homes – then that's a bunch of hot air!
The truth is most homes can be well-heated through a heat pump with the right sized radiators. Most air source heat pumps will even work when it's down to -15C outside1! Considering the average winter temperature in the UK is around 4.4C2, we'd say you can rest assured that it's almost certain that your home is suitable.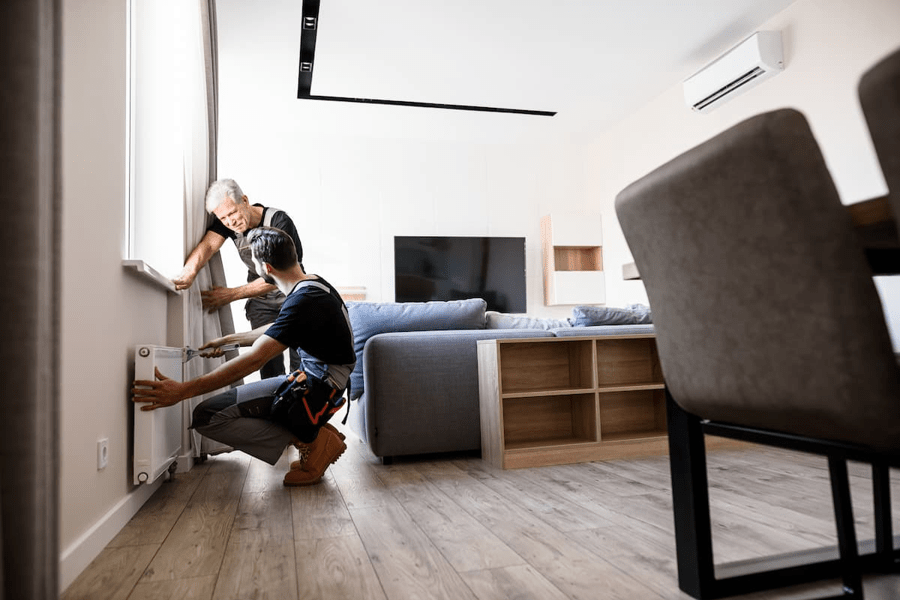 How heat pumps work with radiators
The way to get the best out of your air source heat pump is slightly different to traditional boilers. Often, people use their heating system by waiting until the temperature drops below a certain point, then blasting the heating until it's warm again. 
Compared to a gas boiler, an air source heat pump often takes a slower but more steady approach. Because it takes a little while to heat up, and operates at a lower temperature, it's best to keep it on for longer periods of time. That means that instead of allowing the temperature to go up and down – often to quite some extremes – you get a steady, comfortable temperature all day long. 
Traditional heating systems can feel like a series of constant tweaks to dials or thermometers. Air source heat pumps allow for a steadier rate of temperature. All it needs is a little adjustment in your thinking. 
There are a few other things you can do to get the most out of your heat pump and radiators, like making sure the pump is unobstructed (so there's no debris or anything else on it), and insulating your home. Overall, these little changes can have a big positive impact on your wallet and the planet.
Best radiators to work with heat pumps
While most radiators will work with heat pumps, some work better than others. If you want to get the most out of your heating system, there are some big differences between the kinds of radiators available and the type of heating they can provide.
One of the key points to keep in mind is that the size of your radiators is really important to how well it will heat your home. While most radiators are compatible with air source heat pumps, the bigger your radiators, the better job they'll do.
Size isn't the only consideration. The quality of the radiator, of course, also has an impact. Aluminium is generally viewed as the best material for radiators, and this doesn't change when switching to heat pumps. 
Low water content radiators are also excellent options. These use fan-assisted technology, keeping you warmer without the need for a bigger size.
Other factors to consider when choosing heat pump radiators
Size and material are the key factors to take into account. Aesthetics – such as whether you have horizontal or vertical radiators – are of course totally up to you! This won't have as big an impact as the material or size of a radiator. 
That said, there are some other factors you'll want to keep in mind. These include the heat loss of your home, and your temperature needs. You might not need the kitchen as warm as the living room, for instance.
Finding the perfect radiator system for you is worth the effort. It might – depending on your current set-up – be little effort at all. Your choice of radiator can have a big impact on how your new green heating system works.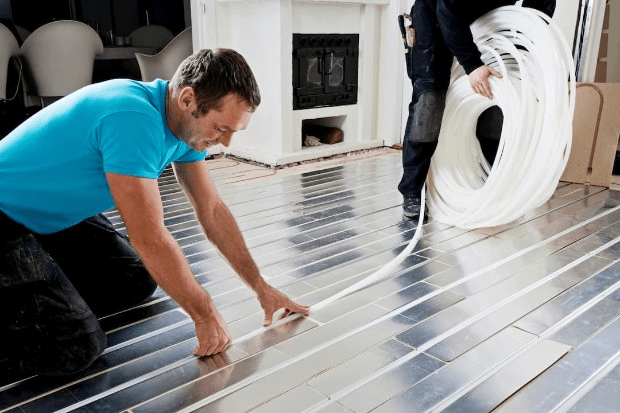 Air source heat pumps and underfloor heating
We've talked a lot about air source heat pumps and radiators, because for most people, that will likely be the easiest way for them to adopt this new technology. But it's not the only option. 
Underfloor heating works in pretty much the same way as radiators. Tubes placed underneath your floorboards are filled with hot water, distributing heat all around your home. In fact, because underfloor heating systems have a larger surface area than radiators, they can keep your home lovely and warm with up to 40% less energy3.
On top of that, underfloor heating is great at working with consistently lower temperatures than traditional boilers. This is where heat pumps perform at their best. This makes them a really excellent match for this kind of energy-efficient heating system. Plus, it means your feet will always be nice and warm!
Whatever kind of home you live in, air source heat pumps can be a really efficient and effective way of heating your home.
If you want to find out more about air source heating, check out our full guide to air source heat pumps. Plus: learn how to get the right size heat pump.
Want to be a heat pump pioneer?
Share your contact details via the link below, and we'll make sure you're the first to know about OVO's green tech offers and trials.
Register interest
View more from these categories