guide
Boiler servicing: what a boiler service involves, when to have it and how much it costs
01 March 2021 | Celia Topping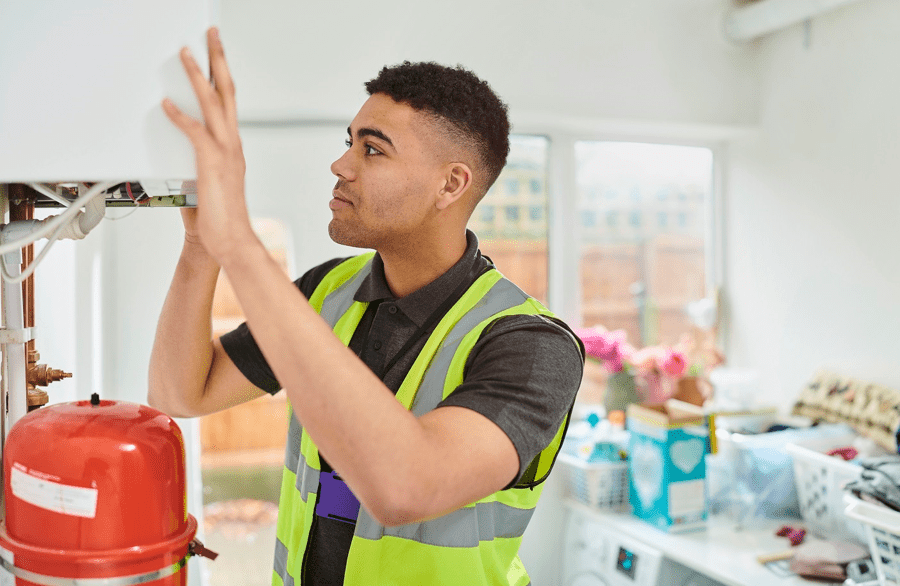 Your boiler is the beating heart of your central heating system. And keeping it healthy, operating safely and running efficiently is vital for keeping your home warm, and your toes happy!
As such, boiler servicing is an essential part of your heating system's life cycle. In this article we'll tell you all you need to know about getting your boiler serviced – from how much it costs and how long it takes, to the best time of year to book your annual boiler service. 
What is a boiler service?
Getting a boiler serviced is a lot like getting your car serviced. An expert inspects the whole system, and does relevant safety and efficiency checks, to make sure it's running as it should. But instead of a mechanic, it's a Gas Safe-registered engineer who'll be putting your boiler through its paces. 
Why you should service your boiler: 4 reasons to get your boiler serviced
It's not just beneficial, it's essential to keep your boiler running smoothly and safely. Your life could depend on it. Here's why: 
1. Keep your home safe 
A boiler is a gas appliance. All gas appliances should be regularly checked by a professional, to stop potentially fatal carbon monoxide leaks. Simply getting an annual boiler service can protect you and your family from this highly toxic gas. 
2. Catch boiler problems early to prevent breakdowns
As with most things, if you catch a problem early, you can prevent more serious issues down the line. This is definitely true of boilers. During a boiler service, an engineer can find and fix small issues, to avoid more costly repairs later on. A boiler breakdown is extremely inconvenient and expensive, so better to nip any potential problems in the bud. 
3. Save money on energy bills
During the service, your engineer will carry out essential checks, to make sure your boiler is running on top form. Once it is, it uses less fuel to heat your home and water. And as we know, energy-efficiency is the quickest way to save you money, and cut your carbon footprint. 
4. For landlords it's mandatory
As a landlord, you're obliged by law to make sure your properties are gas-safe for your tenants. You will need to have your properties checked by a Gas Safe-registered engineer, and get a Landlord Gas Safety Certificate for this purpose. As a tenant, make sure you get an up-to-date gas safety record from your landlord. As a homeowner, it's up to you to make sure you're safe. 
What happens during a boiler service?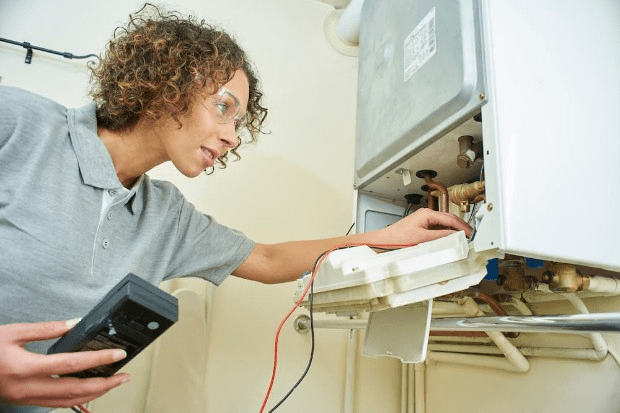 Your Gas Safe engineer will arrive with a long checklist for servicing your boiler. The engineers are very thorough, and will make sure your boiler's performing at its best before they leave. Here are some of the checks and procedures they'll carry out:
Visual inspection – your engineer will check for any external and internal signs of damage, corrosion or leaks. At this stage they'll also check the flame.
Control inspection – having taken the casing off, the controls and safety devices will be tested, to make sure they're operating correctly.
Flue pipe inspection – the pipe running from the boiler to the outside of your house must be checked for obstructions and leaks. The engineer will also check it's been fitted safely. 
Gas pressure check – your engineer will make sure your boiler's correctly burning the right amount of gas, to its full potential..
Conduct a record – the engineer will also do many small checks and tests – including the heating controls, safety devices, ventilation, wiring, pilot burner, pressure  and inspecting the seals. He'll make a record of each one and give you a post-service report. This will be important for the next service, if you have any problems, and also to keep your warranty valid – so keep it in a safe place.
Boiler ready for use – finally, with the inspection and safety tests complete and the casing back on the front of the boiler – the engineer will fire it up and check it's working well. 
How long does a boiler service take?
This depends slightly on the brand and model of boiler. But a thorough boiler service by a qualified Gas Safe-registered engineer usually takes between 30 and 60 minutes. 
If you're interested in getting your boiler serviced, check out our range of OVO HomePlans. These include a service every year, as well as anytime cover, should anything go wrong. Welcome to peace of mind for your home! 
When does a new boiler need its first service?
Why not start as you mean to go on, and have the first service 12 months after initial installation. 
Most boilers come with a 5 year warranty as standard. And some boiler providers may offer up to 10 years. So your warranty stays valid for that period of time, your boiler should be serviced regularly.
If you've missed your yearly boiler service, and you're worried that your boiler's warranty may be affected, just call the manufacturer and check. They may be able to find a way to ensure your warranty remains valid. And if you're likely to forget to book in a service, you could set up a standing order with a company of your choice.
How often should I service my boiler?
Usually your first boiler service must be conducted 12 months after installation, so it's covered by your warranty. It should then be serviced every 12 months after this.
Your boiler needs to be serviced regularly to make sure no new problems have arisen, such as gas leaks. Carbon monoxide is known as the "silent killer", because it's undetectable by humans. Regular boiler services will give you peace of mind that there are no issues. And every household should have a carbon monoxide detector. Find out more about where to locate your alarm, in our guide. 
How much is a boiler service? Average cost of a boiler service in the UK
This depends on the brand and model of your boiler. A standard boiler might cost around £50 to £80, but a high-efficiency condensing boiler could cost up to £1601. 
You could save money by getting your boiler serviced during the summer, or in early autumn, when engineers aren't as busy. Why not make a note on your calendar to give a few local companies a call in summer, and see if they might do this for you? This way, once winter rolls around, you're safe in the knowledge that your boiler is raring to go – while avoiding costly emergency call-outs.
Can I service my own boiler?
It's not recommended that you work on your own boiler. Getting anything wrong in a boiler is highly dangerous, because of the possibility of carbon monoxide poisoning. That's why it's better to leave it in the safe hands of qualified professionals, who are experts in this field. OVO engineers are fully registered, and would be happy to do this for you. Check out our OVO HomePlan services, and get covered for any eventuality. 
And if you're looking for a new boiler but don't know where to start, we've put together a quick guide on the different types of boiler, and how to choose the right for your home. 
Book your annual boiler service with OVO 
Anyone can book a boiler service with OVO. But as an OVO member, you could benefit from one of our range of OVO HomePlans, for just £13 a month2. Plans include not only the yearly service, but also:
Unlimited callouts
Parts and labour included3
Emergency hotline
Get a free quote and find out more about our OVO HomePlan boiler cover, to give yourself a stress-free winter. 
OVO expertise
There's not a lot about boilers that OVO doesn't know. And we want to share that knowledge with you! Just by knowing a few simple tricks of the trade, you can save yourself the expense of calling out an engineer. Take a look at a few of our guides, and see how easy it is to give your boiler that little bit of TLC:
If you're looking for ways to save money on your electricity bills, get a quote today and see how much you could save with OVO. We offer competitive prices with all our plans, with 100% renewable electricity as standard4. And on top of that, we plant a tree for each year you are with us5 –  a pretty decent deal, eh? 
Get a quote in just 2 minutes and switch to OVO today. 
Sources and references:
1 https://www.boilerguide.co.uk/articles/boiler-service
2  No claims can be made within the first 30 days. Terms, conditions, exclusions and cancellation charges apply. For boilers aged 7 years and over up to £2 a month additional premium will be charged. This product has a £99 excess.
3  Terms and conditions apply.
4  The renewable electricity we sell is backed by renewable certificates (Renewable Energy Guarantee of Origin certificates (REGOs)). See here for details on REGO certificates and how these work. 
5  Each year, OVO plants 1 tree for every member in partnership with the Woodland Trust. Trees absorb carbon dioxide from the atmosphere, so tree-planting helps to slow down climate change.
View more from these categories