guide
Electrical safety certificates and obligations for landlords
03 February 2021 | Stephen Marcus
If you're a landlord, you need to know the rules around electrical safety certificates. And with good reason. We're sorry to say that faulty appliances and wiring are the cause of more than one in 10 house fires in the UK1. The legal requirements might seem complicated, but with just a few simple steps, you'll be on your way to getting your electrical safety in order – and resting easy, knowing that your properties are safe.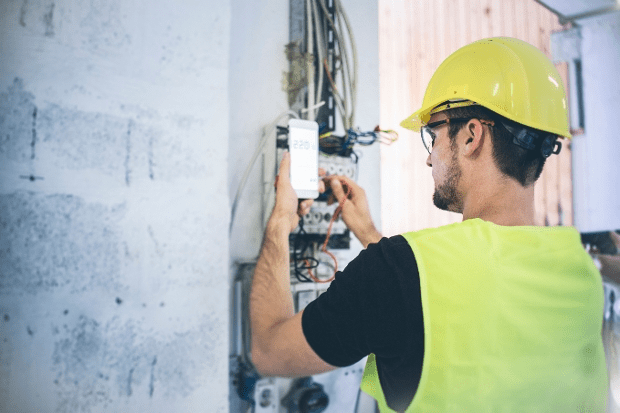 The law says that you must make sure all your electrical installations are safe, and checked every 5 years. But when it comes to things like getting the certificate, finding someone to carry out the checks, and understanding your legal obligations, it can be tricky to figure out how it all works. Here, we tell you everything you need to know.
What is an electrical safety certificate? 
An electrical safety certificate is a document issued by a qualified electrician. It shows that all electrical installations in a property – things like wiring, plug sockets and fuse boxes – are working properly, and safe to use. 
A safety certificate or report is usually called an Electrical Installation Condition Report (EICR). The document will show the checks made by the inspector, and any improvements that you need to make.
By the way, there isn't a standard format for the EICR – so it will vary from one company to the next. But as long as it includes the information below, and it's been carried out by someone who meets the government requirements, then it's valid.
What does an electrical safety certificate show?
The report will record any checks made, and any improvements you need to make. The aim of the inspection is to:
Find any potential safety risks
Reveal any poor electrical work
Check if electrical circuits or equipment are overloaded 
Make sure that earthing and bonding measures have been carried out properly
Is an electrical safety certificate a legal requirement for UK landlords in 2021? 
Yes, it is. In June 2020, new regulations were introduced that oblige all landlords to get each of their rental properties inspected every 5 years. You must get a copy of the report (which will usually be an EICR). You'll need this for:
Your records – you should keep hold of a copy as evidence of the inspection, and to give to the inspector when you next have the house checked
Your tenants – you'll need to give them with a copy within 28 days of the inspection
Prospective tenants – if any ask to see the report, you'll need to give them a copy within 28 days of getting the request 
Local authorities – if your local authority requests it, you must give them with a copy of within 7 days of getting the request
If the inspector finds that you need to do work, or further investigations after their checks, you'll need to follow their recommendations within 28 days of the report. You'll also need to send written confirmation to your tenants and your local authority within 28 days of finishing the work.
Which parts of the house are included in an electrical safety inspection? 
The "fixed" electrical parts of the house need to be checked every 5 years. This includes:
Wiring
Plug sockets
Light fittings
Fuse boxes
Permanently connected equipment – such as showers and extractor fans
Is it a legal requirement to get appliances checked?
Unlike with fixed installations, the rules don't say that landlords need to carry out regular checks on appliances like toasters or fridges. But that doesn't mean landlords aren't responsible for them. The law still says that it's up to them to make sure that any electrical appliances in a property are safe to use. 
We'd recommend getting portable appliance testing (PAT) for any appliances in your rental property, to make sure they're safe. Find out more about PAT from charity Electrical Safety First.
Finally, if the appliances were supplied by tenants, the landlord isn't responsible for them.
What about new build properties or new electrical fittings?
For new build property or new electrical installations, you'll need an Electrical Installation Certificate (EIC), and you'll also need to give a copy to your tenants. After 5 years, you'll need to get a safety inspection, and an EICR.
How about if I'm a homeowner? Do I need an electrical safety certificate?
You don't need to get an electrical safety inspection if you own your own home. But it's a good idea – as you could still be at risk from faulty electrics. As with rental properties owned by landlords, it's worth getting your home checked regularly – we'd recommend every 5 to 10 years.
For more safety tips, check out our guide on electrical safety around the home.
How much is an electrical safety certificate? 
The cost of an EICR can vary, depending on the size of your home and the number of electrical installations that need to be checked. Prices start at around £1202.
How to get an electrical safety certificate 
The best way to get an electrical safety certificate (usually an EICR), is to shop around. If you only want the inspector to check part of your property, then make sure to bring this up – this will be known as an "agreed limitation" in the report.
Who's qualified to carry out an electrical safety inspection?
The inspection and report should be completed by an electrician who's an approved contractor, and accredited by NICEIC, STROMA or the ECA. A simple way to find contractors that meet the government criteria is to search on the Electrical Competent Person database.
What happens if you don't comply with electrical safety regulations? 
There are serious penalties for landlords who breach electrical safety regulations. Since the new regulations were introduced in June 2020, local authorities can fine landlords up to £30,000 if they don't follow the rules.
Of course, it's also in your interest to keep your property and its appliances in good shape. If your tenants feel safe and secure, and your property is in good condition, then everyone's happy.
Top 7 tips for electrical safety for landlords
Here are our top tips to keep on top of your electrical safety:
Make sure a residual current device (RCD) is fitted to the fuse box. This can stop fatal electric shocks, and protects against electrical fires.
Carry out regular tests on all electrical installations (and only use registered electricians, even for small jobs).
Check your properly regularly for issues like frayed wires, scorching or broken plugs.
Make sure tenants know and have access to the fusebox and the isolator switch.
Give tenants copies of operating manuals for all the appliances you supply.
Pay special attention to any second-hand items you supply, and make sure they're thoroughly tested before you install them.
Keep up to date with wiring and lighting regulations. The law doesn't say you have to install the latest systems – but it's best to make sure that they're relatively modern.
For more information about gas and electrical safety at home, check out some of our other guides:
Looking for a better deal on your gas and electricity? Switch to OVO and save money on your energy bills, with affordable and competitive prices. We offer 100% renewable electricity as standard3, so you can cut your carbon footprint at the same time as your bills. Get a quote in 2 minutes.
Sources and references:
1  Data from 2019-20 in Home Office fire statistics https://www.gov.uk/government/statistical-data-sets/fire-statistics-data-tables#cause-of-fire
2 http://www.whatprice.co.uk/prices/electrician/periodic-electrical-inspection-incl-certificate.html#axzz6kCBiAiuO
3  The renewable electricity we sell is backed by renewable certificates (Renewable Energy Guarantee of Origin certificates (REGOs)). See here for details on REGO certificates and how these work.
View more from these categories