guide
Energy-efficient fridges and freezers: how to choose the right one for your home
02 December 2021 | Matt Mostyn
Your fridge-freezer is probably the only appliance in your home that needs to be plugged in and working 24/7. Obviously, you can't turn it off, or put it on standby – so it makes sense for this major appliance to be as efficient as possible. 
If your fridge or freezer has a poor energy rating, it might cost extra to run. Poor-performing fridge-freezers also take a toll on climate change, because they increase your carbon footprint. On the flip side, energy-efficient white goods are more sustainable, as they use much less energy.
In this guide, we'll cover everything you need to know, including:
What is an energy efficient fridge-freezer?
Energy-efficient white goods are ones that use less electricity. Choose an energy-efficient fridge-freezer and you'll not only save on running costs, but it's also better for our environment, too.
That doesn't mean throwing out your fridge-freezer when it's still working well – it's just good to consider replacing it with an energy-efficient model once its time is up. Highly efficient appliances might cost a little more upfront, but the savings made over time should cover the extra expense. 
How to choose an energy-efficient fridge or freezer: energy ratings explained
Nowadays, new fridges and freezers have an energy rating, from A (the most energy-efficient) to G (the least). Each rating also has its own colour. A is the darkest shade of green, while G is red. 
Before March 2021, you might have seen fridge-freezers on the market with energy ratings like A++ and A+++. These ratings are no longer used. The new system, from A to G is a lot more accurate. Plus, it's simpler to understand the difference between a B and a D, for example, than between an A+ and an A++!
Because fridge-freezer ratings have changed, it's now much harder for a manufacturer to meet the criteria for an A, B, or C rating. There aren't many fridge-freezers on the market that have these high ratings. 
A fridge-freezer with a C or D rating is a good place to start if you're looking for a more energy-efficient model. Most fridge-freezers are now rated E or F. There are a couple of models that have an A rating, but they're a much higher price.
How are energy ratings calculated?
The rating system considers how much energy the appliance uses compared to how big it is, and how much volume it has inside. So 2 fridges of different sizes could still have the same energy rating.
The appliance's energy consumption is measured by testing it in a room with a temperature of 25C. Before testing, it's partly filled – just as it might be in real life – and the space inside is calculated once all the drawers, shelves, trays, or water dispensers are in place.
By the way, this isn't necessarily the same as the volume claimed by the manufacturer, who might have measured it without all the drawers, shelves, and so on. The calculation also takes into account things like extra built-in technologies your fridge might have (such as an "auto-defrost" or "frost-free" setting).
How can I find out the energy rating of an appliance?
Keep an eye out for a coloured sticker on the unit itself. That will show you its rating – which ranges from A to G. You should also be able to see the rating on online shop listings. 
The most efficient white goods are colour-coded green, while the least efficient are in red.
Are today's energy-saving fridges and freezers better than their older counterparts?
Yes! New fridges and freezers are much more energy-efficient than they used to be – so if your fridge or freezer is more than 10 years old, consider replacing it if it's on its last legs.
In recent years, fridge and freezer manufacturers have made great strides in improving designs. They've raised insulation standards, introduced high-efficiency compressors, and enhanced features like temperature control and defrosting. These have all helped to make new fridges and freezers more energy-efficient, and reduce their running costs.
Now that the energy rating system has changed, very few appliances have an A rating. The competition is on to see which manufacturers can step up the efficiency of their fridge-freezers. In years to come, we should see more fridges with A, B, and C ratings in the market.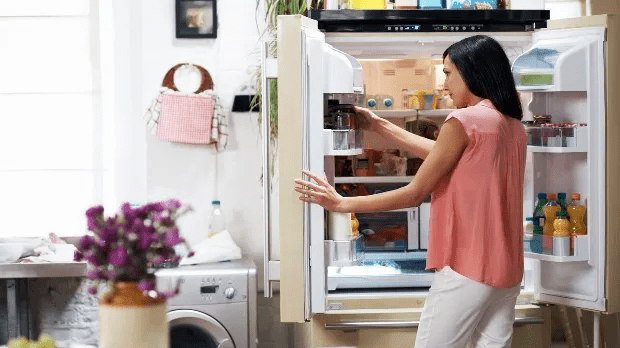 How much money can you save with an energy-efficient fridge-freezer?
Running your fridge-freezer could cost from around £30 per year to over £100 per year. On average, a freestanding fridge-freezer adds about £48 to a household's energy bills annually1.
Research by Which? found that running the most efficient fridge-freezer (the LG GBB92MCBAP) should cost about £30 a year. Meanwhile, running the least efficient model (the Hotpoint FFU3DX1) could set you back about £134 a year.
Which? also has a handy fridge-freezer running costs tool, which can help you figure out how much your new model could cost you per year. For more tips on energy efficiency, check out our guide on how to save energy in the kitchen. 
Is it better to choose a smaller fridge-freezer, or one with a higher energy rating?
Larger models will use more energy than small ones, even if they've got a better rating. So, if you only need a small-ish fridge or freezer, it's probably still better to buy a smaller, lower-rated model than a bigger one.
To work out which fridge or freezer will cost you the least in running costs, take a look at the figures on the label. That'll show you how much energy it uses each year (in kWh, or kilowatt hours). The lower the number, the lower your running costs.
Is it more efficient to have a fridge-freezer or 2 separate units?
Running a single appliance will almost always be cheaper than running 2. Most of the time, it's the more efficient choice to buy a combined fridge-freezer. 
But there might be exceptions – so make sure you look at the energy labels on the appliances you're considering, to see how much energy they'll typically use in kWh per year. 
Top energy-efficient fridge-freezers in 2022
To get a highly energy-efficient fridge-freezer costs upwards of £700. Below are some of the top-rated fridge-freezers on the market right now when it comes to efficiency. They're not the cheapest available – but remember, what you pay upfront could be saved on your energy bills over the years.
If you can't afford or don't want to spend so much on your new kitchen appliance, you can also try other ways to make your current fridge-freezer more energy efficient. Check out tips for this at the bottom of this article. 
1. LG Centum GBB92MCBAP
Energy rating: A
Approximate cost: £1450
According to calculations by Which?, this ultra-efficient fridge-freezer should only cost you about £30 a year to run. It's a looker, too, with a modern, minimalist design. 
2. Samsung Bespoke RL38A776ASR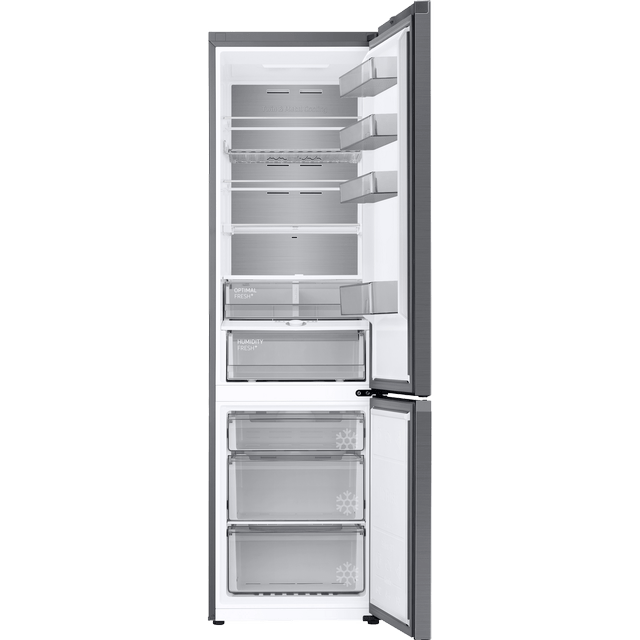 Energy rating: A
Approximate cost: £1350
This sleek, signature design comes with loads of room inside and an impeccable energy rating – if you've got the budget for it. 
3. Samsung Bespoke RB38A7B6BB1
Energy rating: B
Approximate cost: £1300
If you fancy the Bespoke range but want to go for something ever so slightly cheaper and more readily available, this B-rated version is also excellent.
4. Bosch KGE49AICAG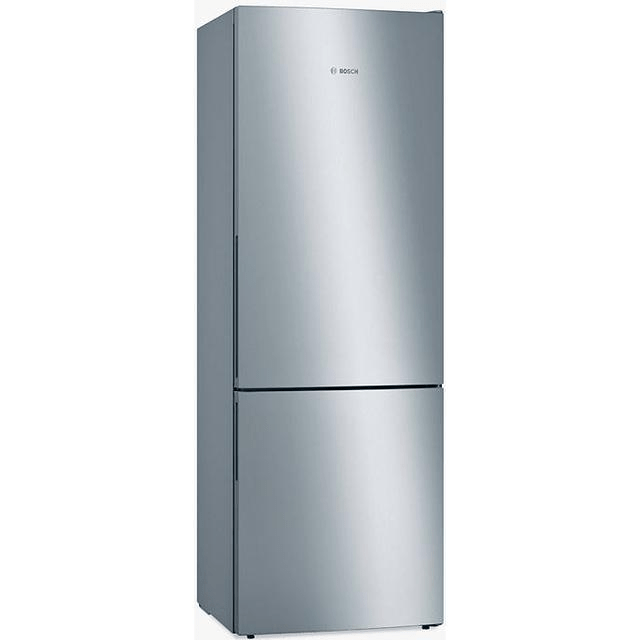 Energy rating: C
Approximate cost: £720
With a massive 419 litre capacity, this fridge-freezer will cater for the biggest families.
5. LG NatureFRESH GBB62PZGCC
Energy rating: C
Approximate cost: £900
This family fridge-freezer uses fan cooling technology to keep everything inside crisp and fresh. It also has a handy feature that automatically defrosts the freezer.
Where to put your fridge-freezer
When your new fridge-freezer is delivered, make sure you place it away from your cooker, and out of direct sunlight if you can. It's important to keep it in a cooler part of your kitchen, to help it work more efficiently.
You should also make sure the back of the fridge and/or freezer is at least 10 centimetres (4 inches) away from the wall, so the coils can work properly. They'll also work best if they're clean and free of dust, so it's worth giving them a vacuum every few months.
This is the one time when you should switch off and unplug the fridge-freezer for a few seconds – but remember to switch it back on when you've finished.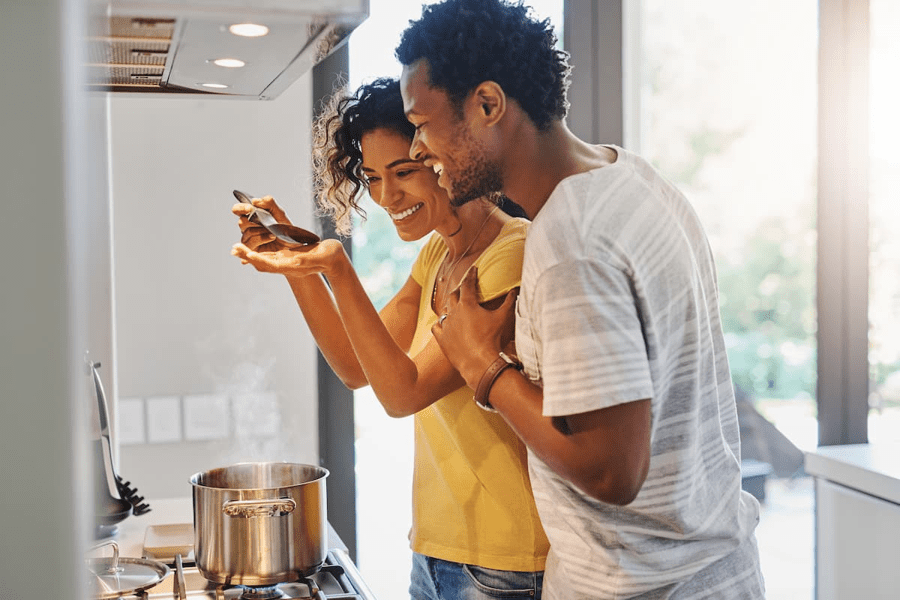 8 top tips for saving energy with your fridge-freezer
If now's not the time to replace your fridge-freezer, there are several ways to make sure it's wasting as little energy as possible. Here are some ideas:
Keep your fridge at a temperature of between 3C and 5C, and your freezer at minus 18C.
If you can avoid it, don't cram them too full, as it could stop air from circulating, which will use more energy.
If they're not designed to defrost automatically, you'll need to defrost them yourself at least once every 6 months.
Avoid putting hot food straight into the fridge, as the fridge will use a lot of energy just cooling it down. 
Keep an eye on your door seals, and wipe them down if they look dirty – they're often the first thing to go wrong on a fridge.
Try to remember to defrost food naturally, by taking it out of the freezer the night before you need it. This uses less energy than defrosting in a microwave, or cooking things from frozen.
Try to not leave the fridge or freezer door or lid open for longer than you need, as it will have to use energy to cool down again.
Free energy-saving tips for people who love the planet
OVO Greenlight is our free, carbon-cutting tool. It helps you see where in your home you use the most electricity or gas and find ways to save energy.
It'll also show you when the UK energy grid is the greenest, helping you to use electricity when it's kinder to planet Earth.
With our simple breakdown and tailored tips, you could save money – and cut carbon2. Best of all, OVO Greenlight is completely free for OVO members3! 
Find out more about OVO Greenlight
Sources and references:
1 https://www.which.co.uk/reviews/fridge-freezers/article/how-to-buy-the-best-fridge-freezer-a0EpY5V0403e#how-much-do-fridge-freezers-cost-to-run
2 OVO Greenlight is currently available for the majority of OVO members and will be made available to all remaining members soon.
3OVO's 2019 analysis of academic research into the effectiveness of feedback on energy consumption behaviours indicates that being able to monitor your energy usage by installing a smart meter and having access to energy insights information can lead to a reduction in energy use. The reduction in energy use results from the customer making changes to their habits by curtailing home energy use through actions such as optimising heating settings or switching lights off. The actual savings achieved will vary depending on individual energy use and the nature of changes made to a customer's energy habits.
View more from these categories