guide
Heating and energy grants for your home: how to finance green home improvements
18 February 2021 | Stephen Marcus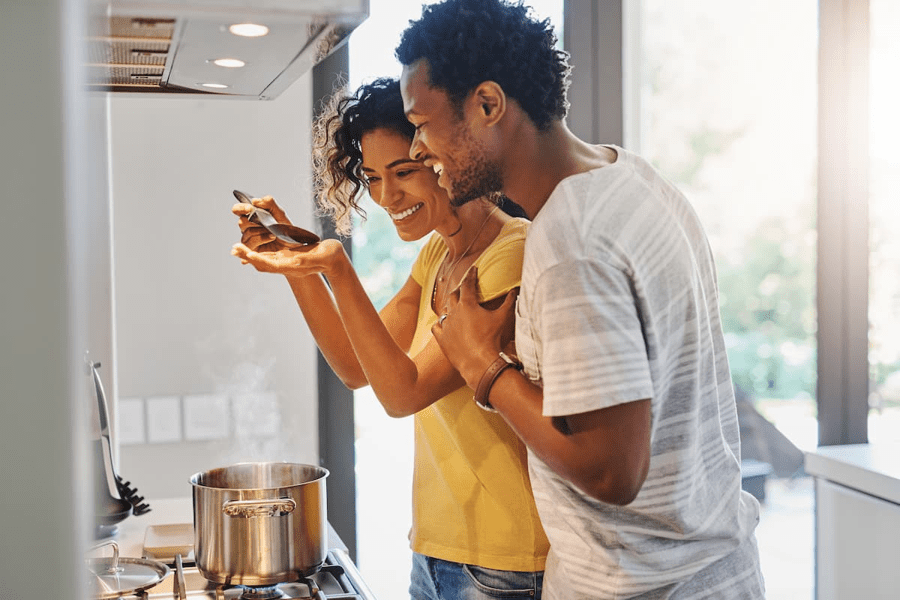 Keeping your home warm is important, but it's not always cheap! Whether you need to install a new boiler or central heating system, or you want to cut your bills by improving your insulation, these things can come with a hefty price tag.
This is where heating grants come in. Depending on your circumstances and where you're based, you might be able to get support in making your home warmer and more energy-efficient. This ranges from support to install central heating, to grants for air source heat pumps. 
In this guide, we'll go through the different grants on offer, how much they're worth, and how you can apply.
Energy-efficiency grants and discounts
If you're looking to make your home more energy-efficient, or install low-carbon heating such as air source heat pumps, it's worth checking if you could get help with the costs. 
Here, we explain the different grants you could get, and how to apply.
Energy Company Obligation (ECO) scheme
Another option if you're on a low income is the Energy Company Obligation (ECO) scheme. This is where the UK's bigger energy suppliers are obliged to contribute to energy-efficiency measures for households that meet the criteria.
As part of the scheme, you could get support to install energy-efficiency improvements to your home. These include:
Loft insulation
Cavity wall insulation
Solid wall insulation
A new boiler
Air source heat pumps or ground source heat pumps
ECO is available to homeowners and renters, and you don't need to be a customer of one of the suppliers that offer the grants. But remember, if you're a renter you'll need your landlord's permission. To find out if you're eligible, head to the Ofgem site for a full list of the criteria, and to see which energy suppliers offer the grants. 
Want to work out how much of your energy goes on heating? Follow our guide to work out how much energy you use for heating, and how much it costs you.
Nest
If you live in Wales, are on a low income, or have particular health conditions, then you could be eligible for free energy-efficiency improvements, similar to the ones offered under ECO. To find out if you qualify, head to Nest.
Warmer Homes Scotland
There's also the Warmer Homes Scotland scheme. If you live in Scotland, are on a low income, have a disability, or meet certain other criteria, you could get support with the full cost of energy-efficiency improvements. In some cases, you may have to pay part of it yourself – but you can get an interest-free loan to help with it.
Head to Warmer Homes Scotland to find out more.
For advice on keeping your home warm during the winter, check out our guides to the most efficient way to heat your home, and finding the ideal room temperature.
Save money and earn cash by generating your own energy
The cost of green technology can seem steep, but it could save you money in the long-run. First of all, you're generating your own energy instead of buying it, so becoming more sustainable can be good for your bills! Not to mention the value that smart home tech can add to your home.
You could also earn money for the energy you generate. Depending on the kind of renewable tech you've got, there are a couple of different schemes you could benefit from. 
Smart Export Guarantee (SEG)
Introduced in 2019, the Smart Export Guarantee replaced the Feed-in Tariff (FiT). If you have solar panels, you can earn money for the electricity that you export back to the grid. How much you'll earn depends on your energy supplier – at OVO, we pay 4p per kWh.
Head to our guide to SEG payments to find out more
Renewable Heat Incentive (RHI)
If you install a renewable heating system, you can get payments from the government for the heat you generate. Unlike SEG payments, you don't need to send energy back to the grid to benefit. All you have to do is heat your home with lovely low-carbon energy! You could be eligible for RHI payments if you have:
Ground source heat pumps
Air source heat pumps
Solar thermal panels
Biomass boiler
You can find out more details and how to apply in our guide to the Renewable Heat Incentive. And if you want to learn more about different ways to heat your home, check out our guides to the world's best low carbon heating systems, and the pros and cons of underfloor heating.
The Boiler Upgrade Scheme
The government announced in October 2021, that in April 2022, the RHI (above), will be replaced by the Boiler Upgrade Scheme - a new grant scheme to help people switch to more sustainable, low-carbon heating systems. 
These new grants will give householders £5,000 up front, towards the cost of an air source heat pump. And £6,000 towards the price of a ground source heat pump. 
Find out more in our guide to heat pump costs and prices
Help paying your gas and electricity bills
Finally, if you're struggling to pay your gas and electricity bills, help is available. Depending on your circumstances, there are different ways you could get support:
Warm Home Discount
You could get £140 off your electricity bill for the winter between 2020 and 2021. It's a one-off discount, and is paid straight to your energy supplier. You can get the payment if:
You get the guarantee credit as part of your pension benefits
You're on a low income and meet your supplier's criteria for the scheme
You can find out more in our guide to the Warm Home Discount
Fuel Direct
You could pay some of your bills out of your benefits. You can do this if you receive any of these benefits:
Universal Credit
Income-based Jobseeker's Allowance
Income-related Employment and Support Allowance
Income Support
Pension Credit
Find out more in our guide to debt and energy assistance
Winter Fuel Payment
This is a tax-free payment to help pensioners with heating costs. It's a yearly lump sum, similar to the Warm Home Discount – except instead of going straight to your energy supplier, it goes into your bank account.
You'll usually get between £100 and £300, and you'll get it automatically if you receive a state pension, or Pension Credit. Find out more in our guide to the Winter Fuel Payment.
Cold Weather Payment
You could get a payment if the average weather in your area is recorded as – or forecast to be – 0° or below for 7 consecutive days. You're eligible if you get certain benefits or support for mortgage interest. 
Find out more on the official government website.
How much money could you save with energy-efficiency measures?
Below you can see estimates of how much you could save with different energy-efficiency measures for your home.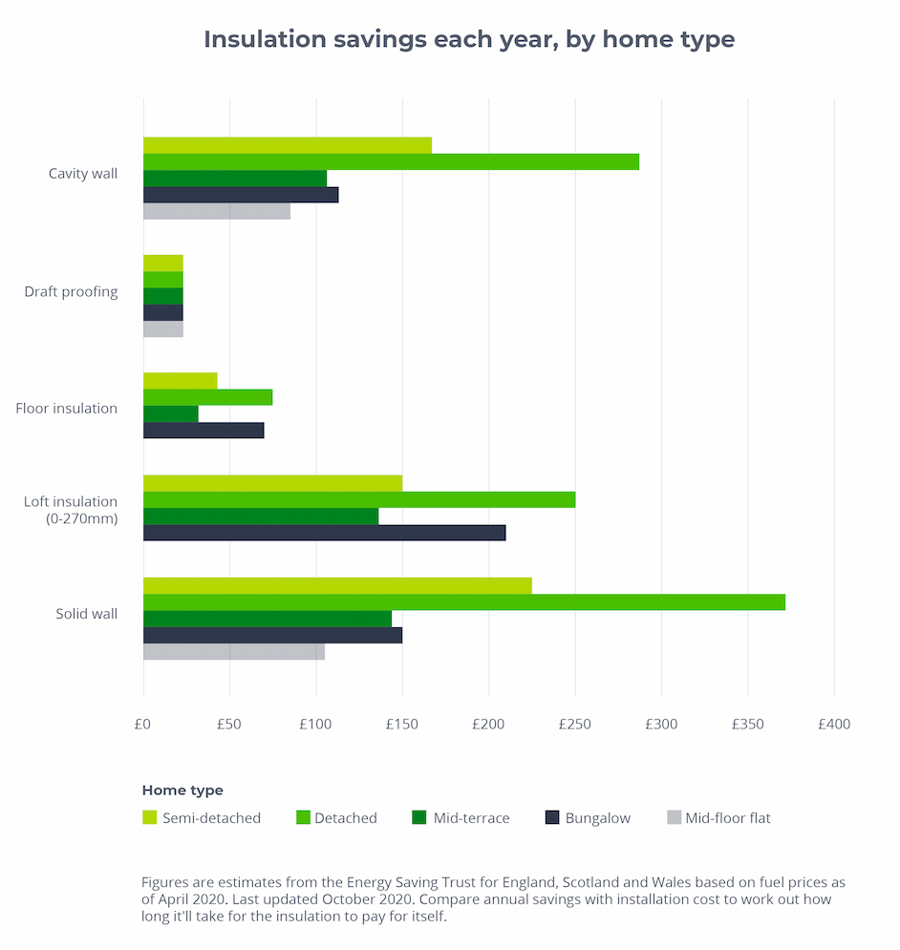 For more ways to cut your energy use, check out our guides on 120 ways to save energy at home, and how to reduce your electric and gas bills.
Other benefits to investing in green and smart home technology
As we said, there's heaps of benefits to making your home smarter and greener – it's not just about saving money (but that helps too!). You could also benefit from:
Reducing your carbon footprint so you can live more sustainably
Getting control of your energy use – so you can see where and how you can cut back
Being part of a smarter energy future, where the grid responds to our changing energy needs
Interested in more ways to make your home smarter? Check out our guide to smart thermostats, and why you should get one.
Want to cut your energy bills and your carbon footprint? Get a quote in just 2 minutes
Looking for other ways to save energy and reduce your gas and electricity bills? Switch to OVO today, and start saving hundreds of pounds while reducing your carbon footprint. Plus, you could enjoy:
Competitively priced 100% renewable electricity as standard1
A service rated Excellent by our customers on

TrustPilot

A tree planted for every year you're with us
A £50 gift card every time you introduce a friend to OVO
Join OVO on our mission to decarbonise home heating
Interested in being a heat pump pioneer? You've come to the right place! 
Share your contact details via the link below, and we'll make sure you're the first to know about OVO's green tech offers and trials. 
Register now
View more from these categories