guide
New boiler prices: how much do they cost to buy or repair?
18 December 2020 | Stephen Marcus
When it comes to the essential parts of your home, it doesn't get much more important than your boiler. In the winter months especially, you want to be sure that you can step into a lovely warm shower in the morning. So what should you do if your boiler is having issues, and how should you go about getting it serviced, or even replaced?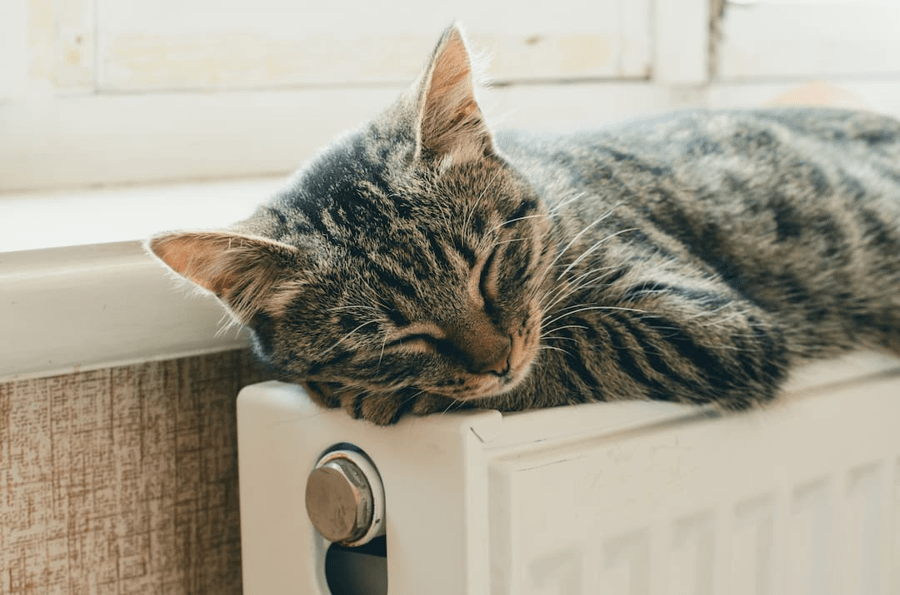 In this guide, we tell you all you need to know to decide if now's the right time to get a new boiler, what to look for in a new one, and how much you could save with a more efficient model.
New boiler costs
They do an amazing job of keeping our homes warm, but boilers aren't cheap. If you're considering buying a new one, a new combi or system boiler can cost:
For a budget model: between £600 and £900 
For a mid-range model: between £900 and £1,200
For a premium model: between £1,000 and £2,000
Even though you'll also need to add on installation costs, having a newer, more energy-efficient model could save you money in the long run, thanks to lower bills.
Want to know more about which type of boiler is right for your house? Read our guide to choosing a boiler, where we explain the difference between a combi boiler and a system boiler. And if you're thinking of a combi, check out our guide to the prices and potential savings with combi boilers.
Why an efficient boiler is important
An efficient, reliable boiler can save you money in the long run. It typically costs around £200 to get a boiler fixed – so the costs can quickly start to stack up, if you have to keep repairing your existing one. Plus, there's the peace of mind of knowing you can trust the heating to do its job when you need it! 
With this in mind, it's worth considering a replacement if your boiler's prone to issues. Likewise, it's worth spending some time to make sure that the replacement you choose will be up to the job – because, as with anything, different brands and models can vary. Find out more about how to improve your boiler's efficiency with these 6 easy steps.
Does your pilot light frequently blow out, or are there sooty stains around any of your gas appliances? This could indicate a carbon monoxide leak. Carbon monoxide poisoning is lethal. Read our guides to find out where to place your carbon monoxide detector. Plus how to spot a leak, recognise symptoms of carbon monoxide poisoning and what to do. This guide could save your life. 
How long will it take to recoup the cost of a new boiler in savings?
If you're unsure whether it's worth it to replace your boiler, it can be helpful to look at the potential energy bill savings you could enjoy on a new one. The more inefficient your boiler is, the greater the potential savings could be!
According to the Energy Saving Trust, here's what you could expect to save by getting a new gas boiler with an A-rating and thermostatic radiator controls: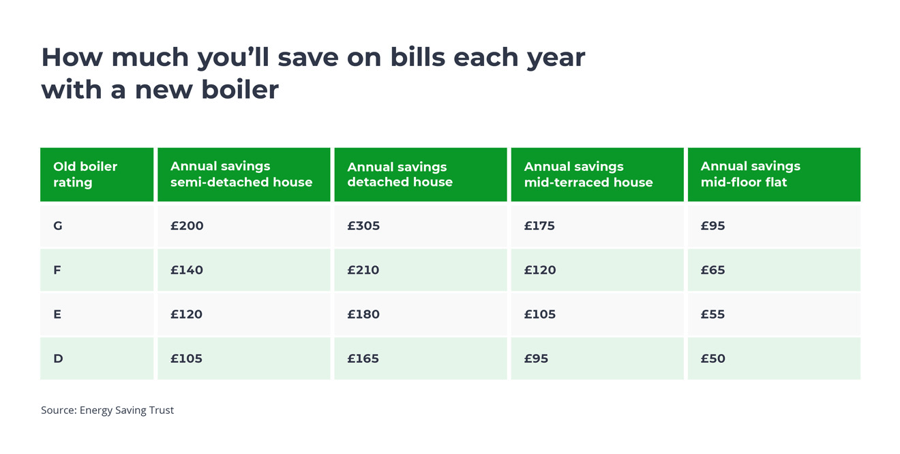 Other boiler costs to consider
It isn't just the cost of the new boiler you need to think about. To make sure there are no nasty surprises, here are some other costs that often come with a new boiler.
Boiler installation cost
The cost of getting a new boiler installed can vary. Here are a few things to bear in mind:
The simplest option is replacing like-for-like (e.g. a combi for a combi), which usually takes around a day to install. This can cost upwards of £1,6951.
If you're opting for the same type of boiler, but you want to move its position in the house, this can add more time – around a half a day – which can add more to the cost. The cost of moving the boiler, in addition to any other costs, can be between £300 and £8002.
Switching boiler types means extra work fitting new pipes – and if you're switching from a combi to system boiler, it means you'll need new water tanks too. If you're switching from a system boiler to combi, this can cost between £1,500 and £4,5003.
Why choose OVO to install your boiler?
There are lots of reasons to have your new boiler fitted by our sister brand CORGI. Here are just 5 of them:
Our expert engineers are Gas-Safe-registered, so you know your installation will meet current industry guidelines.
Every boiler we fit comes with a minimum 5-year warranty (going up to 12 years on some models), and includes a

24-hour helpline

in case of problems.
In your first year we'll also cover repairs to any issues with your controls and central heating that result from the installation works 
We've got a range of payment options. Take a look at the How to Pay section below.
We believe that buying a boiler should be a simple transparent process, so you can compare prices and features and make a choice that meets your needs. We buy direct from the manufacturer and cut out the middlemen to ensure you get the best price.
Extra costs during a boiler installation 
There could also be some additional extras that you may need during your boiler installation, which will add to the cost:
Adding a filter – costing between £100 and £200, this will keep your system clean and free of dirt for as long as possible
Thermostatic radiator valves (TRVs) – costing around £15 per radiator, they can be used to keep room temperatures comfortable, and also help you lower your heating bills
Boiler service cost
To keep your boiler ticking along happily, we'd recommend that you get it serviced once a year. This is really important for protecting your home from harmful fumes, and it will also help spot any issues before they become dangerous – to your health, or your wallet!
Why not book an annual service with OVO? Prices for boiler cover start from just £13 a month4.
Every service includes:
Giving your boiler a full check-up, to make sure it's safe and efficient
Testing the flue for emissions, i.e. carbon monoxide
Ensuring the safety devices are operating correctly
Checking the boiler's using the right amount of gas
Inspecting the boiler for wear and tear, and leaks
Identifying any issues that might cause problems in the future
Your annual boiler service should always be done by a Gas-Safe-registered professional with the right specialist equipment. Trying to do it yourself could put you in serious danger.
All of our boiler cover products include an annual boiler service.
Boiler replacement parts cost 
The cost of replacement parts can vary. Minor repairs (such as for a replacement gas valve or fan) can cost around £150. More serious work, such as replacing a heat exchanger, can cost around £400.
It also depends on how old your boiler is, as older models sometimes need more expensive parts.
Ways to pay for a new boiler
Pay monthly for a new boiler
As you know, a new boiler can be a big investment. So if you want to spread the cost, you may want to find out if your boiler manufacturer offers finance.
Pay in full for a new boiler
If you want to pay for your boiler in full (instead of via monthly payments), you'll normally pay:
A 10% deposit when you book the job
The remaining 90% after your new boiler is fitted and you're completely happy with the work
How does boiler efficiency affect costs?
The efficiency of your boiler can have a big impact on your bills – not to mention helping you bring down your carbon emissions. So we'd really recommend getting an efficient, eco-friendly boiler.
There are a couple of things to bear in mind when choosing:
Pick one that's the right size – if it's too large, you could use more energy than you need. And if it's too small, you could struggle to warm your house properly
Pick the right type for your home – if you've multiple bathrooms, for instance, you might be better off with a system boiler
For all your questions about boiler types, check out some of our handy guides:
When to get a new boiler: How do I know I need a boiler replacement?
Now you know how much you could save, how can you tell when the time is right to invest in a new boiler? It might be time to replace your boiler if:
It's beyond the point where it's worth repairing it. For instance if you've already spent a lot of money on repairs, or a qualified engineer has told you it's not worth investing in
It doesn't give you the control over your heating that you need – for example, if the controls or timer aren't very flexible, or there isn't a thermostat 
It has a continuous pilot light – this is the flame you can see burning through a window on some older boilers, which is an unnecessary waste of gas
It's on the floor rather than on the wall – this means it's likely to be older and much less energy-efficient
It's G-rated for

energy-efficiency

You want to sell your house, or you're renovating your home – where a new boiler could add to its value
Things to do before you buy a new boiler 
You might decide that it's not quite time for a new boiler, or that you'd like to try some smaller fixes before making such a big change. This could be a good idea. It's important, after all, not to make a big purchase if you're not 100% sure!
The good news is: there are other things you can do to cut your heating bills without getting a new boiler (and small day-to-day things, like resetting it or adjusting the pressure, which you can do yourself). Here are a few measures you could take:
Looking to make a change? Want to cut your bills and your carbon footprint too? Make the switch to OVO, and you could benefit from:
Competitively priced 100% renewable electricity as standard7
A tree planted for every year you're with us
Sources and references:
1 https://heatable.co.uk/boiler-advice/how-much-do-new-boilers-cost
2 https://www.boilerguide.co.uk/articles/moving-a-boiler-cost
3 https://www.greenmatch.co.uk/blog/2018/08/new-boiler-cost
4 As per December 2020.
5 https://www.renewableenergyhub.co.uk/main/insulation-information/insulat ion-cost-and-savings/
6 https://energysavingtrust.org.uk/advice/windows-and-doors/ 
7 The renewable electricity we sell is backed by renewable certificates (Renewable Energy Guarantee of Origin certificates (REGOs)). \See here for details on REGO certificates and how these work.
View more from these categories