guide
​​​​​​​Renewable Heat Incentive: costs, earnings and how to apply
22 February 2021 | Matt Mostyn
As our news feeds fill every day with the voices of politicians and campaigners talking about a "green recovery", you might be asking yourself: "how can I help?"
Well, there's good news incoming: because the UK Government's Renewable Heat Incentive (RHI) scheme can offer you quarterly cash payments – over 7 whole years. Just for installing a carbon-kicking green heating system at home.
Here's more about how the RHI works, how much you could get, and how to apply. Read on, and you'll be an expert in no time…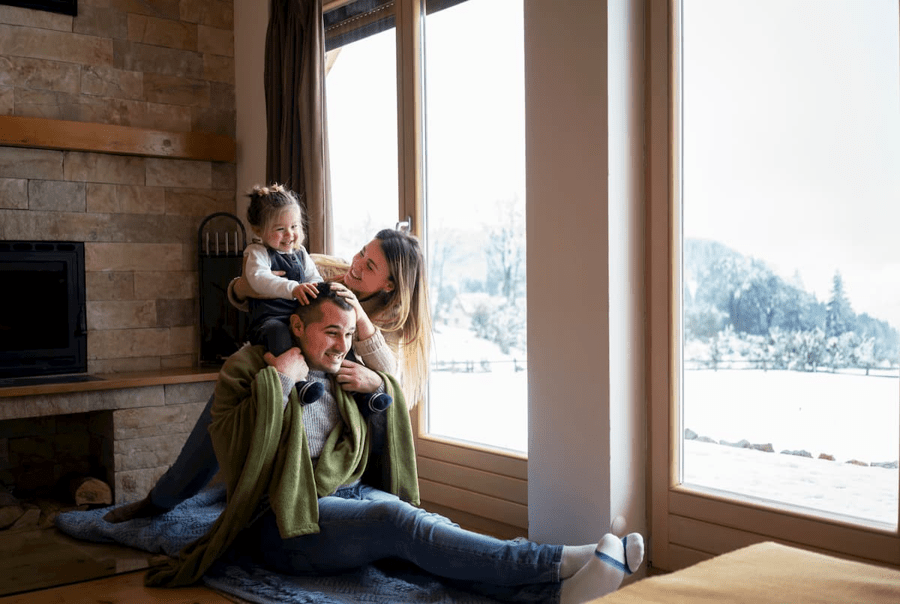 What is the Renewable Heat Incentive (RHI)?
The Renewable Heat Incentive is a government-funded scheme to encourage homeowners in England, Scotland, and Wales to install renewable heating technology and lower their carbon emissions. How? By adding smart heating solutions like air and ground source heat pumps, biomass boilers and solar water heating (read on to find out more about all that).
It's designed to help meet the UK's target of reaching net zero emissions by 2050. And you could still be eligible, whether your home's connected to the mains gas grid, or not. While there are 2 versions – one for residential homes and one for businesses – this guide gives information on the domestic RHI. For information on the non-domestic RHI, check out Ofgem's website.
By the way, it's worth pointing out that the RHI is different from the Green Homes Grant – another government scheme that gives homeowners £5,000 of vouchers to make some brilliant energy-saving home improvements.
Find out more about the Green Homes Grant here. And you'll be happy to know that it's possible to apply for both (more on that below).
Which technologies are eligible for RHI?
Listed below are the main technologies that will likely make you eligible for the RHI. We've also included some handy diagrams explaining more about how some of these technologies work. 
Be aware that the technology you install also needs to be listed as a Microgeneration Certification Scheme (MCS) certified product, and issued with a MCS certificate. It's also worth checking the MCS website, which has full details of MCS certified products and MCS certified installers.
Eligible technologies include1:
Biomass pellet stoves with integrated boilers that give space heating
Solar water heating 
Some cooker stoves and high-temperature heat pumps 
This is how air source heat pumps work: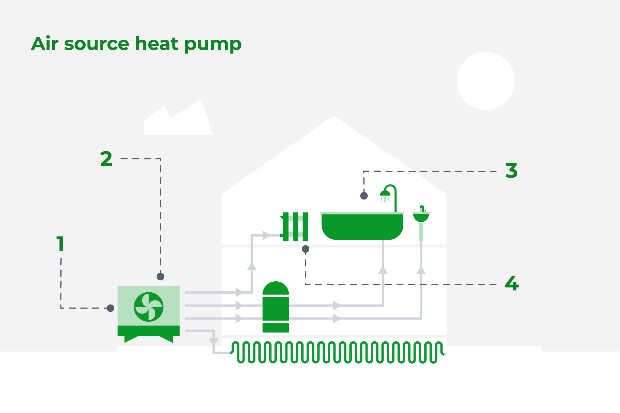 1. Outside air is taken in by the pump, to heat a liquid refrigerant. This turns it into a gas.
Using electricity, the heat pump compresses the gas to raise its temperature. The resulting heat is transferred into your home, and the gas condenses back into a liquid.

Stored hot water can be used for showers, baths and taps.

Heat is sent to radiators or underfloor heating. It can also be used to heat water in a hot water cylinder. 
Here's how ground source heat pumps work: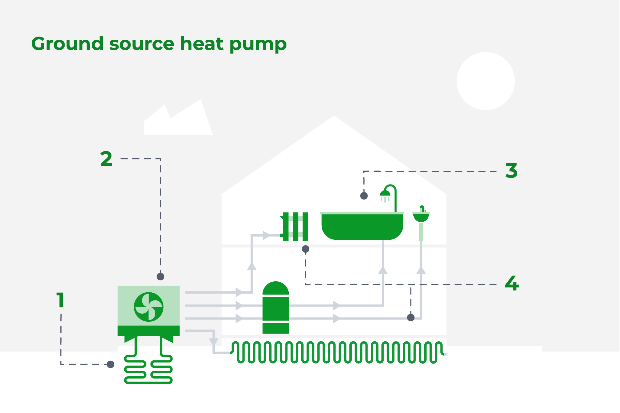 Natural heat from the ground is absorbed by a fluid in a ground loop (a pipe buried in the garden)

The warmed-up liquid goes through a super-cold refrigerant, turning it into a gas. This gas is then compressed – which raises the temperature to 50C.

Stored hot water can be used for showers, baths and taps.

The heat is transferred into the water used in your heating and hot water system.
Here's your guide to biomass boilers: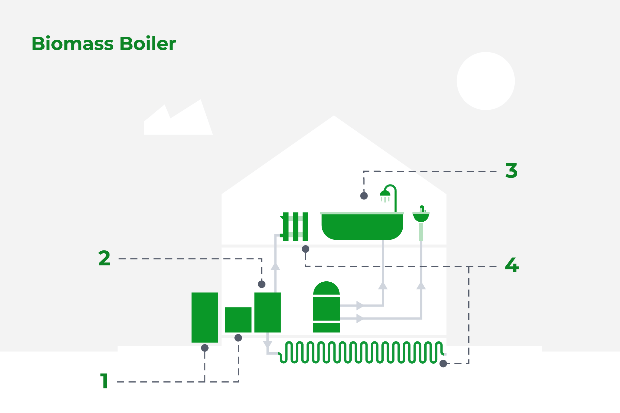 Pellets, wood chips or logs are automatically or manually fed into the biomass boiler.

The boiler burns this to generate heat.

Heat is sent to radiators and/or underfloor heating.

Heat is also stored in a hot water cylinder for showers, baths and taps.
And here's how solar thermal panels work: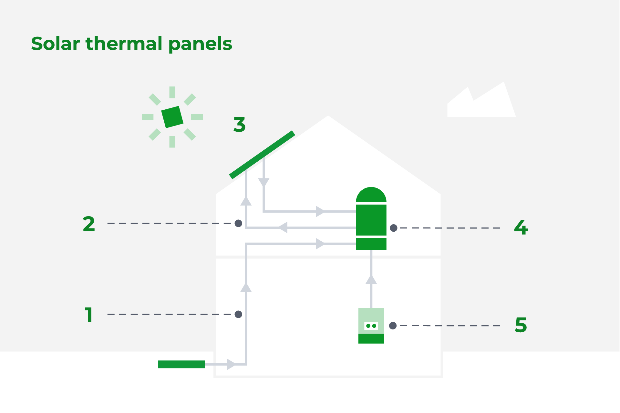 Cold water is fed from the mains to the hot water cylinder, where it passes through a coil

A fluid is then pumped up to the solar panels on the roof.

This fluid is then warmed by the sun.

The fluid passes through a second coil, to heat stored water.

On colder, cloudier days, a boiler can also be used to top up the hot water.
Which technologies aren't eligible for RHI?
Sadly, there are a few technologies that aren't eligible for the RHI. They include:
Air to air heat pumps
Log stoves
Pellet stoves without back boilers
Hybrid photovoltaic thermal hybrid solar collectors (PVT)
Is the RHI still available?
It most certainly is! While the scheme was launched back in April 2014, it's currently still running. The domestic RHI was due to close to new applicants on 31 March 2021, but the government has now extended the deadline until 31 March 2022. It's also been updated and fine-tuned in the years since. Find out more about some of the more recent changes below.
What RHI changes should I know about?
Previously, you needed to apply within 12 months of the date you commissioned your renewable technology (ie. when your installer tested and signed it off). If you're not 100% sure of the date, check your Microgeneration Certification Scheme (MCS) certificate.
But because of the coronavirus pandemic, installations with a commissioning date on or after 1 March 2019 now have until 31 March 2022 to apply. And If your application was rejected within this period because of the 12-month rule, you can still re-apply.
The way payments are made has also changed. After 1st May 2020, they've been made slightly later – but usually within 1-2 weeks of the due date shown on your account.
How does the domestic RHI work?
The domestic RHI runs in England, Scotland and Wales, and it's been set up to pay people who use certain types of renewable heating technologies. 
The payments are designed to help offset the cost of installing and running a new heating system. It's all part of the government strategy to cut carbon emissions and meet its renewable energy targets. 
How do Renewable Heat Incentive (RHI) payments work?
To join the scheme, you apply to the UK's energy regulator Ofgem, who will make the payments. You'll get a quarterly tariff payment for every single kilowatt hour (kWh) of renewable heat you produce. And these payments will keep coming for 7 years! Plus, if you have (or plan to) install more than one type of technology, you'll get payments for each system. 
Who can apply to the Renewable Heat Incentive: am I eligible?
If you generate heat for your home via a renewable source, there's a good chance you're eligible for the RHI. Check out the main categories below, to get an idea if you qualify – and you can also read the full rules and requirements on Ofgem's website.
If you're an owner-occupier, self-builder, private landlord or registered provider of Social Housing who's installed an eligible technology (more on that below), you may well be eligible. Single domestic dwellings are covered – but RHI support isn't usually available for new-build properties (other than self-build projects).
You can also claim both the Domestic RHI and the Green Homes Grant for a renewable heat installation. You'll need to claim the Green Home Grant voucher first, and then tell Ofgem that you have used it when you apply for accreditation to the Domestic RHI. The Green Homes Grant will then be deducted from your Domestic RHI payments.
Other things to take into account when applying for the RHI
When it comes to the amount of space heating you can get payments for, there are certain limits. In terms of heat demands, limits are set at:
20,000kWh for air source heat pumps
25,000kWh for biomass boilers and stoves
30,000kWh for ground source heat pumps
There's no limit for solar water heating systems
For heat pumps, if your heat demand is more than the capped limit, you'll be paid the unit tariff, multiplied by the amount of renewable heat contributing to the capped demand.
How much could you be paid?
The amount you'll be paid depends on the type of technology you install, when you apply, and your home's Energy Performance Certificate (EPC) rating.
The rates also change every year, in line with the Retail Prices Index/Consumer Prices Index (a measure of inflation published monthly by the Office for National Statistics. It measures the change in the cost of a representative sample of retail goods and services).
RHI payments: what could you earn?
You'll receive RHI cash payments quarterly over 7 years – but the amount you can earn rests on a number of different things. These include the technology itself, the latest available tariffs, and sometimes, how your heat demand is measured (for instance, whether it's estimated, or submitted via a meter).
So, how much will you actually get?
When you're working out your earning potential from the scheme, remember that the actual amount you can make depends on the specifics of your home, and how much heat you use – as well as the efficiency of the renewable heating system itself. 
The table below shows the typical cost of installing different renewable heating systems, as well as the total RHI payments you'd receive across the 7 years (based on current levels). For the most accurate picture, choose the house size closest to your own – but remember, the actual amount you can make will vary, based on what we've described above.
It's also a good idea to check out the website for The Department for Business, Energy and Industrial Strategy (BEIS). Their handy domestic RHI calculator gives a good sense of what you could earn by installing any of the 4 eligible RHI technologies.
Installation costs vs RHI payments
As you may know, the upfront costs for renewable heating technology can be pricey! It's around £4,000 to £5,000 for solar water heating, and £14,000 to £19,000 for a ground-source heat pump. But after 7 years of RHI payments, as well as the overall savings you'll make on your heating bills, you should be able to get back most, or sometimes even all of your initial investment. 
Considering that fact, the RHI scheme makes renewable heating technology even more appealing, and highly cost-effective. Really, what's not to like?!
Find out the typical cost of installing different renewable heating systems, as well as the total RHI payments you'd receive across the 7 years. Information is based on current levels (as of February 2021):
| | |
| --- | --- |
| | Total RHI payments over 7 years |
| | | | | |
| --- | --- | --- | --- | --- |
| RHI technology | Installation cost | 1-bed semi | 2-bed semi | 3-bed detached |
| Air source heat pump | £9,000-£11,000 | £6,076 | £9,114 | £12,912 |
| Ground source heat pump | £14,000-£19,000 | £11,580 | £17,774 | £25,180 |
| Biomass boiler | £11,000-£17,000 | £3,903 | £5,885 | £8,294 |
| Solar thermal panels | £4,000-£5,000 | £1,296 | £2,068 | £2,981 |
Energy bill savings from installing RHI technology
The RHI scheme isn't the only great incentive for getting yourself a renewable heating system. You can also make some substantial saving on your heating bills! Of course, this varies, depending on which fuel you're replacing, and what you're swapping it with.
And while technology is improving all the time, you can't completely replace traditional heating systems using the technologies currently available. Solar thermal panels, for instance, will only heat your water or contribute to your heating – but won't fully replace it in the vast majority of cases. 
Because of that, it's not easy to know exactly how much you could save on bills – but the table below should at least give you an idea of how much fossil fuel heating systems cost. It tells you the average costs of running a fossil-fuel heating system for 3 different-sized homes2. 
Once you know this, you can estimate how much you might save by installing whichever renewable heating technology you're interested in. A ground source heat pump could, for example, be as much as 300-400% more efficient in terms of its use of electricity3.
Estimated annual cost of traditional heating systems:
| | | | |
| --- | --- | --- | --- |
| Heating system | 1-bed semi | 2-bed semi | 3+ bed detached |
| Gas | £282 | £422 | £598 |
| Electricity | £1,513 | £2,297 | £3,254 |
| Oil | £195 | £293 | £415 |
| LPG | £537 | £805 | £1,141 |
| Coal | £359 | £539 | £763 |
RHI rates
The table below shows the rates for domestic RHI tariffs, for applications submitted between 1 April 2020 and 30 September 20204. Be aware that there is a cap on how much the government will spend on RHI technologies – so rates could go down by 10-20% if a technology proves very popular. 
| | |
| --- | --- |
| RHI technology | RHI tariff |
| Air source heat pumps | 10.85p/kWh |
| Ground source heat pumps | 21.16p/kWh |
| Biomass boilers and 'cooker stoves' | 6.97p/kWh |
| Solar water heating | 21.36p/kWh |
Other things to consider that could affect RHI payments
Your Domestic RHI payment rate will change each year. For new installations, the rates are adjusted every year in line with the Consumer Prices Index (CPI).
The RHI scheme uses a 'degression' system. This manages the budget – and sometimes the tariff will drop for new applicants, if the total amount being claimed reaches a certain level. But rest assured, if you're already claiming domestic RHI, your tariff won't be reduced through degression.
If you've already been given a grant from the government, or public funds (such as funding via the Energy Company Obligation (ECO), or through Warmer Homes Scotland (WHS)), that amount will be taken into account when your domestic RHI payments are calculated.
In 2017, heat demand limits were introduced for heat pumps and biomass boilers. These limit the financial support you can get for your renewable heat use. So even if your home's heat demand (on your EPC) is above that limit, your payments will be capped at the limit set.
Most homes get estimated RHI payments, based on their annual heat demand. But you may have to install a meter and give meter readings, so Ofgem knows how much to pay you – for instance if you have a heat pump.
So, is the Renewable Heat Incentive worth it? 
If your home's off the gas grid, and you replace your current heating system with a renewable one, the RHI is most definitely worth doing – as you'll potentially save a lot on fuel bills. And even if you're already connected to the gas grid, it's still a great idea to install renewable heating and apply for the RHI. 
Before you take the plunge, it's definitely worth checking that your home is well-insulated and as energy-efficient as it can be, first. Even just taking a few simple steps could make a big dent in your bills, lower your carbon footprint, and help you do your bit for the planet. Check out some of our handy guides below, and tick off a few smaller quick-wins before you commit to a bigger home heating project!
How to apply for the RHI
Right now, the RHI scheme is open to applications until 31 March 2022, and you can apply via Ofgem's website. As long as you have all the right information to hand (see below), and your application doesn't need a more in-depth check, you should get a decision straight away.
And if you can't apply online, call Ofgem's Domestic RHI Applicant Support Centre on 0300 003 0744 (Monday to Friday 9am-5pm) or email: [email protected].
What do I need to apply?
To apply for the Renewable Heat Incentive, just have the following handy:
Your MCS installation certificate number
Your Energy Performance Certificate (EPC) number
Your bank details
If you got a grant from Government, or public funds, you'll also need details of:
How much you were paid
The date you were paid
The cost of the installation
If you're applying for RHI for heat pumps, you'll also need the Seasonal Performance Factor for your system. This will be shown on the MCS documentation.
And if you're applying for RHI and your system needs a meter, you'll also need to submit this Installer Metering Questions form.
Get a quote from OVO Energy today, to find out how much you could be saving with our home energy plans. They're powered by 100% renewable electricity as standard5 – and we'll even plant a tree for every year that you're with us. 




Sources and references
1. You will not be eligible for the Renewable Heat Incentive if your heat pump was installed for free as part of a trial. 
2. Ofgem report, April 2020. Cost calculated using the average annual heat demand for the property size and the price per kWh for the relevant fossil fuel (from Sutherland Tables for Jul 2020. Electricity prices are assumed for standard-rate tariffs; those on Time Of Use tariffs will pay less).
3. Figures taken from the Ground Source Heat Pump Association.
4. Information published by Ofgem. These tariffs are set by the UK Government at a level designed to compensate for the difference between costs of installing and operating renewable heating systems and fossil fuel systems, including non-financial costs such as disruption, based on 20 years of heat produced. Fossil fuel costs used are those for off-gas households. Ofgem will make payments on a quarterly basis for seven years. Normally the heat required to heat the property is deemed (estimated) and payments based on this amount. Biomass – renewable heat generated by biomass will be based on an estimated heat demand from an EPC. Heat pumps – renewable heat generated by heat pumps will be based on an estimate of the heat demand from an EPC combined with an estimate of the heat pump's efficiency. Solar thermal systems – renewable heat generated by solar thermal systems will be based on the estimate of system performance completed as part of a Microgeneration Certification Scheme installation.
5. 100% of the renewable electricity we sell is backed by renewable certificates (Renewable Energy Guarantee of Origin certificates (REGOs)). See here for details on Renewable Energy Guarantee of Origin certificates and how these work. A proportion of the electricity we sell is also purchased directly from renewable generators in the UK.
View more from these categories