guide
A guide to electric car leasing: is it right for you?
15 December 2021 | Celia Topping
With savings on taxes, running costs, and maintenance, there's never been a better time to swap out your gas-guzzler for its clean electric counterpart. Eliminating those tailpipe emissions means you're doing the right thing by the environment, too. As we approach the ban of the sale of new petrol and diesel vehicles in 2030, drivers are increasingly looking to make that all-important switch. 
But electric cars are expensive. Prices have dropped a little, with some EVs almost on a par with their petrol cousins. Even so, you could still be paying several thousands more for a brand new electric equivalent to your current motor. 
Read on to find out how an electric car lease deal could be the way you find the perfect electric car for you, at a price you can easily afford. 
Electric car leasing in a nutshell
An electric car lease agreement allows you to rent a car for a fixed period of time, for a fixed amount of money per month. Some contracts come with insurance and maintenance included, but for others you might have to pay a little extra.
Leasing means you drive away a new car at the beginning of every lease agreement. At the end of your lease agreement, you simply hand the car back. At this point, you can start a new lease on another EV, or extend the one you have. 
Pros and cons of leasing an EV
So, let's have a look at the advantages and disadvantages of leasing. 
Benefits of leasing an electric car 
Here are 7 good reasons to get leasing: 
1. Get more for your money
Leasing means you're paying for "usership" not ownership. This means for a reasonable deposit and an affordable monthly payment, you could drive away in a car you could only dream of owning. EVs still have a relatively high initial cost, so leasing brings previously unattainable cars within your reach. 
2. An evolving market
Electric cars have come a long way in a relatively short period of time. Competition for market share is fierce, and there's an enormous range of options available – from small city runarounds to sleek SUVs and top-of-the-range luxury cars.
Technology is improving fast, range is increasing, and prices are dropping. To buy now would mean your EV would probably seem old-fashioned in just a few years. The advantage of leasing is you're always keeping up with the market.
3. Reduced running costs
Charging an EV costs a fraction of the cost of filling a tank with fuel. This, in addition to not having to pay road tax (Vehicle Excise Duty), avoiding certain charges in low emission zones, or the congestion charge in London, means the running costs of an EV are significantly lower than those of a petrol car. 
4. Don't worry about losing out on your investment
Firstly, you don't have to worry about depreciation (the car losing its value over time), because you can just hand your car back once your contract is over. 
Plus, although your monthly fee is partly worked out on the car's depreciation, the fact is that public confidence in electric cars is growing, and the second hand market is strong. This means electric vehicles are holding their value for longer. All good news for leasers. 
5. Good eco credentials
Going fully electric is a great way to cut your carbon footprint. With zero tailpipe emissions, you'll be speeding your way to a net zero lifestyle in no time. Enjoy guilt-free driving in style! 
6. Low maintenance
EVs are generally a lot lower maintenance than petrol engine cars, because there are fewer moving parts to go wrong. Most leasing companies will offer you a maintenance package when you sign the contract, so that's another concern tidily taken care of. 
7. New car, no hassle
For those that enjoy the "lived-in" feel of their slightly battered four-fendered friend  – complete with biscuit crumbs and idiosyncratic quirks – leasing might not be ideal. But for the early adopters who want the newest, shiniest, most technologically advanced ride on the block, leasing ticks all the boxes.  
The average electric car lease contract is for 2 to 4 years. This means you could potentially have the must-have "it" car of the moment as soon as it comes out. You can often upgrade within your contract, so you might not even have to wait for it to end before switching the old for new – but check the details of your contract, as this isn't always the case. 
How about the disadvantages? 
There are some disadvantages to leasing, but these usually vary from company to company, so it's worth asking about these before you sign up.
Charges for excessive wear and tear
Charges for exceeding the given mileage
Charges if you want to leave your lease contract early
Potential high excess on insurance
There can be a high upfront cost
For a more personal account of leasing an electric car, why not take a look at why I decided to lease an electric car, by one of the OVO Team. 
A step-by-step guide to leasing an EV and how it works
Leasing a car couldn't be easier. Follow our step-by-step guide and you'll be on the road in no time. And remember to read what to look for when thinking about getting an EV before you choose your car. 
Take a test drive

. You might not be able to do this from your leasing company, so give your local showroom a call. Like any car, EVs vary a lot, so be sure you get the right one for you. 
Choose your favourite brand  and model from your chosen car leasing company. Such as

Vanarama

, our EV leasing partner. 
Your leasing company will ask you a few questions, about how often and far you drive, and how long you want to lease for. Then you can choose your contract and how much you want to pay upfront. 
Add on maintenance and insurance if needed. Usually you can do this through your leasing company. Sometimes insurance through a dedicated EV car insurer might be cheaper. 
Set up your online payments – and you're ready to go.
The car could be immediately available, as with most of Vanarama's hot offers. But sometimes you may have to wait a few days, weeks, or even months, depending on the popularity and availability of the car. 
Is it better to buy or lease an electric car? 
At the moment, leasing seems like a smart move, for the reasons explained above. But there's a lot to be said for buying too of course. Here's a quick rundown of the pros and cons of buying an electric car. 
| Pros | Cons |
| --- | --- |
| You own the car | High upfront cost |
| You can sell anytime | High monthly car loan payment |
| No limits to mileage | Maintenance must be paid for once out of warranty |
| No wear and tear charges | Depreciation means sale value is unknown |
It's really a matter of weighing up what's important to you. Understandably, owning a car is a very attractive option, but leasing takes a lot of the worries of ownership away. 
Our leasing partner, Vanarama
We've teamed up with the UK's award-winning vehicle leasing business, Vanarama, to offer our members great electric car deals. Plus, with every Vanarama electric car lease, you can get £75 towards your energy bills2.
Top 5 most popular electric cars from Vanarama
Tesla Model 3
According to Vanarama, these smooth rides are their most popular cars in the UK.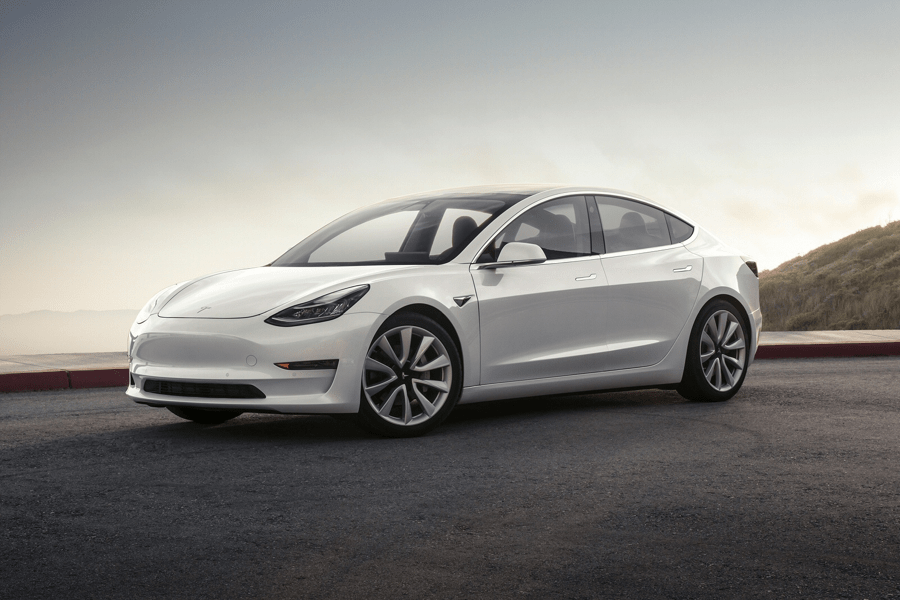 Top of the popularity stakes is Tesla. And there's no sign of that changing just yet. The Tesla Model 3 is Vanarama's most sought-after executive option.
Vehicle range: 360 miles
7kWh home charge time: 13 hours
Rapid charge available: yes
MG ZS EV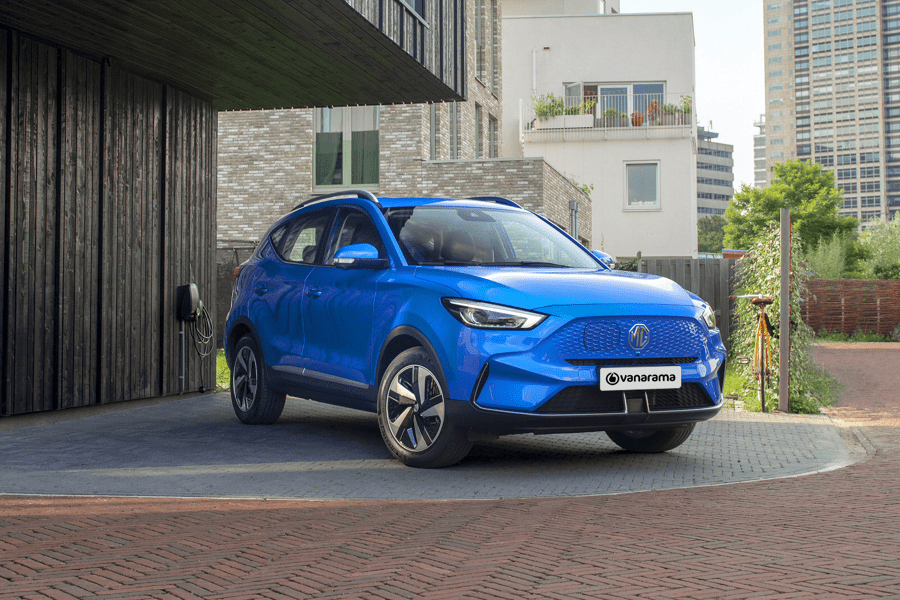 Our friends over at Vanarama say, "A fantastic budget option EV SUV, and our customers love them. They're cheap to lease, have great range and the SUV size has real appeal."
Vehicle range: 163 miles, but with more regenerative braking – for example, while city driving, it could go up to 231 miles
7kWh home charge time: 6.5 hours
Rapid charge available: yes
Vauxhall Corsa E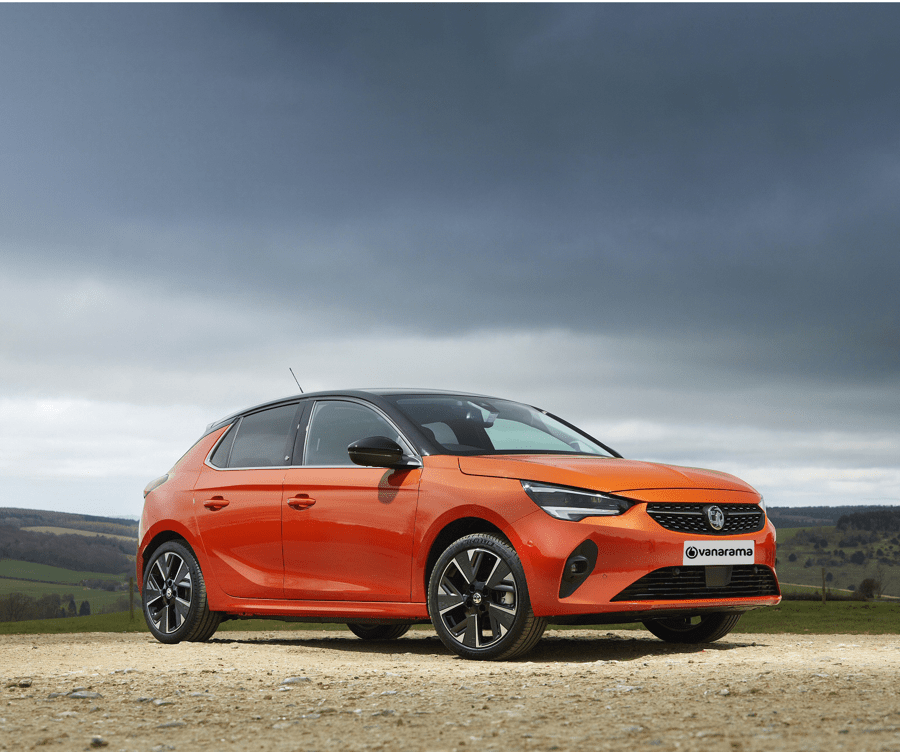 The Corsa E is often featured in petrol vs electric comparisons (most recently on the first episode of Fifth Gear Recharged), because the price is pleasantly comparable to its petrol equivalent. Plus, it's just a great small car. 
Vehicle range: 209 miles
7kWh home charge time: 7.5 hours
Rapid charge available: yes
Volkswagen ID.3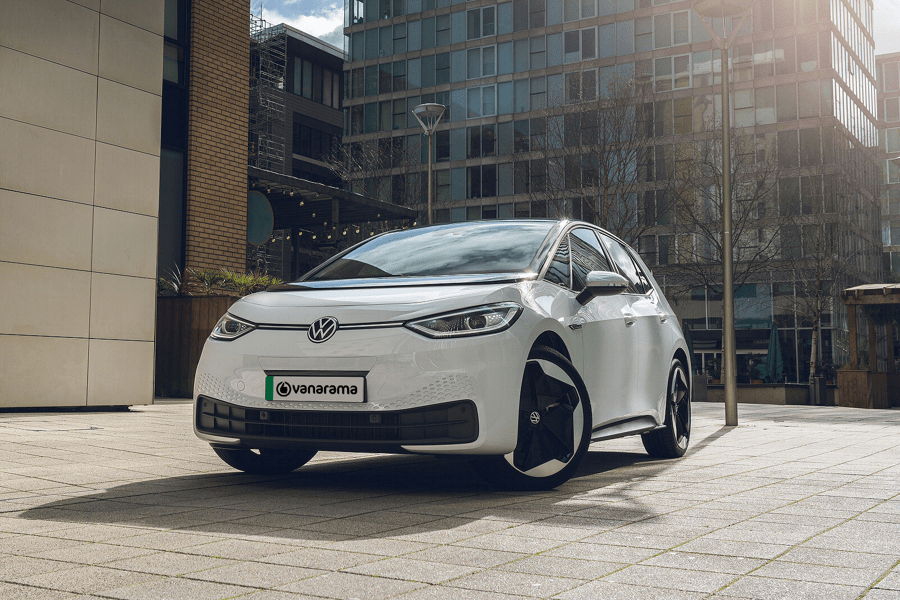 Continuing the Volkswagen reputation for creating fun, good-looking, reliable cars, the ID.3 is both fast and easy on the eye. The more expensive the model, the better the range, with the top end vehicle offering a staggering 336 miles. Range anxiety? What range anxiety? 
Vehicle range: 217-336 miles depending on model
7kWh home charge time: 7.5 hours
Rapid charge available: yes
Renault Zoe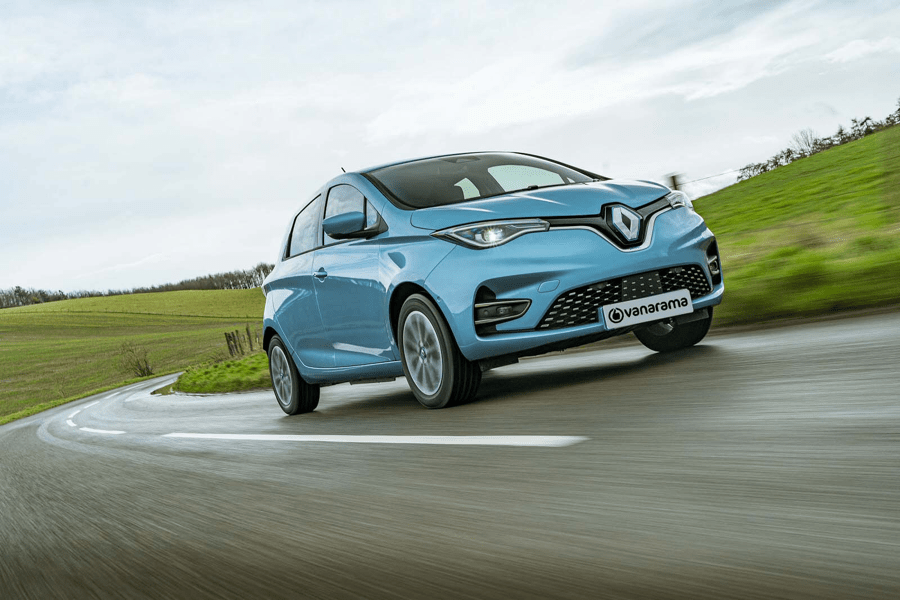 The Renault Zoe has always been, and continues to be one of the most popular EVs around, and is one of our top picks. 
Vehicle range: 245 miles
7kWh home charge time: 9.5 hours
Rapid charge available: yes, if you pay a little extra 
Once you get your car, don't forget to switch your electricity to our OVO Drive tariff. It's our cheapest EV tariff for cheaper charging overnight. 
The future really is electric. Find out more about the new EV trends and innovations heading your way in our guide. Plus, some of the most exciting new EVs hitting the roads soon. 
What are the cheaper options for leasing?
This depends on the supplier, but two of the cheapest cars around are the Smart EQ ForTwo or the Seat Mii. These are mechanically the same car, with only very small details separating them. Both are great little cars for shuttling around the city. 
In summary: is it worth leasing an EV?
This really comes down to personal preference. If you like to have the feeling of car ownership, which many people do, then maybe leasing's not for you. But in terms of the many benefits leasing offers, including price and convenience – and always having a new car – then yes, leasing is well worth it.
FAQs about electric car leasing
In short, they're better for the environment than petrol or diesel cars because of their zero emissions. They're also far cheaper to run, don't need road tax, and offer a smooth, quiet driving experience.  To find out more about the benefits of electric cars, head over to our guide. 
Some leasing companies include an electric car charger in their leasing contracts. If you don't get one included, you could be eligible for a government grant towards buying an EV charger yourself, so long as you're leasing for at least 6 months. 
There's a wide range of vans out there, but you'll have to check with your leasing company with regards to your eligibility.
Upgrading your car early is possible, but your existing agreement would have to be settled.
An electric car's range differs widely from car to car. At the moment, the electric vehicle topping the range charts is the mighty Mercedes EQS. This slick ride can take you a staggering 478 miles on one charge. No range anxiety to see here. 
Find out more about the range of electric cars and how far an EV can go in our practical guide. 
We may be a little biased, but you could do worse than looking at Vanarama, for some of the UK's best leasing deals. Prices start below £150 a month, and all Hot Offers include a year's free insurance and a free home charger. 
If you still have more questions about leasing, check out Vanarama's FAQs.
Sources and references:
1 https://www.gov.uk/government/news/government-takes-historic-step-towards-net-zero-with-end-of-sale-of-new-petrol-and-diesel-cars-by-2030
2 OVO is offering a £75 energy credit for OVO members who have entered into a lease agreement for an EV from Vanarama after being redirected from the OVO website (the Vanarama Energy Credit). This will be added to your OVO account balance to be used to reduce any amount that you may owe us in the future. The credit will be applied as a single £75 credit to your energy account 30 days after you take delivery of your EV. Terms and eligibility criteria apply. Please see here for full offer terms and conditions.
3 Subject to eligibility. Full T&Cs can be found on the Vanarama website
View more from these categories