guide
Electric car range: longest range electric cars in 2021
10 December 2021 | Aimee Tweedale
If you're thinking about buying an electric car, you might be wondering how far you can drive it on one charge. After all, no one wants to run out of power and get stuck in a layby in the middle of a long journey. 
Keep reading to find out more about electric car range, which types of EV have the longest lasting batteries, and how to plan a big journey when you're driving an EV.
How far can an electric car go?
The distance that an electric car can go on one charge is called its range. The average electric car range is 193 miles1. 
As technology has improved, this has increased a lot in recent years. EVs made even just a few years ago in the 2010s were more likely to have a range of 100 miles2 – but these days, electric vehicles can go up to 300 or even 400 miles on a single charge. This isn't too different to what you'd expect from a typical petrol car3.
Of course, your electric car mileage will depend on lots of factors unique to you and your car. Think about things like: How big is your battery? How old is the car? And how fast do you typically drive?
To learn more about charging your EV, read our guides to:
What is the electric car with the longest range?
Currently, the electric vehicle with the longest range is the almighty Mercedes EQS. It boasts a whopping 478 miles of range on one charge4.
How far can a Tesla go on one charge?
The Tesla Model S is the Tesla with the longest range, and until recently, it was also the electric car with the longest range overall. Its official range is 405 miles5. That's enough to drive from Leeds to Cornwall, with a few miles left over6!
Of course, the real range is slightly different. According to Buy A Car and AutoExpress, the Tesla Model S's real range is around 320 miles. Keep reading to find out more about the difference between official range and real-world range.
Longest range electric cars in 2021 
Looking for an electric car that can really go the distance? These are the 10 longest range electric vehicles on sale in the UK today.
| Electric car | Official range |
| --- | --- |
| 1. Mercedes EQS | 478 miles |
| 2. Mercedes EQE | 410 miles |
| 3. Tesla Model S | 405 miles |
| 4. BMW iX | 380 miles |
| 5. Ford Mustang Mach-E | 379 miles |
| 6. BMW i4 | 367 miles |
| 7. Tesla Model 3 | 360 miles |
| 8. Tesla Model X | 360 miles |
| 9. Volkswagen ID.3 | 336 miles |
| 10. Polestar 2 | 335 miles |
Real-world electric car range vs official range: what's the difference?
Knowing the difference between official range and real-world range is key to understanding how far you can drive in your EV.
Official range
The official range of an EV is the distance that the manufacturer says their car can drive on a full battery. This is worked out in a lab, according to what's called Worldwide Harmonised Light Vehicle Test Procedure (or WLTP) rules.
Scientists consider all kinds of factors when they're coming up with this figure – including different temperatures and driving conditions, and the effect of things like average driving speed. Even so, this lab figure is usually a little higher than the mileage you can expect to get out of your car in the real world. 
Real-world range
Real-world range is what EV enthusiasts call the miles you can realistically expect to get out of your electric car. 
It's usually a bit lower than the WLTP figure, because it can be affected by all kinds of factors. These include:
The speed you drive at
The weather
Driving uphill
How hard you accelerate or brake
Use of air con/heating
The weight inside the car
How old your battery is
Real-world figures are usually the result of people testing the cars in – you guessed it – the real world. 
Learn more about electric car batteries in our complete guide
What is range anxiety?
You might feel worried about getting an EV because you're afraid of running out of power when you're on a long journey, and unable to get to a charger. This is what we call range anxiety.
It's an understandable fear, as one of the current downsides of electric cars is a lack of charging infrastructure. 
If you have a hefty commute, or your family lives far away, driving long distances might be an unavoidable part of life. Range anxiety is understandable, but it doesn't mean you can't own an electric car.
Worried about range? Your best bet is getting an EV charger installed at home.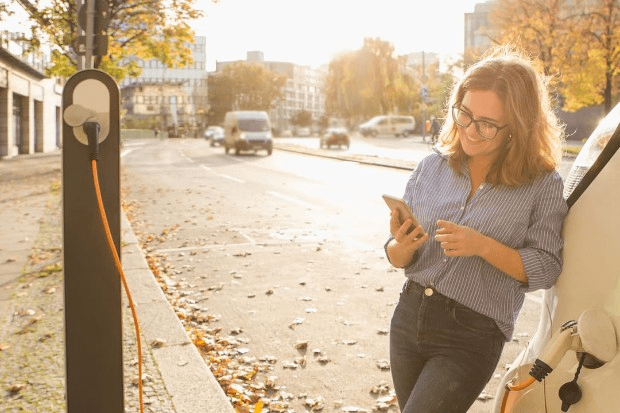 How to plan a long journey in an electric car
While the electric car industry is still growing, charge points aren't always super-easy to find. That's why it's crucial to do some planning before you set off on a very long journey, so you won't be left in the lurch if you need some extra juice!
First of all, do some research to get a good idea of the real-world range of your car. Then, familiarise yourself with the chargers your car can use. Can it work with rapid chargers, for instance?
Next, figure out how long your EV battery takes to charge at home, so you know how much time you might need to stop for. Check out our other blog for more info about battery charging times at home, and while you're out and about.
Then, use your sat nav, or an app like bp pulse or Zap-Map to find out where the charge points are along your route. 
How to maximise the range of your electric car
There are a few ways you can increase the battery life of your vehicle, by driving smarter.
This RAC guide to getting the most mileage out of your car was originally written about petrol and diesel cars, but some of it applies to electric cars, too. Useful pointers include:
Remove your roof rack. In fact, removing anything non-essential from the outside of your car can lower air resistance and boost your range at high speeds. 
Slow down. Travelling at consistently high speeds will also reduce your range, because it uses more power.
Empty the boot. The heavier your car is, the more power the battery will eat up.
Roll down the windows. Get some fresh air instead of turning on the AC! The more features you have running, the more your battery life will suffer. This includes the heating, as well as the air-conditioning. 
Find out all about electric car insurance with our handy guide
Thinking of making the switch to an electric car?
Is cost the only thing standing between you and the electric car of your dreams? Leasing is a great option for those who want to try a new car without breaking the bank.  
OVO Energy members can get access to exclusive electric car leasing deals via our partners Vanarama. That's not all: when leasing, you can also get a year's insurance for free, along with a fully installed home EV charger. 
Lease an EV with Vanarama and OVO
Looking for an electric van instead? Find out more about benefits, costs, charging, and much more in our guide.
Sources and references
1 https://www.nimblefins.co.uk/average-electric-car-range#avg
2 https://www.rac.co.uk/drive/advice/know-how/electric-cars/
3 https://www.buyacar.co.uk/cars/economical-cars/electric-cars/726/electric-car-range-how-far-will-they-really-go-on-a-single
4 https://www.carwow.co.uk/mercedes/news/4267/mercedes-eqs-price-specs-release-date#gref
5 https://www.tesla.com/en_gb/models/design#battery
View more from these categories