guide
A guide to electric car home charging and charger installation
14 December 2021 | Aimee Tweedale
Although you could use your normal 3-pin plug to charge your car, most EV owners go for a home charging unit instead. A 3-pin plug will charge your car at around 2.3 kW. This means it would take about 17 hours to fully charge a car with a 40kWh battery. A 7kW EV charger could cut down on that charging time by a hefty 11 hours. 
 In this guide, we'll take you through the home charger installation process: which one to choose, how much it'll cost, who will install it, and how long it will take. 
Read on to find out everything you need to know about installing an electric car charger at home. 
Which home EV charger is right for you?
There are a few different things to think about when choosing your home electric car charging point.
Power: You can get 3kW and 7kW chargers, and even 22kW, but 7kW is the most common. To roughly work out how many hours a charger would take to fully top up your car, just divide the energy of the battery in kWh by the speed of the charger in kW. Check out

our complete guide to slow, fast, and rapid EV chargers

for more info. 
Cost: According to the RAC, the average is around £8001 – but you may be able to get a grant to help you pay. More on that below!
Cable: You'll need to decide if you want a tethered charger (with a cable) or an untethered one (without a cable). Tethered is less fuss, but untethered has the bonus of being able to connect to pretty much any electric car.
Design: You'll have to see the charger on your wall every day, so get one you like the look of.
Other features: There are lots of cool EV charger features out there – you might want to get a charger that's compatible with your solar panels, for example.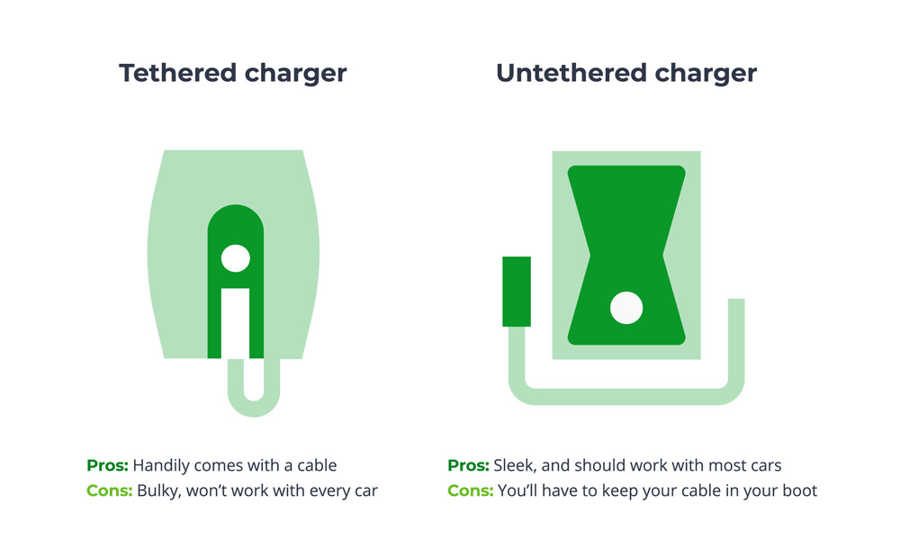 Consider a smart EV charger
The smartest choice is to get a smart charger.
These are chargers that are internet-connected, so they can communicate with your car and with the grid. This means they can work out the cheapest, most energy-efficient times to charge your car. So they not only save you money, but help save the planet, too. 
Find out more in our guide to EV smart chargers 
Electric car charging at home
You can get a charger installed in your home in the UK if you:
Own the property, or you have permission from your landlord
Have your own off-street parking
Have a WiFi connection at home 
Electric car charger installation cost
The average cost for getting a home charging unit installed is around £800. But there are cheaper options. 
If you go for a charger with less power, you'll find a 3kW unit will probably cost you between £250 and £500. The more powerful 7kW chargers tend to be between £450 and £8002 – and if you're ready to splash out, super speedy chargers can go up to £1,500 and more. 
That might sound like a lot, but don't worry: there are government grants to help you cover the cost. More on that below. 
Government grants for electric car charging points
The government has an Electric Vehicle Homecharge Scheme (EVHS), which exists to help out EV drivers with 75% (up to £350) of the costs of installing a home charger.
If you've bought an eligible electric or plug-in hybrid vehicle since 1st October 2016, and you meet the list of conditions below, you're quids in! Conditions include: 
You're installing a smart charger
You have off-street parking (a driveway or garage)
The date of installation isn't more than 4 months ahead of the date of delivery, or the date you became the registered driver of the EV
You're using an OLEV-approved charge point installer
Update: from April 2022, this scheme will only be open to EV owners who live in flats and/or rental accommodation. Find out more about the EV Homecharge Scheme.
See who's eligible and how to apply for the scheme in our guide to grants for EV drivers
Who installs the EV charger?
You can arrange a home charger installation with your energy supplier.
At OVO, we're currently installing smart EV chargers for under £1,000. And you don't even have to be an OVO customer.3
Choose between 2 of the most innovative chargers around – the Indra Smart PRO and the Ohme Home Pro – and our trusted engineers will install it for you.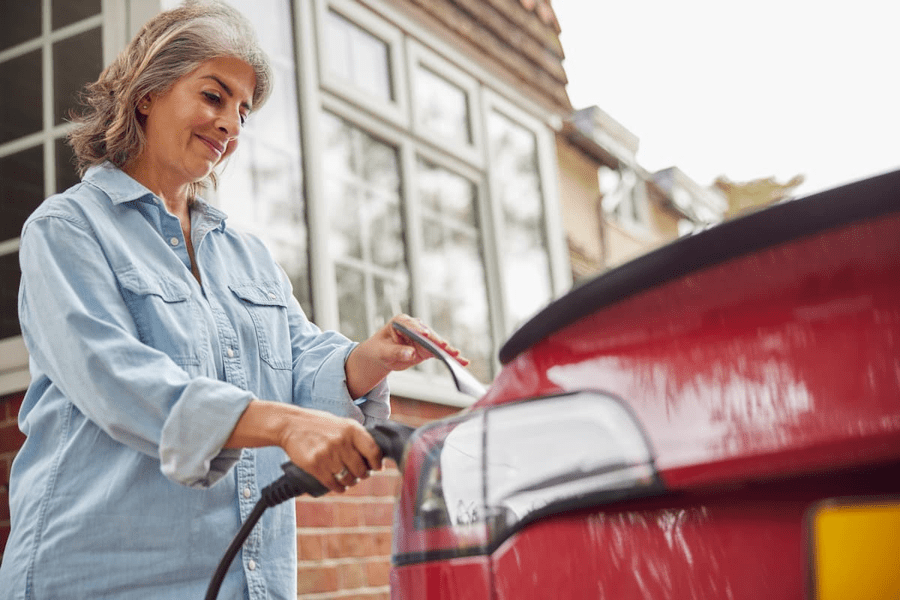 Where to install the EV home charger
EV chargers are usually installed on an exterior wall in your driveway, or an interior wall in your garage.
Installing an electric car charger in your driveway or garage
To get a home EV charger, you'll need to have dedicated off-street parking. This means you have a garage or driveway where you can park your car that's away from the road. 
Lots of people choose to put their charger in their driveway or garage if they have one. This is convenient because it'll be easy to connect to the mains electricity, while also being close to where you park your car. 
If you don't have a driveway or garage, installing a home EV charger will be trickier. It could run the risk of cables stretching over the pavement, which isn't particularly safe for pedestrians. Speak to an installer about your options, and check in with your local council to discuss the possibility of on-street EV chargers. 
Finding a safe place to install your EV chargepoint
Engineers have to follow a few electric car charging point installation regulations. This might affect where you can put the charger on your wall. 
Before installing your charger, the engineers will look at some photos of where you want to put it. They might ask you to send the photos, or they may come and take some themselves as part of a site survey. 
They'll mostly be looking for "sim touches" – metal objects that are connected to your electricity supply. Any potential sim touch has to be at least 2.5 metres away from the charger.
For example, if you have lights in a metal case, they'll ask you to replace the case with a plastic one. And in some rare cases – like if there's a street lamp by your driveway – it won't be possible to install the charger in that site, so you'll have to pick a new location.
What happens on the day of your electric car charging point installation 
Hooray - you've made the decision to switch to a greener way of charging, and your installation day has arrived! What now?
Here's what to expect.
The engineers will let you know what time you need to be at home to meet them.
Based on the photos they've already seen, they'll know where it needs to go. They'll set about positioning the charger in that spot
Then they'll turn off the power supply (for safety) during this next bit.
The next step is to finish installing the charger and connect it to your main electricity supply.
They'll turn the power back on and test it, to make sure it's fully safe.
At this point, if you're getting a smart charger, you should give them the WiFi password so they can connect it to the internet.
Finally, they'll show you how to use it!
What to prepare for your EV home charger installation
To avoid any nasty surprises on the day, it's good to share as much information as you can with your installers ahead of time.
They may do a site survey, which means they'll send someone to have a look at your home before your install day to make sure everything's in order. You (or another adult) will need to be at home for this.
On the day, make sure you're ready by clearing the area they'll be working in. In particular, make sure the route between the chargepoint and your electricity supply meter or distribution board is clear. This is where a cable will be fitted to connect the two.
Plus – have your WiFi password to hand!
How long will it take to install the charger?
A standard installation can take up to 4 hours on average. More complicated installations will take a bit longer.
If there are any major hiccups, you'll be able to reschedule the installation for a day that's convenient for everyone.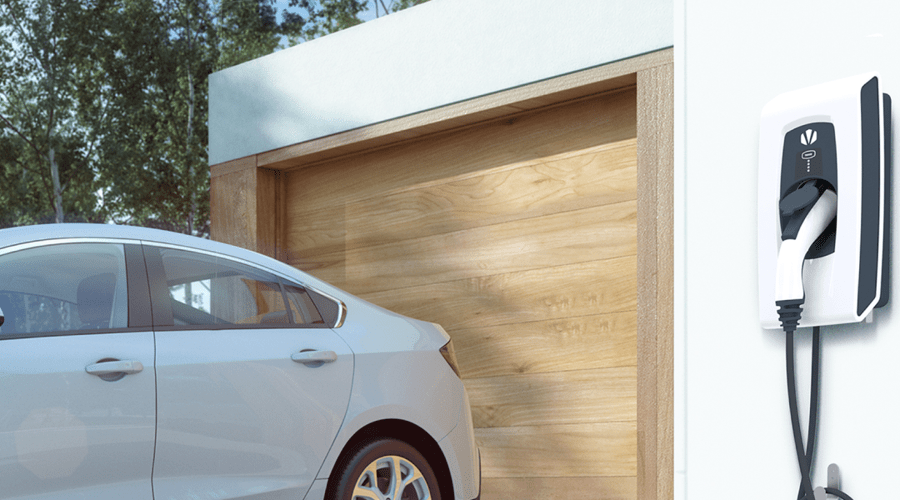 What's included in an EV charger home installation?
Our standard home-charging installation package includes:
Fitting the chargepoint to a brick or plaster wall (or sometimes another suitable structure!)
Up to 15 metres of 6mm power cable, to connect the distribution board or electricity supply meter and the chargepoint
Fitting and testing electrical connections and protections for the charge point
Up to 5 metres of white plastic covering for the wires
Installation of one earth electrode near the charge point
Find out more about how much it is to buy, run, and charge an electric car, and how far an EV can go on a single charge.
Sources and references
1 https://www.rac.co.uk/drive/advice/know-how/electric-car-charging-why-is-it-so-complicated/
2 [https://www.zap-map.com/charge-points/charging-home/](https://www.zap-map.com/charge-points/charging-home/%5C)
3 Prices given include a standard installation. Your survey might show that you need more work than a standard installation. In this case, your quote would include this additional cost.
View more from these categories