guide
Installing an air source heat pump - what's involved
06 October 2021 | Celia Topping
If you're thinking about getting an air source heat pump (ASHP) installed, that's great news! You're taking a vital step towards helping bring down the nation's carbon emissions and helping to stop climate change. Installing a heat pump isn't something you can do yourself though, so you may be interested to know what's involved in the process.
It's quite common for people to be put off changing their heating system because the upheaval to their home can be quite disruptive. 
We've put this article together so you'll know exactly what to expect before, during and after the installation of your low-carbon heating system. Keep reading to learn how to find a qualified engineer, how to keep things working smoothly once installed, and how to apply for the government's grant scheme, the Renewable Heat Incentive (or RHI). 
Should I buy an air source heat pump?
At the moment, 85% of UK households are heated by gas central heating systems. Meaning 13 to 14% of the UK's total carbon emissions come from keeping ourselves warm at home1. If we're to meet the government's net zero emissions target by 20502, we'll need  to cut our home heating emissions to zero. 
But according to Greenpeace, the UK currently sells and installs fewer heat pumps per household than most of Europe3. We need to catch up! 
In summary, you should buy a heat pump because they can:
Reduce your carbon footprint

and help fight climate change
Potentially reduce your heating bills
ASHPs are low maintenance
Earn money through the Renewable Heat Incentive (RHI) – more on that later
But it's worth noting that unless your home is well-insulated, the heat pump will have to work harder and won't work as efficiently. So could end up costing you more to run. So if you don't already have insulation in your loft and cavity wall (if your home has a cavity) and double- or triple-glazing, it would be wise to invest here first. 
What size air source heat pump do I need for my home?
It's important to get the size (or more accurately, the power or capacity) of your ASHP right. If you go too large, you may end up paying more than is necessary. But if it's too small, you won't get enough heat for your home when it gets really cold.
Air source heat pump sizes for the average home range from 4kW to 16kW. As you'd expect, bigger homes need more powerful heat pumps. And less powerful heat pumps are needed for well-insulated homes, as they don't need so much heat generated, due to their lower heat losses. 
How you distribute the heat in your home is also a factor. ASHPs work best with low-temperature heat emitters, like underfloor heating systems. If you're using radiators, they'll typically need to be bigger than the ones you use for gas or oil central heating. 
But don't worry too much about all the options yet. Your engineer will be able to recommend the correct-sized heat pump for your home and heating system after they've carried out a thorough survey. Which leads us neatly onto the next section:
How to find the right air source heat pump installer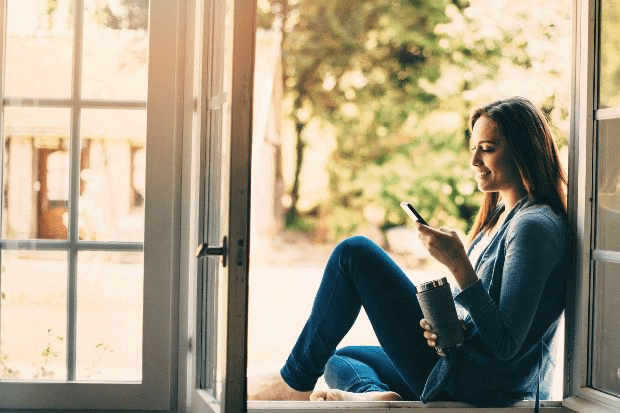 If you want to be eligible for the Renewable Heat Incentive (RHI), make sure you use an installer who's certified under the Microgeneration Certification Scheme (MCS). This means the installer has completed installer training and must follow certain codes of conduct and industry compliance. Not all heat pump installers have this certification, so make sure you do your homework. 
Getting a recommendation via word-of-mouth is a great way to start finding an installer. Looking at customer reviews will also help you to book a reputable company. You can also check the MCS website for registered installers, or check your chosen heat pump manufacturer's website for approved installers in your area.
It's a good idea to get a few different installers to give you quotes before you commit. Always be sure to get your quotes in writing – that way you can remember all the details, compare quotes, and keep the installer to their word! 
Can I install an air source heat pump myself?
In short, no. Installing an air source heat pump is definitely not a DIY job. Plus, if you did do the work yourself – unless you're MCS certified –  you couldn't apply for any form of government grant, like the RHI. 
The longer answer is that to install an ASHP yourself, you would need comprehensive understanding of:
Low-temperature heating systems
Vapour compression cycle principles
Weather compensation controls 
Behaviour characteristics of the heat pump controls
Operating conditions of the heat pump
Electrical connections and plumbing circuits and how to control and optimise them
If the heat pump isn't set up correctly, it won't run efficiently and could use a lot more power. This means your bills will be higher. ASHPs run very differently than boilers, and need optimising for each home, as they don't simply turn on and off as heat is needed. 
Still, if you're keen on getting involved, speak with your installer and they might be able to guide you in some elements of the job. For example, parts of the pipework and its insulation could be worked on by a competent DIY-er. But don't attempt any work on the system without guidance from a fully qualified engineer. 
How much will it cost to install an air source heat pump?
The cost of an air source heat pump installation depends on a number of factors, including:
The model of ASHP you choose
How well-insulated your home is
The size of the ASHP you need (more powerful ones are more expensive)
How complex the installation will be (you might need underfloor heating or new radiators, for example)
As a rough guide, the Energy Saving Trust reckons that installing an ASHP system will cost between £7,000 to £13,0004. But it could be more, depending on the size of your home and your requirements. So the best way forward is to get some quotes from registered installers. 
To find out more about the costs of an ASHP, including the savings you can make, check out our comprehensive guide on how much does an air source heat pump cost. 
You could be eligible for the Renewable Heat Incentive (RH) grant, or it's successor, the Boiler Upgrade Scheme. Read on below for more information.
Step-by-step guide to air source heat pump installation
What will happen before installation?
Before any installation, an engineer will have to complete a thorough inspection of your home. This is to make sure they recommend the right ASHP for your property. They'll carry out a full assessment, then give you a written report of their recommendations. 
It's also mandatory for them to give you an estimate of how much it will cost to run your heat pump (and how much you could save!). This is not a guarantee, but for guidance only. 
This is the time to ask any questions you might have about the installation itself, and if you need to prepare anything inside or outside your home. Having a heat pump installed can be fairly disruptive, so be sure to ask for details of their schedule. 
How long does it take to install an air source heat pump?
The amount of time it takes to install an ASHP varies for each particular property, depending on size and complexity. Remember, it's not just a case of installing the pump itself, but all the inside elements too. 
For a fairly simple install in a mid-sized 3-bed house, you can expect 3 engineers to be on site for around 4 to 5 working days. Of those days, you might be without hot water for 1 or 2 days. 
Your installer should be able to give you an accurate estimate of time after they've done the initial assessment.
What will happen during the installation?
The installation process can take a few days, as there are many elements to consider. Here's a summary of what you can expect:
The ASHP unit itself needs to be installed outside, on a flat concrete base. There'll be no need for digging, like there would be with a

ground source heat pump

installation. The installer will make sure there's good airflow and that it's not too close to your neighbours. 
The installer will also connect the return and flow heating pipes and electrical power cables outside your home. Once this is complete, your installer will move inside. 
Most heat pumps need to have a hot water tank installed inside the home. 
In most cases, your radiators will have to be replaced. The main exception would be if a house already has a heat pump installed. So your installer will replace your radiators and connect your new ASHP. Or, if you're using an underfloor heating system, the installer will need to either set that up or connect the ASHP to your existing system.

Find out more about underfloor heating systems.

All the controls and thermostats will need to be installed inside your home. 
The installer will tidy up and approach you to explain how the system works. They'll also start it up to make sure it's working to the manufacturer's standards. 
As you can see, having an ASHP installed is not a minor job. But how disruptive it is depends on your current system. If you have fairly recent pipework that can be used to fit the new emitters, it could take just 2 to 3 days, with minor disruption. 
If your pipework and radiators need replacing, though, that means upheaval in every room, lifting carpets and floorboards. 
Whatever kind of system you have,  it will need to be disconnected while the new one is fully installed. This means you will be without heating and hot water for at least a day. 
What do I need to know after my air source heat pump has been installed?
Once your ASHP has been installed, your engineer will start up the system and talk you through how it all works. They'll explain all the ASHP functions and show you how to change settings where needed. They might also offer you a maintenance package and aftercare support 
As most ASHPs are weather compensated, they can keep a steady temperature indoors no matter what the weather's doing outside. When the weather turns colder, your ASHP will work harder to keep your home temperature just the way you like it. This is all done automatically, without you having to do a thing – which is why some call ASHPs a "fit and forget" technology. Happy days! 
How much maintenance does an air source heat pump need?
Thankfully, ASHPs don't need much maintenance at all. You might need to occasionally take a look at the outdoor fan unit, to make sure it's free of debris. It's also worth checking on the pipework's insulation every now and then, to make sure there's no sign of leakage. Apart from that, your ASHP should whirr along just fine. Having a service every 2 to 3 years should be sufficient. 
What does an installed air source heat pump look like?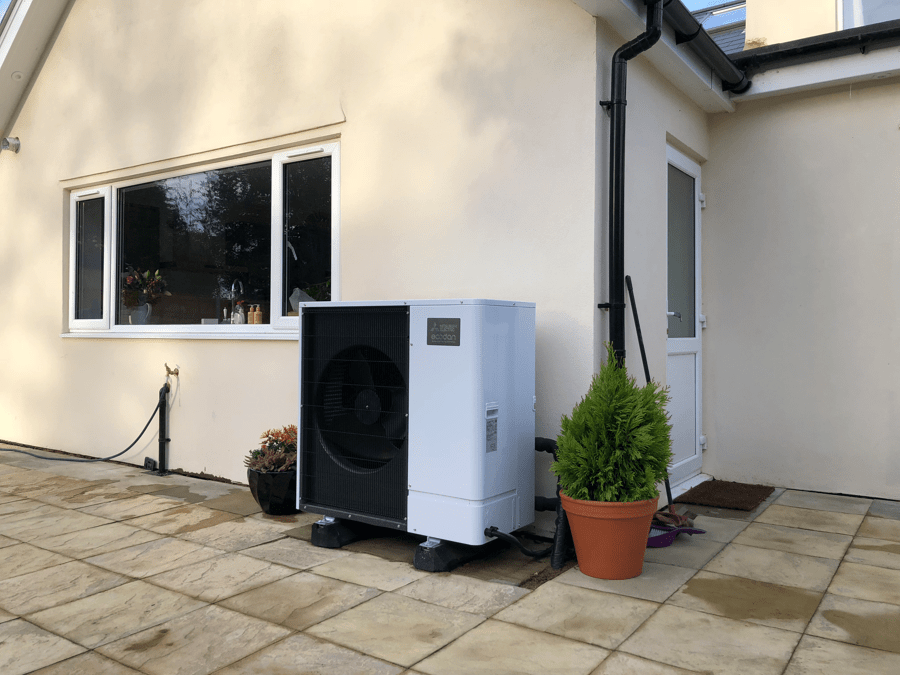 The ASHP fan unit itself sits against an outside wall (or on a flat roof) of your home – they measure around 120cm high, 100cm wide and 40cm deep. So about the same size as a washing machine, but thinner. This will connect to 1 or 2 hot water cylinders inside – the cylinders measure around 60cm wide by 160cm high. 
You might also need a buffer tank, which is about a third of the size of the hot water cylinder (some cylinders combine both hot water and buffer in one). The ASHP control box will also be inside your home. This measures about 40cm x 40cm x 10cm. 
There'll also be some circulation pumps and pipework, as well as any additional controls for underfloor heating. It's ideal if this can all be placed in a "plant room" – which could be a utility room, garage or airing cupboard. This makes it simple for the engineer to access all the components during maintenance work or repairs. 
How to benefit from the Renewable Heat Incentive
The Renewable Heat Incentive (RHI) is a government-funded scheme5 to encourage homeowners to install renewable heating technology and lower their carbon emissions. It's been designed to help our nation reach that all-important net zero 2050 target. Many low-carbon technologies, including most air source heat pumps, are included in the scheme. 
The incentive comes in the form of quarterly tariff payments for every single kilowatt hour (kWh) of renewable heat you produce. And it continues for 7 years after your installation! 
Read our comprehensive guide to the Renewable Heat Incentive, to find out everything you need to know, including: how to find out if you're eligible, how much you could be paid and how to apply.
In April 2022, the government will replace the RHI with the Boiler Upgrade Scheme . These grants will make £5,000 available up front, to support those installing an air source heat pump
Join OVO on our mission to decarbonise home heating
Interested in being a heat pump pioneer? You've come to the right place! 
Share your contact details via the link below, and we'll make sure you're the first to know about OVO's green tech offers and trials.
Register interest
View more from these categories