guide
The student's guide to gas and electricity: how to switch energy and cut down on bills
25 November 2020 | Aimee Tweedale
Let's be honest: paying your own energy bills is hardly the most glamorous thing about starting uni. So in this guide, we're going to keep things simple.
Although there's no such thing as a gas and electric tariff specifically for students, some plans are more affordable than others. So our advice for you is the same as for regular homeowners – shop around and be smart!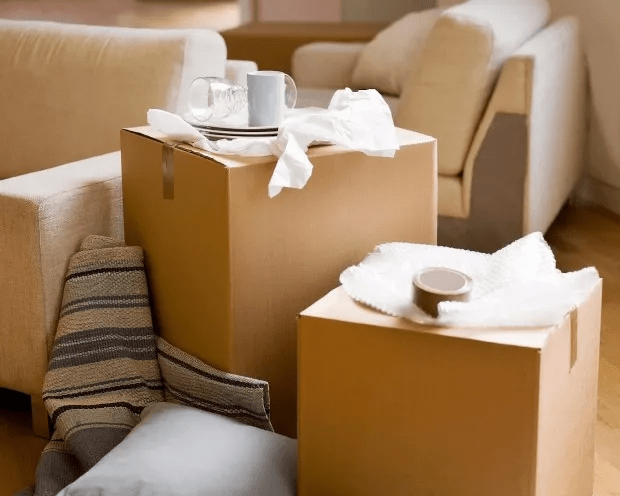 In this guide, we'll show you how. Read on for 7 simple but effective tips for sorting your gas and electricity supply.
And, if you're in the process of moving into your student house, make sure you check out our moving house checklist – it could help you save money, and help the planet too! 
Switch suppliers to get the best gas and electricity quote for students 
If you take anything away from this article, it should be this: always switch your energy supplier when you move into a new house or flat. 
Don't just stick with whatever the previous tenants chose. If you shop around, you're almost guaranteed a better deal!
Some energy suppliers might charge a fee if you leave your contract early. But if you leave from 42 days before your fixed-term tariff ends, then you're legally allowed to switch to whoever you like. 
With so many price comparison sites out there, it's easier than ever to find the best gas and electricity suppliers for students. And if you're looking for a greener tariff, remember you can save up to £55 a year with OVO Better Energy (and get 100% renewable electricity too)1.
How to switch energy supplier
If you've never switched energy supplier before (or even looked at energy companies), don't worry: it's simple. Here's your step-by-step guide to switching to OVO.
See our full guide to switching energy suppliers here.
Choose the right tariff 
The first and most important rule of energy bills: make sure you're on the right tariff. And while there's no such thing as a student tariff, there are some plans out there that are better for students. 
Over half of UK homes are on what's called a standard variable tariff. This means that the price of your bill can change along with energy prices in general.
But if you shop around, you could get what's called a  fixed-term tariff, meaning that your energy costs the same every month, even if energy prices go up. For example, choosing OVO's Better Energy Plan could save you £55 a year.
You may also want to get a dual fuel tariff, which means paying for your gas and electricity together. Not all houses have a gas connection, but if yours does, you could save money by combining the two.
This means less hassle – with only one bill to pay each month, and only one company to deal with if something goes wrong. Read more about this in our guide to dual fuel energy tariffs.
Some rental properties might come with a prepayment meter, which is usually on a pay-as-you-go tariff (or PAYG). These are usually more expenive per unit of electricity. Find out more about prepayment meters here.
Thinking of switching? With OVO, you'll also get 100% renewable electricity – and we'll plant a tree for you every year! Get a quote here. 
For a full explanation of all the main energy tariffs available today, check out our helpful guide
Avoid estimated bills: check your energy meter
Energy suppliers often use estimates to calculate your bills. If you've just moved in, they'll probably guess how much you should be paying, based on how much energy the previous tenants used. Why? Because they're only legally required to read your meter every two years. 
Without the right meter readings, you could be paying too much for your gas and electric bills. Make it right by taking readings from your energy meter and sending them to your supplier roughly every three months. 
Budget the right amount each month
The average student spends about £37 a month on utility bills. How much you spend will vary, depending on the size of your house, how many people you live with, your supplier, and where you live. 
In most cases, a budget of £50 a month should be enough to cover gas, electricity and water. If you're super frugal, you might be able to squeeze your broadband into this too.
Save the Student estimates that the average student spends about £795 per month. Here's a breakdown of where it all goes. 
Be smart about bill-splitting
The last thing you want to be doing with your housemates is squabbling over whose turn it is to pay the bills. That's why it's important to make it clear who should pay what, when and how. 
Here are 3 different ways you could approach your bills, to make the process pain-free.
1. Share responsibility for different bills
This is probably the simplest and most common way of dealing with bills. One person takes gas and electricity, another broadband and TV, and a third person covers the water bill. Then, at the end of each month, you work out who's paid more and transfer them some cash, to even things up.
2. Use a bill-splitting app
Even simpler: get an app to do the maths for you.
Free apps like Splitwise and acasa are designed to do all the calculations for you, while Glide organises everything into one single payment per tenant each month.
3. Create a monthly kitty and pay the bills from it
Someone takes charge of collecting an amount each month (start with £50), and uses this to pay all the bills.  
If you choose to split the bills this way, make sure all your names are on the utility accounts, so that responsibility for the debt is shared. Perhaps choose your most sensible housemate to handle the payments, and make sure they don't forget. Even better, rotate the responsibility each month, so it doesn't all fall on one person. 
Switch off gadgets and control your heating
When you're living in a student rental, there are lots of things you can't control that could affect your energy bills. For example, insulation – seeing as it's your landlord who'll decide how much of that they want to do. 
But there are some things you can control! Every little helps. So, switch lights off when you leave a room, and get a water-saving shower head or an eco-kettle. For more ideas, here's a list of 120 ways to conserve energy at home.
But the biggest way to make savings is by controlling your heating. According to government statistics, heating alone accounts for over half the cost of your gas and electricity bills. So there's a simple way to keep those bills down: control when your heating actually turns on.
To minimise your heating bill but keep the house warm when you need it most, the best thing to do is set your heating to be on when you're likely to be home, and not when you're out, or asleep. The graph below gives a rough guide to the ideal timings.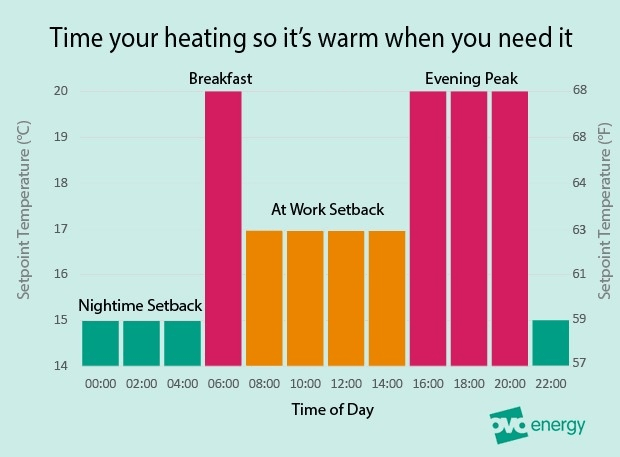 If you're really trying to cut the bills, then not only should you turn the thermostat down a couple of notches, but you could also wrap up warm with jumpers and hot water bottles! 
It's also a good idea to get out of the house and hit the library for longer study sessions. That way, you'll be less tempted to crank up the heating at home (not to mention, it'll help you focus).
For more frugal inspiration, check out the excellent experiments by David King, in his book Sustainable Energy Without the Hot Air. Plus read our blog to learn how to stay warm over winter without using so much heating.
10 top tips cut your student bills now
Want a quickfire summary of our best advice? Here are some more pointers on how to save money and get those monthly payments down.
As well as saving you money, these are all good ways to reduce the carbon footprint of your student house.
Shop around for the best deal
Make sure you're on the right tariff for you – 12 month fixed-rate tariffs are often cheapest
Either read your meter regularly, or get a smart meter installed
Control your heating so it's not on at unnecessary times
In fact, turn the heating down by a couple of degrees, and try to have it on as little as possible
Switch off the lights when you leave a room
Make sure your radiators aren't being covered up by furniture – as this can block heat from circulating in the room
Take quick showers instead of baths, or even get a water-saving shower head
Head to the library to study instead of staying at home with the heating on
Never underestimate the power of a cosy jumper!
Check if you could save money (as well as the planet) by switching to OVO Energy today. We'll power your home with 100% renewable electricity, and we'll plant a tree for every year you're a member, too.
Sources:
1 The renewable electricity we sell is backed by renewable certificates (Renewable Energy Guarantee of Origin certificates (REGOs)). See here for details on REGO certificates and how these work.  
View more from these categories