guide
tado° Wireless Smart Thermostat compatibility guide
25 October 2021 | Celia Topping
Your new small smart friend, tado°, was created with your existing boiler in mind. These smart thermostats have been designed to work with all common heating systems and most thermostatic radiator valves, heat pumps and water-based underfloor heating systems. 
The tado° Wireless Smart Thermostat will change the way you heat your home for good! In this article we'll give you all the info you need to know about the compatibility of your heating system with the coolest smart thermostat in town.  
How to know if tado° Wireless Smart Thermostat is compatible with your heating system
The clever folk at tado° have designed their smart thermostats to be compatible with most heating systems, including:
Combi, system, and heat-only boilers
Conventional and condensing boilers
Hydronic underfloor systems
Multi-room systems (with one tado° Smart Thermostat per zone)
District heating systems
Gravity-fed heating systems
Unfortunately, tado° doesn't get on well with these electric systems:
Electric radiators
Pilot wire (fil pilote)
Infrared panels
Immersion heaters (hot-water cylinder)
Electric underfloor heating
Did you know that tado° is approved by the Energy Saving Trust? Because of its high energy efficiency, the EST recommends tado° Wireless Smart Thermostats as a great eco-friendly addition to your home.
The tado° Wireless Smart Thermostat Starter Kit
To get going with tado°, you'll need the Starter Kit. Here's what to expect when you open it up: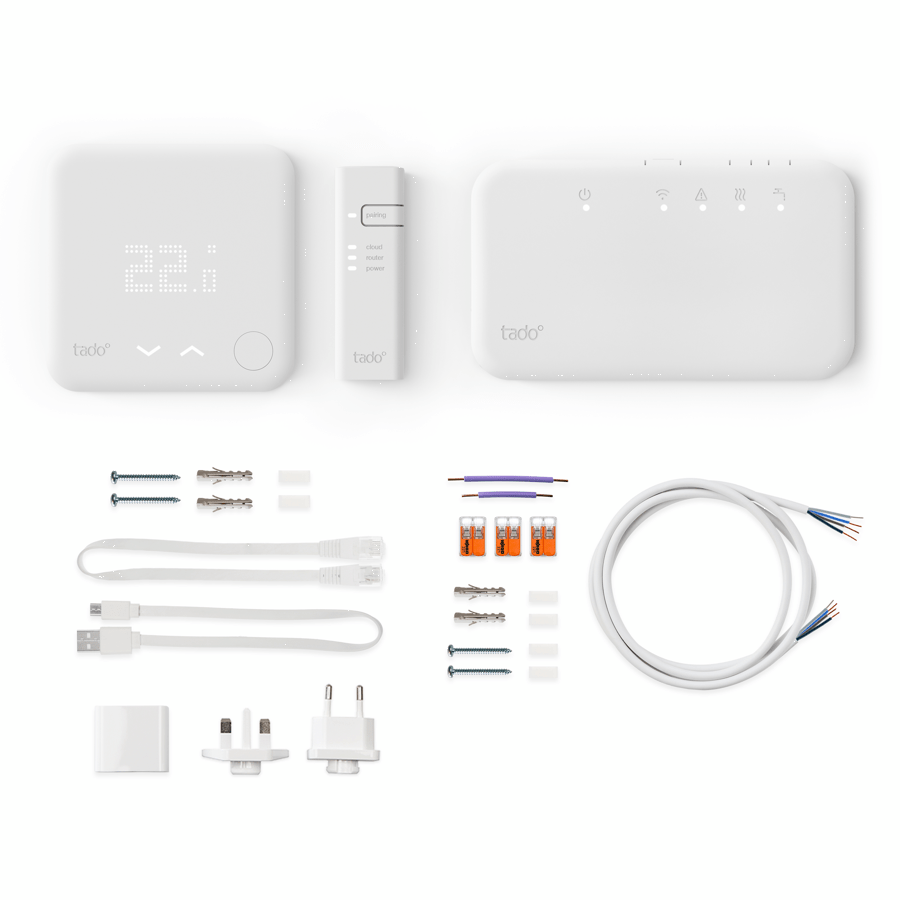 1 Wireless Temperature Sensor
1 Wireless Receiver (Programmer with Hot Water Control)
1 Internet Bridge
3 AAA batteries
2 labels for wiring
2x2 wall mounting screws
2x2 wall plugs
2 sticky pads
1 4-wire cable
4 insulators
1 UK plug
2 bridging wires
3 terminal connectors
The thermostat itself is small and simple, fitting unobtrusively into your home: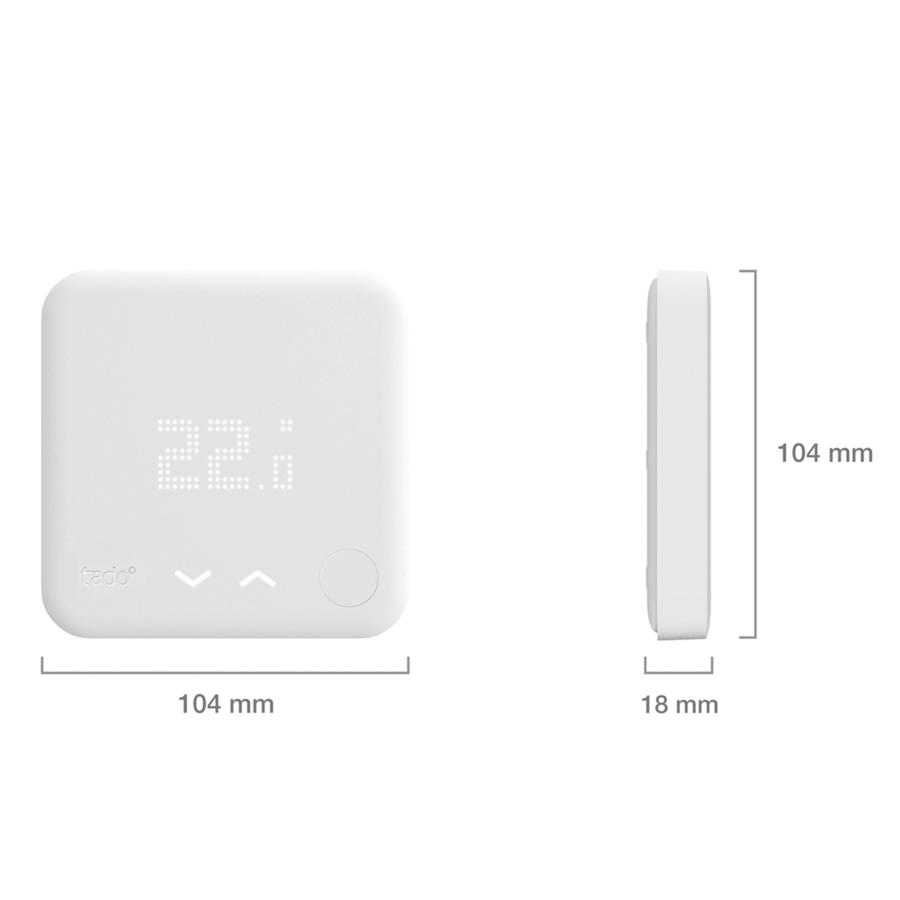 The Starter Kit includes the tado° Internet Bridge, which connects to your router. Your tado° Wireless Smart Thermostat connects to the internet via radio network: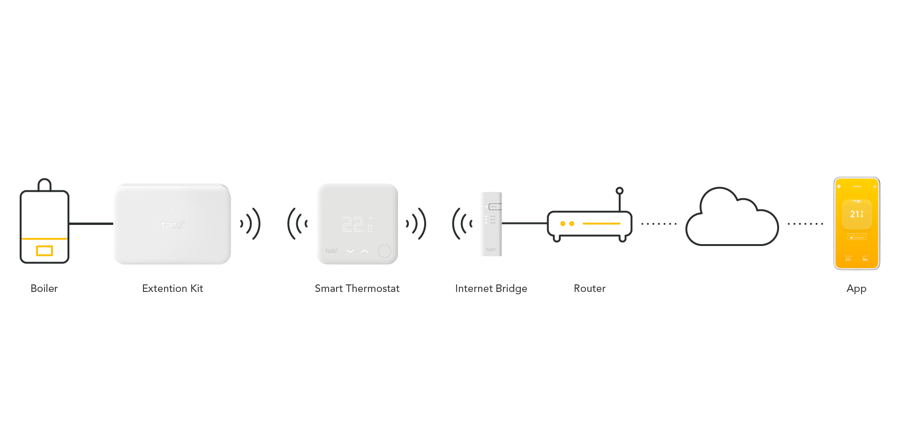 Once you're set up, you can use any of the following smart home platforms to command it by voice:
Siri
Google Assistant 
Amazon Echo
Plus, the If That Then This (IFTTT) smart home network system can connect your tado° with other smart devices in your home. tado° can also be used with the eNet Smart Home system.
Once you've downloaded the app onto your phone, you can control your home heating system from anywhere. You never need to return to a cold home again! 
If you want to be extra smart, you can enhance the Starter Kit with tado° thermostatic radiator valves. These help you control the comfort in each room of your home independently.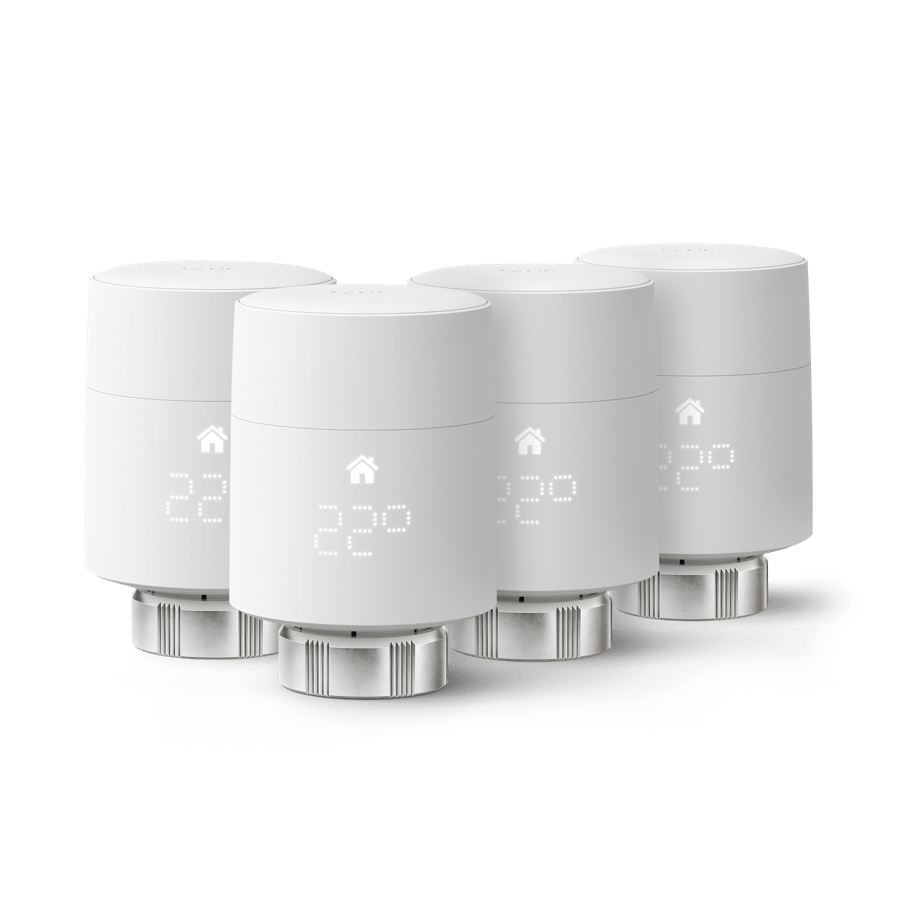 It only takes a few minutes to install the tado° Starter Kit yourself – just follow our 5 easy steps! Or if the idea fills you with horror, you can always get an engineer to do it for you. 
How does tado° Wireless Smart Thermostat connect to your boiler?
Whether you live in a studio apartment or a 12 bedroom mansion, tado° Wireless Smart Thermostats can heat your home exactly the way you want it – from wherever you are. The wireless receiver is simply wired into your boiler5 
OVO and tado° – the perfect pairing for a perfectly heated home! 
At OVO, we're on a journey to zero carbon living, by reducing our carbon emissions and helping our members do the same. That's why we're partnering with tado° – because these nifty devices can help you waste less energy,  reduce your carbon emissions and cut your bills by up to 31%1. What's not to love?
OVO members can get a tado° Wireless Thermostat Starter Kit for an exclusive price of £1202 (a saving of £79.993). You can even spread the cost at only £10 a month for 12 months. So for a home warmed with 100% green electricity4, at the touch of a button, you know what to do! 
Sources and references:
1 An independent study has shown that installing and correctly using a tadoº smart thermostat can reduce your energy use from heating by up to 31%. The study found that the tadoº device can reduce heating energy requirements by 14-26% through controlling the heat source (e.g. boiler or heat pump). You could also save another 7% by turning down the heating based on the weather forecast, depending on the window sizes. If the window surfaces are relatively large, the energy saving will increase.
2 Pricing: the price for the tadoº will be £120. You can pay upfront and if you're eligible you will have the option to pay monthly (the price will be spread across 12 months and added to your monthly bill.) See terms and conditions for more information on eligibility and pricing.
3Saving based on manufacturer's recommended retail price of £199.99.
4100% of the renewable electricity we sell is backed by renewable certificates (Renewable Energy Guarantee of Origin certificates (REGOs)). See here for details on Renewable Energy Guarantee of Origin certificates and how these work. A proportion of the electricity we sell is also purchased directly from renewable generators in the UK.
5 The tado° Wireless Smart Thermostat Starter kit V3 can be fitted on bus communicating boilers using the traditional relay connection
View more from these categories