blog
Benefits of cycling: 10 reasons to get on your bike
29 July 2021 | Matt Mostyn
OVO's on a mission to zero carbon – which is why we're launching OVO Bikes in Glasgow, Cardiff, and the Vale of Glamorgan. We want to help more people get pedalling, to start a journey towards easier, greener living and net zero.
To celebrate the launch, we're giving everyone free rides for the first week! And we've also teamed up with local sustainable businesses, to create a special cycle route: the OVO Bikes Green Route. We'll be offering OVO members even more free rides later in the year – so keep your eyes peeled for updates on the Planet OVO blog.
Here's the second in our trio of blogs about getting out and about on yer bike! The healthiest and greenest way to travel around town.   
From the environmental benefits to the convenience, cycling is well and truly in the spotlight right now. And with the global pandemic highlighting a need for safer, healthier transport solutions, more and more of us are opting for our trusty 2-wheeled steeds to get us from A to B.
Bikes have become one of the transport methods of choice during the pandemic. In fact, the number of cyclists has grown by a whopping 120%, in London alone. So here's a list of our top 10 reasons to hop on a bike this summer, and beyond...
1. Get physically fit
Let's start by stating the obvious! Yes, cycling gets you fit. But it's actually a lot better for you than other fitness routines. Biking gives you that all-important cardiovascular workout, while being easier on your knees and joints than say, running. So if you're recovering from a knee or lower body injury, and looking for an exercise option that won't add extra strain, cycling is a good bet.
Steady cycling improves and stimulates your circulation, heart, and lungs, which lowers your risk of getting cardiovascular diseases such as heart attack, stroke, and high blood pressure. And it's also a complete body exercise. Relying on balance and coordination, you'll tone everything from your abs to arms and shoulders – and of course, your leg muscles, hips, and hamstrings will be put through their paces!
It's been reported that 20 miles a week on a bike can reduce your risk of coronary heart disease by as much as 50%. And research also suggests that cycling for just 30 minutes a day can burn nearly 5kg of fat per year!
2. Boost your immune system
Riding a bike can boost your immune system – which means you'll be able to fight off colds and minor infections much more easily. In fact, a recent study followed 125 long-distance cyclists – some now in their 80s – and found they had the immune system of 20-year-olds! Impressive stuff. But how does it work? 
Basically, an organ called the thymus, which makes immune cells called T-cells, normally starts to shrink from around the age of 20. But the thymuses of older cyclists were found to be generating as many T-cells as those of much younger people. The results are clear. Just 30 minutes of cycling a day can have a fantastically positive effect on your immune system.
3. Clear your mind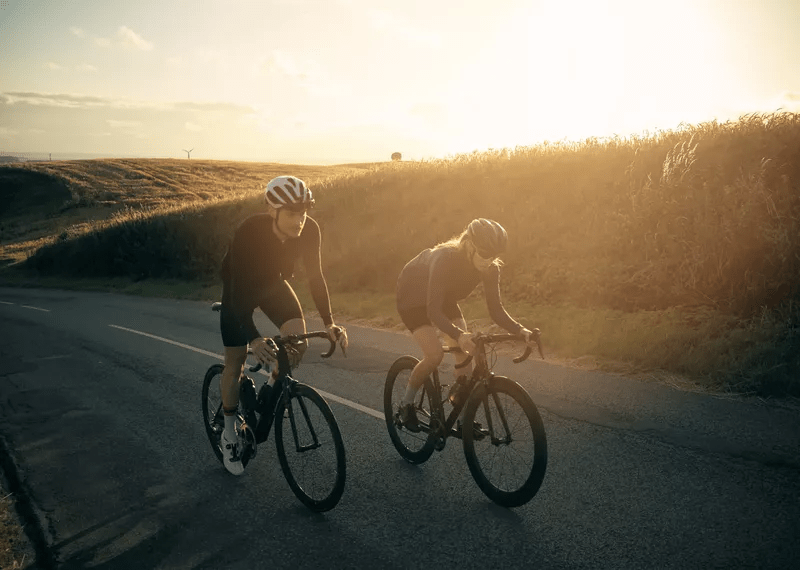 Cycling for your mental health? It's a thing! Riding a bike regularly helps with everything from anxiety and depression to reducing your stress levels. A recent study in the Lancet found that cycling was second only to team sports when it came to the positive influence on people suffering from depression. In fact, cyclists enjoyed 21.6% fewer bad mental health days.
Cycling not only boosts the release of endorphins – the "feel-good hormone." It also encourages the act of "mindfulness" – that feeling of being completely present and "in the zone". Being in this happy place helps you to banish any other niggles causing you worry or stress. And in the longer-term, it helps you to rise above those worries if and when they creep in again.
In a nutshell, riding a bike is fun, exhilarating, and makes you feel alive – and that can only be good for your state of mind and happiness levels.
4. Sharpen your memory
It's official. Cycling makes you smarter. And while we can't guarantee you'll get a job with NASA, research has shown that moderate, daily exercise such as cycling can stop cognitive decline, sharpen memory and learning, and improve your overall brain performance. So bike it to work and you may just get even better at your job!
5. Save time
There's no better feeling than winding your way through a traffic jam on your way from A to B. In fact, it's pretty clear that particularly for shorter distances through crowded town centres, cycling is infinitely faster than driving. Not to mention the time it takes to find a parking spot – which, by bike, is usually as quick as your nearest lamp post. And if you get yourself an e-bike, you'll cut your travel time even more. Check out our post on the wonders of e-bikes to find out more. 
6. Save money
Aside from the cost of buying your wheels, cycling is a pretty cheap form of exercise. In fact, compared to the cost of a gym membership (or an online workout subscription), you won't really find a form of exercise that costs less! 
Even better, cycling is actually a great way to save money. Think of all you'll be saving on bus or train fares, or on fuel costs, car tax, and mechanic fees. Of course, you might need to fork out (pun intended) a few pounds on some simple maintenance and upkeep. But it doesn't take long to learn the basics yourself, by watching a few YouTube videos. You'll be fixing punctures and degreasing chains like a pro in no time. 
Read more about how to get into cycling, and some useful tips on how to cycle safely in the city.
7. Get to work faster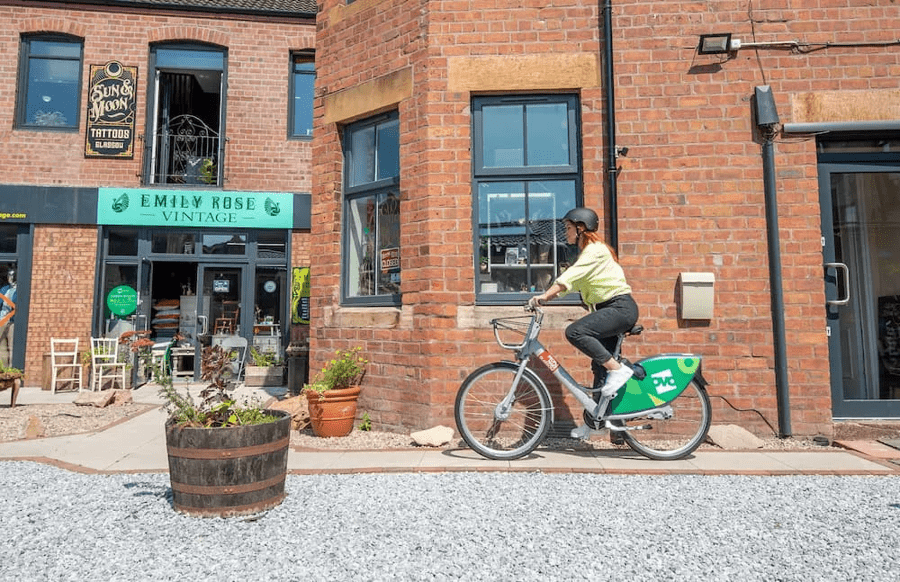 When it comes to getting to work, many people report that cycling takes as little as half the time as it would to drive in peak hours. Make use of panniers and cycling bags to carry things like laptops and notebooks. They're also handy for carrying a quick change of clothes for when you arrive. 
Don't forget that many companies offer Cycle to Work schemes – which help with the cost of getting a brand new bike for commuting. And many workplaces also have secure bike parking, showers, and other handy facilities for cyclists. That all helps to make the daily commute a breeze for anyone wanting to cycle to work. Make the leap and you'll never want to go back to crawling along by bus!
8. Connect with nature
As cities grow and technology becomes increasingly important in our lives, more and more of us say we're feeling a loss of connection with nature. Cycling's a great way to fill that gap. Imagine riding through the woods on your way home, instead of the daily trudge along a congested high street. And with forest bathing being such a popular pastime, you could even apply the same principles while on your bike. 
Cycling helps us explore brand new paths to our destination. No matter how well you think you know your neighbourhood, there's always a corner or a park that you're not so familiar with. So use your bike to get to know the places you live, and soak up every new detail you notice, for a zen-like dose of calm.
9. Explore and have fun!
When you're in a car or on a bus, you might often see a cool shop or an interesting street you'd like to explore – but it's not always easy to pull over and check it out. But on a bike, you can easily wander the streets and neighborhoods that you might otherwise miss. You're no longer a passive passenger – you're in control, part of your environment, and getting a view of your home from a totally different angle. You might be surprised by what you discover! 
To dial up the fun even more, you can also involve the kids. Check out our beginner's guide about how to start cycling with children: from the best bike seats for children, to teaching your child to ride, and getting out on the road. 
10. Help save the planet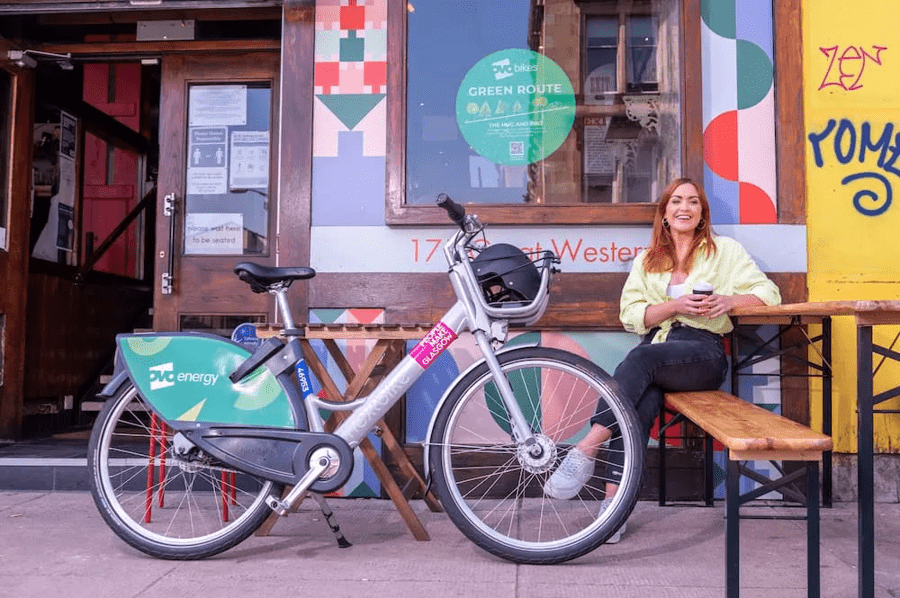 And last, but definitely not least, introducing the environmental benefits. Bikes improve society and create a better world. Imagine your neighbourhood with less noise, less pollution, lower taxes, safer streets, more social interaction, and better health. Bikes are an eco-friendly way to help achieve all that!
With air pollution being a serious problem – especially in big cities – any transport option that lowers the amount of choking fumes we pump into the atmosphere is a great idea. And considering that the average car journey in the UK is just 8.4 miles, we could drastically reduce the amount of cars on our roads by switching to zero-emission alternatives like bikes. Just imagine how much more clean and serene our world could be if we gave up petrol-powered vehicles altogether! 
Read more about the carbon footprint of travelling and the eco-alternatives, in our blog.
Here at OVO, we're on a mission to drive progress to net zero carbon living. With climate change being the single biggest issue of our time, it's more important than ever that we all work together to cut carbon and change the world. To get there, we'll need to rethink how we travel. And cycling is part of the solution. 
It's time to saddle up and join the party! Get on your bike and do something good for yourself, your neighbourhood, and our planet.
Power your home the green way
Want to power your home with 100% renewable electricity, support tree-planting around the UK, and find out more about how to fight the climate crisis?
Choose OVO as your energy supplier and you'll get:
A tree planted in your name every single year you're with us
Access to

OVO Greenlight

for free energy-saving tips
An award-winning smart meter experience (Uswitch 2020)
A £50 gift card every time you

introduce a friend
OVO Energy
Check our range of plans and see how much you could save
All our energy plans come with 100% renewable electricity and you'll get a tree planted in your name every single year you're with us. 
Ready to switch suppliers? Get a quote in less time than it takes to boil the kettle.
Get a quote
View more from these categories