blog
How the Great British weather is powering our renewable energy system
01 June 2021 | Celia Topping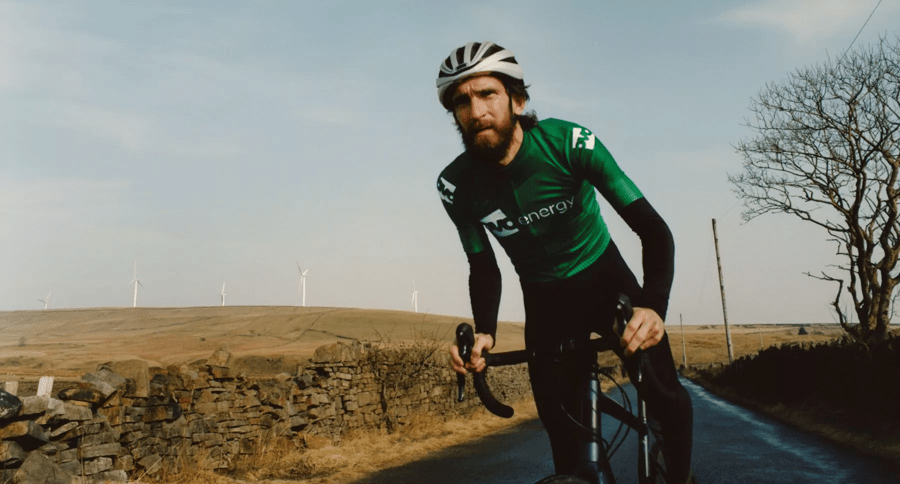 To celebrate OVO's sponsorship of Channel 4 Weather, we're honouring the Great British weather's role in powering Great British homes with regular blogs on the UK's favourite subject!
The transition to a renewable energy system is essential, if we're to reach net zero carbon emissions by 2050. To slow climate change, and limit global warming to 1.5°C, burning fossil fuels must stop, in favour of clean, green, renewable energy sources like wind, solar and hydro power. 
The National Grid recently reported that 2020 was a record-breaking year for renewable energy. In fact it was the greenest on record!
Christmas 2020 was the first ever coal-free Christmas Day.
The grid went coal-free for over 67 days in a row between April and June 2020.
47% of the UK's electricity generation came from renewables in the first quarter of 2020.
80% of the UK's electricity was supplied by

green energy

on Easter Bank Holiday Monday. That's the greenest the grid has ever been.
So how exactly is the Great British Weather creating a zero carbon future?
Blustery Britain: how the UK is primed to take advantage of renewable wind energy
Our small island is particularly prone to high winds. So it's perfectly positioned to harness the wind's power in both our onshore and offshore wind farms. In fact, we're the sixth largest global producer of wind energy, after China, the US, Germany, India and Spain. And we have even bigger aspirations. 
The UK government plans to make the UK a world leader in clean wind energy. In October last year, the Prime Minister promised to invest £160 million in wind power, with a pledge to reach 40GW of offshore wind by 20301. This could create enough electricity for every home in the UK.
Boxing Day 2020 set a new green energy record, with wind turbines generating more than half the UK's electricity for a whole day, for the first time. And we're currently generating twice as much energy from wind as from coal. 
OVO's partnership with Ørsted
As part of OVO's mission to supply the UK with green energy, we teamed up with Ørsted, world leaders in renewable wind energy. Our Power Purchase Agreement (PPA) with Ørsted means that since February 2021, we've been buying 100% of the power that Barrow Offshore Wind Farm generates. 
Ben Blake, OVO's GM and Chief Commercial Officer said:
"We're proud to work with Ørsted on a major Power Purchase Agreement. In the future, we're committed to exploring how we can source more energy from renewable generation here in the UK, supporting the industry and helping to drive down costs."
Thanks to this, and the other thousands of turbines spinning around the British Isles, the UK's offshore wind farms could give us as much as a third of our electricity by 2030.
Solar power: the cheapest electricity available
Spring 2020 was the sunniest on record – meaning the UK generated the highest amount of solar power ever seen in the country. And while in general we may not be known as the sunniest place in the world, our solar prospects are bright! The UK's maximum solar capacity actually placed us 3rd in Europe in 2018, after Germany and Italy. 
Small-scale PV systems make up over 90% of the UK's solar market. These microgenerators can choose to feed back some of the energy they make to the nation's electricity supply through a government incentive – the Smart Export Guarantee (SEG). SEG offers financial reward for home-generated renewable energy that's exported onto the National Grid. So not only can domestic solar panels power a member's own home, it can also power their neighbours'. 
Major improvements in solar technology means it's getting increasingly cheaper. In fact, the International Energy Agency (IEA) recently claimed that the best solar power technology can offer the "cheapest…electricity in history." As prices plummet, PV installations are expected to rise to 15,674Mw by 20232. 
The Great Australian weather
We may be celebrating the Great British Weather, but the net zero goal is a global ambition. That's why we're supporting the energy transition overseas as well. Along with our intelligent energy tech partner Kaluza, we've recently joined forces with Australia's largest energy company, AGL. It's a fantastic opportunity to encourage decarbonisation across the globe, and bring millions of people closer to a more sustainable future. 
Shifting energy away from fossil fuels towards renewables is a big challenge in Australia – where unlike the UK, coal is still a big part of the mix. Technologies like Kaluza's can help the Australian electricity grid beccome more high-tech, flexible and ultimately more renewable. All of which means that suppliers like AGL can maximise the potential of nature's power.
Australia has one of the highest levels of rooftop solar panel generation in the world. It's an exciting moment for us – as we can maximise Kaluza's tech for a renewable, smarter grid. 
Hydro power: the power of precipitation
Rain. It's something we know quite a lot about in the UK! And here at OVO, hydro power is an important part of the fuel mix that supplies our 100% renewable electricity3 In 2019, the UK generated 7.77 TWh of hydropower – that's 7,700,000 Mwh. The average yearly electricity use per home in the UK is 3.7kWh – which means hydro can currently power around 2 million homes a year.  
How long-term weather forecasting can help the transition to renewable energy
The problem with weather is its unpredictability. That means our power supply is constantly vulnerable to changing weather conditions. More accurate weather forecasting, given longer in advance, would make a big difference to the energy industry, and could lead to better, more successful energy trading. That's why considerable time and resources are being invested by climate scientists, to help get better long-term forecasts.  
"Sub-seasonal and seasonal forecasting – meaning forecasts for the next few weeks and months – is still at an early stage, and it is very challenging to provide accurate predictions," says Jana Sillmann, research director at CICERO Center for International Climate Research. "But substantial progress has been made in the last decade, and these forecasts are now able to predict the evolution of some large-scale extreme weather events several weeks in advance."4.
Renewable power production and power demand are both weather-dependent. So having information ahead of time about how hot, cold, wet or windy it's going to be is vital in assessing how high or low demand and supply will be. Seasonal forecasting can help energy companies plan production with greater accuracy, improving the performance of the renewable energy industry as a whole. 
How the grid needs to change to allow for renewable energy's intermittency
We can't control nature – so instead we must change supply and demand on the grid, to allow for the intermittency of renewables. If estimates are correct, by electrifying everything to rid the grid of fossil fuels, we'll double the UK's electricity demand by 20505. So we need flexibility, and we need it fast. 
We can learn valuable lessons from the almost total blackout that hit Texas earlier this year. By rethinking how we generate and manage energy, we can avoid such near-misses. Fortunately, unlike Texas, the UK already has mechanisms in place that can help in times of a shortfall or excess of energy – such as innovative energy storage solutions and Demand Side Response products. By decentralizing the grid with millions of digitised low-carbon devices, we can be sure our newly decarbonised system won't fail. 
We've already seen examples of wasted wind energy, when turbines have had to be switched off to protect the network from a surplus of energy. This kind of waste can cost 100s of millions of pounds. 
But a grid-wide solution is no mean feat. The increase in demand, coupled with the intermittency of renewables means we need greater grid flexibility. And that kind of flexibility can only be delivered by smart software and innovative tech. Step forward Kaluza. 
How OVO and Kaluza are creating solutions to store our abundance of renewable energy
We have the right kind of weather in bucket loads – but such limitless power is counterproductive, unless it can be harnessed and controlled for our use. The system has to be able to use power effectively, and limit waste. 
Kaluza's smart flexibility platform coordinates and controls millions of connected devices in millions of homes and businesses across the UK. This will create a more efficient, distributed network that's powered by 100% renewable electricity6.
Here's a brief look at the various trials and innovations being run in collaboration with Kaluza:
Electric cars
About 20% of the UK's emissions comes from road travel – so EVs play a vital role in the nation's journey to net zero. We're supporting the transition to these clean, green zero-emission machines in a variety of ways. Home smart chargers, optimised by Kaluza, work out the cheapest and greenest time to charge your EV overnight, so it's ready for you in the morning. And our unique type-of-use tariff, Drive Anytime, allows you to charge your EV at any time during the day for just 6p per kWh – meaning you could be driving for just 1.5p per mile7. And then, there's our game-changing V2G tech…
V2G trial
This ground-breaking technology means the energy stored in an EV's battery can be exported back to the grid in times of peak demand, to smooth out troughs and avoid supply crunches . This brings flexibility to the grid, and financial opportunities to OVO members.
Kaluza's data indicates that each V2G device could export 6.7 kWh of electricity back to the grid at times of peak demand.
For example, in April 2021, our trialists exported 72,933kWh of energy. The average household use is around 3,731kWh/year – which means V2G in April produced enough energy to power 19 homes for a year. The highest individual export from one of the trialists was over 500kWh, which resulted in a personal export credit of almost £185. Not bad, for just letting your car sit in your driveway! 
By 2030, if 50% of all EVs were V2G enabled, we could use their export capacity to power 3.6 million homes with cheaper and greener electricity, whilst also delivering up to 77% of all system balancing needs. Not to mention all the money our members will be saving, and making. 
Zero carbon heating trial
Home heating accounts for 15% of the UK's carbon footprint. Electrifying this sector would massively reduce the nation's carbon emissions. So, in our groundbreaking trial,  we're replacing fossil fuel systems in 70 homes in the South East of England with Mitsubishi Ecodan heat pumps and Sunamp thermal batteries. 
These low carbon heating technologies are a far greener alternative to fossil fuel heating. The pumps run on renewable electricity, and help trialists cut their home heating costs, as well as their carbon footprint. The trial showcases our smart technology by analysing data, and giving insights into how energy can be saved by using it when it's greenest and cheapest. 
Orkney Project Smile
The wind is at its blustery best on the small island of Orkney in Scotland. But this means that the wind turbines often have to be turned off when the network reaches its limit. This results in millions of pounds-worth of potential energy being wasted every year.
But thanks to Kaluza's intelligent platform, at times of excess energy, thousands of storage devices across the island can be automatically switched on, to soak up the surplus. Domestic devices such as EVs, storage heaters, hot water tanks, heat pumps and storage batteries help balance the grid. Towards the end of 2020 and the beginning of 2021, Kaluza-optimised storage heaters reduced this "wasted" wind energy by 10%, by reducing the number of times the wind turbines had to be switched off because of excess energy. Some heaters were able to capture 5-18kWh of electricity every month.
Project Smile is just the beginning. By trialling the technology here, we can better understand how such innovations could be scaled up to national level. 
Sonnen battery trial 
Home battery storage is all part of the interconnected network of devices that can create a greener, smarter energy system of the future. Storing solar power is vital in supplying flexibility to the network, as it can be turned on at the flick of a switch. 
Sonnen batteries store energy harnessed from solar panels. And with the help of Kaluza technology, they can automatically switch on to support the network in times of peak demand – by exporting to the grid. With this tech, rolled out in the UK and Spain, we're planning to make home energy storage mainstream, save our members money, and green up the grid.
Marzia Zafar, Head of Policy & Strategy at Kaluza, said:
"The integration of Kaluza's intelligent platform with Sonnen's cutting-edge batteries means we can help people to power their homes with cheaper, greener energy, while simultaneously creating the much-needed network flexibility that will enable a net zero economy."
Summary: how to make a flexible future a reality
We have the flexibility and technical capabilities to deliver a cheaper and more effective energy system. Data and digitalisation hold the key to making the grid fully optimised, for a renewable energy future. With the right customer incentives and the right market drivers in place, the UK could make the most of renewables, and save system costs – if we:
Install s

mart meters

in every home,  offering half-hourly readings. Incentivising our members to get involved with controlling their energy, and use assets like storage heaters, EVs and batteries in their homes.
Encourage incentives at domestic level, such as SEG, V2G and

low-carbon electric heating

.
Create efficient grid-wide flexibility, with domestic devices such as EVs, home storage batteries and zero carbon heating in mind. 
In this way, the Great British weather can keep those turbines turning, so we can continue to benefit from the green energy we have in abundance on and around our small island. 
The Great British Weather: powering our energy system
Switch to OVO, for electricity made by the weather! You may sometimes feel the Great British Weather isn't that great – but at least it's great for renewable electricity! With OVO you'll get 100% renewable electricity, made from sources like wind, sun and water. 
And that's not all. We're also planting millions of trees around the UK. Together with our partners the Woodland Trust, we'll plant a tree for you, for every year you're with us. Plus, meet our new energy-saving tool, OVO Greenlight – which is free for all our members. It brings you all sorts of useful info about your energy use, plus handy tips to help green up your home and lower your bills.
Find out how much you could save today with our green energy plans. 
Already with OVO? You can still be part of the change by referring a friend – and we'll give you a £50 gift card to say thanks!
Sources and references:
1.  https://www.current-news.co.uk/news/johnson-to-pledge-160m-to-help-uk-wind-generation-increase-to-40gw-by-2030
2.   https://www.greenmatch.co.uk/blog/2019/09/uk-solar-capacity
3. 100% of the renewable electricity we sell is backed by renewable certificates (Renewable Energy Guarantee of Origin certificates (REGOs)). See here for details on Renewable Energy Guarantee of Origin certificates and how these work. A proportion of the electricity we sell is also purchased directly from renewable generators in the UK.
4. h ttps://techxplore.com/news/2020-02-long-termforecasts-transition-renewable-energy.html
5.  McKinsey,The Global Energy Perspective 2021 report. https://www.mckinsey.com/~/media/McKinsey/Industries/Oil%20and%20Gas/Our%20Insights/Global%20Energy%20Perspective%202021/Global-Energy-Perspective-2021-final.pdf
6. 100% of the renewable electricity we sell is backed by renewable certificates (Renewable Energy Guarantee of Origin certificates (REGOs)). See here for details on Renewable Energy Guarantee of Origin certificates and how these work. A proportion of the electricity we sell is also purchased directly from renewable generators in the UK.
7.  The OVO Drive Anytime rate is 6p per kWh for EV charging. A Tesla Model 3 does 240Wh per mile, or 4.17 miles per kWh. A Model 3 driver could therefore charge on the OVO Drive Anytime tariff for 1.44p per mile.
8. 100% of the renewable electricity we sell is backed by renewable certificates (Renewable Energy Guarantee of Origin certificates (REGOs)). See here for details on Renewable Energy Guarantee of Origin certificates and how these work. A proportion of the electricity we sell is also purchased directly from renewable generators in the UK.
View more from these categories