blog
How to build an eco-house: 10 amazing eco-friendly home designs to inspire you
11 March 2021 | Aimee Tweedale
If you picture an eco-friendly house, what do you see? Perhaps an old-fashioned cabin in the woods, or a tiny, grass-covered house nestled into the landscape?
The truth is that sustainable homes of the future will come in many shapes, sizes, and materials. Some are the nature-loving cabins we've described above – but  some are actually innovative, stylish, technologically-advanced city homes. 
Are you thinking about building your own eco-house, or just interested to learn more about eco-friendly housing of the future? Keep reading, for ideas and inspiration to get you started. 
What is an 'eco' house?
An eco-house is just what it sounds like: it's an environmentally-friendly house that's designed to have very little impact on our planet. 
Why's that important? Because burning fossil fuels to power and heat our homes is one of the leading causes of climate change. Eco-friendly homes are all about using renewable energy sources, being energy-efficient, and using natural materials. Keep reading, to find out more about how to make a home that's truly sustainable.
Wondering what the difference is between "eco-friendly", "green", and "sustainable"? Read our guide to these common phrases.
Key elements of an eco house: what makes a home eco-friendly?
What does your ideal home look like: sleek city apartment, or vast farmhouse in the countryside? Eco-houses can vary widely in looks. But when it comes to making a house more environmentally-friendly, there are many different features to consider. 
Broadly speaking, there are 3 key elements to most eco-friendly houses.
Renewable energy
A renewable electricity supply is vital for an eco-friendly home. You might choose to sign up to a green energy supplier like OVO, so your home gets 100% renewable electricity as standard1, from sources like wind, sunshine, and tidal energy.
Some eco houses might even generate their own electricity. The most popular way of doing this is via solar panels on a south-facing roof2. Solar panels can be pricey, but the savings you could make in the long run are huge – both in terms of carbon and cash! If you have lots of unobstructed land, you could also install your own domestic wind turbine. 
Smart tech can also make home greener. Smart meters and smart thermostats give homeowners clever tools to track their energy use, and make savings. Some eco-house owners might also be on an Economy 7 or Economy 10 tariff, which allows them to use electricity when demand is lowest. Coupled with a home energy storage system, this is a great way to power a home on the greenest electricity possible. 
Read more about the different types of renewable energy.
Insulation
Another key consideration when building an eco-house is energy-efficiency. As well as using green electricity, it's important to make sure that none of that power is being wasted.
How? By getting rid of draughts and leaks! Eco-houses hold onto heat better – and insulation, airtightness, and double or triple glazed windows all play a big part in sustainable designs. 
The best examples of this approach are Passive Houses. Invented in southwest Germany, Passive House (or Passivhaus) design is all about creating an airtight, super-insulated house that naturally regulates its own temperature – so you don't even need a conventional boiler or heating system!
Read more about how to make your home more energy-efficient.
Sustainable materials
Of course, a truly eco-friendly house is one that's built from sustainably sourced and natural materials. 
Wood and lime are commonly used to build the timber frames of eco-houses. The best option is to use reclaimed or recycled materials, because creating something new from scratch takes much more energy3.
Straw bales are often used in eco-house building, as they're brilliant for insulation. Bamboo is also great. Unlike trees, which can take decades to mature, bamboo is plentiful, and it grows quickly4.
Feeling inspired? Find out about ways you can reduce your carbon footprint around the home.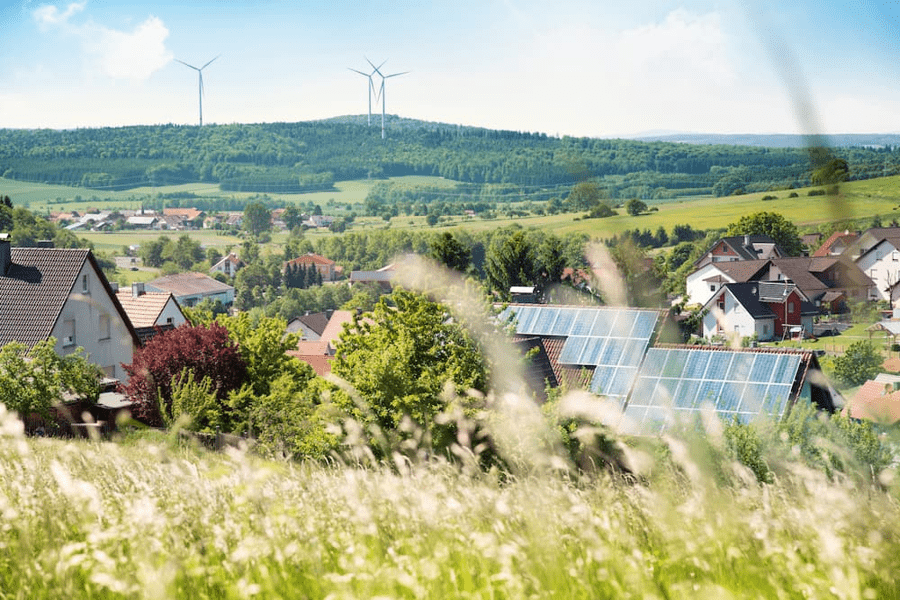 Benefits of eco houses: why do we need more eco-friendly homes?
Of course, the biggest benefit of an eco-friendly house is in lowering your environmental impact and carbon footprint. 
But there are lots of secondary advantages to eco-houses, too – such as:
To find out more about what climate change is, what causes it, and why we need to do something about it, read our beginner's guide.
How do you build an eco-friendly house?
So, now you know how to cut down the carbon footprint of a new home, perhaps you're ready to get building your own eco-house. But where should you start?
Before you pick up your blueprint paper and get started on your eco-house design, the first step is to give some careful thought to these 6 questions.
How much does it cost to build an eco-friendly house?
The cost of your eco-friendly home will depend on lots of different factors – including its size, locations, and whether you're starting from scratch or updating an old property.
One couple in Shropshire managed to create an airtight eco-house by converting an old newsagents' for just £35,000!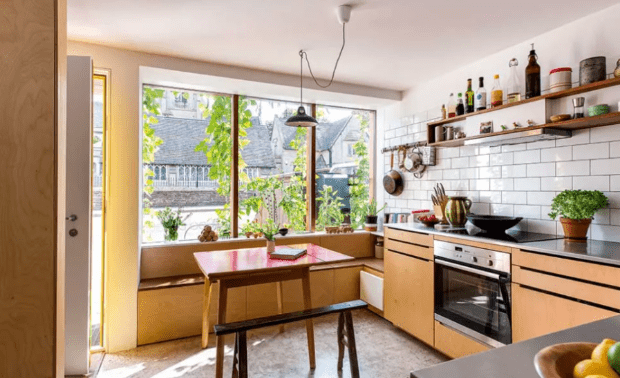 Photo credit: Jeremy Phillips / https://www.telegraph.co.uk/property/uk/built-home-tiny-disused-newsagent-just-68500/
Another couple built their dream zero carbon home on Shetland in 2006, with its very own wind turbines, at a total cost of £325,000. (It's estimated that it would cost around £200,000 to build the same house on the mainland.)
Whatever you pay to build your dream home, making it energy-efficient and eco-friendly will have the pleasant side effect of lowering your energy bills. So, you could be looking at big savings in the long-run!
How to make your home more eco-friendly on a budget
If you're not up for building an eco-home from scratch, simple home improvements can make your existing home more sustainable on a tight budget. Here are some eco-friendly home ideas to get you started:
Find out more about how to switch energy suppliers, and why OVO could be the right choice for you.
10 amazing eco-friendly houses 
The classic eco-conscious slogan "reduce, reuse, recycle" tells us that we should always try to make do with what we have, rather than consuming new things. So draught-proofing, insulating, and updating your current house is the best route when it comes to eco-friendly living.
Still – that needn't stop you fantasising about zero carbon homes. Here are 10 eco-friendly house designs we can't stop dreaming about!
1. A zero-bills house in Kent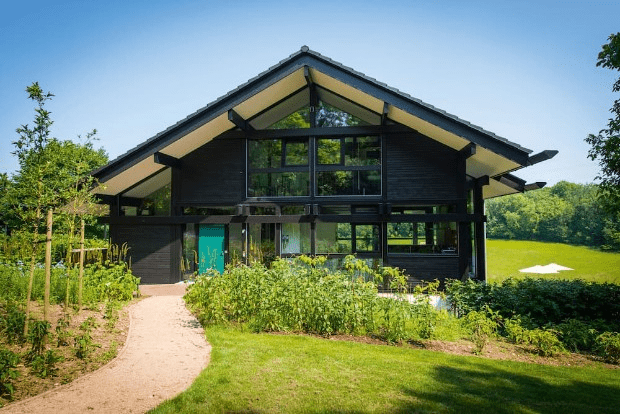 Photo credit: Alison Hammond / https://www.self-build.co.uk/home/efficient-self-build-german-design/
This German-inspired, £1.5million home was designed to create zero utility bills. That's right: no bills at all. How? Via top-notch insulation, solar panels, and a home energy storage system.
2. The Meera Sky Garden House, Singapore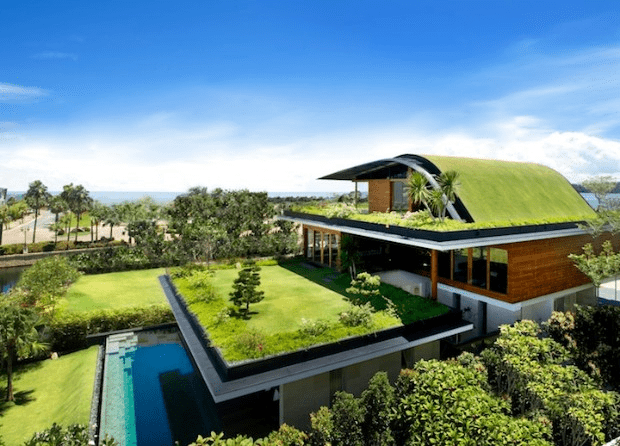 Photo credit: Patrick Bingham-Hall https://www.ignant.com/2012/11/09/meera-sky-garden-house/
This amazing eco-friendly home makes use of a green roof, with gardens on every level. Not only does it look beautiful, it's also designed to have plenty of natural ventilation, so there's no need for air-conditioning.
3. An angular Canadian abode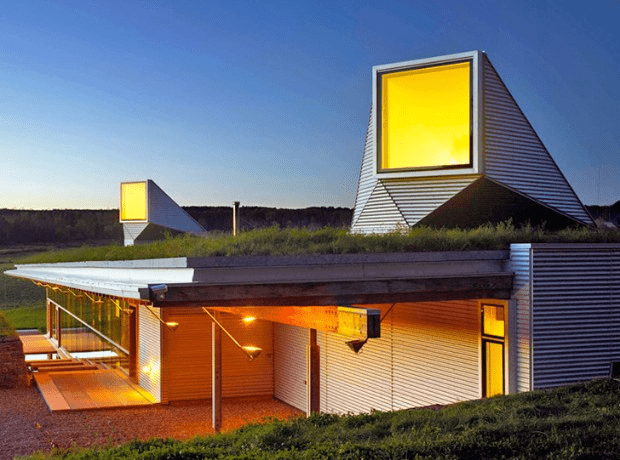 Photo credit: Tom Arban Photography / https://inhabitat.com/ian-macdonalds-meadow-house-melts-into-the-canadian-landscape/
The Meadow House in Ontario is the work of architect Ian Macdonald. With its low profile, it's protected from strong winds, and other extreme weather. 
4. The most futuristic street in Leeds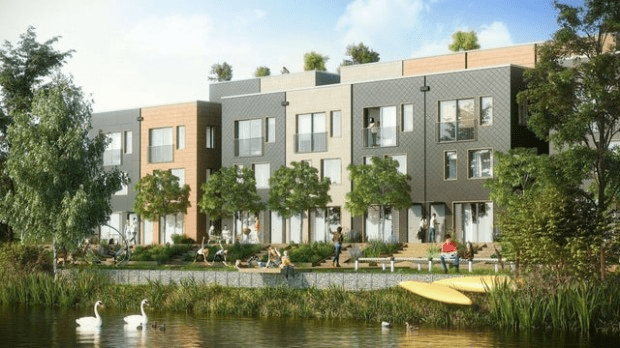 Photo credit: https://www.yorkshirepost.co.uk/lifestyle/homes-and-gardens/pioneering-eco-homes-launched-sale-citus-leeds-south-bank-site-1766832
Closer to home, there are 60 low-energy homes on this innovative street in the north of England, each one using up to 10 times less energy than a typical house.
5. The compact, convenient Ecocapsule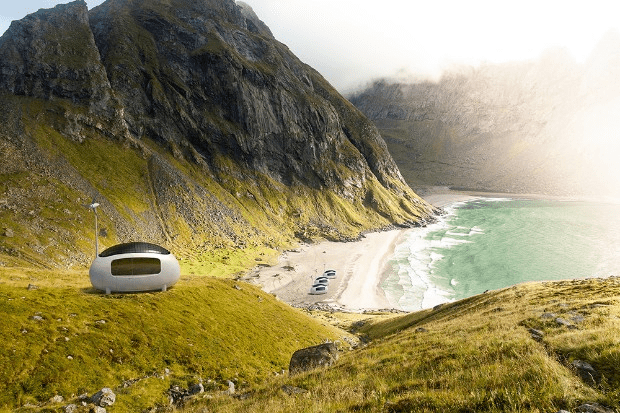 Photo credit: https://www.ecocapsule.sk/
The Ecocapsule is an off-grid micro-home in the shape of an egg. Not only does it generate its own power from the wind and sun, but it also collects rainwater on its surface.
6. Is it a bridge? Is it a house?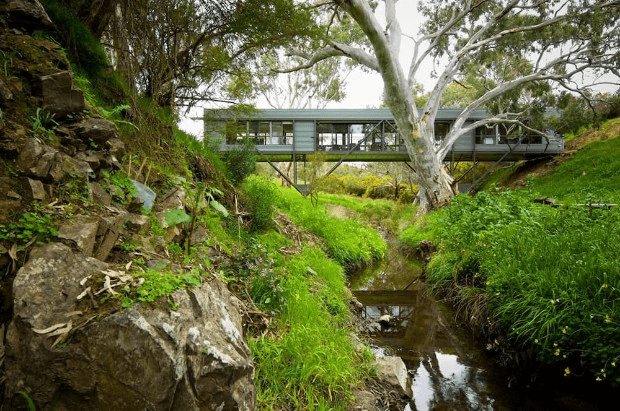 Photo credit: Max Pritchard Architect / https://www.archdaily.com/27470/bridge-house-max-pritchard-architect
It's both! This striking structure in Adelaide, Australia, makes the most of sunlight and ventilation, to avoid the need for heating and air-conditioning.
7. This community house in Vietnam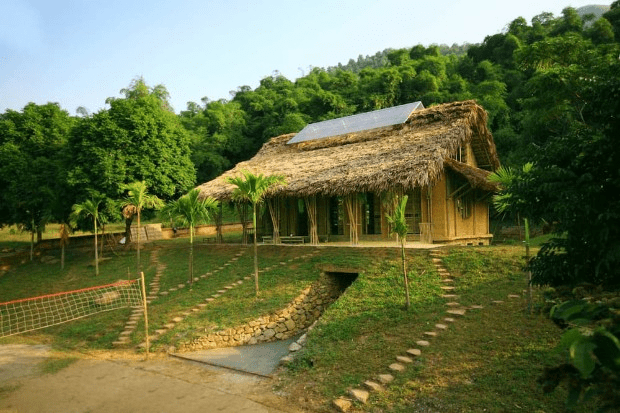 Photo credit: https://www.archdaily.com/102639/suoi-re-village-community-house-ki-percent-e1-percent-ba-percent-bfn-vi-percent-e1-percent-bb-percent-87t
Rainwater collection, solar power, and geothermal heating – is there anything this spacious, sustainable bamboo building can't do?
8. Going underground in Switzerland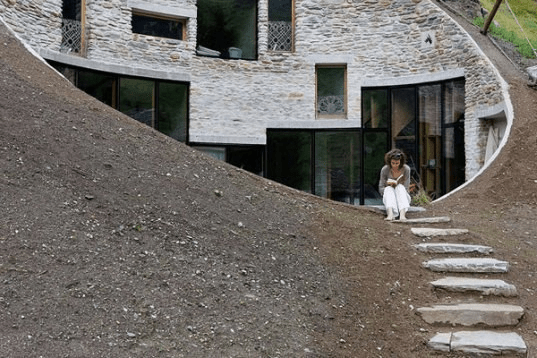 Photo credit: https://inhabitat.com/a-luxury-swiss-villa-nestled-beneath-the-earth/
The Vals house closely resembles a rabbit's burrow: it's nestled deep into the side of a Swiss hill. The surrounding earth keeps the house at a steady temperature, while large windows let in loads of light. 
9. An affordable apartment complex in West Hollywood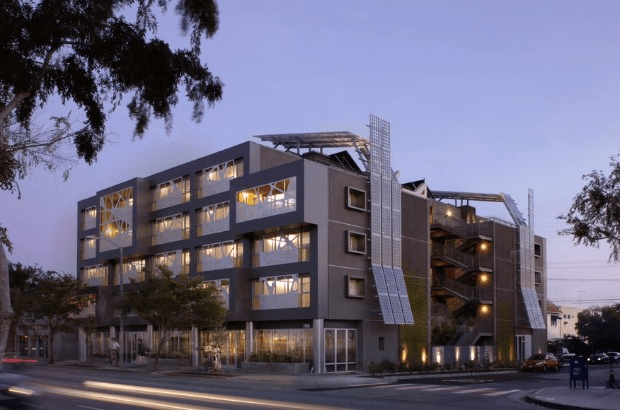 Photo credit: Patrick Tighe Architecture / https://www.architectmagazine.com/project-gallery/sierra-bonita-housing
Eco-houses don't have to be in the countryside. The Sierra Benita apartment block in LA was designed with both environment and income in mind, and features solar power, eco-heating and an internal bamboo forest!
10. A Passive House in the English countryside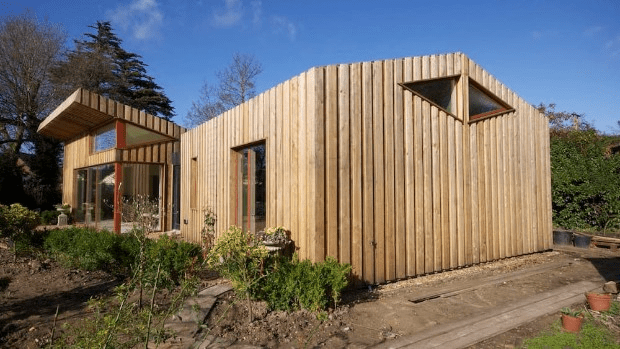 Photo: Kenny Forrester / https://www.archdaily.com/784191/pond-house-forresterarchitects
This home in Stalham Staithe, Norfolk, was designed and built with Passive House principles at its core. It's not only a spacious, beautiful house, but it's also fully sustainable. 
Power your eco-friendly home with OVO
If you want to make your home greener, energy is the best place to start. After all, home is where the heart is.
Switch to OVO today and you'll get:
Get a quote in under 2 minutes via the button below.
Sources and references
1 The renewable electricity we sell is backed by renewable certificates (Renewable Energy Guarantee of Origin certificates (REGOs)). See here for details on REGO certificates and how these work.  
2 https://energysavingtrust.org.uk/could-you-generate-your-own-energy/
3 http://www.thelivingvillagetrust.com/what-is-an-eco-house/
4 https://broadsword-group.co.uk/the-importance-of-eco-friendly-materials/
5 https://ecobnb.com/blog/2020/06/building-eco-friendly-house/
6 Based on analysis carried out by the Carbon Trust for OVO Group (2019), 26% of an average individual's carbon footprint in the UK comes from energy. In this analysis, the carbon footprint includes the following lifestyle categories: energy, transport, shopping, food and drink and holidays. See table for each category. This excludes emissions from things that the average person cannot directly control such as supporting the NHS, defence, government bodies, etc.
7 Based on a typical gas-fuelled property in England, Scotland or Wales, calculated by Energy Saving Trust https://energysavingtrust.org.uk/advice/draught-proofing/
8 An independent study has shown that installing and correctly using a tadoº smart thermostat can reduce your energy use from heating by up to 31%. The study found that the tadoº device can reduce heating energy requirements by 14-26% through controlling the heat source (e.g. boiler or heat pump). You could also save another 7% by turning down the heating based on the weather forecast, depending on the window sizes. If the window surfaces are relatively large, the energy saving will increase. 
9 Each year, OVO plants 1 tree for every member in partnership with the Woodland Trust. Trees absorb carbon dioxide from the atmosphere, so tree-planting helps to slow down climate change.
View more from these categories