blog
Going Green: OVO team member Laura goes vegetarian for a week
18 May 2021 | Aimee Tweedale
Going Green is a new blog series documenting OVO employees as they make an eco-friendly lifestyle change for one week. Whether it's turning down the heating, ditching the car, or changing our eating habits, here at OVO we're challenging ourselves to greener living. This week, Laura, one of our writers goes vegetarian for a week, along with her 2 sons, aged 7 and 5.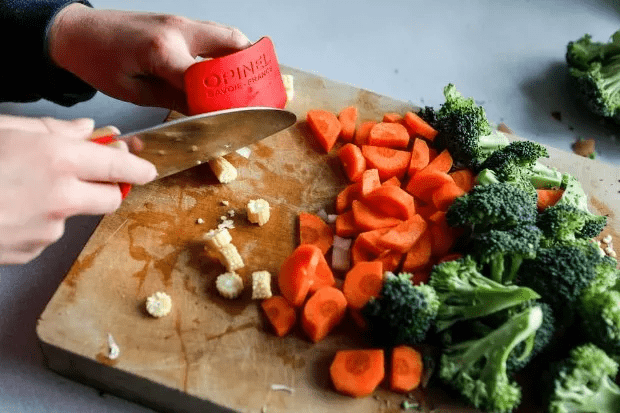 First up, why give up burgers and bacon? Because the farming, transportation, and storage of meat – especially beef – creates loads of carbon emissions, which drive the climate crisis. According to our friends at the Carbon Trust, giving up meat entirely for a week could save around 15.56kg of carbon1. That's about the same amount of carbon as you'd emit by driving for 55 miles in a diesel car.
Going 100% vegetarian might feel like a big ask to some. But even cutting back a little can make a big difference. One Oxford University scientist says that if every UK family swapped red meat for a plant-based meal just once a week, the impact would be the same as taking 16 million cars off the road2!
With all that in mind, OVO team member Laura made the pitch to her ham sandwich-loving kids that it was time to try veggie meals for a week. "They were a bit apprehensive," says Laura. "The older one tried to insist we go fish-free too, but the younger one was more than happy to give it a go."
Why did you choose to give up meat for a week?
"I thought this challenge was the most accessible for me as a mum, and the kids could get involved in it and be interested in it themselves. They like helping me cook dinner, so to be able to talk about the environmental benefits of eating vegetables rather than meat meant they could understand it on a practical day-to-day level.
"We've been doing meat-free Monday for a while – whether or not it lands on a Monday is less definite – but we're meat-free at least one day a week. But I was a little nervous to go the whole hog ('scuse the pun). I decided to take it one step at a time, and allow fish."
Talk us through your week. What did you cook each day?
Monday
"We had an old classic. Pesto pasta: a super-easy weeknight meal. I decided to make my own though, instead of using a ready-made jar. The boys enjoyed helping chop and put basil leaves in the blender. The older boy said it was too garlicky. He's probably right, but I love garlic. Anyway, I told him, it'll keep the vampires away."
Tuesday
"Salmon egg fried rice. Another quick and easy dinner, which is what we need after school. I boil my rice the day before, as it fries better and browns the edges. The boys always love this dinner, and shovel it in." 
Wednesday
"I decided to try out some of the veggie produce on the market. Quorn mozzarella and pesto escalopes and 'no-chick' strips from the Taste range at Morrisons. Together with chips and beans, it looks like the classic kids' dinner, only vegetarian. My  youngest took one bite, but it was a hard 'no' to the no-chick strips. And the escalopes didn't go down any better. It hasn't put me off trying other Quorn products though, as there seems to be a lot of variety."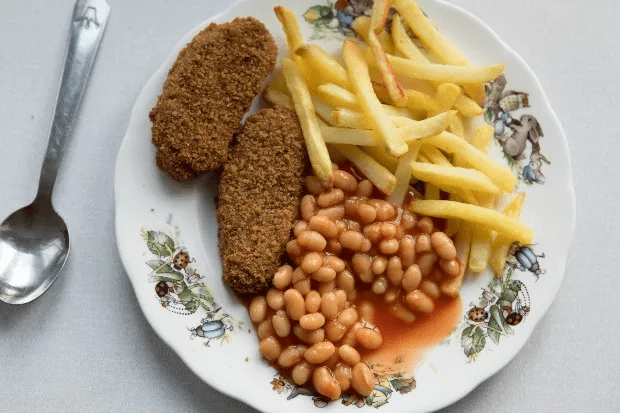 Thursday
"Dinner was a bean chilli made in the slow cooker. I love cooking this way, the prep is so quick and simple, and it always tastes great. Plus, slow cooking generates fewer carbon emissions than a normal cooker. Win-win. My older boy liked it, and ate it all… but the younger one didn't. He ate the rice, garlic bread and lots of cheese. Then some fruit for pud." 
Friday 
"Friday night is pizza and film night. This was probably my toughest moment, as I'm a die-hard pepperoni gal. We all had Margheritas, and I added a few red peppers and olives. I mitigated the pepperoni loss with a couple of well-earned beers (for me, not the kids!)." 
Saturday
"Lunch was an easy favourite of dippy egg and soldiers. For dinner, I made a tofu and veg stir-fry with peanut sauce and noodles. I've never made anything with tofu before, so I went the easy route and bought some ready-cooked. I wasn't sure how the boys would take to it. After the initial "What's this?!" enquiries, with a piece of tofu poked into my face on the end of a fork, they seemed to settle in and scoffed the lot. Result!" 
Sunday
"On our day out, we swapped the usual ham and cucumber sandwiches for egg mayo. A fine thing, an egg mayo butty! For dinner, we had butternut squash soup, served with warm bread rolls. This is a quick meal, so long as you roast the butternut ahead of time. I used this recipe, but with vegetable stock instead of chicken."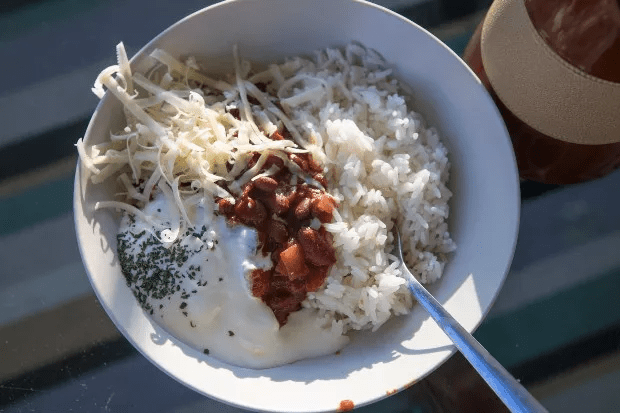 What was your favourite thing about doing this challenge? 
"All in all, it was much easier than I thought, and the boys seemed happy to eat most of what I put in front of them. I'll definitely be doing it again. 
"It takes a bit more thought and prep than just making the same old meals, but it felt good to not be cooking meat, and just eating vegetables. It felt much healthier, too!"
What was your favourite meal of the week?
"The peanut tofu stir-fry. That was something new, tasty, and very fresh. And the old classics – pesto is always a winner with kids. The boys said they liked the butternut squash soup best."
Was there a least favourite meal? 
"Probably the 'no-chick' chicken strips. Making my own food was actually preferable to the shop-bought stuff."
So, do you think you'll be eating more veggie food going forward?
"Definitely! But I don't think I'll be able to forgo meat completely just yet. The boys love their sausages, and I can't resist a pepperoni pizza. But I didn't feel like we were missing out by not having chicken or ham this week. I may be able to manage more than one day a week, but won't be doing it full time. I'll probably try to keep it veggie 3 or 4 days  a week." 
Get even greener energy when you switch to OVO Beyond
Want to do your bit for the environment, and make your green energy even greener?
OVO Beyond is our green upgrade, which can be added onto any of our energy plans. Members get 100% carbon-neutral energy as standard3, and we also plant 5 trees a year for every OVO Beyond member4.
As an OVO member, you'll also reap the benefits of:
OVO Greenlight

: our clever energy-saving tool
3-5% Interest Rewards when your account has a positive balance5
A £50 gift card every time you

introduce a friend to us

Customer service rated "Excellent" on Trustpilot
OVO Beyond is free for the first 3 months with any of our plans, and then just £6 extra a month.
Ready to save money and kick carbon at the same time? Get a quote in less than 2 minutes.
Sources and references:
1 Depending on the type of meat, reducing consumption by 25% could reduce emissions by 1.42 kgCO2e/week to 3.89 kgCO2e/week with reducing beef consumption having the biggest impact (Source: the Carbon Trust) 100% reduced consumption (3.89 x 4) = 15.56 kgCO2e/week. Research conducted for OVO in January 2021: https://www.ovoenergy.com/blog/lifestyle/green-resolutions-2021 
2 https://www.bbc.co.uk/food/articles/vegan_vs_flexitarian
3 The renewable electricity we sell is backed by renewable certificates (Renewable Energy Guarantee of Origin certificates (REGOs)). See here for details on REGO certificates and how these work. A proportion of the electricity we sell is also purchased directly from renewable generators in the UK. By providing 100% carbon-neutral gas (15% green gas and 85% offset) on top of the 100% renewable electricity you get as standard, and offsetting all associated lifecycle carbon emissions involved in the production and consumption of your electricity & gas, OVO Beyond reduces your yearly carbon emissions from the energy used in your home that's supplied by OVO to net zero. The renewable electricity we sell is backed by renewable certificates (Renewable Energy Guarantee of Origin certificates (REGOs)). See here for details on Renewable Energy Guarantee of Origin certificates and how these work. The green gas we sell is backed via renewable certificates (Renewable Gas Guarantees of Origin (RGGOs)). See here for details on Renewable Gas Guarantees of Origin and how these work. We offset the remaining emissions by supporting UN REDD+ carbon reduction projects that are certified to the Verified Carbon Standard or the Gold Standard.
4 OVO plants 5 trees for every OVO Beyond member through our award-winning I Dig Trees programme with The Conservation Volunteers. Trees absorb carbon dioxide from the atmosphere, so tree-planting helps to slow down climate change. Since 2015 we have planted over 1 million trees.
5 Interest Rewards are paid on positive balances of customers paying by monthly Direct Debit. It is calculated at 3% in your first year, 4% in your second year and 5% in your third year (and every year thereafter) if you pay by Direct Debit.
View more from these categories