blog
OVO moving house checklist: make moving easier whilst reducing your carbon
03 September 2020 | Matt Mostyn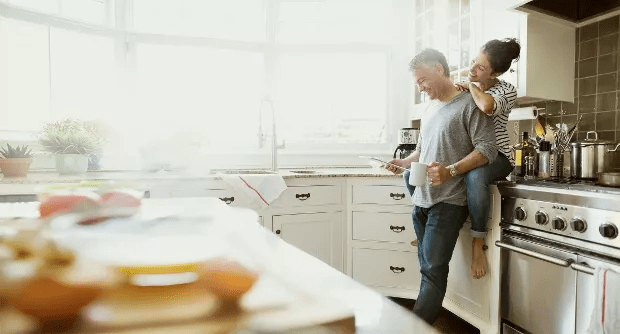 Packing, removal vans, council tax, utilities – when it comes to what to do when you're moving house in the UK, the task list is enough to make your head spin. That's why we've put together this nifty in-depth guide to help you tackle everything calmly and methodically – while also helping you keep one eye on the environmental impact of your move on the planet.
We've also put together a downloadable moving house checklist, so you can see at a glance all the things you need to focus on at key points during the moving process. Just tick off each task as you complete it and you'll be happily settled in your new home before you can say 'sleepless night'!
Download our moving home checklist
We've made it super-easy to see all the things you need to consider before and during your home move. Download our at-a-glance moving home checklist, which summarises each step of your journey, along with some clever eco-hacks to help make your move run smoothly and sustainably. 
Just tick them off as you complete each step and you'll be done and dusted with a minimal amount of impact on both your patience and the planet!
Checklist before moving into your new house
From removals to insurance, here are the key steps to think about in the run-up to moving day. Follow our detailed moving house checklist and make it easier than ever to relocate to your brand new home. 
1. Hire a removal van
Unless you're travelling light, there's no getting around the fact that you'll likely need to find a removals company to help transport your treasured possessions. Yet not all removalists are the same. To give your favourite china the best chance of arriving in one piece, choose your removals company wisely, and perhaps check out local removal company ratings and reviews on Trustpilot.
Eco-friendly moving 
When it comes to the environmental aspects of transporting your belongings, remember that traditional moving companies tend to use large amounts of fossil fuels, as well as packing materials like plastic, which is difficult to recycle. With that in mind, we recommend finding a removal company that uses low-emission EEVs (Enhanced Environmentally-friendly Vehicles). 
You could also look at companies that offer hybrid vans, or vans that run on biodiesel. Failing that, be sure to ask about their environmental credentials, check out what they're doing to minimise their carbon footprint, and find out what else they can do to help reduce emissions on the big day. 
DIY removals
If you're moving smaller amounts – and particularly if you're only going a short distance – renting a self-drive van or truck (especially an electric one) rather than relying on your car will help to reduce the number of journeys between your old and new home. 
Here's another interesting travel fact. The most direct route might not always be the most energy efficient! Cut those carbon emissions by planning a route that uses wide, well-maintained roads, and try to avoid steep hills! 
These are all smart choices that will not only help save you time, money and fuel, but they're also much better for the environment.
2. Cut down on clutter
Moving home is a great opportunity to declutter your life – so consider taking all the things you no longer want or need to charity shops. You could also make good use of websites like eBay and Gumtree to sell those higher value items. 
Not only will this lighten the load when it comes to your move, but it'll also help cut down on the amount of stuff going into landfill. 
Plus don't forget the feel-good factor when it comes to recycling those unwanted items. One person's trash is another's treasure, as the saying goes! 
It's also a great idea to try and reduce the clutter in your kitchen cupboards  by using as much as you can of the food in your house before move day. That way there's less to pack up and transport. A meal plan might help – or think about donating any surplus to a local food charity.
3. Go eco-friendly with your packing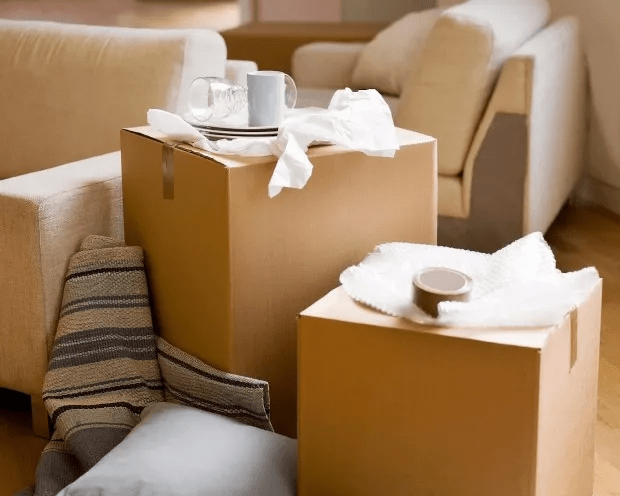 Those cardboard boxes from the supermarket are fine if you plan on reusing or recycling them – but you could easily go one step further and rent reusable crates. Not only are they stronger and easier to carry, they're much more eco-friendly, too. 
You could also check out websites like Freecycle, which is a brilliant community resource to help you find (and give away) packing stuff for free in your town and neighbourhood.
Check out the biodegradable alternatives to bubble wrap and packing peanuts, which can take over 1,000 years to decompose. Use towels and blankets instead – and if you're going to be taking old clothes to the charity shop, why not use them to protect your valuables before you drop them off? 
Boxes and crates aren't the only way you can carry your belongings. Fill up those empty drawers and suitcases to cut down on unnecessary waste and clutter.
We know you can't take everything with you – but dumping and fly-tipping is both illegal and terrible for the environment. Be sure to dispose of any waste responsibly and look into local recycling pick-up services.
4. Go green with your clean
When it comes to cleaning,  eco-friendly cleaning products are available in most supermarkets. Not only are they better for the environment – being biodegradable – but they're also much better for your health. Even natural options like vinegar, bicarbonate of soda and lemon juice are just as effective, often for a fraction of the price.
5. Redirect your mail 
It's easy to forget this one – but remember to redirect your mail to avoid missing important bills, or birthday parcels! Sign up for the Royal Mail's handy redirection service and get everything forwarded for either 3, 6 or 12 months.
6. Change address on electoral register 
Give all your moving info to your old and new councils, so they can sort your council tax payments and register you on the correct electoral roll.
Updating the Electoral Register with your new address is reasonably straightforward. You can contact your local council by phone or online by heading to the Government website and following the on-screen instructions.
Alternatively, to amend the information held on your current Electoral Roll listing, contact your local council's Electoral Roll office directly by email or telephone. You should find contact details on your local council's website.
To pay Council Tax, first contact your local council. They'll register you and send you a Council Tax bill. They'll also tell you how and when to pay.
7. Change address on your driving license
When you move, you need to inform the DVLA of your new address and update your driving licence. While it's still ok to drive on your old licence, the DVLA needs you to tell them about any change of addresses – so it's a good idea to get on to this before moving day.
8. Check your home insurance 
For extra peace of mind, you might want to look into getting insurance to cover anything that might happen in transit to the things you hold dear.
Step one is to check any existing policy. Some home insurance policies cover 'goods in transit' – which will either be included as standard, or an optional extra. Make sure any insurance covers your possessions for damage and loss while they're being moved. 
If you're hiring an independent van driver to help you, check first what insurance they have. And remember, high value items might require a standalone policy, depending on your cover limits.
9. Let your utility companies know you're moving
Remember to tell all your household utility providers that you're moving. While it's not exactly the most fun task in the world, it's undoubtedly one of the most important. After all, you definitely don't want to spend your first night (or first week) in your new home sitting in the dark, huddled in a blanket and staring at your (admittedly lovely) new four walls because you've no lights, internet or heating! 
Give yourself plenty of time to work out how to either bring your gas, electricity, water and internet with you, or set up accounts at your new place. Let each supplier know you're moving at least 2 weeks in advance. For internet services, you may sometimes need even longer than that.
Your supplier will then take a final reading (or ask you to send one), if necessary, and you'll be issued a final bill. If you're not sure who supplies your utilities, check an old bill (or contact your landlord if you're renting). You can also find out who's supplying your electricity by calling your local Meter Point Administration Service. You can find out who supplies your gas by contacting the Meter Number Helpline on 0870 608 1524. Finally, do a search online to find out who supplies your water.
If you're already with OVO, find out everything you need to know about bringing your supplier with you when you move home (and much more) with our helpful moving home guide.
And if you're a student moving into a shared house, check out our guide to gas to electric bills just for you.
Moving house utilities checklist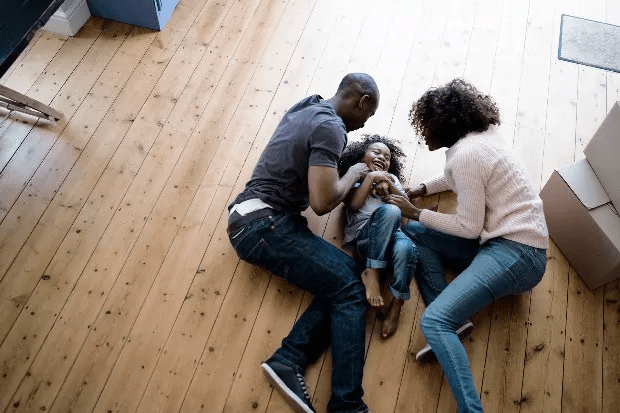 Gas and Electricity
Take a meter reading on your last day in your old place, and pass it on to your supplier. They'll send a final statement to settle your account once you've moved. 
You'll then need to take gas and electricity meter readings in your new home, and give these to the existing gas and electricity supplier.
You can find out who's supplying your electricity by calling your local Meter Point Administration Service. And find out who supplies your gas by contacting the Meter Number Helpline on 0870 608 1524. 
When you move into a new home, what usually happens is that you'll automatically be placed on a standard variable contract with the energy company that's been supplying it up until your move-in date. This can often be quite a bit more expensive than choosing your own fixed-term plan. Once you've weighed up the pros and cons, you can then decide if you want to stay with the same supplier or switch to a new one.
Advice for renters
If you've moved into a rented home, check the terms of your lease, or speak to your landlord to change energy suppliers. Your landlord or letting agent can't stop you unless they have a very good reason. Even if they've included a 'preferred supplier' clause in your lease or rental agreement, they can't enforce it, and you don't need to stay with the supplier they've chosen – unless they're actually paying the bills!
Advice for OVO members
While it's not possible to take your existing OVO contract with you,  you can start a new one once you've moved in.
Your current OVO plan only applies to your present address – which means you need to close your OVO account and re-apply to join us at your new address.
It's possible we already supply your new home, which will make things easier – but you'll still need to cancel your current OVO contract and set up a new one. In case you didn't know already, if you choose to stay with us and your new home doesn't come with a smart meter, you could even be eligible for a cheaper deal!
Find out more here.
Internet
Check out some of the comparison websites to find the best deal for your area. Compare the Market and USwitch are 2 of the most popular.
TV
When you move home, your TV licence doesn't automatically move with you. You'll need to change the address on your licence, and you can do this online up to three months before you go.
Water
Let your water company know where you're planning to move to, and when.  If you have a water meter, you'll need to give your water company at least 5 working days' notice, so they can arrange a final meter reading. If you don't give them enough notice you could be charged for water that's used after you move out.
If you're staying with the same water company, you need to let them know your new address. And if you've moved to an area with a different water company, let them know. Check their website to find out how to do this. You can find out which water company supplies your area and their contact details on the Consumer Council for Water website.
Checklist for after you've moved into your new home
You're in! But after you've moved all your furniture and packing crates, resist the urge to just collapse in a heap until you've tackled the final few tasks. Here's our summary of what's left to do once you've moved into your new home:
1. Set up utilities
After you've moved in, the next step is to set up your new utility bills. Contact the current gas and electricity suppliers to let them know you've just moved in – and if you're not sure who your current supplier is, read our guide to finding out.
You may well be able to save money by switching to another supplier – so take a few minutes to find the best deal. Whichever supplier you're moving to will manage the process.
You could save money on your utility bills by switching to OVO when you move. Get a quote and find out how much you could save.
Read more about setting up utilities in your new home
2. Take meter readings
It's really important to take meter readings when you've moved in. That way, you're only paying for the energy you actually use. This step doesn't need to take long, or be overly complicated. Read our guide to help you take a meter reading to help speed the process up.
3. Safety checks
Give yourself peace of mind in your new home by checking that you have working smoke and carbon monoxide alarms – and it's also a good idea to have a fire blanket handy in the kitchen. Make sure all windows and door locks are secure. Finally, plan out a quick escape route in case of emergencies. 
4. Find out your bin day
Don't miss out on bin day. After all, the last thing you want to do is annoy the new neighbours by leaving bags of rubbish out on the wrong day! Check with your local council to find out when they collect your rubbish and recycling.
5. Look at energy efficiency
Moving ain't cheap! So learn some other nifty ways to save money and be more energy efficient in your new home. From putting a lid on a saucepan to buying an electric car, check out our handy list of 120 ways to cut back your energy use, lower your bills and reduce your carbon emissions.
Moving house costs checklist
With so many things to organise, it's easy to overlook the actual costs of the move itself. Planning ahead can reduce the financial pressure of what's often considered one of life's most stressful experiences. Here's our quick checklist of top tips to think about when it comes to budgeting for your move:
Removal costs 
Shop around for a few different quotes to find a removal firm that meets your budget. The British Association of Removers (BAR) can offer cost estimates from BAR-approved firms.
Deposit
To get a mortgage you'll probably need a deposit of at least 5-20% of the purchase price. When it comes to mortgages, generally speaking, the bigger the deposit the better the rate. 
If you're renting, you'll obviously need to budget for a more expensive first month, to cover both your deposit and the first month's rent.
Insurance 
Your budget will likely need to cover buildings insurance, to protect your new home against damage from fire, floods, subsidence and other unforeseen circumstances and natural disasters. 
It may also be a good idea to consider contents insurance for your possessions, as well as life insurance to support any dependants and pay off the mortgage, if it's ever needed. 
Storage costs
If you're not taking all your furniture and belongings with you to your new home, your budget will also need to cover storing them. We recommend choosing an eco-friendly storage facility that runs on green energy, has good insulation and uses recyclable or biodegradable packing.
Cleaning costs
if you're moving from a rental home, you're usually obliged to leave it clean and tidy. It pays to shop around and pay a professional to clean your home before you leave, so be sure to budget for this extra expense.
Legal fees
There are a number of legal steps to negotiate when you're buying or selling a home – from transferring title deeds with the Land Registry to ironing out any potential problems with ownership, rights of way, access or future developments in the area. Legal fees can be a major expense, so make sure there's enough left in the pot to cover them.
Find out more about OVO's range of money-saving, carbon-cutting energy plans.
View more from these categories