guide
Who is my gas and electricity supplier? Guide to find your energy supplier
06 July 2020 | OVO Energy
A quick guide to help you find your gas and electricity supplier
If you're about to move into a new home, you might need an easy way to check who supplies your gas or electricity. Luckily, there's a very simple solution. This quick guide will show you how.
2. Who is my electricity supplier?
3. The difference between energy plans
4. Switch suppliers to save money
5. Gas and electricity supply when you're renting
6. Energy supply guidance for landlords
9. Switching your new home's gas and electricity to OVO
10. In summary, who supplies my energy?
Who is my gas supplier?
If you're wondering who supplies your gas, you can use the online form available here: Find My Supplier
You can also call the Meter Number Helpline on 0870 608 1524. Simply tell them your postcode and the first line of your address, and make sure you have a pen handy to write down your MPRN (Meter Point Reference Number) and your current supplier. The helpline costs 7p per minute, and is nationwide.
Learn more about MPRNs in our handy guide
Who is my electricity supplier?
Finding out who supplies your electricity is slightly trickier – but not much! The UK electricity network is split into regions. Each region has a local distribution company that keeps a record – called a Meter Point Administration Service (MPAS) – of who supplies electricity to every home in their area. Simply call your local distribution company and they'll tell you who's currently supplying power to your home. 
Here's a quick visual guide to help you figure out who to call: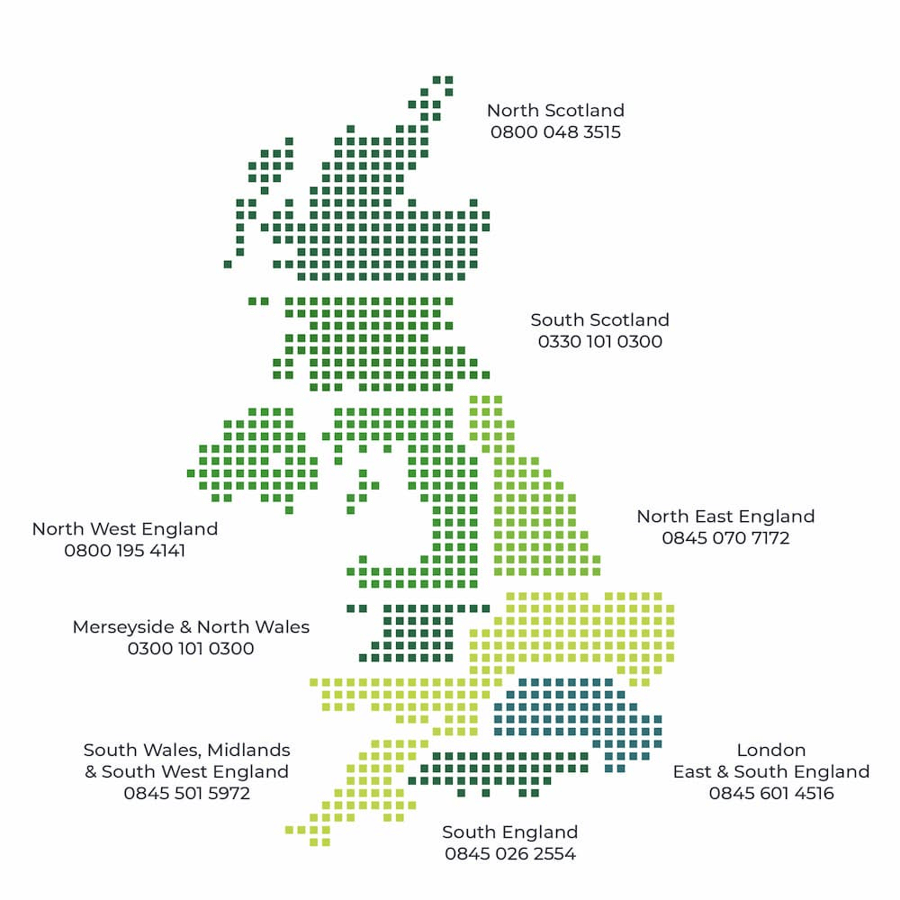 Keep a pen and paper handy when you call, so you can jot down the supplier – and don't forget to have your meter point administration number (MPAN) handy.
The difference between energy plans
If you've just moved into a new home, or haven't looked at your current plan for a while, it's worth checking which one you're on.
Typically when someone moves, the supply for their old home is rolled onto a 'standard variable' plan under rules set down by Ofgem, the UK's energy regulator. The same thing happens when a customer forgets to renew their contract. 
Problem is, these plans tend to be more expensive. In fact, a recent analysis by OVO showed that the average variable plan was considerably more per year than the average fixed plan. That's why at OVO, we encourage our members to fix their contract for a better deal.
Switch suppliers to save money
In some instances, the gap between the average standard variable plan and the cheapest on the market can be as much as £260 – creating what is effectively a two-tier market. For that reason, changing from an expensive variable plan to a more competitive one like our Better Energy plan could save you a lot of money!
 Once you know which gas and electricity supplier you're with and which plan you're on, you can decide whether it's the best one for you. If you've been placed on a variable plan and you'd like to see if you can save by switching to a fixed plan, it only takes a couple of minutes to get a quote. 
Find out more about how to compare energy suppliers
Gas and electricity supply when you're renting
The process for working out your energy supplier as a renter is just the same as above – whether you're a new tenant or you've been living somewhere for years. 
The telephone services listed here are accessible for all homes – but they should only be used if you are (or are about to be) the account payer for it.
 Find out more about switching as a tenant
Energy supply guidance for landlords
Your tenant's energy supplier is usually a matter for them. But if the tenancy agreement says that you're responsible for paying the energy bills, the choice of supplier is up to you! 
Any tie-in to a supplier should be explained clearly in the rental contract – but even then, the person paying the bills should generally still be able to switch, if they choose.
By the way, if you're a landlord, it's also your job to get your properties checked to make sure they're safe. Check out our guide to electrical safety certificates and obligations for landlords. 
The lowdown on exit fees
If you want to end a fixed contract early, your energy company could charge an exit fee – though they can't do that in the last 42-49 days of a fixed deal. 
 If you want to change suppliers, check our handy guide on how to compare energy suppliers and whether your current plan includes exit fees. It'll give you a clearer picture on whether it's still worth jumping ship and hot find the best energy deal.
How to switch suppliers
Whether you want to switch your gas or electricity supplier (or both!), OVO has made the process very easy:
First, take a look at our range of

energy plans

. 
Next, visit our '

Get a quote

' page and type in your postcode. 
We'll respond with a quote based on the average energy use of similar homes in your neighbourhood. 
If you like what you see, we'll ask you for a few more details and then you can just leave everything else to us.
Use these quick guides to find out more on:
Switching your new home's gas and electricity to OVO
We supply gas and electricity throughout Britain. There are only two issues that might make switching to us an issue: 
If you've been in debt to your current supplier for more than 28 days, or 
If your meter is incompatible with the plan you're looking for.
As an example, many homes with pay-as-you-go meters sadly aren't eligible for fixed deals. But fear not – because even here, there's still another option: our sister company, Boost has a PAYG+ plan for you.
It works with a time-saving app, so you can top-up your meter anytime, anywhere. Plus it's got loads of handy features, such as Winter Wallet – which lets you plan ahead for winter energy costs by saving a little bit of extra cash through summer.
In summary, who supplies my energy?
If for some reason you don't know your current supplier, it's easy to find out:
For gas, just call the Meter Number Helpline at the top of this page.
For electricity just call your local distributor (see map). 
In each case, make sure you have a pen handy, so you can note down your supplier and your meter number.
This guide is intended to provide general guidance only. It is not intended to give you advice on your personal financial circumstances. You should seek independent professional advice if you're unsure about anything mentioned in this guide or what choices to make.
*Source: Ofgem State of the energy market report 2019 https://www.ofgem.gov.uk/system/files/docs/2019/11/20191030_state_of_energy_market_revised.pdf
View more from these categories