blog
How to take the eco-friendly UK staycation of your dreams
11 March 2021 | Aimee Tweedale
As lockdown gradually eases in the UK, it looks like you might be able to start planning that summer holiday, after all. Or at the very least, a sunny staycation!
UK mini-breaks are not only the more Covid-safe option, they're also an eco-friendly way to get a holiday. And in recent years, more and more of us are thinking carefully about the planet when we book a trip away. Booking.com's 2019 sustainable travel report found that 72% of people were convinced that sustainability should be a major priority when travelling. 
Plus, 70% of travellers from around the world said they'd be more likely to book a hotel or resort if they knew it was eco-friendly. 
The biggest factor in the sustainability of your holiday is, of course, how you get there. Flying contributes 2.4% of the world's total carbon emissions, and is one of the most well-known causes of climate change. But tourism as a whole (including hotels) contributes 5% of the world's carbon footprint1.
Desperate for a break, but don't want it to cost the Earth? If you're looking for an eco holiday in the UK, keep reading to find our top sustainable hotel ideas, and more eco-travel tips.
What makes a hotel sustainable?
Hotels that boast about their eco-friendly credentials are becoming more and more common. But what actually makes them sustainable?
To figure out how environmentally-friendly your hotel, cottage, or glamping site is, take a look at their website and promo materials. These should give you a picture of the answers to the following questions:
Do they generate their own power, using green,

renewable sources

like wind or solar?
How do they source their food – are their suppliers local? Or perhaps they even grow food themselves?
How is waste disposed of? Are there plenty of

recycling points

?
How do they save water?
Do they encourage biodiversity on site? How do they protect the local wildlife?
What do they do to offer guests sustainable transport options?
Do they have a certification to prove how green they are?
On that last point, there are lots of different certifications you can look out for. Here in the UK, check out the Green Tourism Business Scheme, the David Bellamy Award Conservation Awards, TripAdvisor's Green Leaders, and Green Key. There's also the EU EcoLabel, which is awarded across the EU and worldwide for services that meet a high environmental standard.
The benefits of eco-friendly hotels
Environmentally-friendly holidays are so much more than a fad. It's about making long-term changes to the ways we travel, so we don't damage the planet in the process. The benefits of staying at a sustainable hotel or resort include:
Experiencing a new place while also giving something back by supporting a local, independent business.
Knowing that your stay isn't creating as much in carbon emissions and waste as other hotels do. Plus, you'll be staying somewhere that respects the natural environment surrounding it. 
Contributing to the growing popularity of eco-tourism, which will make hotels and resorts strive to improve their reputation for being green.
Getting stuck into nature – many eco cabins and lodges are nestled in the heart of natural beauty.
Read more about the difference in meaning between "eco-friendly", "green", and "sustainable".
5 sustainable staycation options in the UK
1. Support the National Trust with a stay in one of their eco cottages
The National Trust owns several quintessential countryside homes up and down the country, from Cumbria to Cornwall. Whether you're looking for an eco holiday home for a party of 7, or a small romantic bolthole, there's something that's the right size for you. 
Plus, National Trust properties come fitted with solar panels, eco radiators, and other features designed to make them more sustainable. Not to mention the fact that by staying there, you're supporting conservation work around the UK. 
Check out the National Trust's eco cottages here. 
2. Spend a night up in the trees
Make your childhood dreams come true by staying in a treehouse. It's more grown-up than it sounds: there are luxury treehouses dotted around the UK, with hot tubs, saunas, and fire pits. 
Search glamping platform Canopy and Stars for available treehouses this summer.
3. Be eco-friendly without sacrificing luxury in a 5-star hotel
If you're not a treehouse-in-the-woods type of person, don't worry: you can make your holiday more eco-friendly without sacrificing luxury.
Here's 5 of the best green hotels in the UK:
4. Go wild by camping in a rewilding project
There are several nature reserves dotted around the UK that offer a place to stay for those with a wild side. 
Many of these are places that have gone through a process of "rewilding". This is where humans take a step back from managing a patch of land, and allow nature to take its course. To see it for yourself, try a stay at Knepp Safaris, an estate full of free-roaming deer and pigs in West Sussex. Or how about soaking in the views at East Anglia's glorious Fritton Lake?
Read more about rewilding and how it works.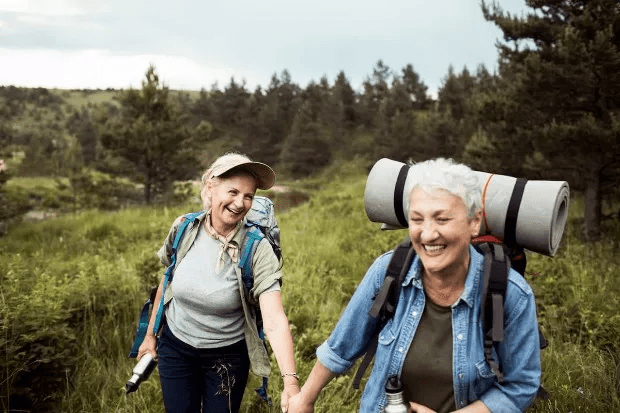 5. Take some time for forest bathing
The health benefits of forest bathing are well-known. Not only can spending time among trees help you feel calmer and recover from stress, it has the added benefit of improving your focus and energy-levels. 
With all that in mind, an eco-friendly cabin in the forest might be the ideal spot for your next mini-break. Check out Forest Holidays to find staycation options that have been built in harmony with their natural surroundings. Their cabins have BREEAM (Building Research Establishment's Environmental Assessment Method) certification, and many are heated with air source heat pumps.
7 eco-friendly holiday tips: reduce the carbon footprint of your trip
No matter where you're travelling to, there are a lot of ways to travel responsibly and sustainably. Eco tourism isn't just about glamping in the woods. It's also about being conscious of the impact you have on the environment in terms of the items you buy, the transport you take, and the way you enjoy yourself while you're away.
Bags packed, and almost ready to go? Here's 7 top tips for how to be sustainable on holiday.
Cut out the plastic. When we're rushing around packing for a holiday, it can be easy to overdo it on the plastic. But every little change helps. Instead of buying travel-size versions of your toiletries, for example, try putting a small amount of shampoo and conditioner into reusable bottles, or using solid bars instead.
There's no need to buy a new wardrobe. When we're planning a trip, the temptation to kit ourselves out with new outfits can be strong – but

buying new clothes fuels the climate-damaging fast fashion industry.

How about customising something you already own, or shopping second-hand instead?
Make sure your SPF is reef-safe. Sunscreen is one of the biggest causes of chemicals that are hurting ocean wildlife worldwide. In fact, in 2015, one study estimated that around 14,000 tons of sunscreen end up in coral reefs each year2. That's why it's important to

choose a suntan lotion that will not only keep you safe, but protect the reefs, too

.
Choose greener transportation. The biggest key to eco tourism is how you travel.

Avoid planes if possible

, as trains are always the more eco-friendly option. If you fly, there are ways to lighten the impact: book direct flights, pack light, and think about

carbon offsetting your journey

.
Support local businesses. One of the best parts of taking a trip is really immersing yourself in a new part of the country (or the world!). Buying food, wine, and gifts from local, independent sellers supports the area's economy, and is always the most sustainable option no matter where you are.
Save water.

Water waste is a surprisingly big contributor to the climate crisis.

When on holiday, it's a good idea to remember to turn off taps and showers just as we would at home. Oh, and bring your reusable water bottle, too!
Leave no trace. It goes without saying, but when spending time in the wilds of nature, it's best to be as hands-off as possible. Let animals do their thing, don't pick flowers or plants, and of course, don't leave any rubbish behind. 
For more on how to cut down on carbon emissions when you're at home, have a read of some of our handy guides:
Reduce your carbon footprint at home with OVO Energy
It's great to think about how you're cutting carbon when travelling. But fighting the climate crisis begins at home. Did you know that as much as 26% of your carbon footprint comes from your home energy use3?
With OVO Energy, you'll be guaranteed 100% renewable electricity as standard4. Plus, we'll plant 1 tree in your name, for every year you're with us5. 
Get a quote today, and find out how we can help you cut bills, and carbon!
Sources and references
1 https://www.vogue.co.uk/arts-and-lifestyle/gallery/sustainable-uk-hotels
2 https://link.springer.com/article/10.1007/s00244-015-0227-7
3 Based on analysis carried out by the Carbon Trust for OVO Group (2019), 26% of an average individual's carbon footprint in the UK comes from energy. In this analysis, the carbon footprint includes the following lifestyle categories: energy, transport, shopping, food and drink and holidays. See table for each category. This excludes emissions from things that the average person cannot directly control such as supporting the NHS, defence, government bodies, etc.
4 The renewable electricity we sell is backed by renewable certificates (Renewable Energy Guarantee of Origin certificates (REGOs)). See here for details on REGO certificates and how these work.  
5 Each year, OVO plants 1 tree for every member in partnership with the Woodland Trust. Trees absorb carbon dioxide from the atmosphere, so tree-planting helps to slow down climate change.
View more from these categories