blog
#GreenGB Week Day 2 - OVO and Indra building the innovative technology to make the electrification of mobility possible
16 October 2018 | Nikhil Ramakrishnan
In 2011, only 4,000 electric vehicles (EVs) were on the UK's roads.  Today, this figure stands at 150,000, a near 40-fold increase in just seven years. The likes of Toyota, Ford and Nissan have pledged to produce more electric and hybrid ranges in the coming years and the Government has made a commitment to ban the sale of all new petrol and diesel cars from 2040. The transition to EVs is now becoming inevitable.
However, questions still remain about how we fully electrify mobility; how much will it cost? How will the grid manage the demand? How will EV's be powered, and will there be enough charge points?
At OVO, we've been answering these questions by developing innovative technology. Earlier this year we launched the world's first widely available domestic electric Vehicle-To-Grid (V2G) Charger and EV Smart Charger. These products are going to be essential if we want to manage the demand of millions of EV's on the grid. And, by using OVO's VCharge technology, customers can optimise vehicle charging to take advantage of cheaper electricity when it's available and when there are more renewables on the system.
All of these products were developed and manufactured by our EV specialists, Indra in Malvern, Worcestershire. We sit down with Mike Schooling, Founder & CTO to learn more about what goes on at Indra and his thoughts on the future of EVs.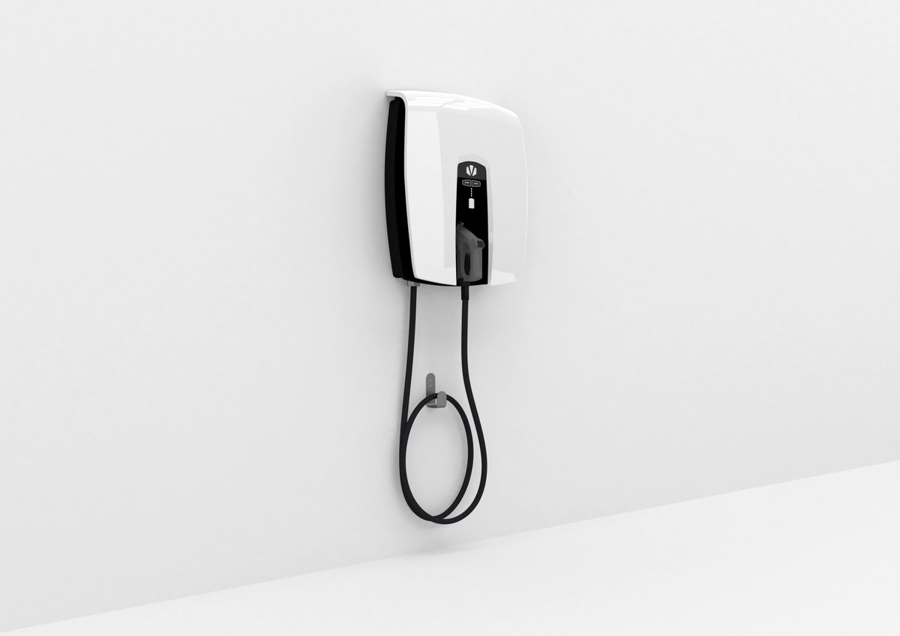 OVO's V2G Charger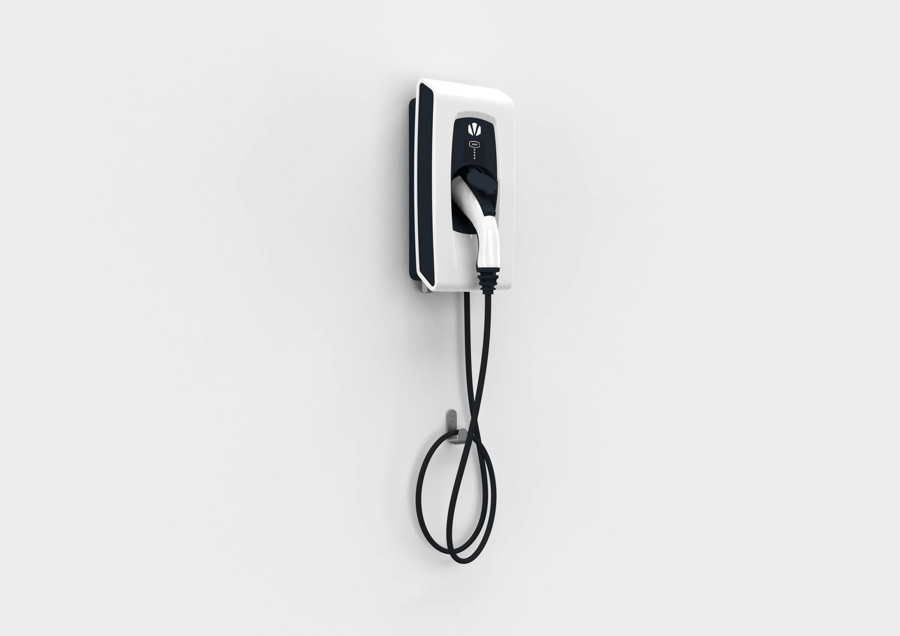 OVO's Smart Charger 
Hi Mike, can you tell us a bit more about your role at Indra?
It's evolved quite a bit over the years. As Founder, I've seen the business grow, taking it from my spare bedroom to where it is today and overcoming all of the start-up challenges along the way!
I'm now CTO and am responsible for leading a team of highly skilled engineers, whose work is primarily focused on developing the EV charging solutions for the electrification of mobility.
How did you get involved in EV's and where did your motivation to be active in this area come from?
In 2011, I was 19 and working in the defence sector, mainly focused on equipment integration on land and air vehicles. It was quite an intense job involving a lot of travel - I needed a hobby outside of work.
Watching Top Gear one weekend, they built "Geoff", an EV (with range extender), pictured below. I jokingly said to a friend that we could build something better and I promptly purchased a Mazda RX8 with a blown engine. With no mechanical experience I proceeded to pull the engine out!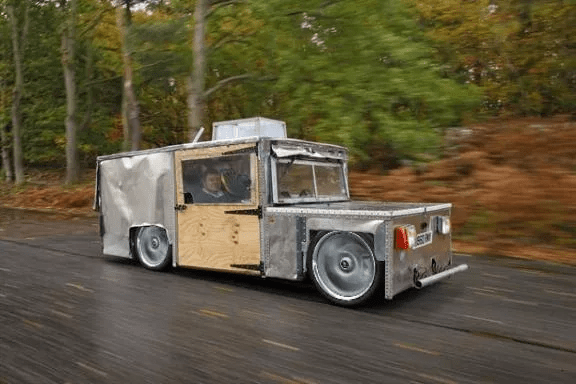 'Geoff', Top Gear, Source: Autocar
The original conversion was done on a £5,000 budget (including the car) and used fairly basic parts like lead acid batteries and even a motor from a Morrison milkfloat. I caught the EV bug from this relatively crude setup and quickly put everything into building my own converted car.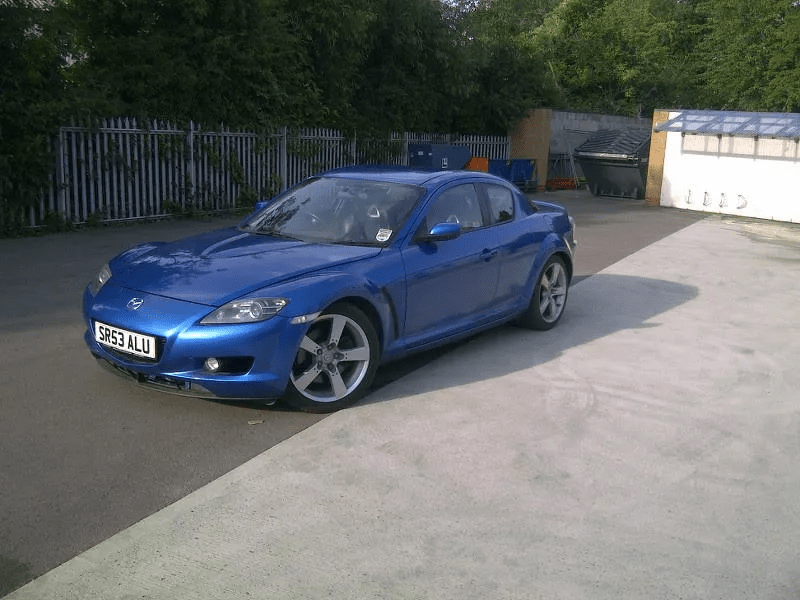 Mike's Mazda RX8
While converting the Mazda, I had to source batteries from China as there were no European suppliers. Realising other enthusiasts had the same problem, I set up group buying events and began carrying stock in my spare bedroom. This quickly grew into helping other enthusiasts with battery packs and eventually into helping small carmakers.
I realised that this was getting too big to run out of a spare bedroom, so in 2013, Indra was formed and we took on a 2,000 sq ft industrial unit. The business and projects kept on growing.
We now operate in a modern, state of the art, 25,000 sq ft warehouse in Malvern, Worcestershire. There is a 26-strong team developing clean technology solutions, focused on accelerating the global transition to EV's.
What are you working on at the moment and what do you think the impact of this will be?
We've been developing the products that will be vital to the domestic energy system of the future. Specifically:
V2G chargers. Using OVO's VCharge AI platform, this charger will optimise vehicle charging to take advantage of cheaper electricity when it's available and when there are more renewables on the system. The V2G charger also provides balancing services and can sell power back to the grid at peak time, earning revenues from energy arbitrage and new flexibility services. This means that in theory, EV drivers using V2G may never have to pay to drive their car again.
A Smart Charger. Like the V2G charger, our Smart Charger enables EV's to be charged during off-peak hours, thereby easing pressure on the electricity grid, as well as allowing drivers to take advantage of cheaper off-peak electricity.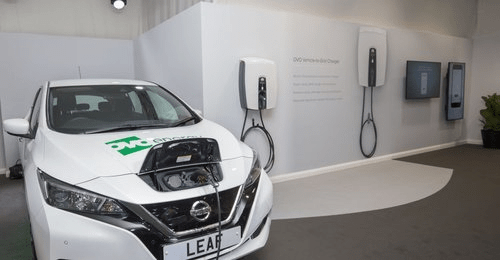 V2G Charger with Nissan Leaf at OVO's EnTech Event
How do you think batteries will operate in the future of energy system?
The whole energy system is fundamentally changing. As it becomes more renewable, distributed and intelligent, customers will be able to generate, store and manage energy for themselves.
The opportunity for batteries in the energy system of the future is massive.The future electricity grid will be about demand side solutions (involving someone's home or business), where central platforms such as VCharge help to manage consumption. With our products, this could mean charging an EV in the middle of the night when electricity is cheaper with a Smart Charger, or actually discharging the energy from the car back to the home or grid during the evening peak using the V2G charger.
We want to concentrate on the demand side, not only because the infrastructure costs are cheaper, but because shifting as much demand as possible away from peak times can completely change how we think about the challenge of balancing the grid. Having the battery in the home means that the energy stored is closer to consumption.The end user/customer will benefit from this technology from reduced electricity bills without having to change their behaviour.
How do you see the market for EV chargers developing in the future?
We're going to see rapid growth in the market. Chargers will need to become smarter to avoid expensive grid infrastructure upgrades and we're proud to be leading the way.
In the longer term, with the emergence of autonomous vehicles we'll need to rethink where charging takes place and I have no doubt that our team will be at the forefront of that technology too.
What is your vision for Indra in the future?
Indra is all about technology, so I want to us continue to create exciting, new and innovative products that change the world.
For me, personally it's about getting superior technology to market that enables others to use their energy more efficiently and at lower cost. The fact that the technology provides solutions to tackling the complex challenges of climate change is a fantastic benefit.
Over the next few years we will see products developed and produced by Indra in people's homes. While on driveways we will see battery storage, chargers and even entire vehicles containing our technology rolled out to market.
From tinkering on my mum's driveway to what Indra has become has been quite a journey for me and I'm excited for the future!
View more from these categories