blog
Real or fake?: how to choose an eco-friendly Christmas tree
14 December 2021 | Stephen Marcus
It's easy to feel daunted when it comes to making your Christmas more eco-friendly. But when you're contemplating the Christmas tree itself, small changes can make a big difference. And if you want to conjure the same, magical festive feel as usual, but in a way that's friendlier to the planet, there are plenty of options that can make your Christmas a little bit greener (and merrier!).
Keep reading to find out whether real or fake Christmas trees are better for the environment, as well as the best ways to either buy or rent a real tree. (Plus, we pick out a few more creative alternatives that you might not have thought of!)
The big question: are real or fake Christmas trees better for the environment?
It's easy to get confused when you're weighing up the pros and cons of a real vs a fake Christmas tree. An artificial tree, which is reusable, can seem like a greener alternative to a real tree. But if you're looking to get a new tree, real trees are by far the better choice for the environment! This is because of the huge carbon footprint created in the manufacture of artificial trees. 
The exception is if you already have a fake tree stored in the attic. In that case, your most eco-friendly option is to keep reusing that for many years to come!
Opting for a real tree instead of a new plastic tree is a great example of how small changes at home can have a big impact. And if you source a UK-grown tree from a local supplier, and make sure you recycle it afterwards, you'll keep your impact on the environment pretty low. To find out more, check out the advice from our charity partner, the Woodland Trust.
Want to get involved with planting more trees to save the planet? Find out more about our amazing tree-planting partners, the Woodland Trust, and The Conservation Volunteers.
Top 7 eco-friendly Christmas tree options, from greenest to green-less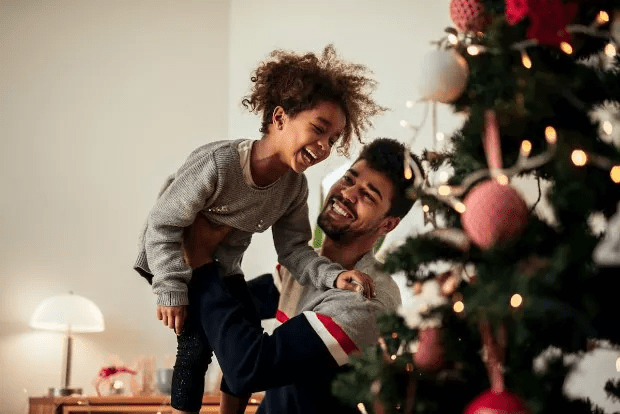 1: Reuse your old tree
We wouldn't recommend buying a new fake Christmas tree. But if you already have one from previous Christmases, then the most sustainable thing to do is keep using it. After all, remember the three Rs of sustainability: reduce, reuse, and recycle!
2: Rent a real Christmas tree
Renting a real Christmas tree is similar to buying a cut tree, but it doesn't lead to any waste. And who doesn't love that idea? 
You simply hire it from a local supplier, use it for the festive period, and then return the tree in January, so they can replant it for next year. If this sounds like it's up your street, you can order from Love A Christmas Tree, or London Christmas Tree Rental.
3: A pot-grown living Christmas tree
If you're green-fingered as well as eco-conscious, buying a living potted Christmas tree with roots is an excellent option. This means you can plant the tree in a pot, or in the garden, and use it year after year. 
By keeping your tree alive, you'll be playing a role in keeping carbon locked up, in the battle against climate change. Plus there are all kinds of other massive impacts on wildlife, soil quality, and even our mental health. Here are some tips from the RHS on looking after your tree, both during Christmas and through the year. 
4: A cut Christmas tree
The most common choice, this means buying a real tree that's been cut (so it's got no roots). But of course, trees without roots will die and decompose, releasing the carbon they absorbed while growing back into the atmosphere.
If you go for this option, it's important to:
Get your tree from a local supplier, who has grown the tree in an environmentally friendly way
Choose an eco-friendly way of disposing of it after the festive period (keep reading to find out how to do this!)
5: Decorative twigs/branches
Here's one for the keen foragers amongst you. Rescuing and decorating tree branches you find locally can be a great DIY alternative to a traditional tree. And it also helps to cut down on costs. 
Or, if you're feeling slightly less adventurous, you can combine bunches of seasonal flowers with twigs and other foliage – perhaps along with some recyclable, homemade paper-chains!
5: Alternative trees or indoor plants
Another fun alternative is to decorate one of your perennial indoor plants when Christmas comes around. Yuccas or palm trees are ideal for draping with fairy lights, for something with a slightly more tropical vibe. 
6: A new artificial tree
Artificial trees are popular because they create zero mess from dropped pine needles – and, of course, they're also easily stashed in the attic for next year. They are, however, less eco-friendly, being made of non-recyclable plastic.
If you do choose an artificial tree, try to buy one second-hand if you can – and then use it for a long time. There are some artificial trees available made from eco-friendly materials, instead of plastic. If you're set on buying a fake tree, keep reading to find out more about those. 
How to get an environmentally friendly fake Christmas tree
If you're looking for a sustainable Christmas tree, we recommend either reusing an old tree, or renting a real one. 
But if you have your heart set on a new, fake tree, there are some options that are more eco-friendly than others. Try to avoid buying new plastic, which is made using fossil fuels, and takes decades or even centuries to decompose. 
Instead, have a think about taking one of these approaches:
Try a wooden tree. Not only are these made from recyclable (and sometimes recycled) materials, they're also an offbeat and stylish way to display a tree in your home!

Check out some options here.

Get a classic tree, without built-in lights or effects. A simple, non-electric tree will use less energy than one with LEDs or bulbs in its branches, which is much better for the environment. Trees with built-in lights are also tricky to fix once the bulbs die, which means it might not last as long. And that's not very sustainable. 
Scour your local charity shops, or eBay, for a second-hand tree. Second-hand trees have much less of a

carbon footprint

than new ones, and let's not forget, they're a cheaper option, too!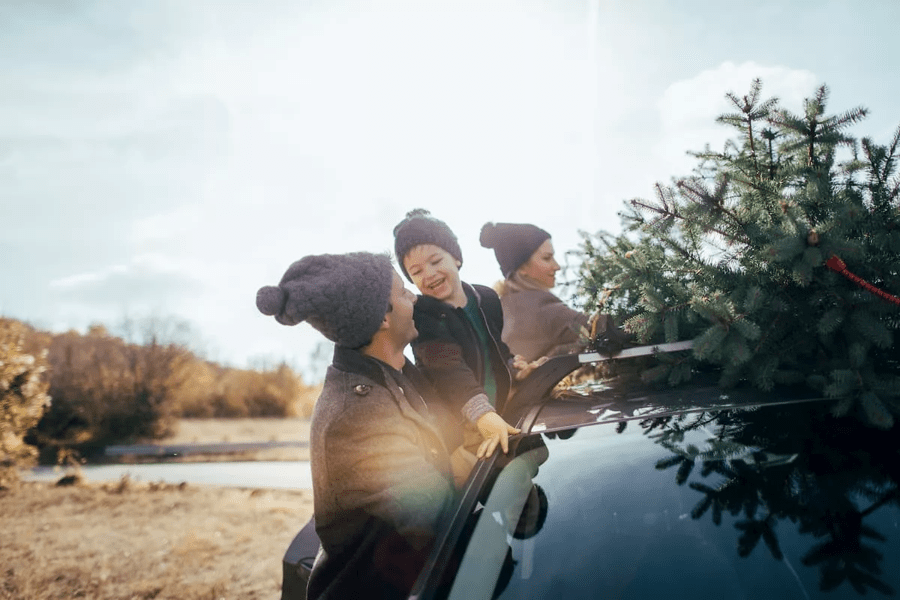 What should you do if you already have a plastic Christmas tree?
If you've already got a plastic tree, the best thing to do is use it for as long as possible, rather than throw it away – which will mean even more plastic going into landfill. Instead, embrace your past purchase as your festive centrepiece for many years to come.
How long do fake Christmas trees last?
If it's well taken care of, there's no reason your fake tree couldn't last for a decade or even more. 
And according to The Independent, that's exactly what we should all aim for. You should use an artificial plastic tree for at least 10 years, to balance out the environmental impact of how it was made.
How to get a sustainable real Christmas tree
We think trees are amazing – so we can understand why you'd want to buy one for Christmas. Here are a few important things to remember when you're buying an eco-friendly Christmas tree: 
Choose a local supplier. This means your tree won't have travelled far to get to you, and it won't have racked up a big carbon footprint during its transport.
Look for trees that are FSC-certified. This means it will have been sustainably grown. Plus, if you want one that's both organic and pesticide-free, choose one that's approved by the Soil Association.
How you dispose of your tree is just as important as how you buy it. More on this below!
How to dispose of your Christmas tree in an eco-friendly way
Once Christmas is over, we all know it's bad luck to leave your decorations up for too long. And it's even worse luck for the environment if you don't take steps to dispose of your tree responsibly!
Make sure to use the service offered by your local council or municipal tip to recycle the tree, so it can be turned into wood chips or compost. Find details of your local authority here, to see how to get your tree properly recycled.
Or, if you want to liven up your garden, chop the tree up yourself and make a habitat pile for wildlife like hedgehogs, amphibians, and invertebrates.
The verdict: our top choice for eco-friendly Christmas trees
You might be wondering: what is the most eco-friendly Christmas tree? Here at OVO, we recommend renting a locally-grown tree above all else.
With a rented Christmas tree, it's possible to have your (Christmas) cake and eat it too! You can enjoy the classic tradition of setting up and decorating a tree like you've always done. But, this time, there's a more sustainable twist: 
After the festivities are over, it's picked up to be replanted, where it will continue

absorbing carbon

, before going to someone else to enjoy for next year.
The carbon stored in the tree will stay there, rather than being released into the atmosphere.
Renting it from a garden centre or tree nursery means you'll be handing it back to the experts when Christmas is over – giving it the best possible chance of survival when it's replanted.
This means it can continue to remove more and more carbon from the air as it keeps growing.
Finally, if a rental isn't feasible, a real tree is generally a far better choice for your carbon footprint than an artificial one!
Get more tips on how to have an eco-friendly, sustainable Christmas
View more from these categories