blog
Eco Camping: Top 10 Ways to be more sustainable when camping
26 May 2021 | Celia Topping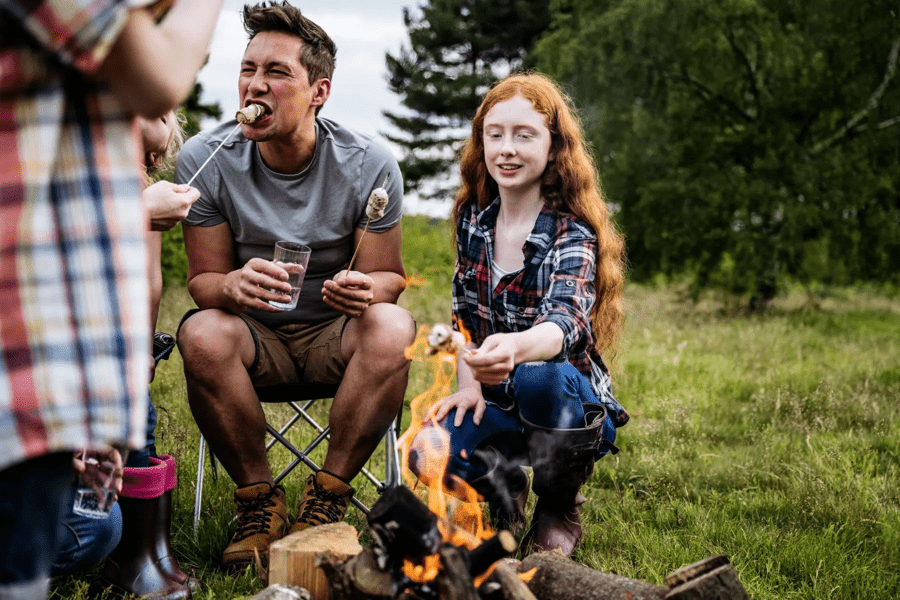 Summer's all about being in the great outdoors – and if you can stay outdoors overnight, even better! Getting back to basics, connecting with nature, and leaving the stress of modern life far behind is all part of the allure of camping. 
You may think camping is as close to having a green holiday as you can get. But if it's not done mindfully, you could be causing more damage than you realise. 
Is camping bad for the environment?
Unsightly trash, campfire damage, trampled vegetation, pollutants in waterways, natural habitat damage, and erosion can all be caused by careless camping. Then add noise pollution, air pollution, carbon emissions from motorhomes and cars, and other environmental impacts – and you may start to wish you'd stayed at home! 
What is eco camping?
In essence, eco-camping is camping with no impact on the environment. Forget on-site swimming pools, and in-house discos! An eco-friendly site aims to offer peace and quiet, and a back-to-nature atmosphere. This is what you can expect from an eco site:
For campers, it's possible to green-up your camping experience quite easily, whether you're on a campsite, or wild camping. So for a more eco-friendly approach, here are our top 10 tips to make sure we all leave no trace.
How can I be eco-friendly when camping? OVO's top 10 tips for sustainable camping
1. Stay local
Many of us may be taking staycations this year – which is a great way to cut down on the carbon footprint of flying. But be aware that cars are a major cause of greenhouse gas emissions too, so choosing a campsite closer to home will help reduce your carbon footprint further. If you live in Northumberland, going camping in Cornwall probably isn't the greenest choice you can make!
Happily, the UK's campsite network is enormous. So wherever you live, it's likely you'll be able to find a decent campsite within an hour's drive. And if you're clever with your packing, you could make the journey by train, or even by bike. Make the most of what's on your doorstep, and you're already well on your way to being a green camper! 
2. Find a green campsite
If you're serious about eco-friendly camping, then finding a green campsite should be a top priority. These small campsites are carefully assessed for sustainability, opportunities for wildlife, and having a low impact on the environment. This approach also covers how the sites are created and maintained. Usually, facilities are powered by renewable energy, and recycling is standard.   
Nature is allowed to thrive here, so you won't find closely mown lawns or tidy gardens. And if you're looking for club-style entertainment in the evening, you're in the wrong place. The wilder the better is the motto of eco-friendly sites, with visitor numbers kept low, and green policies high on the agenda.  
3. Cut down on the chemicals
Summer brings not only the sun (sometimes!), but also bugs and beasties. So any sensible camper will come fully armed with lotions and potions aplenty. But the chemicals in soap, shampoo, toothpaste, and other toiletries pollute the air, seep into the ground and contaminate the waterways. This goes for washing-up liquid too. Instead, try out some biodegradable alternatives, and pack a non-toxic bug repellent. Or you could even make your own. 
4. Campfire care
A campfire is the quintessential symbol of any good camping trip. There's nothing like coming together at the end of the day to cook, toast marshmallows, share stories and create the happiest of memories. But done wrong, campfires can be devastating. So it's vital to stick to some basic campfire guidelines, and stay safe:
Use a firepit where possible, and never light a fire in a restricted area
Don't light a fire when it's very dry or windy – if there's a fire ban, respect it 
Always keep plenty of water and a shovel on hand
Don't cut down branches, or tear bark from trees – instead use dead wood from the ground
Keep the fire small – they're easier to control, should something go wrong
Build your fire at least 3 metres from tents, buildings and vegetation
Don't burn your rubbish on the fire – it can release dangerous toxic fumes 
Make sure your fire is out when you go to bed, or leave the site
5. Digital detox
To really get away from it all, step away from those phones, tablets and laptops. Being online has a carbon footprint too – so taking a break is not only good for you, it's good for the planet. Take along a fully-charged phone, in case of emergencies of course – but there's no need to post your campsite pics immediately on social media. Enjoy the moment, relax your mind and leave your phone in your bag.
6.Go solar for power
Ideally we're not taking any electronic items into the wild, right? But let's face it, it's not always practical – especially if you're going for a week or more, with kids to entertain 24/7! So instead of packing your various chargers, you can reduce electricity use by using one or more of these solar-powered gadgets and gizmos. You can even get a solar-powered toothbrush, for that sunshine smile! 
7. Eco camping equipment ideas
Tents, sleeping bags, mattresses, cool boxes, cooking equipment – the list goes on. To get fully kitted out for a camping trip is costly. If you're a first time camper, the most eco-friendly way to approach it is to borrow some equipment before you start to buy your own. You can then build up your kit gradually, over a few trips. 
By recycling and reusing, you're doing the environment a favour – so look online, and you'll find tonnes of second-hand equipment. But if you're intent on buying new kit, then go green with our top 5 list of the best eco-friendly camping kit: 
8. Stay on the paths
To experience Mother Nature in all her glory, exploring is to be encouraged. But to keep the landscape pristine, it's prudent to be respectful of trails and paths. Straying off the path causes damage to plantlife and wildlife, and destroys insect and animal habitats. So navigate with care and consideration, and leave the natural ecosystems to keep on living and breathing as if we were never there. 
To find out all about the health benefits of trees, and the rewilding projects that are restoring the UK's natural beauty, take a look at our blog. 
9. Leave the habitat alone
Crazy as it seems, some campers feel compelled to either leave their mark, or take home a souvenir. Neither of which are beneficial to the environment. Scratching your name in a tree trunk can lead to the disease and death of the tree, and rock graffiti can remain for thousands of years. Plus, taking away flowers, sticks, rocks, shells or any other natural artefact alters food supply, and causes changes in the ecosystem. It can also reduce ground cover, which leads to wind and rain erosion. 
It may be tempting to leave out food for the wildlife, but animals quickly become reliant on this as a food source, and can lose their ability to forage. 
For more info on why trees are important in our environment, read our blog. 
10. Leave no trace
There are 7 Leave No Trace principles, which focus on causing minimum impact to the great outdoors – whether it's in your own backyard, a national park, campsite, beach, or remote wilderness area. The idea behind them is to leave nature as you find it, and make no impact whatsoever. We've touched on a few already – such as taking care with your campfire, removing no artefacts, and respecting wildlife. But it's also important to dispose of waste properly, recycle wherever you can, and be considerate of other visitors. 
At OVO we want to keep the great outdoors great. By supplying green energy, we're cutting the carbon emissions that negatively impact our environment.
By joining OVO, you're becoming part of a community that's working together towards a zero carbon future for ourselves and our children. We offer 100% renewable electricity as standard1 – and also:
A tree planted in your name every year you're with us2
3-5% interest for every year your account has a positive balance3
Access to the 

OVO Greenlight

tool: free energy-saving tips
An award-winning smart meter experience (Uswitch 2020)
A £50 gift card every time you

introduce a friend to us

A 5-Star

TrustPilot

rating by 30,000 members
Sources and references: 
1.100% of the renewable electricity we sell is backed by renewable certificates (Renewable Energy Guarantee of Origin certificates (REGOs)). See here for details on Renewable Energy Guarantee of Origin certificates and how these work. A proportion of the electricity we sell is also purchased directly from renewable generators in the UK.
2.  Each year, OVO plants 1 tree for every member in partnership with the Woodland Trust. Trees absorb carbon dioxide from the atmosphere, so tree-planting helps to slow down climate change.
3.  Interest Rewards are paid on credit balances of customers paying by monthly Direct Debit. It is calculated at 3% in your first year, 4% in your second year and 5% in your third year (and every year thereafter) if you pay by Direct Debit. Interest Rewards are paid monthly based on the number of days you have a positive balance and the amount left in your account after you've paid your bill. Full terms apply.
View more from these categories